Consulting Firms Beat Out Banks, Retailers In Hiring Business Grads
Our study of nearly 300,000 undergraduate business majors shows that consulting firms employ the most graduates five years after receiving their degrees.
Key Insights:
Consulting firms are the most likely to hire undergraduate business majors, employing over 20% of all business graduates.
Just under half (49.02%) of business majors are working at a consulting firm, bank, or retailer.
Top consultancies EY and Deloitte each employ twice as many business majors as the top-hiring bank (Wells Fargo) and retailer (Amazon).
An undergraduate business degree is considered one of the more practical programs for those seeking a healthy return on their investment in higher education. The major's versatile applications and high average salaries back that up.
Business is also one of the most popular fields of study, with degrees in the field of business making up a plurality of undergraduate degrees conferred in the 2018-19 school year, according to Department of Education statistics. Of the more than 2 million bachelor's degrees conferred that year, almost 20% were in the field of business.
However, the exact paths that business majors take after graduation isn't always clear. In this study, we wanted to look into which sectors and companies are hiring the most business graduates five years after graduation, to answer the question: where do business graduates end up working?
This analysis indicates that the top sector hiring business graduates is consulting, which employs more than one-fifth of business majors. Consulting is followed by banking, retail, IT, and manufacturing. The top employers for business graduates are highly concentrated in these top 3 sectors, including five prestigious consulting firms, three national banks, and two major retailers.
Which Sectors Employ the Most Business Majors?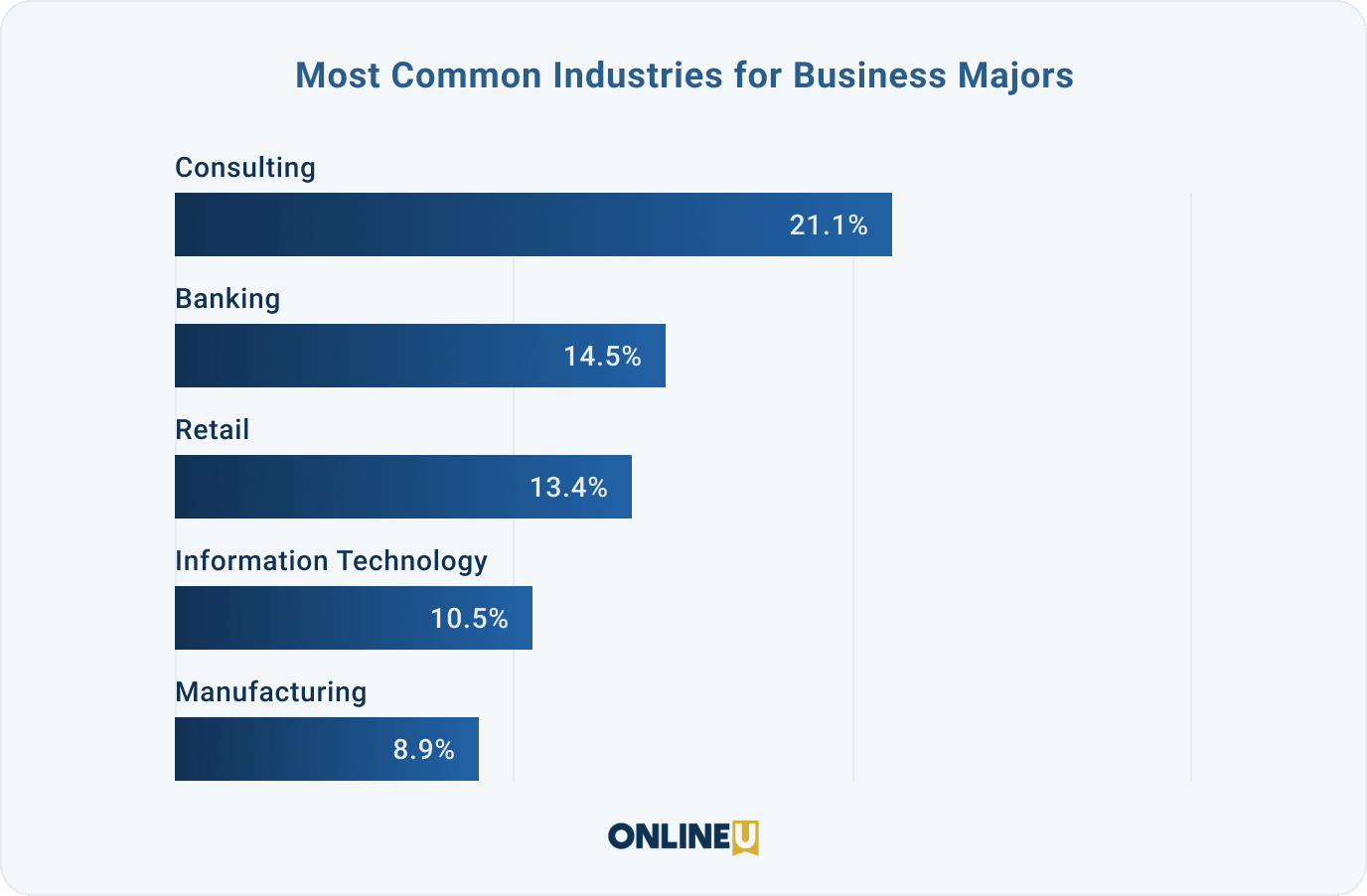 Our analysis of 297,245 business majors shows that consulting firms employ more than one in five business majors five years after graduation. Banking and retail, the runners-up, trail by about twenty thousand graduates, but still account for a sizable portion of business graduates. These three sectors – consulting, banking, and retail – employ about half of business graduates.
Information technology companies and manufacturers account for another one-fifth of business alumni. These top five industries represented in the table above make up about 70% of business graduates.
Beyond these top five industries, there are a variety of different sectors employing business graduates. Hospitality and insurance sectors each employ around 20,000 business graduates, or roughly 7% each of our sample. The logistics and government sectors each take less than 10,000 business alumni.
Which Companies Employ the Most Business Majors?
The top ten employers below, which feature five major consultancies, three national banks, and two big retailers, together employed 57,076 business majors five years after graduation. Taken together, the top 10 employers account for about 20% of business graduates.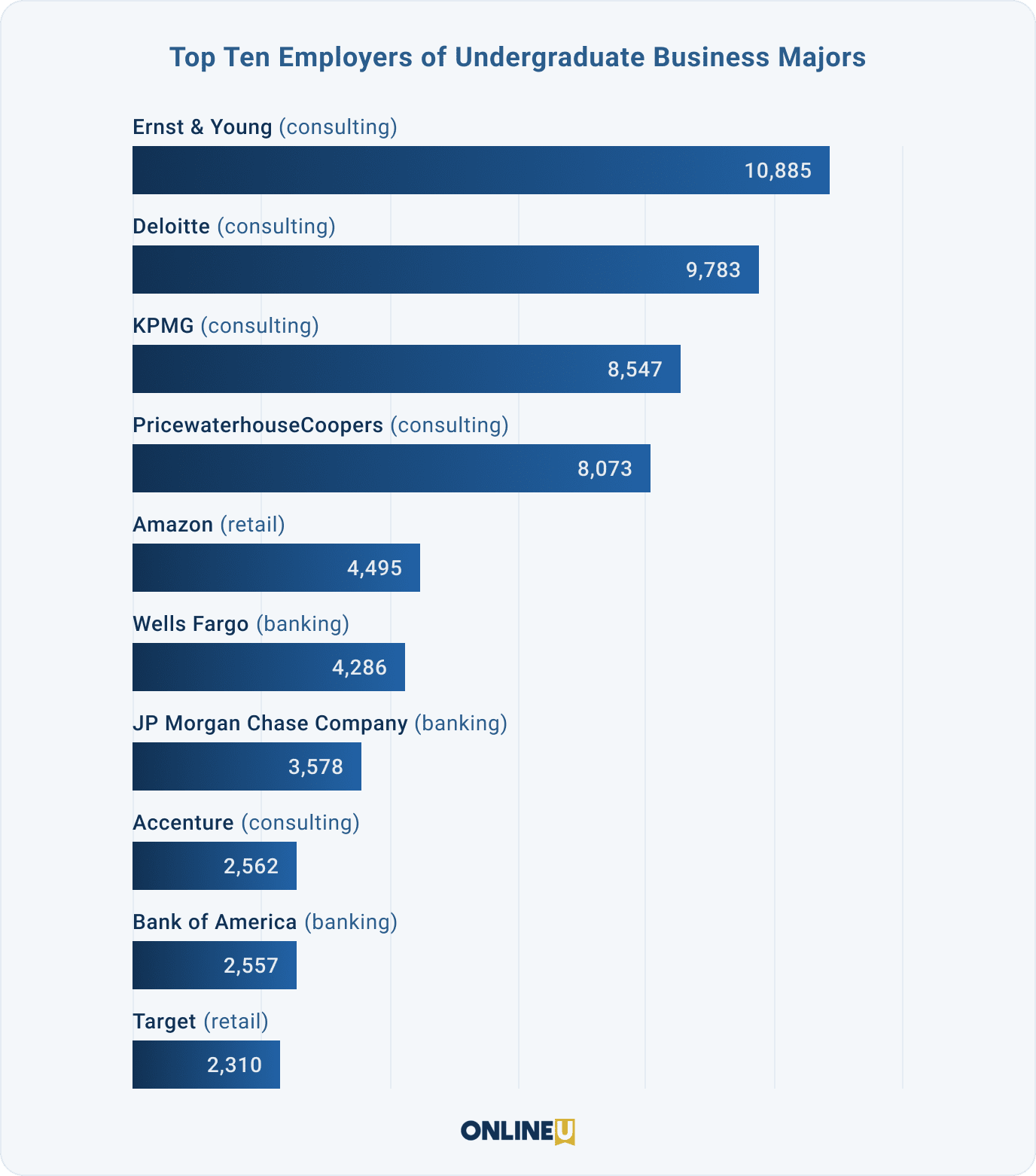 This top 10 list is broadly representative of the larger population of employers. As we can see, the four largest employers of business graduates are all consulting firms. Meanwhile, some of the major banks and retailers are again in second and third place, respectively.
With that in mind, we will move on to some of the more common occupations and other insights from these top sectors and the top companies representing them.
Consulting
The top four employers of undergraduate business majors are the Big Four accounting firms, while Accenture, another consultancy, takes the number eight spot. Together, these five firms employ over 13% of all business majors. When other, smaller, consulting firms are taken into account, about 21% of business grads work in consultancies. The gap between the large consultancies and banks or retailers is stark: EY and Deloitte each hire double the number of business majors as the top-hiring bank, Wells Fargo, and retailer, Amazon.
Among the consulting firms in our Top 10 employers of business majors, some of the most common occupations are business and management consultants, auditors, accountants, and tax specialists. When we take the average proportion of some of these occupations at the five consultancies, we find that, on average, 15% are general auditors, while slightly less, 13.3%, are business and management consultants.
Of course, each firm had its own makeup of particular occupations. EY and Deloitte were similar in composition, with business and management consulting as the top occupations, accounting for 16% and 17% of the business major's they employed, respectively. Deloitte however did have a higher percentage of audit managers.
KPMG and PwC had perhaps the most top-heavy distribution of occupations, At KPMG, auditors made up more than 28% of the firm's business majors. Distantly trailing in second place were internal auditors, with almost 15%, and in fifth place, audit managers at over 5%. Altogether, the auditing occupations make up nearly half of KPMG's business graduates.
PricewaterhouseCoopers was similarly audit-heavy. Auditors were at the top, followed by quality assurance auditors. Altogether they made up over 53% of business majors at PwC. Business and management consultants were less than 3%.
The emphasis on auditors from KPMG and PwC is in line with the two companies' strong reputations as accounting-focused firms.
Interestingly, Accenture was the only consulting firm to have digital experts near the top of its list of occupations held by business graduates. Software developer and cyber security consultant were the fifth and sixth most common jobs there. That being said, together they accounted for less than 6% of all business majors at Accenture, while business and management consultants, the top occupation, were more than a quarter of business majors employed at the firm.
Banking
The banking sector as a whole takes in 14.5% of all business majors who have been out of school for five years. Three major banks – Wells Fargo, JP Morgan Chase, and Bank of America – landed in the Top 10 employers. But all three of them taken together employ only 3.5% of business alumni.
This would suggest that there are a number of banks that didn't make the Top 10, but are helping keep the banking sector a major employer of business graduates. These other well-performing banks include household names like Morgan Stanley, which employs 1,508, and Goldman Sachs with 1,071.
The list of banks is a reminder how globalized the financial system in particular is, with several foreign firms employing a significant number of graduates of U.S. colleges and universities.
These include Hong Kong-based HSBC, which employs 1,029 business graduates, the Royal Bank of Canada's 790, Switzerland's UBS and its 706, and the British Barclays' 607 employees.
Looking at the top occupations at Wells Fargo, JPMorgan Chase, and Bank of America, some of the most common job titles for business graduates were lead teller, senior personal banker, and business analyst.
There were of course variations in job distribution among the three top banks. Bank of America was the most likely to lead to a branch manager position, with 408, nearly 16% of the business grads it employed being in that position, which was BoA's top occupation. Interestingly, its tenth most common occupation was vice president, of which there were 52, right between business analyst (56 employees) and senior personal banker (47 employees).
JP Morgan Chase had even more vice presidents than Bank of America, with 72. But a number of its top ten occupations suggest it is looking for business majors with analytical, rather than managerial or customer service strengths. Its top occupation is business analyst with over 10%. And when they are combined with investment/portfolio analysts, financial analysts, and senior financial analysts, they make up 21% of the business majors at the company.
Senior personal banker, lead teller, and personal banker were Wells Fargo's number one, two, and three most popular occupations, together making up 925 employees, or almost 22% of the bank's total business graduates. This points to a bank that places a premium on business majors that are comfortable interacting directly with customers.
Retail
The two retailers to make it onto the list together employ 2.3% of all business majors. But taken with the numerous smaller retail companies, the sector's share of business graduates grows to about 13.5%. Amazon in particular had an impressive showing in our Top 10, landing at number five right behind the Big Four consultancies. However, it wasn't enough for the sector to edge out banking, which was ahead by a percentage point.
Looking at the specific occupations business majors landed in, we see they were often in management or supervisory positions at Amazon and Target, the two top retail employers. These include general management, operations managers, HR managers, and store supervisors.
Interestingly, the sixth most common job at Amazon for those holding an undergraduate business degree is "laborer/warehouse worker." While these account for less than 3% of business majors at the company, it is surprising to see any significant number in labor positions after five years of experience, especially since this category does not include warehouse managers, supervisors, machine operators, or data entry clerks.
For context, though, the most common job at Amazon is general manager, with 18.5% of our sample in that position. When we add in the next two most popular positions, operations manager and retail store manager, we see that management jobs account for at least 30% of Amazon's business majors.
A company that one would also expect to be among the top employers of business majors due in part to its sheer size is Walmart, generally considered the number one employer in America, as well as several other countries.
While it employs an estimated 2.2 million people worldwide, including almost 1.6 million in the U.S. alone, it was only the 11th largest employer of business graduates. This suggests that, like other retailers, many of their employees represent a variety of undergraduate fields of study, or don't have a bachelors at all.
That being said, Walmart, which includes its Sam's Club chain, is right on the heels of Target, lagging behind by only 118 business graduates.
Business Majors Have Options Across Sectors
Consulting, banking, and retail together employ nearly half of business majors after these alumni have presumably gained some experience in the five years since their graduation. But it is not just those sectors that are eager to hire business majors. Information and technology firms, manufacturing companies, and the hospitality industry each employ tens of thousands of business majors who have only five years of experience.
This suggests that the degree has been historically popular for good reason, and is likely to remain the preferred choice of undergraduates trying to break into consulting, banking, retail, or a host of other industries.
This study emphasizes the relative dominance of the consulting sector in employing business majors with some experience. It also suggests that, depending on the specific career path or occupation one wants to pursue, certain companies make it more probable than others that a business grad can be, for example, in management, or working as an auditor, or an analyst. In short, there are jobs for business graduates in just about every sector and type of company. But the information we have gone through gives recent business graduates more data points on which to base their choices for which jobs and occupations they spend their energy pursuing.
Methodology
For this study we used Burning Glass Technologies data to analyze the outcomes of approximately 300,000 business graduates five years after graduation, including those who graduated from 2010 on. To categorize employers, we limited to companies that employed at least 100 individuals, accounting for 793 companies with data.
Burning Glass Technologies collects employment data from millions of current resumes and social media profiles of graduates — mainly on LinkedIn — to obtain individuals' occupations, alma maters, and fields of study.