Who Is Hiring Florida's Alumni? It Depends on The School.
Our research shows which Florida schools offer the best paths to top employers in some of the Sunshine State's biggest industries: finance, tech, defense, healthcare, and education.
Key Insights:
Lockheed Martin alone hires over 9,000 alumni from popular Florida schools. University of Central Florida is the strongest funnel for the defense manufacturer, sending over 11% of graduates to work there.
Similar pipelines exist between specific schools and other industries as well. Florida A&M sees many of its graduates hired by global tech titans (Apple, Microsoft, Amazon). Meanwhile, Florida State and the University of Miami send many of their alumni to prestigious finance and consulting firms (Bank of America, Deloitte, Ernst & Young)
With over three-quarters of alumni staying in-state after graduating, a number of Florida-based behemoths have taken their share of these schools' alumni: Publix hired 6.8% of the total, Disney took 3.3%, and Universal Studios 2.1%.
As the third most populous state, Florida boasts a number of major metropolitan areas and distinct regions which are home to a diverse array of colleges and universities. Beyond higher education, Florida also has a pro-business regulatory environment and no income tax, which will likely continue to attract both students and the companies which are to hire them after graduation.
Our study analyzes the employment outcomes of over 140,000 alumni of ten popular Florida universities, including a mix of large and small schools, private and public institutions, and geographic areas. Our study includes the most popular employers for each school and a breakdown of salary potential for related majors.
We give each major at a college a Salary Score based on median alumni starting salary compared to the median earnings for the same majors across U.S. universities. Our guide to Salary Score provides a detailed breakdown of this process.
We found that many of the Florida colleges offer direct pathways to particular industries, including defense, finance, tech, health and education. Understanding the strength of a school's employment outcomes in different sectors can (and should) be considered when choosing a college.
Top Employers for Florida's Popular Colleges
| Employer | Percent of Alumni Employed |
| --- | --- |
| Publix | 6.8% |
| Lockheed Martin Corp. | 6.3% |
| Amazon | 4.1% |
| Disney | 3.3% |
| Deloitte | 2.9% |
| Baptist Health | 2.9% |
| PricewaterhouseCoopers | 2.8% |
| University of South Florida | 2.8% |
| Ernst and Young | 2.8% |
| Bank of America | 2.7% |
The top ten employers shown above represent various strengths of Florida's economy. Florida's biggest industry, especially before the pandemic, was tourism, so it is no surprise that Disney, with its network of theme parks, resorts, and cruises would recruit in the state.
Lockheed Martin's strong showing is likely a product of Florida's importance for United States defense interests and space exploration. The state is home to a half dozen Air Force bases, NASA's Cape Canaveral space shuttle launch site, and is the headquarters of the U.S. military's Southern Command, responsible for operations in South and Central America.
Meanwhile, Miami is considered one of the top financial services cities for the U.S. and even for parts of Latin America. It makes sense that top banking and consulting firms would have a large presence in the state, and would need to recruit heavily to fill those offices.
More generally, the top ten recruiters represented in the table speak to the range of top-flight companies across a breadth of diverse industries competing for Florida's graduates.
Employment Outcomes by College
Best Schools for a Career in Finance and Consulting
University of Miami
Number of Alumni Analyzed: 6,585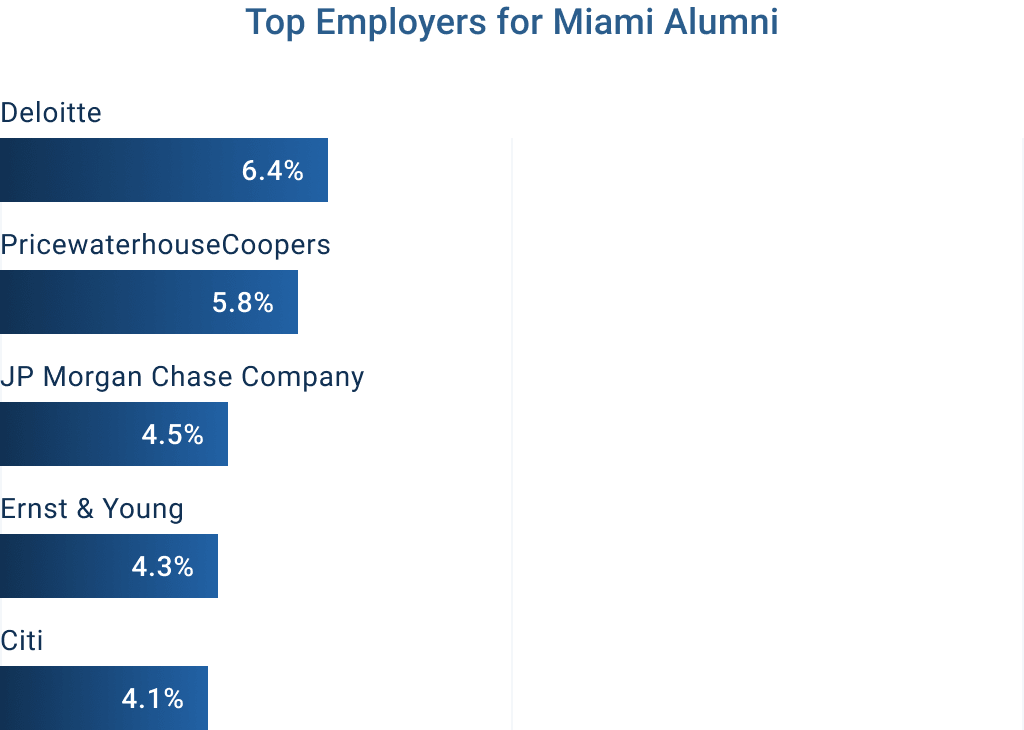 The University of Miami's rankings are unique in part due to the homogeneity of the Top 5. All represent some of the top consulting, accounting, and banking companies in the country – and each one is hiring a significant slice of the school's alumni. Taken together, these top five financial powerhouses hire just over one-quarter of the University of Miami's alumni.
It is not only these household names in the Top 5 that are hiring finance-oriented alumni - the combined Finance/Insurance and Professional Services sectors employ 34.1 percent of University of Miami alumni.
Several business-oriented programs at the University of Miami have exceptional Salary Scores. Its Marketing program (96), Finance and Financial Management Services program (88), and Business/Managerial Economics program (83) are some examples.
Florida State University
Number of Alumni Analyzed: 18,250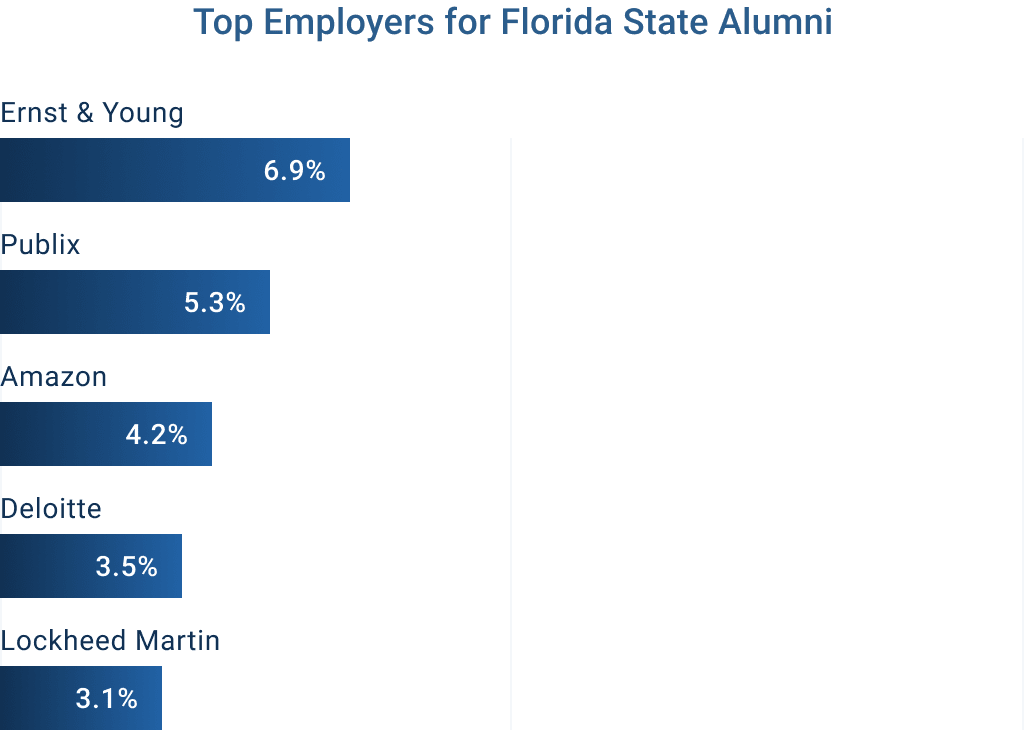 Florida State University has a track record of helping alumni get a foot in the door of some of the country's most prestigious consulting firms. More than one in ten Florida State alumni work at Ernst & Young or Deloitte.
It is not just the big names that are scooping up Florida State alum. The overall combined Finance/Insurance and Professional Services industries (which includes management consultancies) hire nearly one-third (33.1%) of Florida State alumni, according to Burning Glass data.
The specialized business-related degrees that FSU offers, such as the Management Information Systems and the Management Sciences programs, have a strong return on investment for graduates, with Salary Scores in the mid-70s.
University of South Florida (Main/Tampa Campus)
Number of Alumni Analyzed: 18,438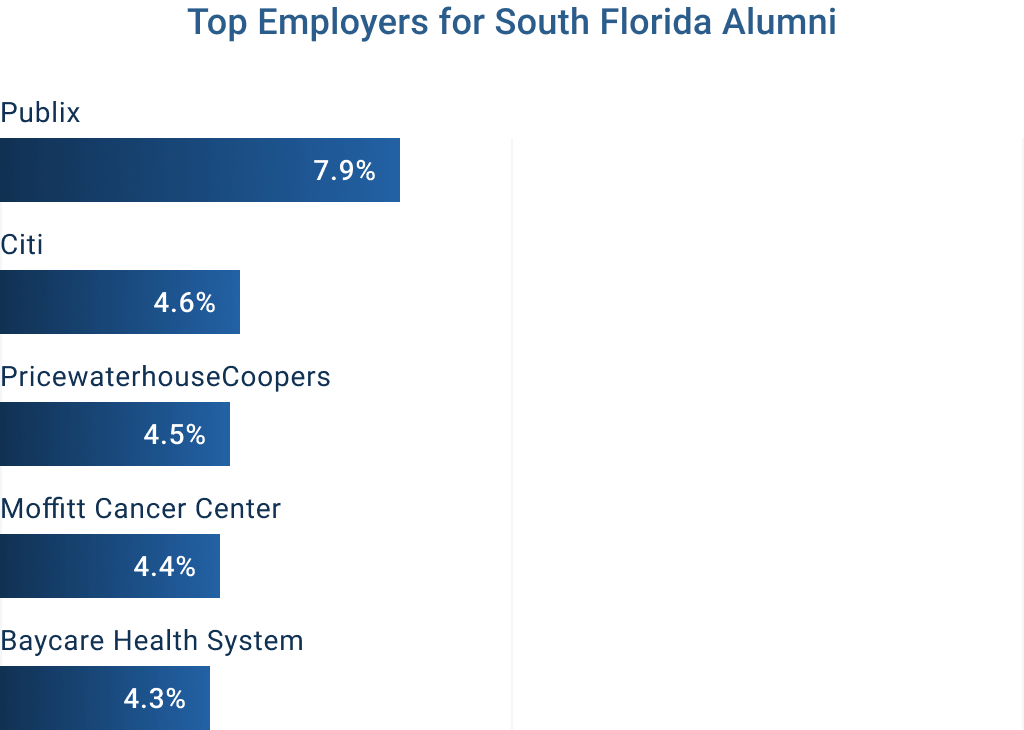 The University of South Florida's primary campus in Tampa is another school with strong connections to the broader financial industry. Like the two schools preceding this, it is likely boosted by being in a major metropolitan area, where financial services are more in demand.
However, the combined Finance/Insurance and Professional Services industries hire a whopping 40% of the school's alumni. So while Citi and PricewaterhouseCoopers each hire a large portion of alumni, there is clearly much more employer demand than what is going to those two firms.
The inverse is true for hiring in the Healthcare Services sector, which accounts for 11.9% of alumni hiring, but the two top recruiters in that sector, Moffitt Cancer Center and Baycare Health System, hire the overwhelming majority of those alumni.
Best Schools for Defense Manufacturing
University of Central Florida
Number of Alumni Analyzed: 31,671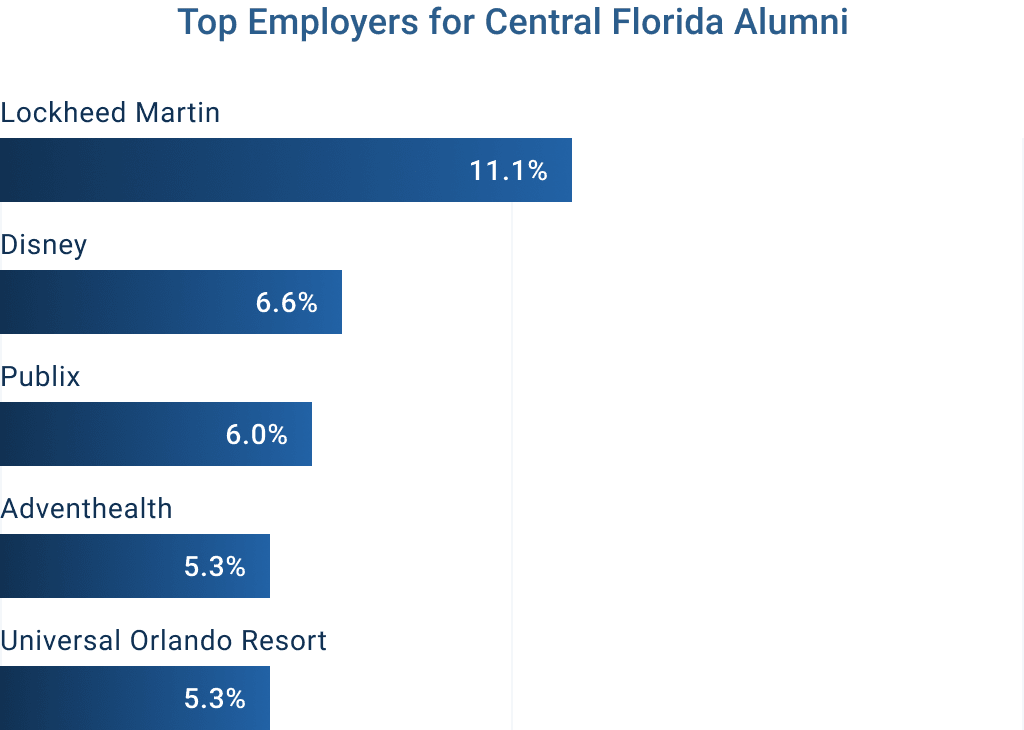 One of the the most salient results from our study was just how dominant Lockheed Martin was in hiring alumni from the University of Central Florida.
With 31,671 alumni, the University of Central Florida is one of the largest schools on our list. From that large population, Lockheed Martin takes over 11 percent of graduates, one of the most robust school-to-employer pipelines we see in this study.
The school offers a wide range of engineering programs, which Lockheeed openly recruits from, as well as a Security Science and Technology program with an above-average Salary Score of 67.
Another notable set of recruiters at UCF are Disney and Universal Orlando, two of the largest resort and theme park companies. Taken together, they hire 11.9% of the University of Central Florida's alumni.
University of Florida
Number of Alumni Analyzed: 20,196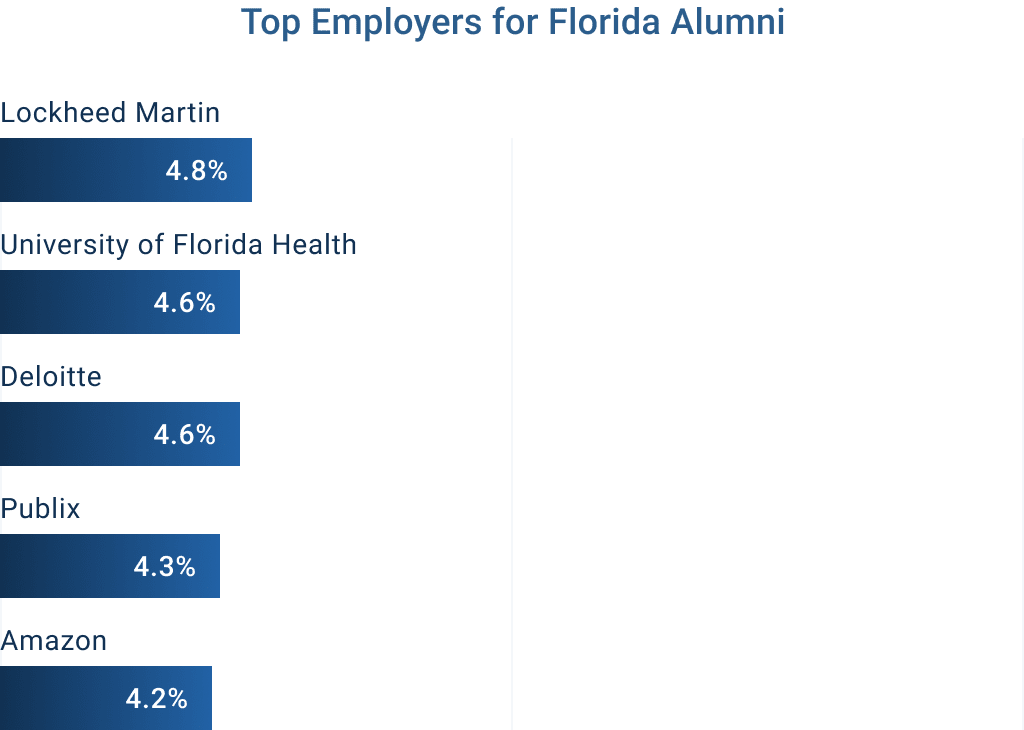 The University of Florida shows strong recruitment numbers from varied sectors, but defense firm Lockheed Martin edged out the rest in the rankings. We see defense-related programs of study that have strong Salary Scores. These include Aerospace, Aeronautical and Astronautical Engineering (77), Chemical Engineering (73), and Construction Engineering Technologies (89).
It is worth noting that University of Florida Health, Deloitte, Publix, and Amazon are nipping at Lockheed's heels in terms of hiring. The school also shows strong SalaryScores in programs such as Accounting (95), Finance and Financial Management Methods (90), and Computer and Information Sciences (89).
Best School for a Job in Technology
Florida A&M
Number of Alumni Analyzed: 2,185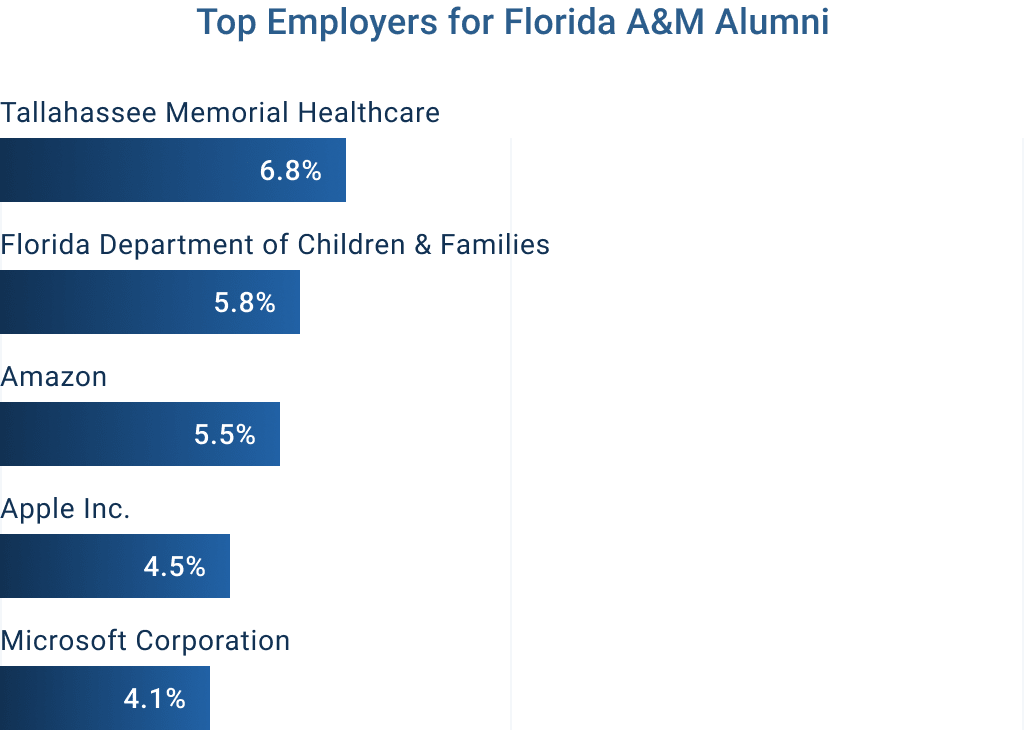 Though the single largest employer of Florida A&M alumni is Tallahassee Memorial, the rankings also include some of the world's most influential information technology companies. In fact, Amazon, Apple, and Microsoft together hire 14.1% of this school's alumni. It comes as little surprise then that software engineer is the fifth most common occupation for A&M alumni.
Despite strong recruitment from big tech companies, A&M's low Salary Score in Computer Science suggests the school's alumni are earning less than their counterparts from the same program at other schools.
Best Schools for Healthcare Professions
University of North Florida
Number of Alumni Analyzed: 7,119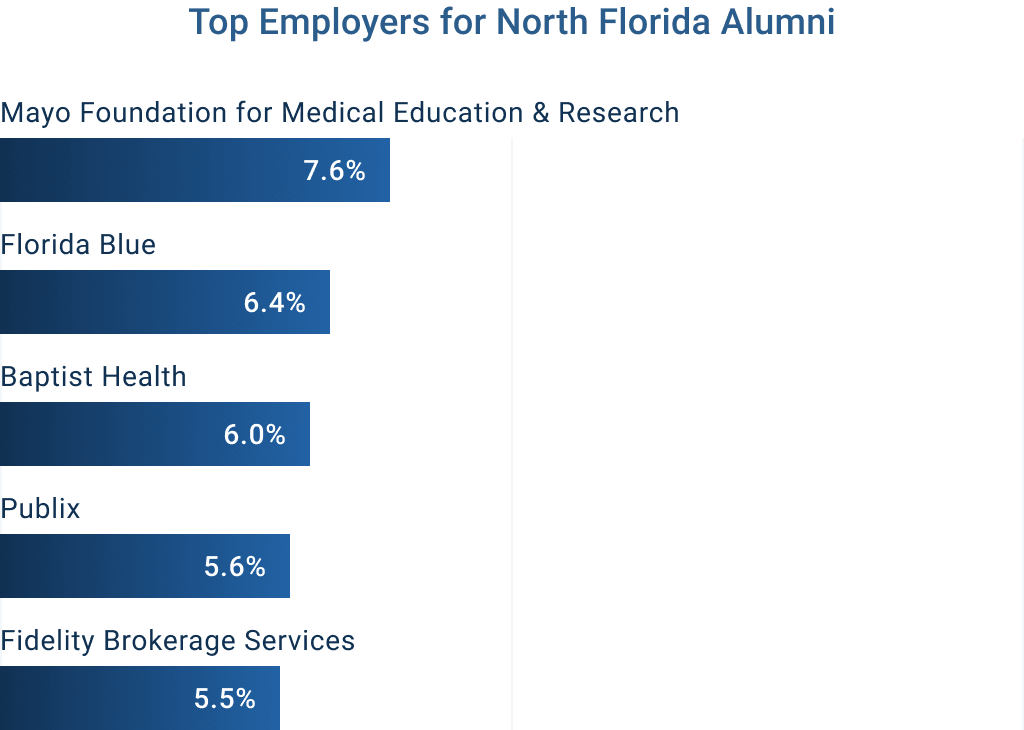 Three major healthcare providers, researchers, and insurers take the top three alumni hiring spots at the University of North Florida. While each represents a different facet of healthcare, the fact they are all on the winner's podium suggests that UNF may be a way to explore a variety of professions that touch on individuals' health and wellness.
Unfortunately, Salary Score data suggests that the school's program in one of the most in-demand healthcare jobs is subpar, at least in earnings outcomes. Registered Nurses are the fourth most popular occupation at the University of North Florida, making up 2.2% of alumni. However, the school's Nursing program earns a SalaryScore of only 25, indicating that UNF alumni going into nursing are likely being paid less than nursing alumni of other schools nationally.
Miami Dade College
Number of Alumni Analyzed: 4,366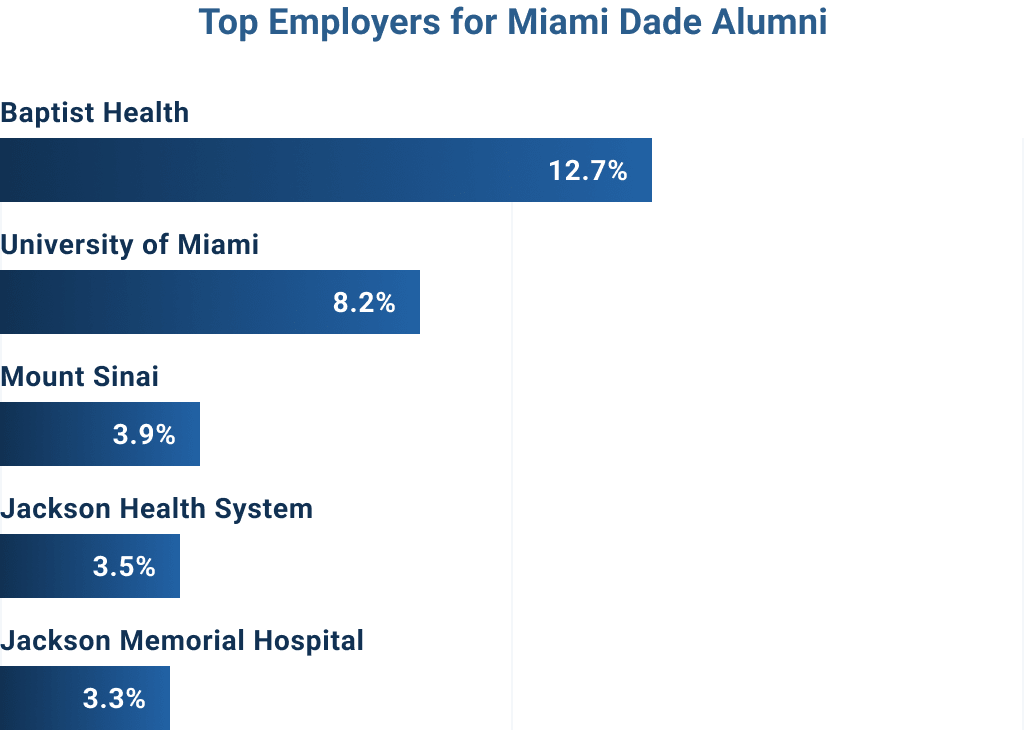 Miami Dade College's top occupation for undergraduate alumni is Registered Nurse, and the rankings for top employers make it clear why. One of every eight alumni ends up at Baptist Health alone, while three other health systems round out the top five. Overall nearly a quarter of all alumni end up in the Healthcare Services industry.
Of the ten schools studied, Miami Dade College was the only one that did not have software engineer as a top five occupation for alumni, perhaps further speaking to the school's specialization as a healthcare-focused school.
Florida International University
Number of Alumni Analyzed: 23,518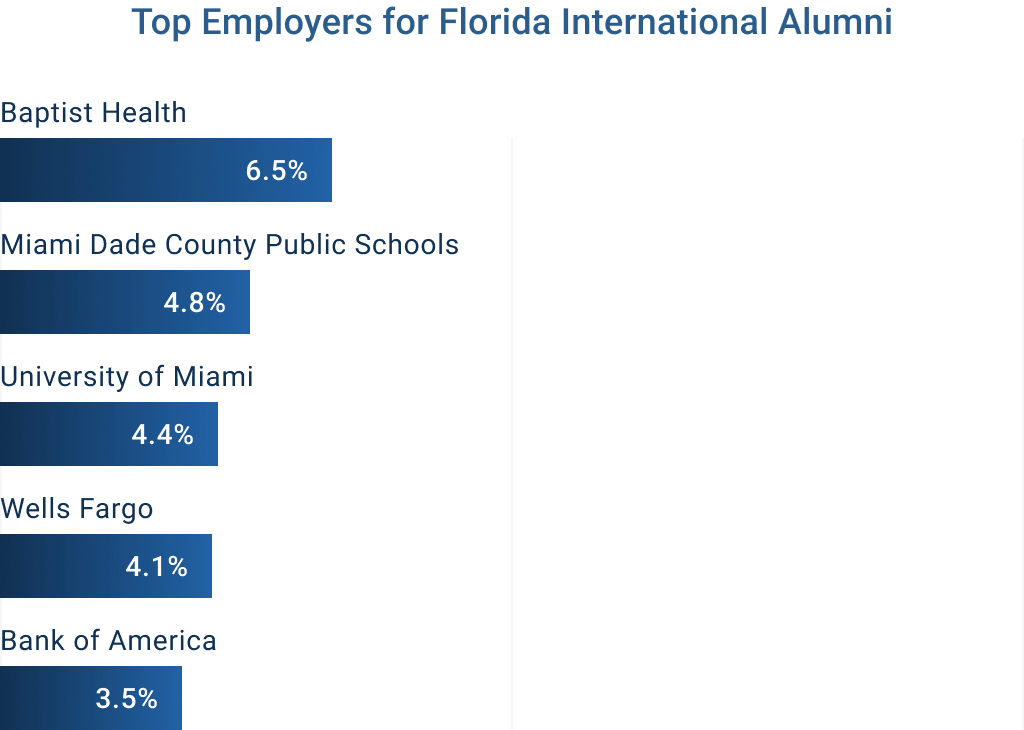 While Florida International University had excellent Salary Scores for its Special Education program (88) and its Teacher Education and Professional Development program (82), healthcare was a clear frontrunner for employers. Baptist Health is one of the top hospital systems in the Miami area, and the fact that it hires such a large proportion of FIU's large alumni pool is a feat for the university.
We also see that two national banks, Wells Fargo and Bank of America, are some of the top employers for FIU alumni. The school's location in Miami, a large financial services hub, could contribute to the strong showing by these two banks.
However, Salary Scores for several degree programs that may lead to the banking industry suggest that FIU banking employees earn less than their counterparts from other schools. For example, the Economics (29), Finance and Financial Management (31) and Management Information Systems (35) all have below average Salary Scores.
Best School for Aspiring Educators
Florida Atlantic University
Number of Alumni Analyzed: 11,066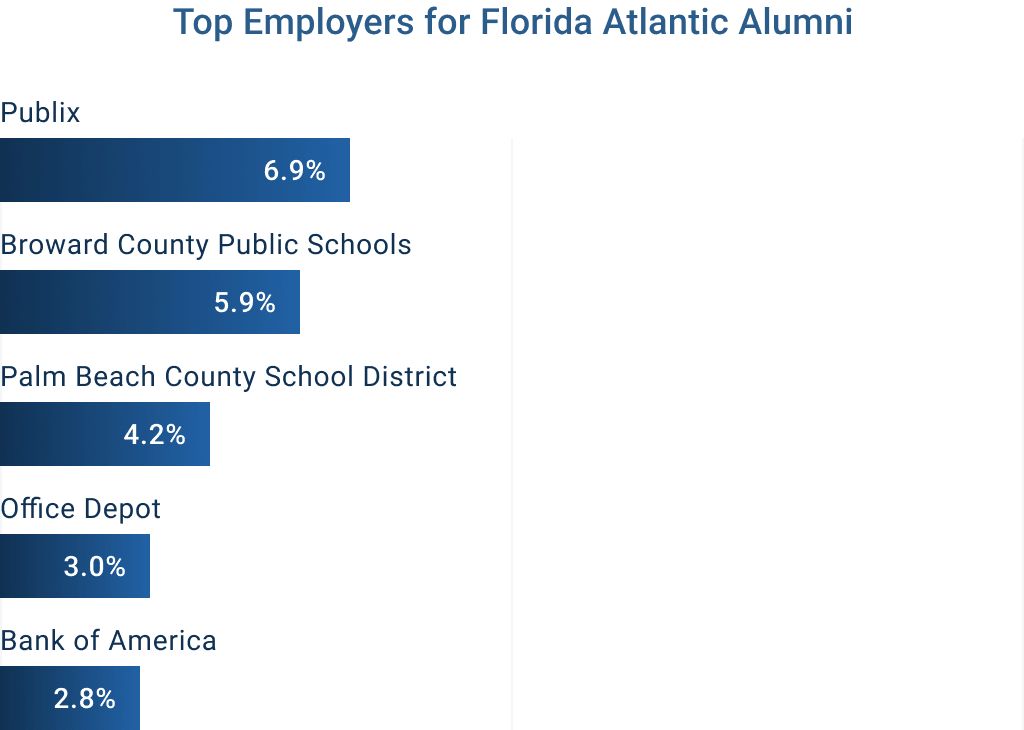 Florida Atlantic University sends 13.8% of its alumni into Educational Services. Even more notable, over one in ten of its alumni go on to work in the neighboring public school districts of Broward County and Palm Beach County. This is likely a testament to the university's strong relationships with local educators and the strength of its education programs.
Some of its highest Salary Scores come from programs either directly related to education or in subjects that are needed in most schools. For example, its various Teacher Education and Professional Development programs have Salary Scores ranging from 83 to 93. Meanwhile its Music program is at 99 and Geography scores at 83.
---
Methodology
Related Articles
2023 Most Affordable Online Colleges for MBA Programs
Explore our list of colleges offering the most affordable online MBA degrees in 2023. We manually collect all the tuitions so you don't have to!
Looking to Land a Prestigious Job After Your MBA? Here's a Look at the Best Schools
MBAs aren't one size fits all when it comes to outcomes. Using alumni LinkedIn data, we took a look at the MBAs that land graduates in the best jobs in consulting, investment banking, and tech.