How Do UT Austin and Texas A&M Compare On Alumni Salaries?
A look at how the Longhorns and Aggies historic rivalry plays out when it comes to salary outcomes.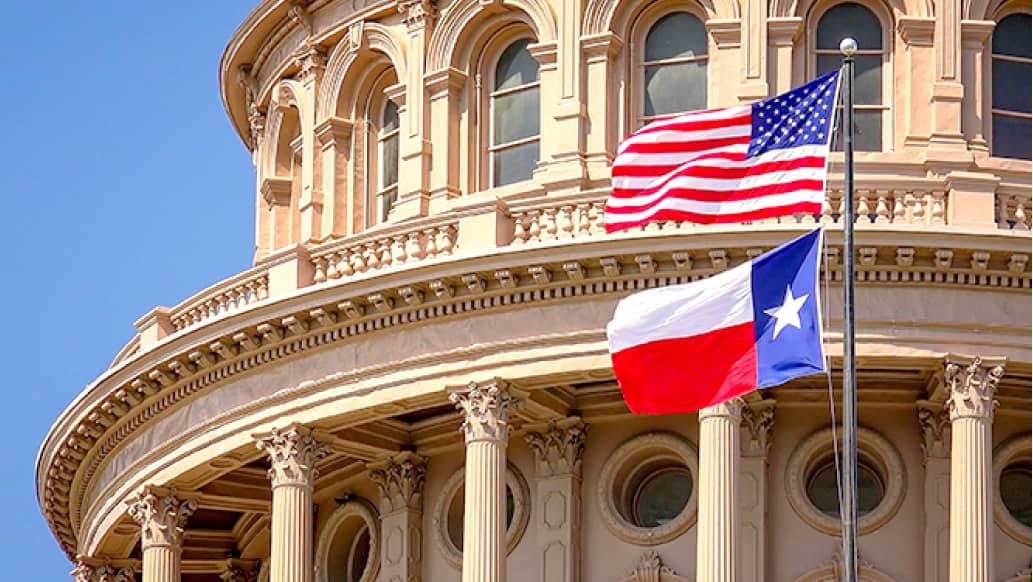 Key Insights:
While both schools offer above-average Salary Scores overall, UT Austin leads by ten points with its score of 83, compared to Texas A&M's score of 73
UT Austin has consistently higher Salary Scores for business-related majors, with median salaries in some fields, such as Business/Commerce, outstripping A&M by $13,000 a year
Texas A&M offers a dozen agricultural and environmental majors on its sprawling campus that can't be found at UT Austin's more urban campus
The University of Texas at Austin and Texas Agricultural & Mechanical University have one of the longest rivalries in the world of college football. For nearly a century, UT Texas' Longhorns and Texas A&M's Aggies competed on the gridiron for bragging rights. Rumors have bounced around that the grudge match may be revived. But another aspect of the rivalry has continued unabated as each school tries to declare itself the top academic institution among Texas public universities.
Both are staples of Texas' educational and employment landscape. With about 40,000 undergraduate students, UT Austin is the flagship school of the University of Texas system. Two hours away on 5,200 acres in College Station is Texas A&M, the state's first public university. This main campus, with its 55,000 undergrads, anchors the Agricultural and Mechanical (A&M) University system of the state.
UT Austin and Texas A&M offer many majors that are popular nationwide, as well as some that are particularly important in Texas (like Petroleum Engineering). Our study breaks down these majors into three categories (business, engineering, and social sciences) to see which college performs best for future earnings.
To get an unbiased look at how college's graduate earnings by major compared to other schools nationally, we created Salary Score. We give each program that a school offers an individual Salary Score by comparing the median starting salary of graduates to other graduates from the same program nationally. A score above 50 suggests above-average salaries compared to their program peers from other schools, while a Salary Score below 50 shows an expected salary that is below the national average. These program-level Salary Scores are then used to determine a school's overall Salary Score to indicate their strength across all programs.
A High Level Look: Salary Scores for UT Austin and Texas A&M
UT Austin leads in overall Salary Score with an 83 compared to Texas A&M's 73, though scores for both schools show that their students tend to earn above average salaries after graduating.
The two schools are close in terms of tuition and fees, but UT is actually cheaper for in-state students, costing $16,642 without room board for the 2020-21 school year. While affordable, that price marks a 4.6% increase from the previous academic year. Texas A&M meanwhile, costs $20,067, but tuition is growing slower, at 2% compared to the previous year. For out-of-state students both cost around $45,000, though UT Austin is again slightly cheaper here.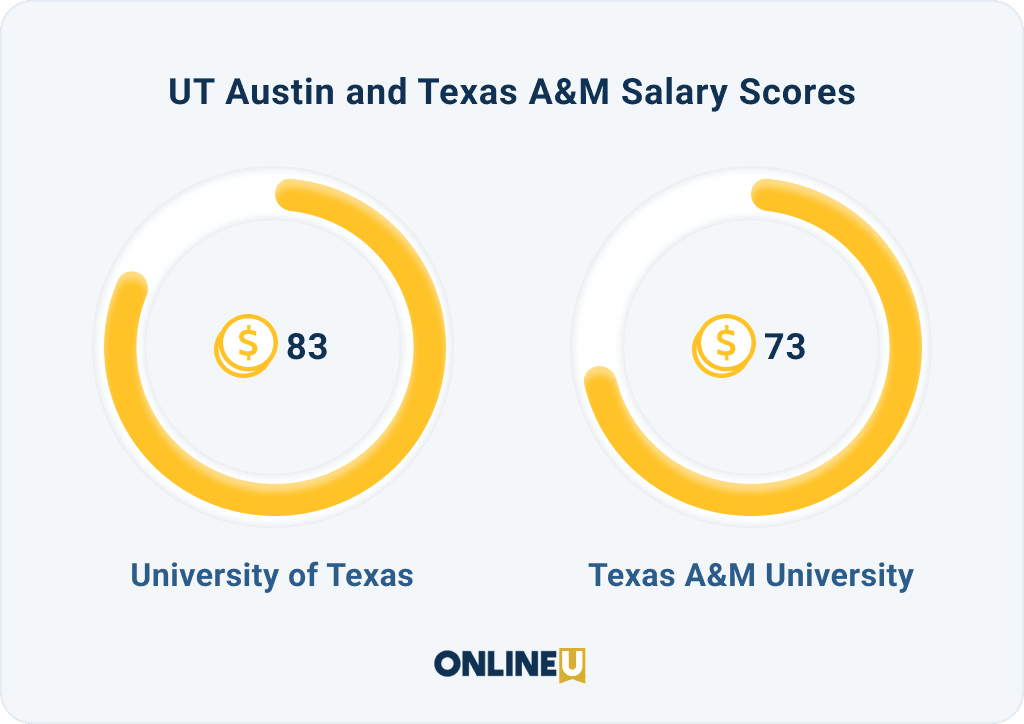 While overall scores tell us about the school's general impact on future salary across programs, looking at the individual majors draws out further insights. A student isn't just getting a UT degree or an A&M degree. They're getting, for example, a UT degree in Marketing or an A&M degree in Civil Engineering, each of which has its own salary range and median salary. Next, we'll dive into the program-level data to answer which school offers the best potential for future earnings based on major.
UT Grads Earn More in Business Fields
| Program | UT Salary Score | UT Median Salary | Texas A&M Salary Score | Texas A&M Median Salary |
| --- | --- | --- | --- | --- |
| Business Administration | 100 | $65,940 | 95 | $57,780 |
| Business/Commerce General | 100 | $76,640 | 98 | $63,750 |
| Finance | 99 | $72,590 | 88 | $62,460 |
| Marketing | 98 | $56,510 | 83 | $48,820 |
| Economics | 73 | $55,870 | 53 | $49,760 |
Both UT Austin and Texas A&M show strong salary potential for their business graduates when compared to other colleges nationally.
Undergraduate degrees in business-related fields can have high median starting salaries to begin with, meaning each point of difference in Salary Score for these higher-paying majors causes a bigger swing in the actual salary difference.
We can see this in looking at the Business/Commerce major. UT's Salary Score is 100, while A&M is behind by only two points at 98. But that translates to an almost $13,000 difference in median starting salary. Finance shows a wider gap in Salary Scores, but again, UT grads can expect a salary premium of more than $10,000 over A&M alum.
Marketing and Economics majors have even wider gaps in Salary Score, again, in UT's favor.
Engineering Salary Rankings Vary by Specialty
| Program | UT
Salary Score | UT
Median Salary | Texas A&M Salary Score | Texas A&M Median Salary |
| --- | --- | --- | --- | --- |
| Chemical Engineering | 92 | $78,260 | 93 | $78,780 |
| Electrical, Electronics & Communications Engineering | 92 | $82,440 | 72 | $75,600 |
| Biomedical/Medical Engineering | 88 | $68,780 | 88 | $68,780 |
| Petroleum Engineering | 88 | $88,790 | 51 | $78,880 |
| Mechanical Engineering | 87 | $72,410 | 91 | $73,410 |
| Civil Engineering | 82 | $66,160 | 84 | $66,650 |
While UT Austin clearly comes out on top in business-related majors, the two schools' engineering programs compete on a nearly-even playing field. Texas A&M eeks out a one-point Salary Score victory in Chemical Engineering. However in median salary terms, this amounts to a difference of just over $500.
The same minimal salary bump can be seen in the other two engineering programs A&M wins. Mechanical Engineering has a salary difference of $1000, while Civil Engineering is again around $500.
Now, when UT wins in these engineering matchups, they get a much higher salary premium. Electrical, Electronics, and Communications Engineering graduates from UT earn nearly $7,000 more. Texas A&M's Petroleum Engineering programs are about average in Salary Score, while UT has a score of 88. This translates to just shy of a $10,000 salary difference.
A&M offers some engineering majors that UT does not, according to its degree catalog, and has above average Salary Scores in almost all of them. These include a general Engineering degree (79), as well as Nuclear (79), Construction (74), and Ocean Engineering (69).
Social Sciences Split Between the Two Rivals
| Program | UT Salary Score | UT Median Salary | Texas A&M Salary Score | Texas A&M Median Salary |
| --- | --- | --- | --- | --- |
| Psychology | 82 | $32,240 | 60 | $31,160 |
| Sociology | 78 | $36,700 | 44 | $31,680 |
| English | 72 | $32,820 | 86 | $35,700 |
| History | 59 | $32,330 | 72 | $34,700 |
Social sciences are some of the most popular majors for students nationwide. Texas A&M and UT Austin each have better Salary Scores in half of these four popular majors. UT takes Psychology and Sociology by wide margins, while A&M wins in English and History.
These majors tend to have lower median salaries in general, particularly compared to the business or engineering degrees, but there are notable gaps. Sociology at UT is a significantly more competitive offering than A&M, with an over $5,000 salary difference.
Aggies Offer Agricultural and Environmental Majors UT Doesn't
| Program | Texas A&M Median Salary | Texas A&M Salary Score |
| --- | --- | --- |
| Agricultural Mechanization | $63,010 | 98 |
| Agriculture, General | $47,650 | 95 |
| Zoology/Animal Biology | $30,170 | 93 |
| Animal Sciences | $36,000 | 88 |
| Plant Sciences | $45,310 | 84 |
| Fishing & Fisheries Sciences & Management | $31,420 | 78 |
| Natural Resources Conservation & Research | $37,930 | 75 |
| Agricultural Business & Management | $47,060 | 68 |
| Agricultural Engineering | $57,320 | 51 |
| Agricultural Public Services | $36,670 | 47 |
The field that UT entirely concedes to Texas A&M is, unsurprisingly, that which deals with agricultural, environmental, or animal-related majors. The ten programs above are not available at UT Austin, according to their degree catalog. For the top five majors, A&M degrees offer real salary boosts. The next three programs are above the median salary, while the final two hover around the average salary. Two other majors, Forestry and Soil Sciences, which are not on the chart, offer well below average salaries. But again, the point is that A&M offers these majors, while UT Austin does not.
UT Austin Offers Higher Starting Salaries in Business Fields, While A&M Dominates Agricultural Education
UT Austin and Texas A&M are rivals for a reason. They are closely matched in a variety of fields. But, when it comes to giving their alumni the best shot at earning a competitive salary, UT Austin comes out ahead by ten points on Salary Score across programs. However, looking at an individual program level allows us to see where each of the colleges are strong.
For business-minded students, UT Austin's various majors in the field offer higher salary outcomes, sometimes beating Texas A&M by thousands of dollars for median annual salaries after graduation. The schools were closer in the engineering field, where each school had a higher Salary Score in certain types of engineering. However, UT's higher Salary Scores were ahead of A&M by at least twenty points, while A&M only barely beat UT in its winning engineering fields. Like engineering, the social sciences were split between the schools, though again, UT's margins of victory were much wider.
Despite A&M's lower overall Salary Score and its smaller margins when it did win in a particular program, Texas A&M is the clear choice for a student seeking to study agricultural and environmental programs. In these fields, the school offers a dozen majors that UT simply does not, including a top-tier Agricultural Mechanization program. That strong set of agricultural programs, made possible by over 5,000 acres of campus, is A&M's biggest comparative advantage against University of Texas.
Methodology
Our data on alumni earnings comes from College Scorecard, an annually updated resource provided by the U.S. Department of Education. The earnings data used in our Salary Score is for alumni in the first year after completing a degree. The data was released in December 2020, and is for students who graduated in 2016 and 2017, with earnings measured in 2017 and 2018, respectively, and inflation-adjusted to 2019 dollars.
The data is based on the earnings of students who received federal financial aid because that is the sample for which the Department of Education has data. This excludes students who did not receive federal financial aid. Please see our "What is Salary Score?" resource for additional information.