Pandemic Worsened Perennial Teacher Shortages, But No Nationwide Exodus From Education Yet
The pandemic and its ripple effects have increased stress on teachers and led many to leave the profession. But the education sector has had issues filling jobs and retaining staff for much longer than COVID has been around.
Key Insights:
The exodus of teachers that many thought the pandemic would trigger has yet to happen. However, there was a brief, but pronounced, spike in education sector quits in July and August 2021.
The pandemic reversed a trend of dropping vacancy rates in the education sector; the May 2022 vacancy rate of 4.7% is almost identical to May 2019 and May 2018, both of which were at 4.6%.
Despite these nationwide statistics, there are large local discrepancies that have left many primary and secondary schools short-staffed, with some especially desperate for educators with special education or specific subject matter experience.
Experts say the politicization of education in some states could lead to further teacher shortages. Educators face increased parental and government scrutiny of how they teach particular subjects, especially gender and race issues.
Teachers who have quit have gone into any number of other sectors, many of which offer better pay, benefits, and work-life balance, and highly value educators' ability to train and lead groups of people.
The coronavirus pandemic has changed the makeup of many sectors of the economy, from healthcare to leisure and hospitality. The education sector took its share of lumps as well, with schools wrestling with competing local and state mask mandates, administrators weighing remote and in-person teaching options, and teachers pressured to come into classrooms before many felt safe doing so.
These and other stressors, such as the politicization of education in some places, have allegedly pushed many teachers to quit, further lowering morale among educators and driving more to consider changing careers.
Many reasons to leave education are unique to this period of pandemic and polarization. Yet the fundamentals behind teacher shortages have been the same for years, if not decades. So while teachers are indeed leaving the profession, the mass exodus many predicted during the pandemic has yet to materialize — at least according to the numbers so far.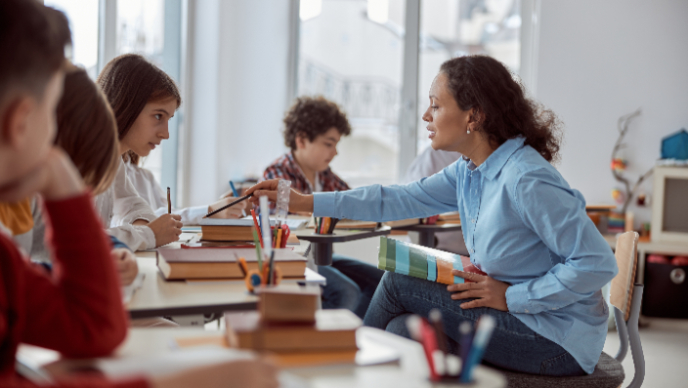 ADVERTISEMENT
Online Programs You May Be Interested In

Southern New Hampshire University Online
Annual Tuition: $9,600
156 Programs (view all)

Annual Tuition: $16,639 - $17,479
21 Programs (view all)

Annual Tuition: $17,800
195 Programs (view all)
---
Long-Term Trends in Education Sector
Over the long term, the Bureau of Labor Statistics forecasts that demand for kindergarten and elementary school teachers will grow by 7% between 2020 and 2030. Demand for high school teachers will grow at 8% over the same period. Both are about the same as the average demand growth for all occupations, the BLS says.
While this appears to be a good sign for the teaching profession, just because demand will grow does not necessarily mean hiring will keep up. This has been one of the most consistent trends over the decades. Demand for teachers almost always outstrips the supply, leading to the overcrowded classrooms that are standard in many schools.
One way to try to predict the future supply of teachers is to look at how many people are enrolling in teacher's education programs at colleges. Unfortunately, those numbers don't bode well for those hoping that supply will meet the demand for educators.
"Since 2010, overall enrollment in teacher education programs has fallen by 40%. With so many teachers retiring and others exiting the profession for a multitude of reasons, teacher shortages are expected to approach the 200,000 mark by the year 2025," says Louel Gibbons, an adjunct associate professor at the College of Education at the University of Alabama.
The median pay for a teacher was under $62,000 per year, the BLS says. In reality, that means that half of teachers are making less than that annually. The amounts young teachers make are far less than what they can make doing other work, often with less stress.
Schools' Ability to Fill Vacancies
The shortfall between demand for teachers and the number of teachers hired can be measured by the vacancy rate for the education sector. This will include other jobs related to education as well, such as paraprofessionals, administrators, and so on.
Teachers blame these relatively high vacancy rates, which peaked in December 2021, on school districts unwilling or unable to offer competitive hiring and retention packages, even as other sectors poured money into securing talented employees.
Schools' Ability to Retain Talent
The BLS uses the 'quits rate' – the rate of workers voluntarily leaving their jobs – for an economic sector or subsector as a way to gauge confidence among workers about their chances of success outside of their current job, or as a way to measure dissatisfaction in particular industries.
As the graph shows, quits in the education sector peaked in July and August of last year, with 2.5% of that sector's employees leaving their job voluntarily. This lines up with anecdotal evidence from the University of Alabama's Professor Gibbons.
"Numerous teachers have told me that 2020-2021 was the most difficult year of their entire teaching career, prompting many to begin investigating other career options or make retirement plans," he says.
Since that peak, the rate has dropped below 2%, more in line with pre-pandemic trends.
This suggests that the exodus may have already happened last summer, even if it was not as dramatic as some predicted. This is an optimistic interpretation of the data since, as the chart shows, we are not far from breaking the 2% quits rate again.
Teachers believe there are ways to get more educators into the classroom, including pay raises, professional development opportunities, and better working conditions, such as smaller class sizes and more support staff.
But others point to more intangible factors that drove them from the profession.
Melissa Rowe, a 15-year veteran of the profession, quit her job teaching math and special education in Maine after this last school year. Rowe says working in special education led to her being buried in paperwork rather than actually interacting with her students.
"Reduce the paperwork, give teachers more control over their classrooms, and stop blaming teachers for everything that is wrong with education, and maybe more people would consider becoming (or remaining) teachers," she said.
Local Differences in Education Since Pandemic
Despite the national trends, there is great variation across the country in terms of how schools and school districts are dealing with the shortfall in teachers and other staff. Some areas are truly hurting, and students will be the ones to bear the brunt of the lack of teachers.
One factor that often impacts a teacher's decision whether to continue in the profession is wages. The map below shows how teachers' wages differ by locality. One thing to point out is that teachers' wages appear to be higher in the Northeast and the West Coast, areas we know have higher costs of living. This may make a difference in how much a teacher actually is able to make and how much that salary can buy them, particularly in the present inflationary environment.
Hiring is another area where there is great variation among regions and states. The BLS also offers a map showing which states employ the most teachers as of May 2021.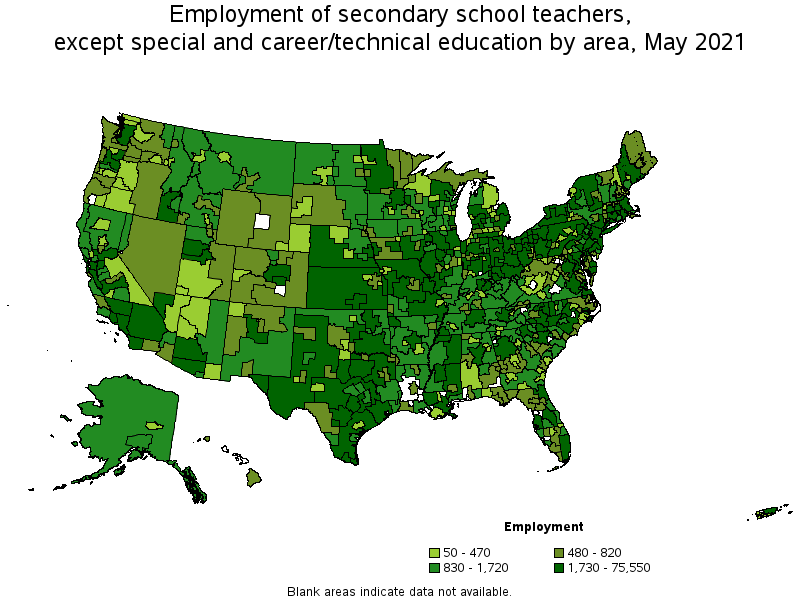 What Gets Teachers to Stop Teaching?
When asking present and former educators why they left or are considering leaving their jobs, we get answers that go beyond wages and class sizes. Often, they go into some of the societal changes we've seen over the past few years.
For example, teachers report feeling they have less and less autonomy to do their job according to their own standards without interference from the government or parents.
The other issue is recent school shootings, in the context of generally increasing violent crime nationwide, that have forced more teachers to grapple with the idea of their personal safety in the classroom.
Politics and Education
There have always been tensions between various levels of government and stakeholders in the education system. Common subjects of disagreement include how funds are distributed, safety and equity regulations, and various aspects of what is taught in schools. In other words, schools have never been immune to political forces at the local, state, or national levels.
But at the beginning and well into the pandemic, necessity and opportunism have seen politics inserted into schools in entirely different ways, from mask regulations to guidelines on when and how to reopen.
In addition to that, the nationwide protests against police brutality, triggered by the murder of George Floyd, made teaching race more controversial as well.
"Without question, the politicization of education, especially as it relates to [racial] and gender issues, is creating new obstacles to complicate the challenges teachers already face," Professor Gibbons says.
Tony Holland, a former teacher, says that "the politicization of education, too much parental input on the curriculum, and too much red tape around the coronavirus" introduced enough added stress to get teachers to "leave the profession due to better opportunities elsewhere that are considered to be more lucrative or less stressful."
School Violence
School shootings are, unfortunately, too common in the United States, and 2022 is on pace to be a record year in those terms. EdWeek has been tracking shootings on K-12 properties that result in injury or death since 2018. So far this year, there have been 27 of these shootings. In 2021 there were 34, the most since the publication began keeping track in 2018. However, in 2020, there were only 10, much less than in 2019 and 2018, which each saw 24 shootings.
A more comprehensive and searchable data map of school shootings is made available by the Center for Homeland Defense and Security at the Naval Postgraduate School.
The unique circumstances of one of the latest school shootings, which occurred in May at Robb Elementary School in Uvalde, Texas, has had a negative effect on many teachers, experts say.
"The perceived inaction of some of the first responders has led many teachers to feel less valued and less supported than ever before," Gibbons says.
What Can Schools Do to Get Teachers Back?
According to former teachers and education experts we've talked to, many leave teaching for diverse types of jobs — from joining the military, to business consulting, to software engineering. Depending on a teacher's interests, specializations, and willingness to return to school or enroll in a bootcamp, they can end up just about anywhere.
Many organizations value former teachers' ability to control a room — and to teach. Oftentimes this takes place in the corporate setting, with adults instead of children, and for much more lucrative salaries.
Holland says some teachers he knows left to pursue their original ambitions in the fields of law, business, or medicine. That would likely involve some level of re-education, but to many, it's an investment that will allow them to leave teaching without looking back.
So what can schools do to get their most important resource – teachers – back in the classroom?
The most common answers from the former and current teachers we spoke to involve better compensation and more respect for themselves and their profession.
Unfortunately, both are perhaps symptoms of larger, interlinked societal problems that will take some time to solve. Low teacher salaries have been the norm for decades now, and that may reflect the idea that society undervalues teachers.
Some places are loosening requirements to teach, which may be a way to get a broader and more diverse group of educators into classrooms. Other areas have used some federal emergency money to offer signing bonuses for teachers and other school employees that are in short supply.
But teachers want more than one-off bonuses or for elected leaders to pay lip service to the importance of teaching in our society. They want better salaries, better benefits, and better class sizes. They also advocate for more input in what and how they teach, a greater sense of safety in their schools, and appreciation in their communities — even from parents who may not agree with every detail of the curriculum.
"Even though I loved teaching, I didn't want my life consumed by it anymore," says Rowe, the former teacher from Maine. "Especially since it seems like everyone but teachers decides what happens in a classroom these days."
"In general, I don't feel teaching is as respected as it maybe once was, and that is a huge drawback to getting more people to become teachers," says Rowe.