Which States have the Most HBCUs?
A complete list of historically Black colleges and universities in the U.S. by state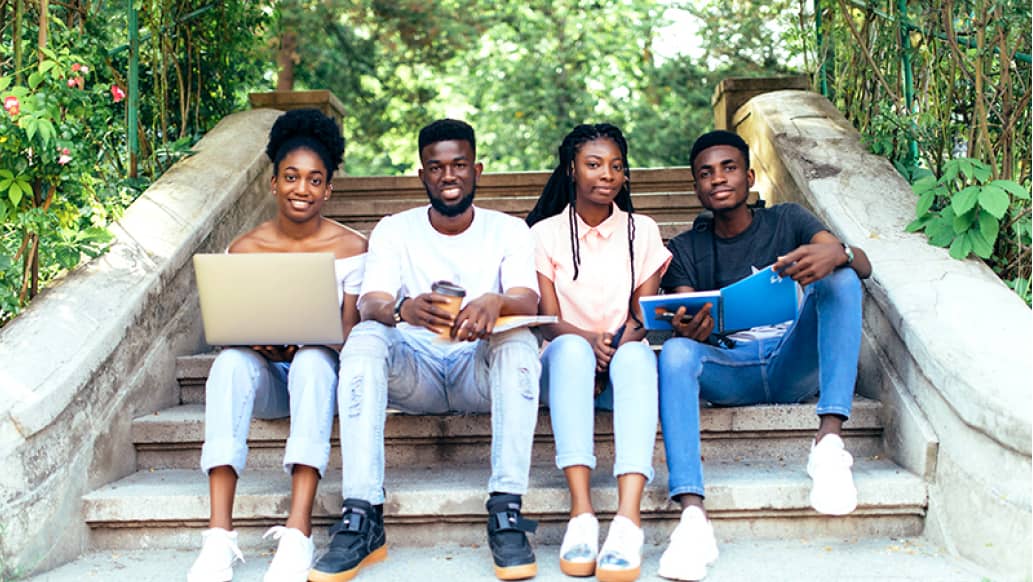 HBCUs have played a critical role in higher education for Black students over the past 150+ years. Many historically Black colleges were founded after the Civil War to educate formerly enslaved people and their children. Others were created under the second Morrill Act of 1890 requiring states with segregated public higher education to offer land-grant colleges for African Americans.
Today, HBCUs continue to be a cornerstone of education for a diverse student population. Historically Black colleges are significant drivers of economic mobility for their students, and in some cases offer a higher payoff for Black students than predominantly white institutions. HBCUs are also better equipped to support Black students as they navigate unique barriers in higher education.
The benefits of attending an HBCU, alongside factors such as the racial justice movement and higher profile visibility in recent years, have led to enrollment increases for many HBCUs in the 2021-22 school year.
Where are HBCUs located in the United States?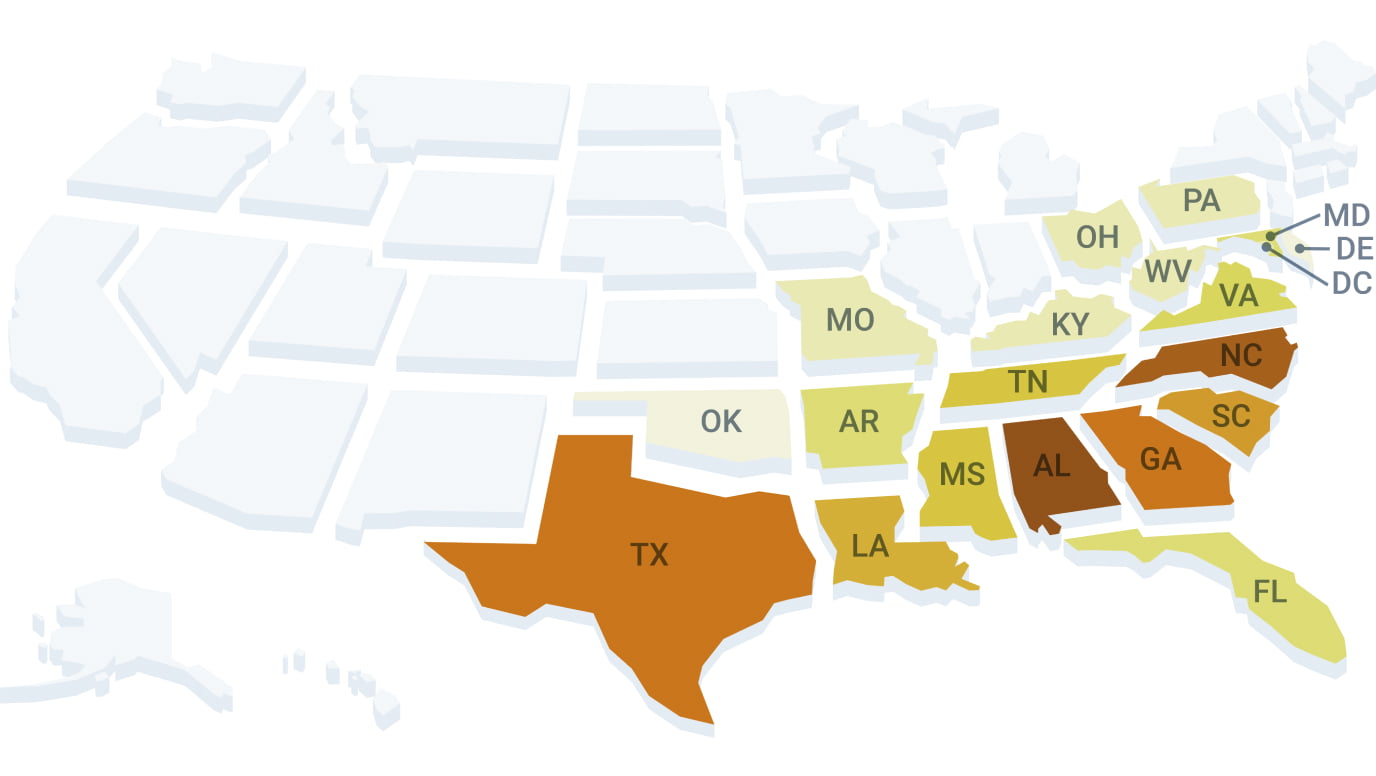 Alabama: 14
North Carolina: 10
Georgia: 9
Texas: 9
South Carolina: 8
Louisiana: 7
Mississippi: 6
Tennessee: 6
Virginia: 5
Arkansas: 4
Florida: 4
Maryland: 4
District of Columbia: 3
Kentucky: 2
Missouri: 2
Ohio: 2
Pennsylvania: 2
West Virginia: 2
Delaware: 1
Oklahoma: 1
Virgin Islands: 1
Alabama, North Carolina, Georgia, and Texas are the states with the most HBCUs. Texas and Georgia are also two of the states with the largest Black communities.
Alabama is the state with the most HBCUs, with 14 historically Black colleges, including eight universities and six community colleges. North Carolina is second with 10 HBCUs, all of which are four-year universities. Georgia and Texas each have nine HBCUs, with a mix of graduate schools, community colleges, and four-year schools.
How many historically Black colleges and universities are there in the United States?
There are currently 102 open colleges recognized by the U.S. Department of Education as HBCUs. These research universities, liberal arts colleges, graduate schools, and community colleges can be found in 19 different states across the country. This figure does not include colleges that are closed, not currently accredited, or not recognized by the U.S. Department of Education as HBCUs.
Additional Historically Black colleges not accounted for in this list:
Hinds Community College - Utica Campus

Utica College, founded in 1903, merged with Hinds Community College in 1982 but remains an HBCU.

Morris Brown College

Morris Brown College regained accreditation ahead of the 2021-22 school year.
What are the top five largest HBCUs?
The top five HBCUs by enrollment are:
North Carolina A&T State University in Greensboro, North Carolina
St. Philip's College in San Antonio, Texas
Howard University in Washington, D.C.
Prairie View A&M University in Prairie View, Texas
Florida A&M University in Tallahassee, Florida
Complete list of HBCUs in the United States
Alabama A&M University
Alabama State University
Bishop State Community College
Gadsden State Community College
H. Councill Trenholm State Community College
J. F. Drake State Community and Technical College
Lawson State Community College
Miles College
Oakwood University
Selma University
Shelton State Community College
Stillman College
Talladega College
Tuskegee University
North Carolina - 10 HBCUs
Bennett College
Elizabeth City State University
Fayetteville State University
Johnson C. Smith University
Livingstone College
North Carolina A&T State University
North Carolina Central University
Saint Augustine's University
Shaw University
Winston-Salem State University
Albany State University
Clark Atlanta University
Fort Valley State University
Interdenominational Theological Center
Morehouse College
Morehouse School of Medicine
Paine College
Savannah State University
Spelman College
Huston-Tillotson University
Jarvis Christian College
Paul Quinn College
Prairie View A&M University
Southwestern Christian College
St. Philip's College
Texas College
Texas Southern University
Wiley College
Allen University
Benedict College
Claflin University
Clinton College
Denmark Technical College
Morris College
South Carolina State University
Voorhees College
Dillard University
Grambling State University
Southern University and A&M College
Southern University at New Orleans
Southern University at Shreveport
Southern University Law Center
Xavier University of Louisiana
Alcorn State University
Coahoma Community College
Jackson State University
Mississippi Valley State University
Rust College
Tougaloo College
American Baptist College
Fisk University
Lane College
LeMoyne-Owen College
Meharry Medical College
Tennessee State University
Hampton University
Norfolk State University
Virginia State University
Virginia Union University
Virginia University of Lynchburg
Arkansas Baptist College
Philander Smith College
Shorter College
University of Arkansas at Pine Bluff
Bethune-Cookman University
Edward Waters College
Florida Agricultural and Mechanical University (Florida A&M)
Florida Memorial University
Bowie State University
Coppin State University
Morgan State University
University of Maryland Eastern Shore
District of Columbia - 3 HBCUs
Howard University
University of the District of Columbia
University of the District of Columbia - David A. Clarke School of Law
Kentucky State University
Simmons College of Kentucky
Harris-Stowe State University
Lincoln University
Central State University
Wilberforce University
Cheyney University of Pennsylvania
Lincoln University
Bluefield State College
West Virginia State University
Delaware State University
University of the Virgin Islands