Two Years After Economic Shock, Some Sectors Still Can't Fill Vacancies as U.S. Surpasses 11.5 Million Open Jobs
Though all private sectors saw higher rates of job vacancies in March 2022 compared to March 2020, the trend was especially pronounced in the mining and logging, manufacturing, education and health, and leisure sectors.
Key Insights:
Job vacancies remain high compared to pre-pandemic levels, with over 11.5 million vacancies in March 2022 compared to 6.2 million two years prior.
The accommodation and food services subsector, and the healthcare and social assistance subsectors have the highest job vacancy rates right now, at 9.9% and 9%, respectively.
The sectors with the most ground to make up in terms of getting vacancy rates closer to pre-pandemic levels are leisure and hospitality, mining and logging, manufacturing, and education/health and social assistance.
High vacancies overall provide students and graduates with more negotiating power, especially in certain sectors particularly desperate for qualified workers.
With "Help Wanted" signs filling many store windows, it's easy to see that there seem to be a lot of job openings. This anecdotal evidence is made all the more real when we also look at the data that show that vacancies are at record highs. There are 11.5 million unfilled jobs as of March 2022, according to the BLS.
The rate of employees that are quitting their jobs are also at record highs, lending credence to the popular "Great Resignation" narrative. The rate of employees that are leaving their jobs is up to 3% in March 2022, from 1.8% in March 2020. That means that, compared to two years ago, hundreds of thousands more Americans not only believe that the grass is greener on the other side, but are also willing to bet that they can get to that other side by quitting their job.
To give students and graduates a leg up when it comes to deciding what industry to aim for in their search, we've gone through and looked at the parts of the private sector that are having the hardest time returning to pre-pandemic norms.
Companies in industries with wide gaps between their pre-pandemic vacancy rate and today's rate may be especially keen to fill jobs by giving new hires more of what they ask for, whether it's a sign-on bonus, flexible hours, remote options, or simply a more competitive salary.
Overall Vacancies Nearing Double Pre-Pandemic Levels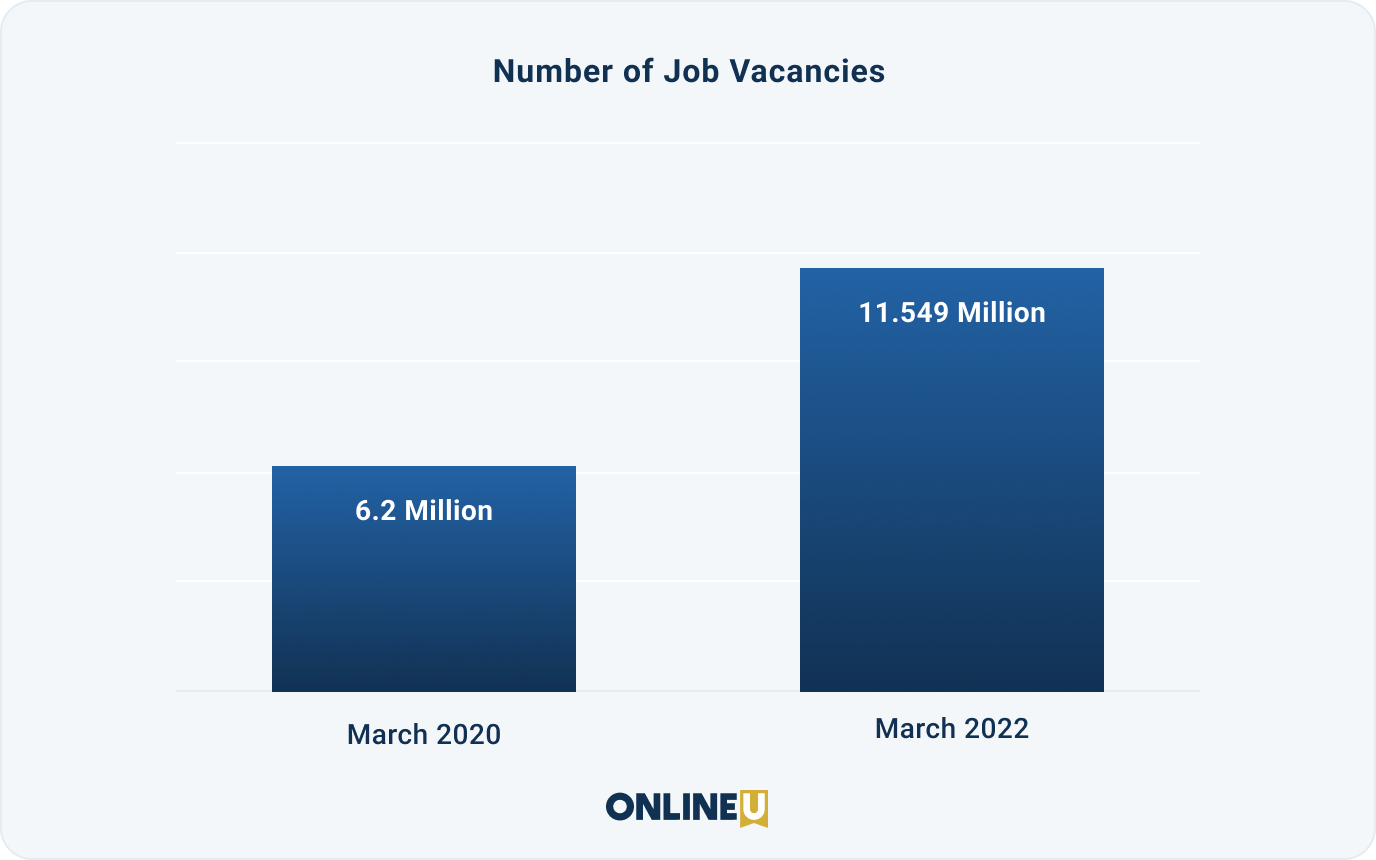 On the last business day of March 2022, the job vacancy rate was 7.1% and the number of job openings was at 11.5 million, a historical peak, the BLS said in its most recent Job Openings and Labor Turnover report, published in May. Quits were also at a historical high of 4.5 million in March, with a "quits rate" of 3%.
Contrast that with the same BLS report from two years earlier.
On the last business day of March 2020, the number of job openings declined by 813,000 to 6.2 million vacancies, giving us a vacancy rate of 3.9%. Meanwhile, the number of quits dropped by 654,000 to 2.8 million. Workers that had jobs wanted to hold onto them, giving us a quits rate of 1.8%, the first report says.
The headline numbers — 11.5 million unfilled jobs as of this March, compared to 6.2 million open jobs two years prior — show an increase in the number of vacancies of 185%.
But there's more to it than just those numbers. We can also see that in 2020, overall job openings were declining in March compared to February, whereas in March 2022 vacancies are up 200,000 from the previous month. The trend lines from the two years are going in opposite directions. However, it's as yet unclear if current vacancies will continue to increase under present economic headwinds, such as record-high inflation and geopolitical instability.
It's the same case with the quits rate, which is seen as a measure of workers' confidence in the economy, and specifically the hiring environment. Fewer people were quitting two years ago, and the rate was on the way down compared to the month prior. According to the BLS, 1.7 million more people quit their job this March compared to two years ago.
Vacancy Rates Remain High in All Private Sector Industries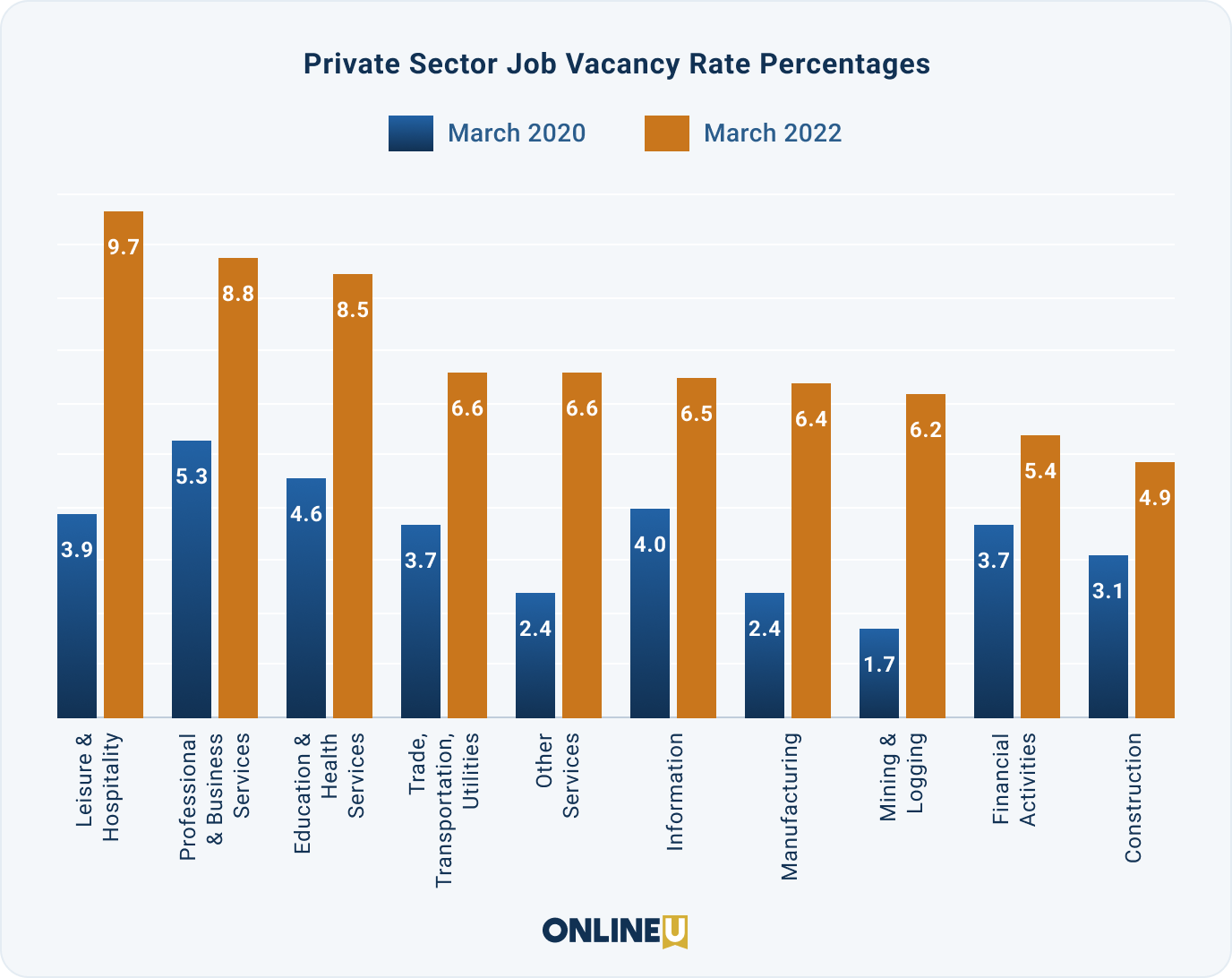 As the graph above shows, vacancy rates remain very high in all private sector industries, according to the BLS. Average private sector vacancy rates across the private sector were 3.9% in March 2020, and 7.5% in March 2022.
Private Sector Change in Job Vacancy Rates
| Industry | Difference between 2020 and 2022 Vacancy Rates |
| --- | --- |
| Leisure and hospitality | +5.8 |
| Mining and logging | +4.5 |
| Other services | +4.2 |
| Manufacturing | +4 |
| Education and health services | +3.9 |
| Professional and business services | +3.5 |
| Trade, transportation, and utilities | +2.9 |
| Information | +2.5 |
| Construction | +1.8 |
| Financial activities | +1.7 |
Industries With the Most Ground to Make Up
Above, we looked at the job vacancies in particular sectors to show how broad the issue of hiring is. Here, we'll focus on the industries that may not have the highest vacancies right now, but that show the widest gaps between their pre-pandemic and present vacancy rates and levels. Just the fact that all of the numbers are positive means that every industry has a higher vacancy rate now than two years ago.
Leisure and Hospitality
The leisure and hospitality industry was one of the first casualties of the lockdowns and border closures that began in March 2020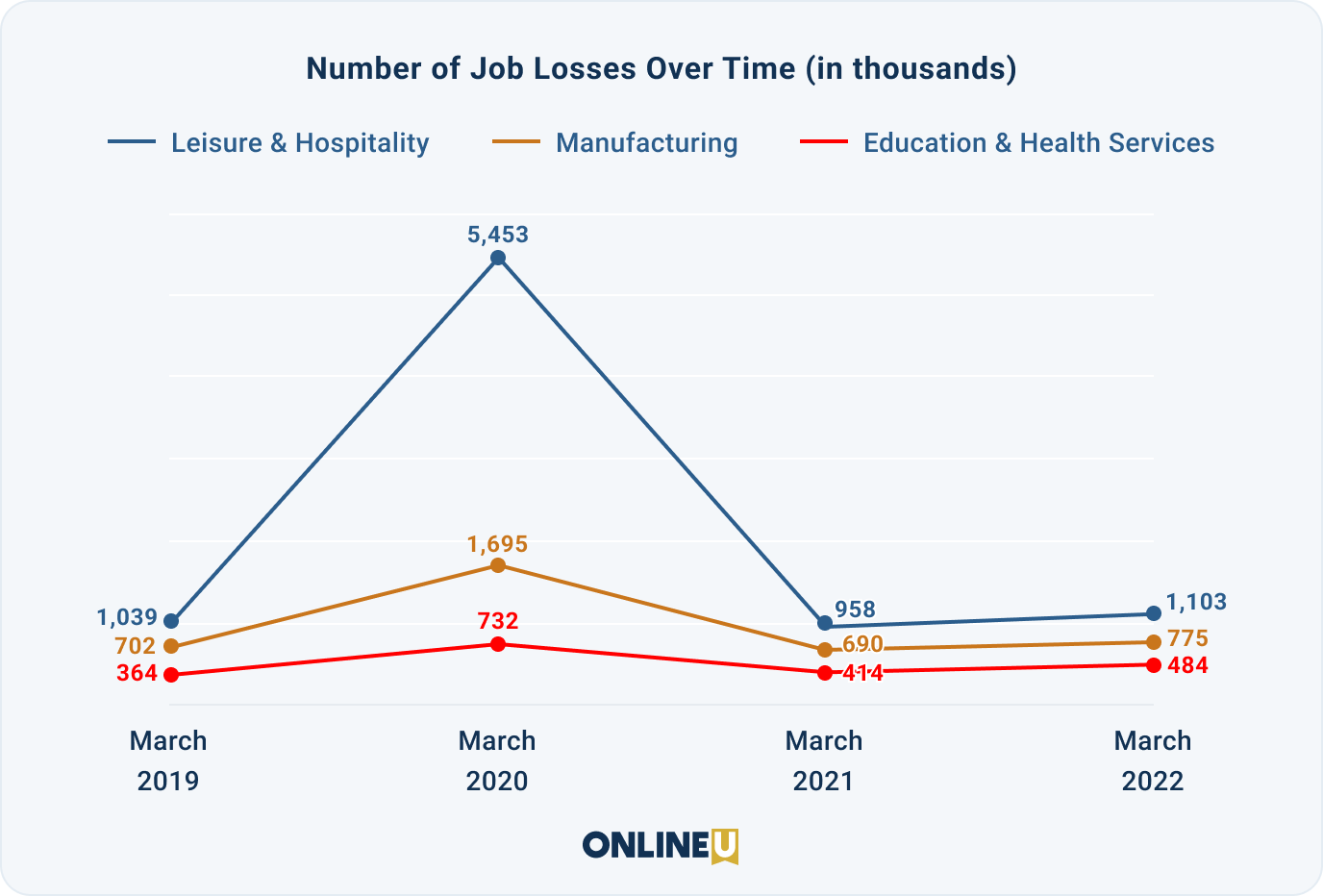 BLS data shows that just over one million job "separations" in the leisure and hospitality industry in the March before the pandemic, then leaped five-fold in March 2020 to just under 5.5 million layoffs, firings, and quits.
Although both manufacturing and education and health care saw their number of separations double between March 2019 and March 2020, both industries combined couldn't match the carnage in the leisure and hospitality industry.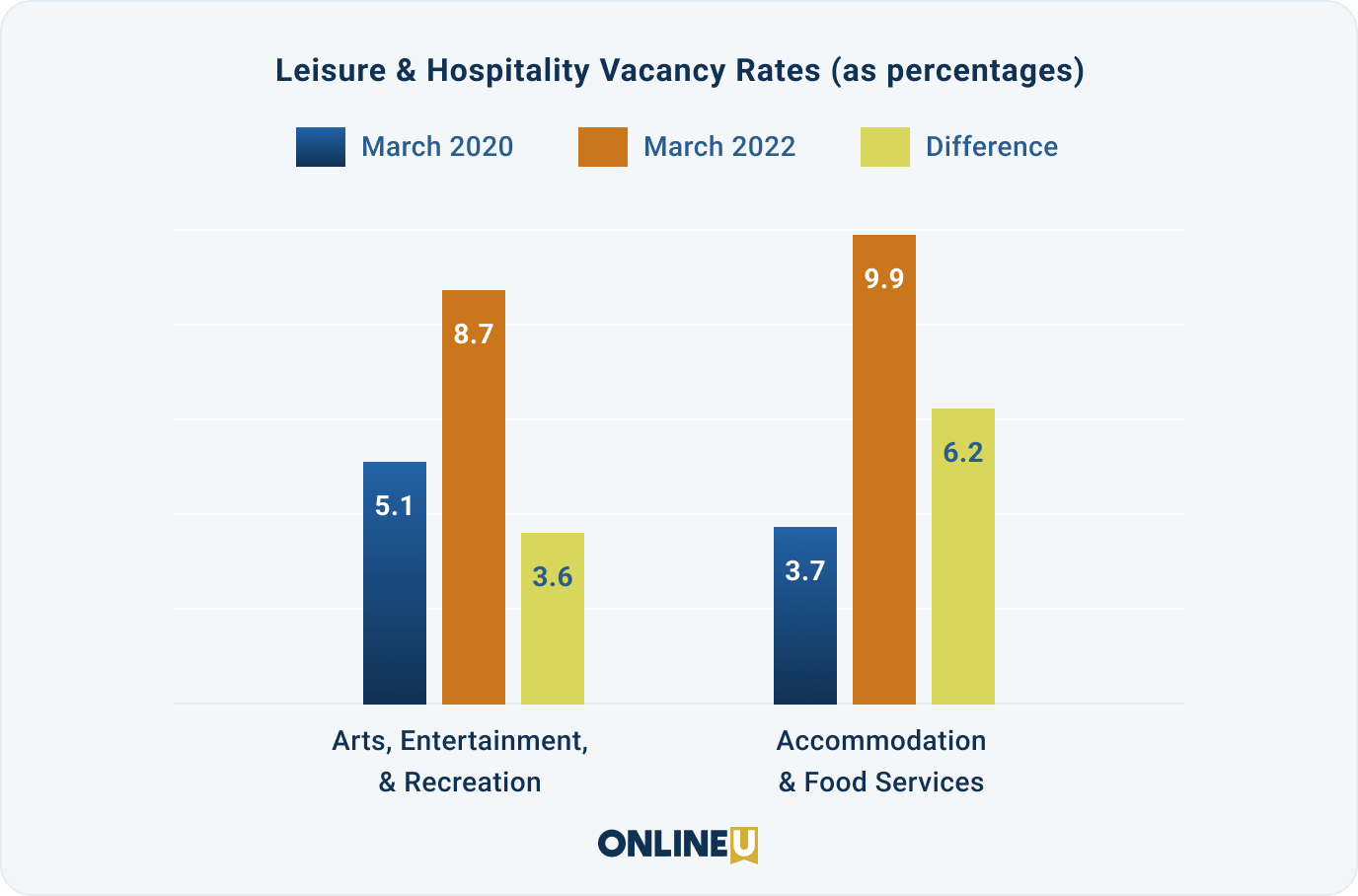 With a 5.8-percentage point increase in its vacancy rate since March 2020, the leisure and hospitality industry remains the sector with most ground to gain if it's to close the yawning gap between a current vacancy rate approaching 10% and its pre-pandemic rate of under 4%.
Like many of the sectors that the BLS splits the economy into, there are also ssubsectors that may fare worse or better than the overall industry it belongs to. In this case, leisure and hospitality is split into arts and entertainment, and accommodation and food services.
The high vacancies in entertainment suggest that, depending on the region, specific job requirements, and an individual's experience, there may be openings for those who graduate with degrees in the fields of visual or performing arts, or even stage management, cinematography, sound design, and other behind-the-scenes roles.
That being said, this study doesn't look at the salaries for these 216,000 open positions, so it's hard to say that things are better for artists and entertainers now than before the pandemic. Like all of the vacancies we speak about, those jobs may be open for the simple reason that they aren't paying enough.
Though arts and entertainment still has a very high vacancy rate, it's the accommodation and food services part of this sector that took the biggest losses, and has the farthest to go to return to "normal." This is a subsector that was hit hard by the sharp slowdown in dining and travel in the first year of the pandemic.
Now that demand for vacations, dining, and nightlife is returning, the industry is having trouble attracting employees to make up for those that were laid off or furloughed as a response to the pandemic. With 1,458,000 job openings, those with degrees in hospitality management or experience in restaurants and bars will have plenty of opportunities in this industry.
The question, as with all of these sectors, is if working conditions and pay has improved enough to draw workers back, or if these vacancy rates are an indication of workers leaving leisure and hospitality for jobs without the unpredictable hours and unimpressive wages.
Mining and Logging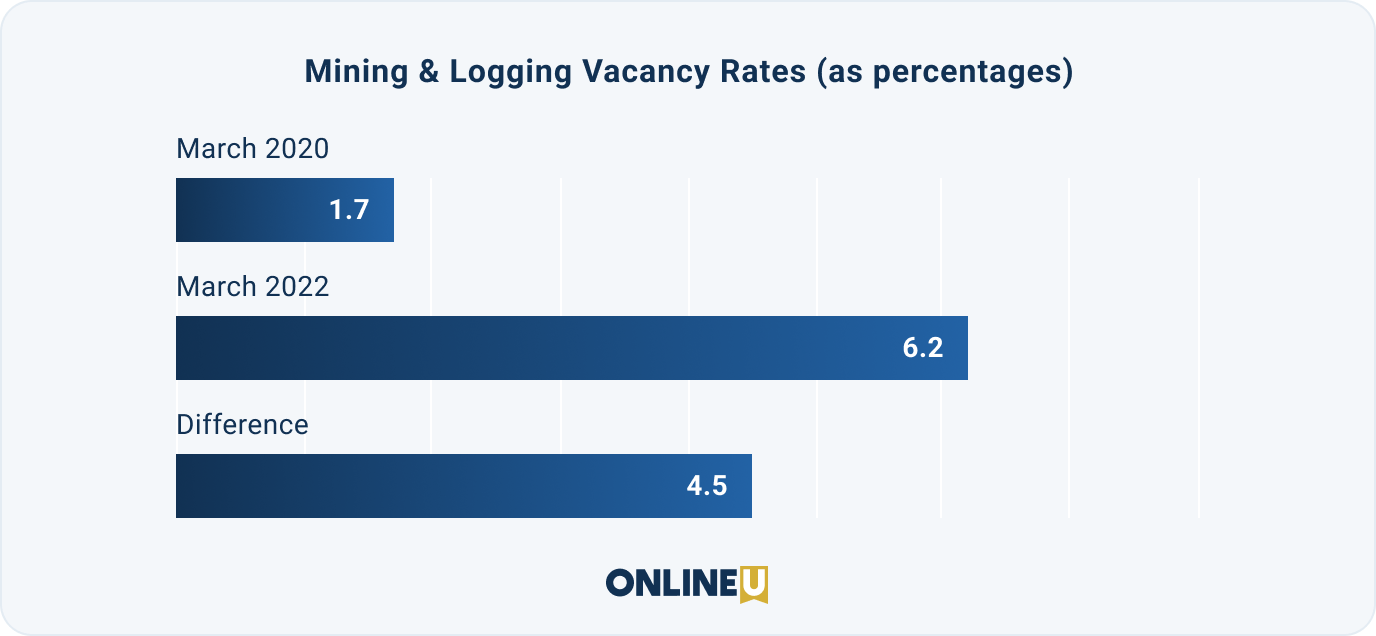 Although it employs a fraction of the people employed in some of these other sectors, mining and logging had the second-highest gap between its vacancy rates in March 2020 and March 2022. That leaves the sector with 40,000 jobs to fill as of this March.
Lumber companies in particular slowed their activities at the beginning of the pandemic, anticipating decreased demand for their products and being wary of having to sit on piles of unwanted inventory. That was the case during the 2008-2009 recession, and few executives wanted a repeat of those years' glut of supply, which would drive down lumber prices.
Counterintuitively, though, many households used savings or stimulus money to invest in improving their homes, keeping demand for lumber high. But at that point, loggers had already let go of many employees, and have since had trouble getting them back.
The silver lining is that forestry and natural resources management majors now have more choice over where and how they work, since so many companies in the mining and logging sector are hard-pressed to fill some of these less pleasant and more dangerous jobs.
Manufacturing
Manufacturing relies on many inputs from the mining and logging sector above, as well as more complex and often unavailable oreign-sourced parts, such as semiconductors or auto parts. This industry, along with the trade, transportation, and utilities sector we'll discuss below, has been the victim of supply chain problems since the beginning of the pandemic. Anticipating a pandemic-induced economic contraction, manufacturers, among others, cut back on the inputs of production.
But with the help of federal stimulus programs, consumers wanted more of the finished products that manufacturers produce. Unfortunately, many manufacturers had let go of much of their workforce; like other industries, they're now scrambling to get workers back on assembly lines.
Manufacturing of both durable and nondurable goods has a vacancy rate 4 percentage points higher than it had in March 2020. That means there are a total of 860,000 available manufacturing jobs as of this March. Degrees in industrial engineering, manufacturing engineering, and mechanical engineering are all pathways to this sector.
Education and Health Services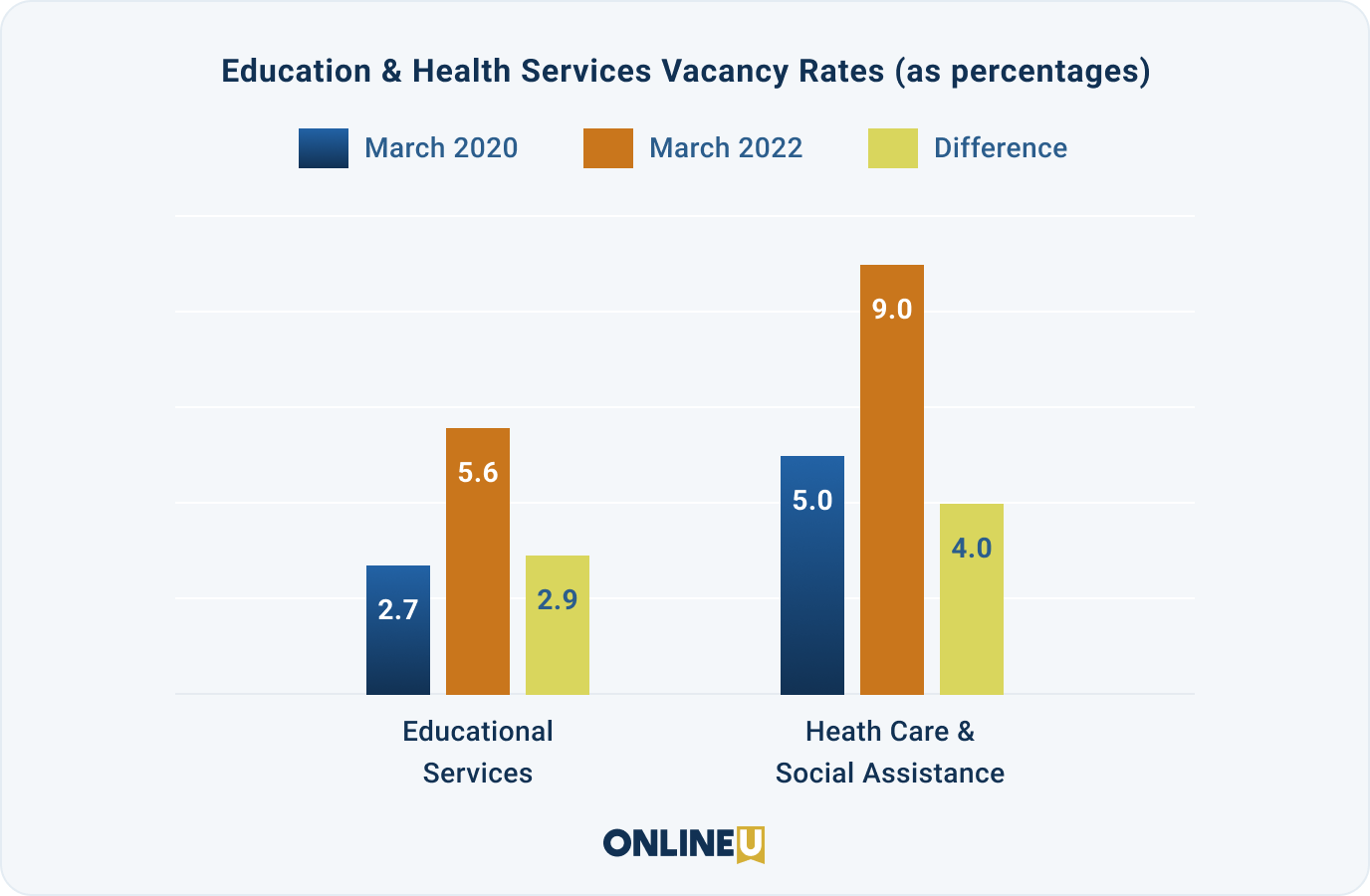 The broader education and health services sector had a vacancy rate 3.9 percentage points above its pre-pandemic level, leaving 2,256,000 open jobs on the market.
This was driven more by a rise in vacancies in the health care and social assistance subsector than education. While both have seen significant increases in vacancies during the pandemic so far, health care and social assistance has a March 2022 vacancy rate of 9%, putting the subsector just behind accommodation and food services in terms of vacancy rates. In absolute terms, that means 2,027,000 jobs remain open in health care and social assistance, and 204,000 in educational services.
A wide range of fields of study can lead to this sector, including a variety of degrees in education and healthcare. These could include special education teaching, subject matter specific education majors, or registered nursing degrees alongside other healthcare and allied services majors.
Other Industries With Challenges in Hiring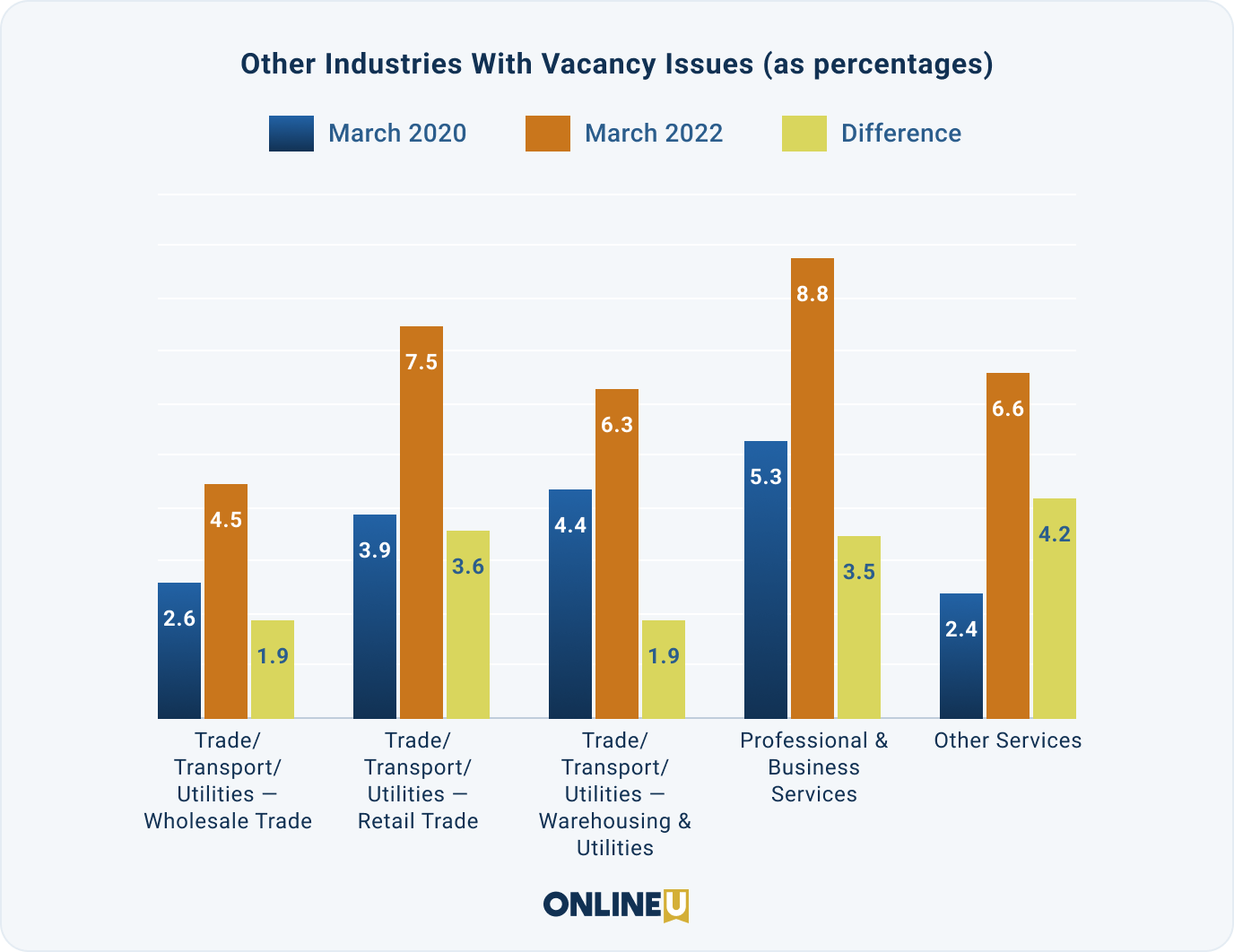 There are a number of other sectors that have had particular difficulties in the past two years, as the table above shows.
The trade, transportation, and utilities sector as a whole has 2,036,000 open jobs. But over half, 1,294,000, are in the retail trade subsector, which has a high vacancy rate of 7.5%. While the other subsectors also have hundreds of thousands of jobs available, wholesale trade and transportation, warehousing, and utilities are both less than 1.9 percentage points off their March 2020 vacancy rates.
This is another industry that has been affected by supply chain issues, especially in the transportation and warehousing area. Before the pandemic, the economy ran on an efficient "just-in-time" supply chain that moved inputs from storage to producers to retailers to consumers smoothly. But supply chains have been blocked and snarled around the world first by coronavirus-induced border controls, then by a lack of trucks and truckers, as well as backlogs of shipping containers at major ports and their surrounding warehouses.
Most recently, Texas' slowdown of trade and transportation at the southern U.S. border has left produce retailers north of the border with huge batches of unusable fruits and vegetables.
Though the virus may have been the catalyst for many of these issues, policymakers are still struggling with the Gordian knot of overlapping supply chain problems slowing down the whole system of global production and consumption.
Those studying logistics and supply chain management will be particularly well positioned to pick up some of these jobs.
How Do Large Numbers of Unfilled Jobs Impact Graduates' Job Prospects?
Labor market experts generally agree that large numbers of unfilled jobs will push salaries up in many industries, at least to a point. But keep in mind that some of these industries are so battered that they may not want to spend the resources to boost salaries and benefits in a way that will attract qualified workers. Those that are willing to offer more attractive terms of employment are likely to pick up the top tier of hires, as is usually the case. Those that won't adjust will see their job vacancies stay open, unless they find other ways to incentivize potential hires that don't immediately hit their bottom line. One example is to loosen job qualifications.
While economists may have mixed views on the impact of such high levels of job openings, these 11.5 million unfilled jobs are largely a boon for students, recent graduates, or anyone looking for a job. It means that every industry — though not every company — is on the lookout for people to join. For some companies in certain industries, failing to attract enough people to meet hiring goals would be a death knell for their firm. Consider a hotel without enough cleaners, or a bar without enough bartenders.
This in turn gives workers negotiating power that they haven't had for a long time. Companies are working hard to hang on to their talent, so one doesn't even need to switch jobs to extract some concessions from an employer.
And with so many employers all but desperate to fill positions, now is an excellent time to be actively looking for a job and aggressively negotiating for the best possible compensation, benefits, and perks.
High vacancy rates are no guarantee that an employer will give in to all, or even most, requests. But they are a good assurance that if this company won't give you what you ask for, you may well find a different company or even industry that will meet you in the middle and make sure you're valued in the way you would like to be.
Methodology
The data used in this study was sourced from the Bureau of Labor and Statistics' monthly JOLTS (Job Openings and Labor Turnover Survey) reports. These BLS releases show job opening rates and levels, separation rates and levels, and hiring rates and levels. These reports are broken down by sector, subsector, and region. We compared the most recent report, which was released in May 2022 and includes data through March 2022, with the report released in May 2020, which includes data through March 2020.
Related Articles
How Inflation Affects College Students
Inflation is continuing its record-setting run. Here's how students can weather the increasing costs of attending college.
Top Industries for Cybersecurity Graduates
Many organizations employ cybersecurity experts. Discover the top 5 industries and companies for cybersecurity job seekers and learn about industry trends.