Public Sector Struggles to Compete for Talent in Tight Labor Market
History and hiring trends suggest that government vacancies will remain higher for longer than the private sector, which has already recovered all jobs lost in the pandemic recession
Key Insights:
While the private sector has recovered all the jobs lost during the initial pandemic recession, federal, state, and local governments are struggling to attract workers.
Government agencies have failed to keep up with the rapid growth in wages that has lured many to the private sector.
The slow government recovery mirrors that following the Great Recession of 2008-09, with agencies unable to react nimbly to changes in the labor market.
At the federal level, employee pay dissatisfaction runs high, while state and local governments struggle to attract essential workers such as law enforcement, firefighters, teachers, and garbage collectors.
The Fed's aggressive interest rate hikes to fight stubborn inflation remain a wild card: it could slow down private wage growth and allow the public sector to remain competitive for talent, or it could lead to a recession that derails both public and private employment.
The coronavirus pandemic that began in 2020 drastically changed almost every facet of our lives, at least temporarily. But one of the most enduring legacies of the pandemic is its effect on the economy.
Most countries, including the United States, saw almost every measure of economic activity contract sharply in the spring of 2020 after many jurisdictions issued mandatory stay-at-home orders and closed their borders.
Companies trying to stay afloat in the turbulent waters slashed whatever expenses they could by laying off employees, halting supplier orders, and closing down locations. State and local governments also furloughed or laid off employees, which reduced government services just as they were most needed.
The economic view in the spring of 2020 was bleak, but for many industries, it wouldn't take long to turn around.
Government Hiring Hasn't Kept Up With Broader Economic Gains
Almost as soon as the U.S. economy crashed into recession, it bounced back, at least in terms of GDP growth. The two-month recession was marked by a sharp contraction in March and April 2020, but the overall economy was growing again by May as companies learned to work even under stay-at-home orders.
Meanwhile, the federal government's forceful monetary and fiscal policy interventions buoyed consumer sentiment and got Americans spending again.
Companies returned to investing in payroll, sometimes to an extreme degree, with some industries offering six-figure starting salaries to graduating students. Anecdotal evidence like this illustrates how tight the labor market was in certain sectors. Companies had to be competitive in terms of compensation and work conditions to lock down top talent.
This allowed workers to be far more selective before committing to a position and gave them negotiating power that had been nearly absent from the labor market. It also allowed for major worker shortages, especially in sectors such as hospitality or social services.
Basic economic principles say that worker 'shortages' are generally a sign that wages aren't high enough. That's why companies that could afford to, such as those in professional or financial services, were willing to boost worker pay and offer remote or hybrid options.
The following graph shows the number of job vacancies over the past two decades. Higher job vacancies imply a shortage of workers.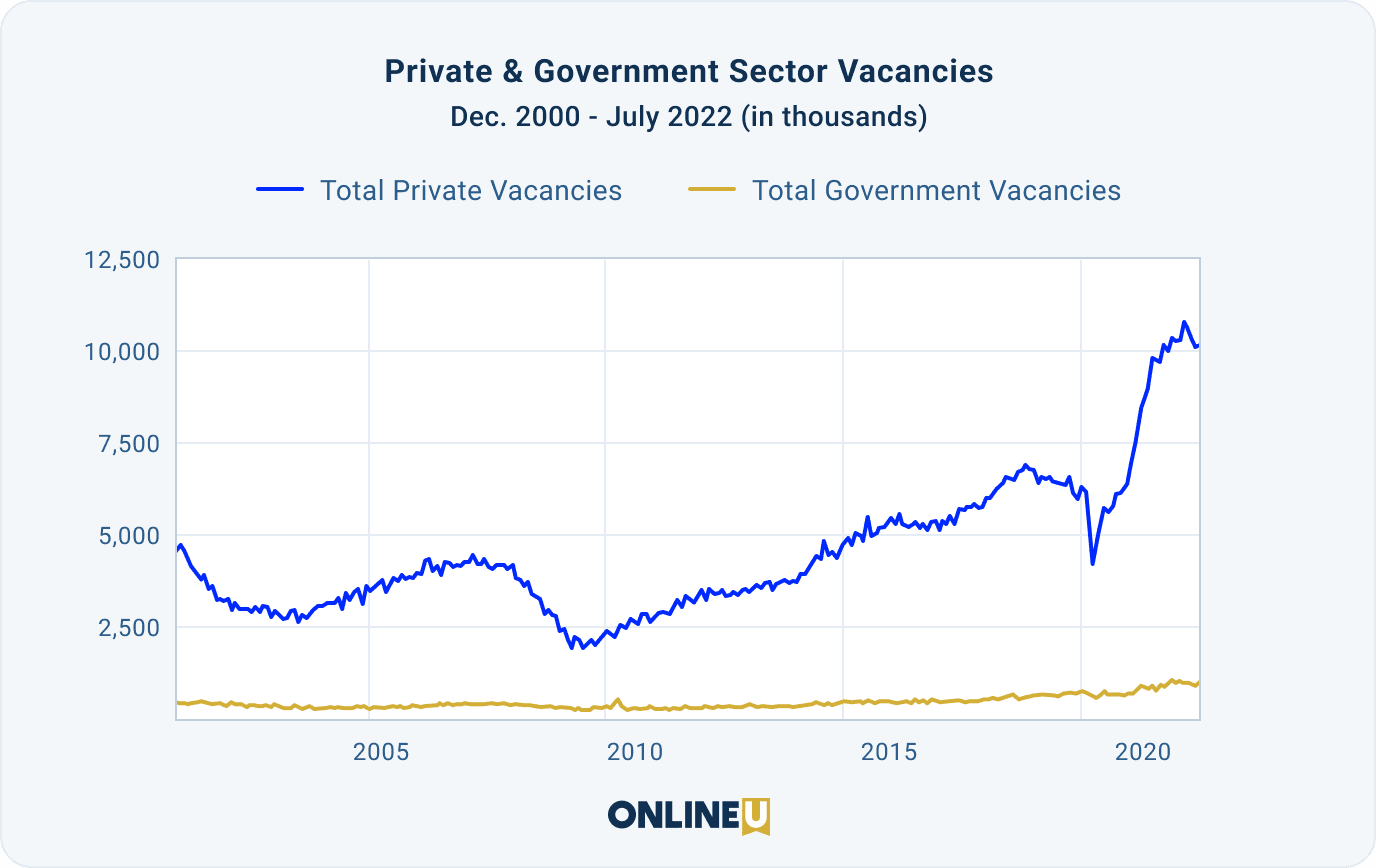 Private sector job vacancies peaked in March 2022 at 1.8 million, but have been on a downward trend since then.
Public sector job vacancies were largely stable for a long time, but vacancies have increased over the past several years. And while the private sector has seen vacancies drop in past months, the government shortage has been stable or ticking up over that same time.
History Shows Government Hiring Is Slow to React to Labor Market Changes
"Great Recession" - 2008-09
The Great Recession, triggered by a subprime mortgage meltdown in the U.S. that led to a global financial crisis, was arguably the worst economic downturn since its namesake, the Great Depression.
The recession unleashed a cascade of events that touched nearly every corner of the world. While the latest recession was caused by government reaction to the coronavirus pandemic, the causes and consequences of the Great Recession were much more multifaceted, with roots that ran deep into our national and global economy.
Because of all this, the recovery from the Great Recession was long and painful. It wasn't until March 2014 that private sector jobs returned to pre-recession levels in the U.S.
However, the public sector never truly recovered. In 2019, right before the pandemic hit, government jobs had not recovered from the belt-tightening of this recession.
Pandemic Recession - 2020
Unlike the Great Recession, the recession of 2020 occurred not due to underlying economic weaknesses, but because a deadly contagious disease restricted many kinds of economic activity. Once the economy shifted to remote work, and masking and social distancing mandates made some in-person work possible, the economy quickly returned to growth after only two months of contraction.
This was helped along by COVID-19 relief policies that allowed for expanded unemployment benefits, stimulus checks sent directly to households, and forgivable federal loans for businesses to maintain payroll. This in turn allowed consumers to go back to their normal spending levels sooner than many expected.
This rapid return of demand allowed many industries to make a quick turnaround. Some were too slow to re-hire furloughed or laid-off workers. The airline industry, for example, was caught unprepared for Americans' desire to return to air travel, leading to frustrating delays and dissatisfaction with the industry.
But broadly speaking, the labor market remained stronger than many expected, with private sector job growth returning to pre-pandemic levels by summer 2022, a much faster recovery than during the Great Recession.
One sector that did, unfortunately, follow the playbook of the Great Recession, was the public sector. Government jobs once again are taking much longer to be refilled, and the public sector has yet to return to pre-pandemic levels.
What Public Sector Jobs Are Most Understaffed?
As of July 2022, there were 1.1 million job openings at the local, state, and federal levels, which is almost double the number just five years ago.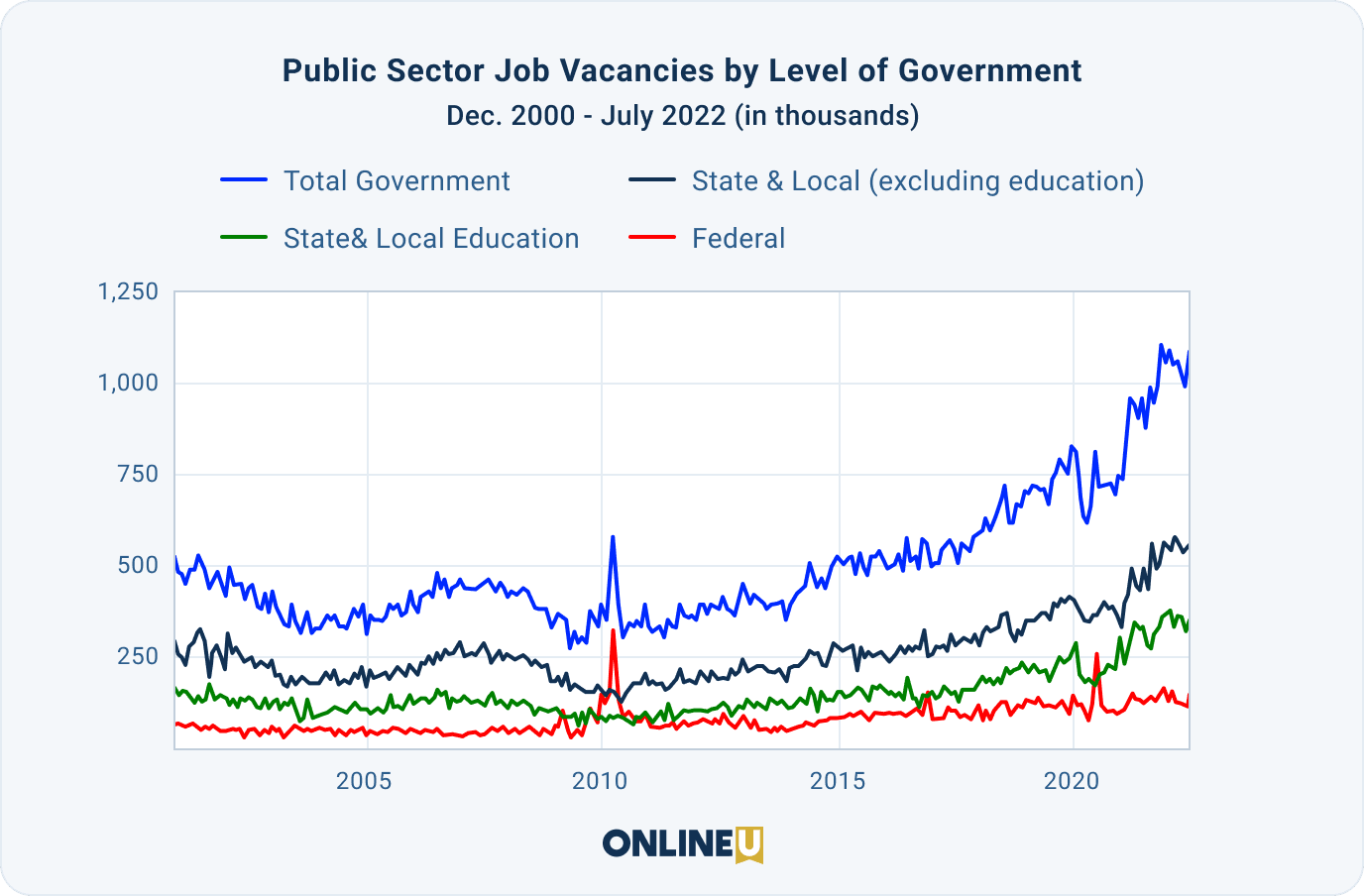 The public sector has long been seen as a stable, steady place to build a career. This is particularly the case for groups that have historically been passed over for employment and advancement in the private sector, such as Black workers and women.
Although government hiring is not immune from discriminatory practices, it tends to have more safeguards in place than the private sector. Since the 1960s, the government has slowly removed barriers to hiring and promoting Black workers as part of anti-discrimination efforts.
The common conception was that government jobs offer more job security, while private sector jobs offer higher salaries or faster advancement.
However, after the Great Recession, the view of government jobs as a safe harbor changed. The loss of public and private jobs, combined with the public sector's painfully slow recovery, has made government work appear less secure than it used to be.
The Great Recession's steep public sector job losses also led to disproportionately higher Black unemployment. Black women were particularly hurt, with the wealth gap between Black and white women increasing sixfold.
Over a decade later, nearly 1 in 5 Black workers were still employed in the public sector. This means the slow government recovery is once again projected to hurt Black workers in particular.
Federal Jobs
The Partnership for Public Service and Boston Consulting Group's survey of federal employees found that various measures of worker satisfaction and morale had dropped in 2021, sometimes quite sharply.
The Federal Employee Viewpoint Survey reported that pay was the top issue across the board, showing a 5.8% decrease in satisfaction from the previous year. The survey found that pay and innovation "were the only workplace categories where scores dropped at large, midsize, and small agencies."
But the pain is not borne equally throughout the federal government. The Department of Homeland Security, the National Labor Relations Board, and the Federal Election Commission were each the lowest ranked in the large, midsize, and small agency categories respectively.
Besides Homeland Security, which often ranks at the bottom, other large agencies with low job satisfaction were the Justice Department and the Social Security Administration. The Justice Department saw an eight-point decline in overall satisfaction, one of the steepest drops of any large agency.
Federal agencies with the highest satisfaction include NASA, which has led in the large agency category for ten years, and the Government Accountability Office.
But even those at the top of the list saw morale slip, with satisfaction at both of these top performers dipping.
State and Local Jobs
The federal government, as part of its pandemic stimulus response, sent out billions of dollars to state and local governments to retain and hire workers lost during the initial downturn. But vacancies remain high because state and local governments can't compete with private sector salaries, even with the cash infusions.
Worse yet, the biggest shortages are among essential workers like those in emergency services, teachers, and garbage collectors, despite concerted efforts in some cases to boost pay and incentives.
Police departments are struggling to recruit and retain officers, resulting in some cities operating with skeleton crews and others moving homicide or major crimes detectives to patrol duty. Meanwhile, a shortage of dispatchers has created delays in 911 call centers.
Firefighters are also in short supply. Seattle's dwindling number of firefighters have put in extreme amounts of overtime, leading to a city record of $37.7 million in overtime pay in 2021. Even areas far from wildfire hotspots — such as Atlanta and South Carolina — are having trouble keeping their fire departments staffed.
Emergency medical services are also seeing startling shortages in localities nationwide. Minnesota, for example, saw 60% of the state's EMTs leave the profession last year.
Trash collection also saw near record quits and retirements during the pandemic, while other crucial local services, like fixing potholes or driving buses, were scaled back.
Like those at the federal level, state and local shortages are driven by low satisfaction with compensation. A June 2022 survey found that 44% of these workers believed their wages were competitive with the private sector, compared to 61% in 2016.
Public Vacancies Likely to Persist, Though Inflation Has Potential to Help — or Hurt — the Sector
The government tends to be slower than the private sector to shed workers in difficult economic times, but once it does, it generally takes much longer to get those jobs back. Considering that historical precedent, we should not be surprised by the pace of the public sector's recovery.
Like other sectors, federal, state, and local governments had to cut down their workforce during the initial recession and then try to staff back up as the economy rapidly turned around.
But as we have seen, the government is generally neither as nimble nor as generous as the private sector. In today's tight job market, private sector companies in some industries are offering excellent wages and benefits and competing aggressively for top talent.
Unfortunately, that has left many areas of the government short-staffed. Even now, with jurisdictions accepting that they have to boost incentives and pay, many areas find themselves short of workers responsible for critical tasks.
Record-high inflation, and the fight to tame it through interest rate hikes, is a wild card that's difficult to account for.
This could cut against the public sector the same way it cuts against everyone, by making everyday life more expensive for government workers. And because the government may be slow to adjust wages during a time that requires more dynamism, inflation can be particularly hard on government employees and make the private sector seem more appealing.
On the other hand, it could cut in favor of the public sector. The Fed's interest rate hikes are meant to pump the brakes on the economy to slow down growth and temper consumer demand, which could eventually weigh down wages. This may force the private sector to tame their hiring sprees — some companies have already done so — and rethink the compensation that has helped them outdo the public sector. If companies start shedding jobs, some job seekers will trade in the private sector's dynamism for a safer bet on government jobs.
While government jobs are essential to the functioning of our society, employees in the public sector should also be able to earn what they're worth. Until the public sector, especially at the state and local level, begins to show they value people, with more competitive and responsive pay, it will likely lag the private sector in recruiting top talent.