Professor Young's Tips for Learning From Home
Let's take a little trip in the Wayback Machine, shall we? When I graduated from college, it was 1997. I spent four years between undergraduate and graduate school in consulting and sales for IBM. My training class was the first year IBM allowed employees in client-facing positions to work remotely, and we were supported with the best technology 1997 had to offer: dial-up internet and a cell phone with local-only calling.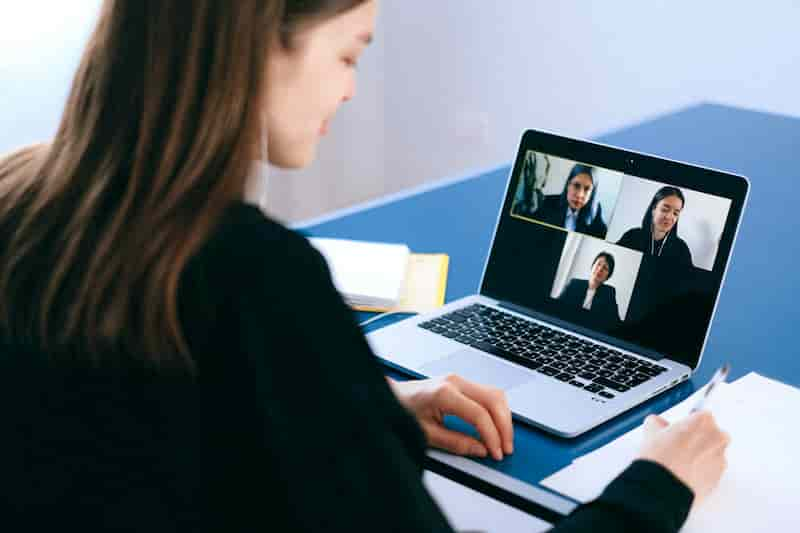 Generally, I would go into the office; I found it difficult to accomplish much in my apartment when I would rather be having lunch or happy hour with friends, going for a run, or even doing laundry to avoid work. Yet even back then, we were prescribed a list of tips and techniques for working productively from home.
Fast forward 23 years. We are in month eight of an ongoing global pandemic that has disrupted every aspect of our lives. Faculty are trained almost exclusively to teach in person—our pedagogies make room for the kind of organic encounters a classroom offers. We are having to rethink our approach and mindset. Students have a wealth of experience learning in a classroom setting and for most, it is their preferred mode.
So what have I learned since 1997 that can help students achieve their learning goals if they aren't in a traditional classroom? Plenty. I hope this advice is practical and applicable and helps to shift students' attitudes about the possibilities of learning remotely.
Create a Dedicated Work Space
Living and working in the same space means a sense of erasing the boundaries between school and the rest of your life, and creating a dedicated workspace can help combat this. It does not need to be elaborate, and it does not need to cost much. It can be as simple as arranging a specific set-up at your dining room table each day. Really, what you are doing is creating a boundary for yourself—choose a spot where you will work. This spot should be a place that you designate, even in your mind, as your learning space.
When you are in this space set up for learning, you are working; when you leave the space or rearrange it for other use, you are not learning. Creating a dedicated workspace is essential in giving you a sense of control over your education.
Make a Schedule and Stick To It
One thing that going to, sitting in, and leaving from a traditional classroom does is give you a set schedule. You know when you need to leave to arrive on time, how long you will be in the class, and how long it takes you to be at your next appointed place. And while you may now have a schedule that involves learning synchronously, asynchronously, or both, what happens with all of the time before, between, and after when you're still at home?
Create a schedule for yourself and stick to it. Include a consistent wake-up time, meals, exercise, Netflix breaks, Zoom hangouts, or anything else you do regularly. Start using a calendar, either a hard copy or online—my life is on my Google Calendar—and map out your days. You will find that creating and sticking to a consistent schedule makes your days seem less like the "eternal now," and more like you have actually accomplished something and made progress. And that feels good.
Use Every Resource at Your Disposal
Universities have put a lot of resources online for students over the last several months: tutoring, financial aid, academic course and schedule planning, major advising and mentorship, faculty office hours, and counseling services. Use these resources. I have created a Google Doc where students can sign themselves up for any half-hour slot in my office hours, and I'll host a Zoom meeting where we can discuss whatever they like—sometimes those conversations are about course material, but often, they are just about life and how that student is doing.
Do you need targeted help in a particular course? Online tutoring and making use of faculty office hours is a great way to take charge of any gap in your understanding. Are you feeling sadness and fear over the pandemic, or grief in having missed out on fun activities or other important parts of regular life? Seek online counseling sessions. Most, if not all, of these resources are paid for by your tuition—if you would use them in person, you should know they are available to you remotely. Taking control over your well-being is a huge step toward more productive learning.
Reach Out to Faculty
As a faculty member, I am keenly aware that it's easy to overwhelm students with multiple emails for a class. But sometimes, students are not getting what they need from a class. That may be an issue of content, but in remote learning, it's likely an issue with format and delivery.
Some students love self-directed, asynchronous work; others hate it. Some students love all-class synchronous meetings; others hide out. Faculty are used to getting evaluated by students, but those evaluations often come at the end of a course where we can't do anything to make learning better. I would hope faculty are reaching out to you but if they aren't, let me make this plain: WE WANT TO HEAR FROM YOU. We are drained by teaching to 25 blacked-out squares and not having the kinds of interactions we are used to having with students that energize us and remind us why we love teaching.
If what we are doing isn't working for you, please tell us. We want to better accommodate your learning, but we won't know to do that if you don't say anything. This is trial and error for us, too. I promise, you'll have a different kind of support from faculty if you reach out.
Feeling out of control of your learning because you are in a remote setting in the midst of a pandemic is normal. In fact, if you didn't feel anxious, I would wonder if you had a functioning nervous system. Figuring out ways you can take control of your learning by creating physical boundaries in a dedicated workspace, mapping out a schedule so you can move through a checklist of accomplishments, using free online resources to support your academic and personal well-being, and reaching out to your faculty mean reducing that sense of anxiety, of loss, and of panic.
In short, these are techniques that allow you to center yourself and to do better self-care. Even when we return to in-person learning, these are techniques that will foster a sense of agency. You are in charge of more than you think. And, you've got this.