Can Online Colleges Offer Competitive Career Outcomes?
A Look at Salary and Employment Data at the Most Popular Online Schools
While the availability and popularity of online degree programs have grown rapidly in recent years, there is limited research available on contemporary online learning. Students, college administrators, lawmakers, and journalists frequently want to know, is online education as valuable as the traditional model?
One of the most important measures of this is the impact an online degree has on employment outcomes. To answer this question, we examined data for 10 popular online schools with Salary Scores over 50 at the bachelor's level to find out how online students fare in terms of salary and employment after graduation.
Key Insights:
Military and government organizations hire a significant share of online students and likely contribute to high salaries in fields such as healthcare, computer systems, business, and criminal justice
Healthcare and education are the dominant industries for online alumni
Many online colleges offer competitive employment outcomes, beating even Ivy League schools in some cases
What is Salary Score?
Our proprietary Salary Scores database offers students an easy way to find out which colleges offer the best chance at a high salary in their field of study. We compare alumni earnings by major in the first year out of college to similar programs at colleges across the country. Alumni from schools with Salary Scores above 50 tend to be top-earners in their field of study, while scores below 50 indicate most students earn less than average for their major. For example, Harvard University is the top school for alumni salary in nearly every field with a Salary Score of 100.
---
Methodology
We selected popular online colleges with strong alumni outcomes, including some of the largest schools by enrollment in the country. Our list includes Excelsior College, Thomas Edison State University, Capella University, American Public University System, Colorado State University Global, Columbia Southern University, Western Governors University, Southern New Hampshire University, Grand Canyon University, and Liberty University.
Our Salary Scores come from federal earnings data provided by the U.S. Department of Education through College Scorecard. Our guide to Salary Scores provides more information on our calculations, methodology, and data sources.
We used software analytics company Burning Glass Technologies to examine the top five occupations, industries, and employers for each popular online college. Career outcomes data from Burning Glass includes the graduating classes from 2010 through 2020.
Most Popular Online Schools Salary Scores
The average Salary Score across these 10 popular online colleges is 82.9, meaning that overall, alumni tended to earn more in their field of study. The fact that each of these schools have such impressive alumni outcomes for salary showcases how competitive online colleges can be in the higher education space.
Top Occupations, Industries, and Employers of Popular Online Schools
Across the 10 popular online schools, we found the occupations, industries, and companies that employ the most alumni. What we discovered is that not only are alumni salaries from these online colleges higher than many campus-based schools, graduates are finding positions with reputable employers in top industries, including healthcare, tech, and education.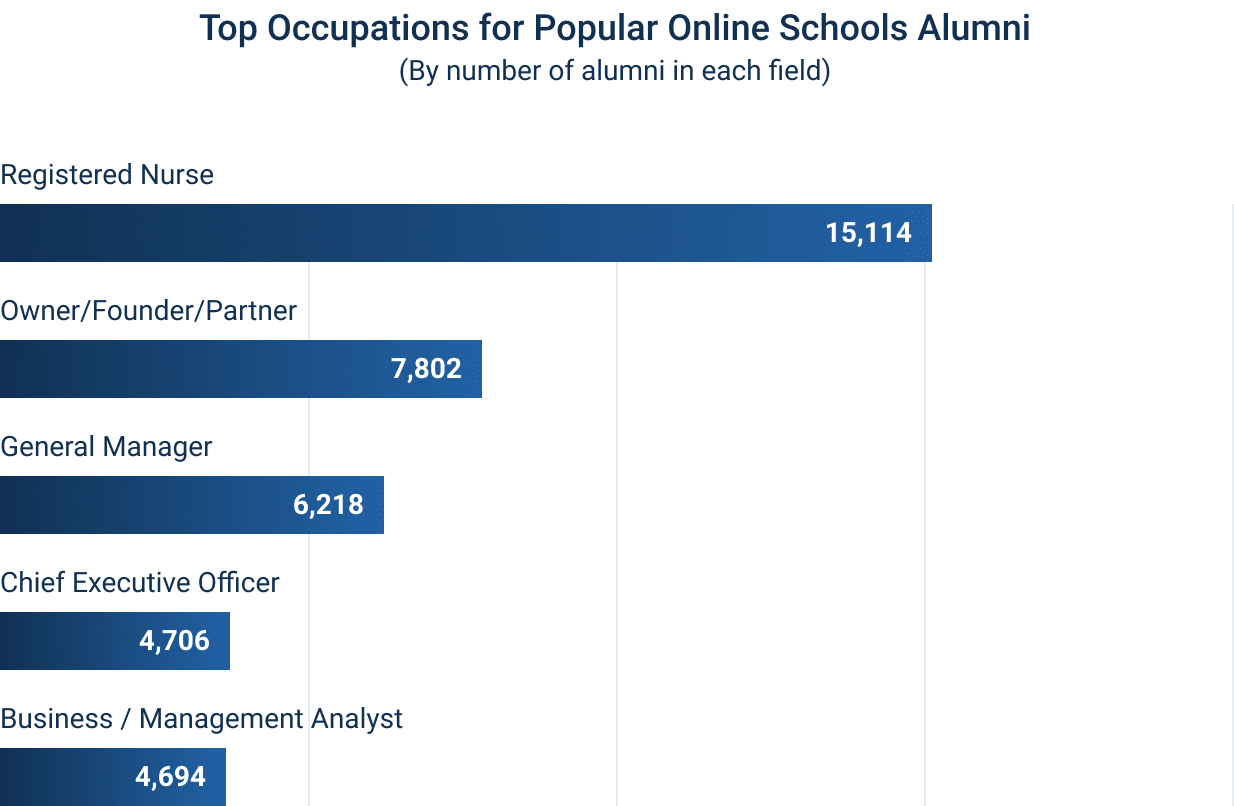 Top career paths for online students are largely focused in business. Nearly 5% of alumni became business owners or founders, general managers, or CEOs after earning their degree online. The fact that many graduates of online programs are starting their own businesses and securing upper-level management positions shows a growing acceptance of online degrees.
Management analysis is also a common role for online students, which is not surprising given that business is the most popular major. This finding is interesting considering that many students say math and science classes are harder online, and analytical roles are somewhat math-heavy.
Registered nurses make up another 5% of online students, which speaks to the strength of online programs in healthcare and other experiential professions. Today's online programs in nursing and related fields use innovative virtual learning methods, community partnerships, and clinical internships to get students the hands-on experience necessary to work in direct patient care.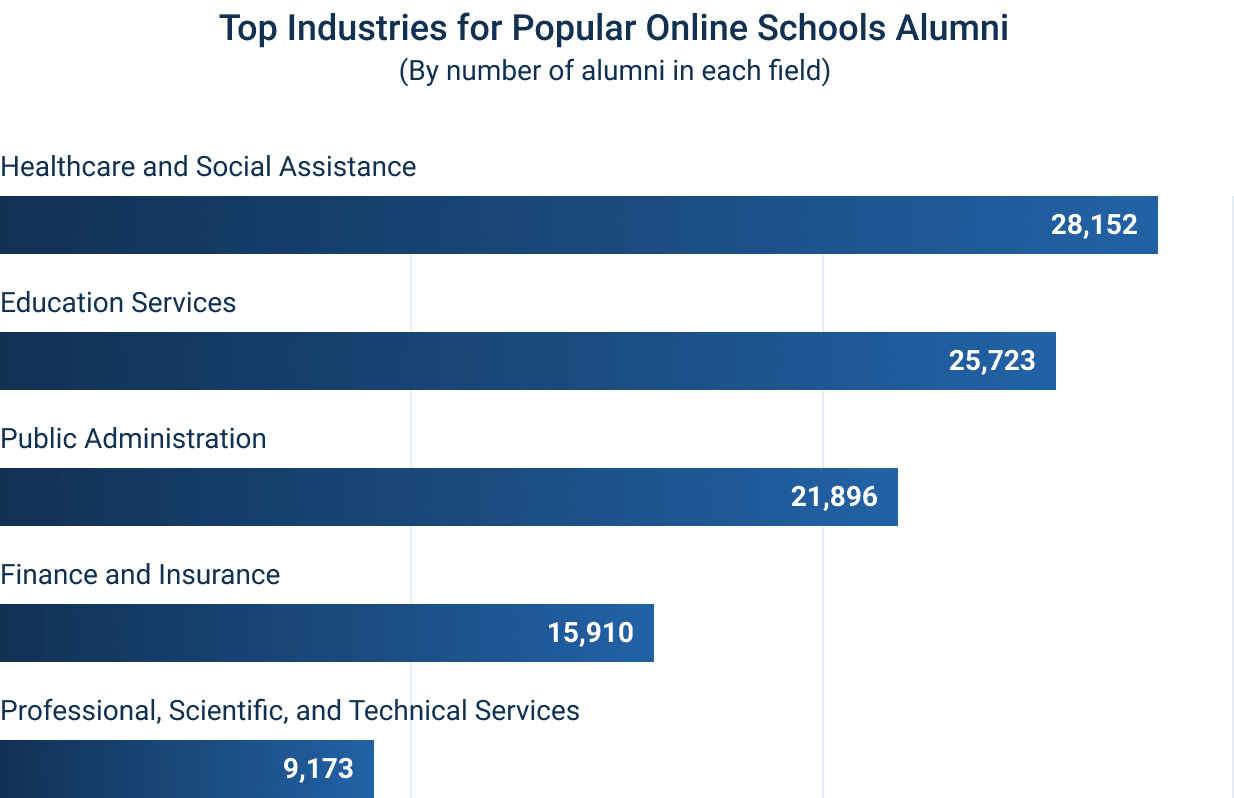 Healthcare and social assistance tops the list of industries for online graduates, followed by education services. Teaching and nursing programs are frequently offered online, so this finding is not surprising. However, business has historically been the most popular degree, so it's likely that online business majors are also dispersed across these industries.
The fact that healthcare and education dominate industries for online alumni occupations also speaks to the quality of programs that many might think are challenging to do well online.
Public administration, which frequently includes positions in the government and military, is also popular, followed by finance and insurance.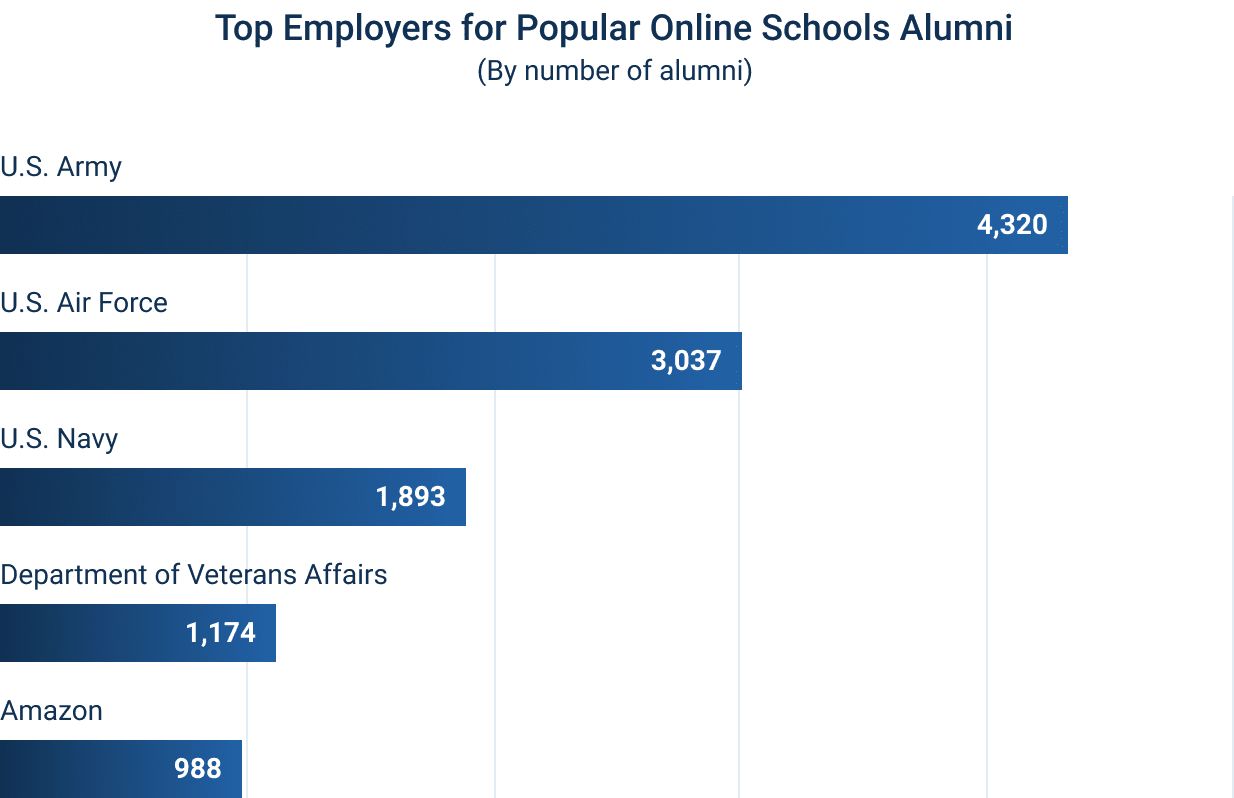 Military and government groups are the largest employers of online students, which is influenced by a few different factors. Military service members and their families make up a large portion of online students. Because they frequently move around the country and around the world in many cases, military members often can't complete their degrees on campus. Our analysis of employment outcomes found that many people in the military use online degrees to qualify for higher-level positions within their service branch. Online programs also give military students an opportunity to translate skills learned in service into a career as a civilian.
Interestingly enough, Amazon is also a top employer for alumni of online colleges as a group but rarely shows up as a top-five employer for each individual college.
Breakdown of Alumni Employment Outcomes by College
We looked at the strongest and weakest programs by Salary Score for 10 popular online colleges, as well as the top jobs, industries, and employers. More information on the Salary Score makeup of each school can be found on its profile page on our student reviews and rankings site, GradReports.
See our list of the 100 Most Popular Accredited Online Schools for annual tuition and student recommendation rates for other well-known online colleges.
Online Colleges Offer Competitive Salaries for Students, Support Workforce and Public Good
Our research highlights the fact that online education can be a viable alternative to traditional higher education models, and can result in stronger salaries across majors compared to many campus-based schools.
These popular online schools are not only competitive in the higher education space – in many cases, they beat prestigious public and private universities. Multiple schools on this list have similar or higher Salary Scores than half of the Ivy League schools, including Princeton, Columbia, Cornell, and Brown University. Two online schools – Excelsior College and Thomas Edison State University – have stronger Salary Scores than the University of California-Berkeley.
Our analysis also shows how strong online colleges can be for careers in business and healthcare. Some of the most common occupations for these online alumni include registered nurses, business owners, and senior management positions.
Students from these online colleges also tend to go into industries that serve the public good – healthcare, education, public administration, and social services were some of the most popular industries for these schools. These findings suggest that making higher education more affordable and accessible through high-quality online options can have a positive impact not only on students' lives but in our society as a whole.
Related Articles
The 100 Most Popular Accredited Online Schools & Colleges
These popular accredited online schools have established strong brands that resonate with a large number of the prospective students who visit our site.
College Degree Levels Guide
This article defines all the degree levels in college, including the types of degrees that are available to students and what order they come in.