Want to get involved this election season? Online students can help get out the vote
If it's an election year, you can usually count on student activists to register voters, run social media campaigns, and ensure there's a ballot drop box on campus. This year, however, remote learning and COVID-19 have created new challenges for students determined to help get their classmates to the polls.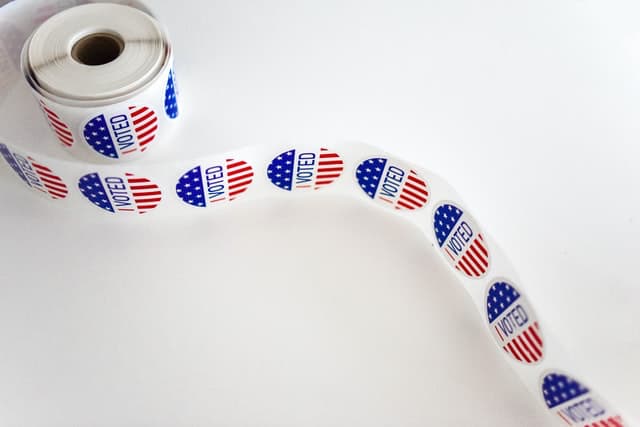 From lowering tuition rates and providing free community college to making healthcare more widely available, politicians make decisions that deeply affect young voters and college students every year. This year, young people make up the biggest portion of eligible voters, and there have been massive efforts to encourage young adults to participate in the 2020 election. Americans ages 18-29 consistently vote less frequently than any other age demographic, but it's important that they make their voices heard on issues that directly affect them.
It's a common misconception that without a physical presence on campus, students can't be activists in their higher education community. While student-led marches across the quad may be off the table, there are many opportunities for students to get involved this election season.
Check your voter registration, and make sure your friends do, too
The first and most important thing you can do is check your voter registration to make sure you're able to vote this election. While deadlines to update voter registration have passed in some states, others have deadlines as late as October 27. Click here to check deadlines and find out more information on how to vote in your state.
Clubs and student organizations at your school
Some online schools have student life hubs on their website with information about student groups available, although these are not always offered for those enrolled in online programs. For students temporarily learning remotely during the pandemic, clubs and organizations may have shifted online. If there are no student groups available to you, consider joining the Young Democrats of America, the Young Republicans National Federation, the College Democrats of America, the College Republican National Committee, or another political group. You can also join groups such as the Campus Vote Project to help your peers become politically engaged and encourage voter participation.
Use social media
Without the ability to safely engage in voter registration drives and other efforts to get students involved politically, many organizations and student-led groups are turning to social media campaigns to get in touch with their peers. Students are using Twitter, Instagram, Facebook, TikTok, and Snapchat to encourage young people to vote this year. This can be as simple as sharing a photo of you turning in your ballot or posting links to information about how to vote safely during COVID-19. You can take it a step further by starting your own social media campaign. Check out the Campus Election Engagement Project's non-partisan toolkit for tips on how to create a social media campaign that will help educate and activate college voters.
Phone a friend
Relational organizing, or reaching out to friends and people you know to encourage them to vote, is a great way to get involved during COVID-19. People are often more responsive to feedback or conversations with someone they know than to cold calls from volunteers, and organizations across the country are utilizing this method to increase voter turnout. Rock The Vote has an app that can help you figure out who to call and what to say to encourage friends and family to vote.
Volunteer as a poll worker
Poll workers play a vital role in the elections every year. They help set up, check voters in, and direct them where to go to cast their ballot. Many older adults are opting to stay home this year because of COVID-19, and election officials are seeking younger adults to staff polling places. Poll workers will be provided with PPE, but it's best to bring an extra mask, hand sanitizer, and take other safety precautions if you choose to participate. Poll workers are usually paid for their time, but some areas do not compensate volunteers. For more information on how to sign up, check out these pages from Rock The Vote or Power the Polls.
Participate in a text bank
Text banking is one of the easiest ways to get involved in politics and is a great option for people who don't feel comfortable cold-calling potential voters. You can volunteer to participate in a text bank with non-partisan organizations encouraging voters across the country to participate in this year's election, and ensuring they have the resources and information they need to do so. You can find text banking opportunities to help eligible voters make their voices heard at When We All Vote and Open Progress.
Throw a virtual voting party
You can host a virtual party with friends or family to fill out ballots, create a plan for how to get to the polls, talk about COVID-19 safety precautions, or celebrate after everyone has voted. This is a great opportunity to get excited about voting, encourage people to make their voices heard, and provide a fun incentive to get those in your community to turn their ballots in. Rock The Vote, When We All Vote and Vote Together all have guides for how to plan a voting party, although some of them may need to be adapted to be virtual and socially distanced during the pandemic. Need some inspiration? Feel free to draw from Representative Alexandria Ocasio-Cortez, who gave us a great example of how to make political activism fun – hundreds of thousands of people watched her Get Out The Vote livestream event on Twitch earlier this week, where she played Among Us with Representative Ilhan Omar and other streamers.
Make an announcement to your class
Ask your professor if you can make an announcement encouraging classmates to vote at the end of your Zoom class, or send out an announcement if your class doesn't meet virtually. You can remind people to mail in their ballots, or share resources on how to vote in person safely during COVID-19. The Center for Disease Control (CDC), NPR, Vote.org, and Rock The Vote all have information on voting during the pandemic. Even just sharing helpful resources with your classmates can have an impact.
Helpful Voting Resources
Some important resources for voting and encouraging others to vote include:
The Campus Election Engagement Project provides non-partisan guides to issues and candidates on the ballot in each state. They also have guidelines for how to distribute this critical information to fellow students.
I Will Vote is a website that helps you find ballot dropboxes, check your voter registration, deadlines, how to vote by mail, and answers to other questions.
Ballotpedia, Vote Smart, and BallotReady all provide non-partisan information on candidates and issues you'll be voting on in this election.
Related Articles
Will Slashing Student Loans Mean More Youth at the Polls?
Democrats hope Biden's student loan relief program will boost youth voting, but it will likely be just one of many issues voters will weigh in November