Nurses With Master's Degrees See Salaries Spike and Opportunities Broaden
We looked at data from over 50,000 early-career BSN graduates and 11,000 MSN graduates. The differences in salaries and job opportunities between the two groups were stark.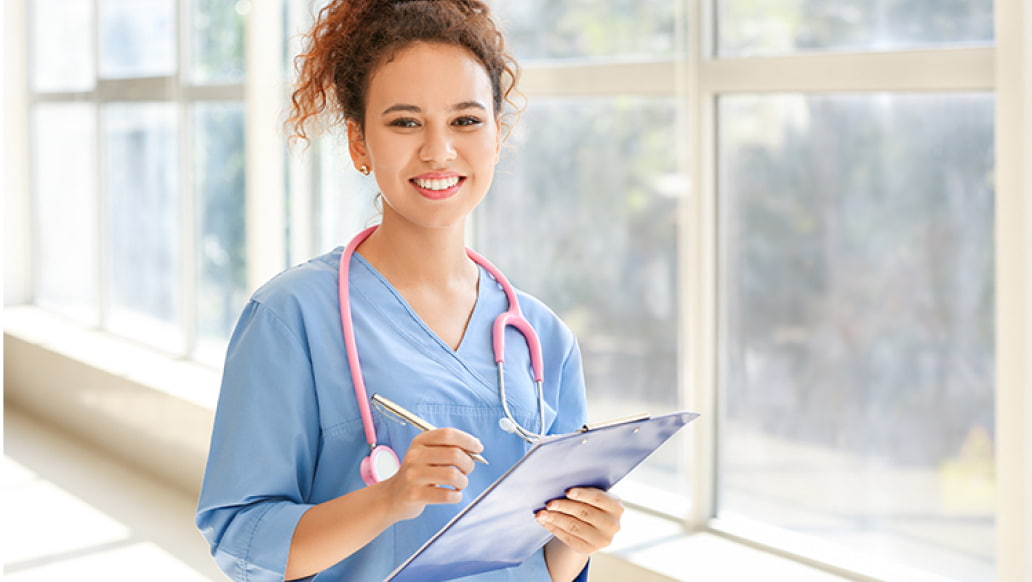 Key Insights:
A master's in Registered Nursing boosts salary by over 50% compared to a BSN, while a master's in Practical Nursing leads to nearly double the salary
Registered Nurse is by far the most common occupation for those without a master's, making up about two-thirds of nurses with a BSN.
Nurse Practitioner is the most common occupation for MSN holders, but the degree also can lead to opportunities to specialize, manage, and teach.
Nursing, a consistently popular field of study and a historically in-demand job, can lead to a variety of rewarding and challenging careers. This study aims to fill a gap in higher education and labor research by offering an analysis of the outcomes of tens of thousands Bachelor's of Science in Nursing (BSN) and Master's of Science in Nursing (MSN) graduates.
Research on nursing education and employment is particularly important given the strong job growth expected for the profession. Even before factoring in pandemic-induced factors, the Bureau of Labor and Statistics predicted a 9% rise in the hiring of Registered Nurses between 2020 and 2030. Employment growth for jobs that require a master's, such as Nurse Practitioners, Nurse Anesthetists, and Nurse Midwives will see even more robust employment growth of 45%.
While a ten-year hiring outlook is useful, there are a number of immediate questions that are even more relevant to nurses and nursing students. These questions, which we address in this new analysis are: What are salary and occupation outcomes for bachelor's nursing graduates? And how do these compare to master's nursing graduates?
First, to assess salary outcomes, we used data from College Scorecard to determine the median salary for graduates of bachelor's and master's in nursing students in their first year after graduation. To better understand the career paths, we analyzed data from 50,530 bachelor's nursing graduates and 11,828 master's nursing graduates to find the top occupations.
A Masters in Nursing Gives Significant Salary Boost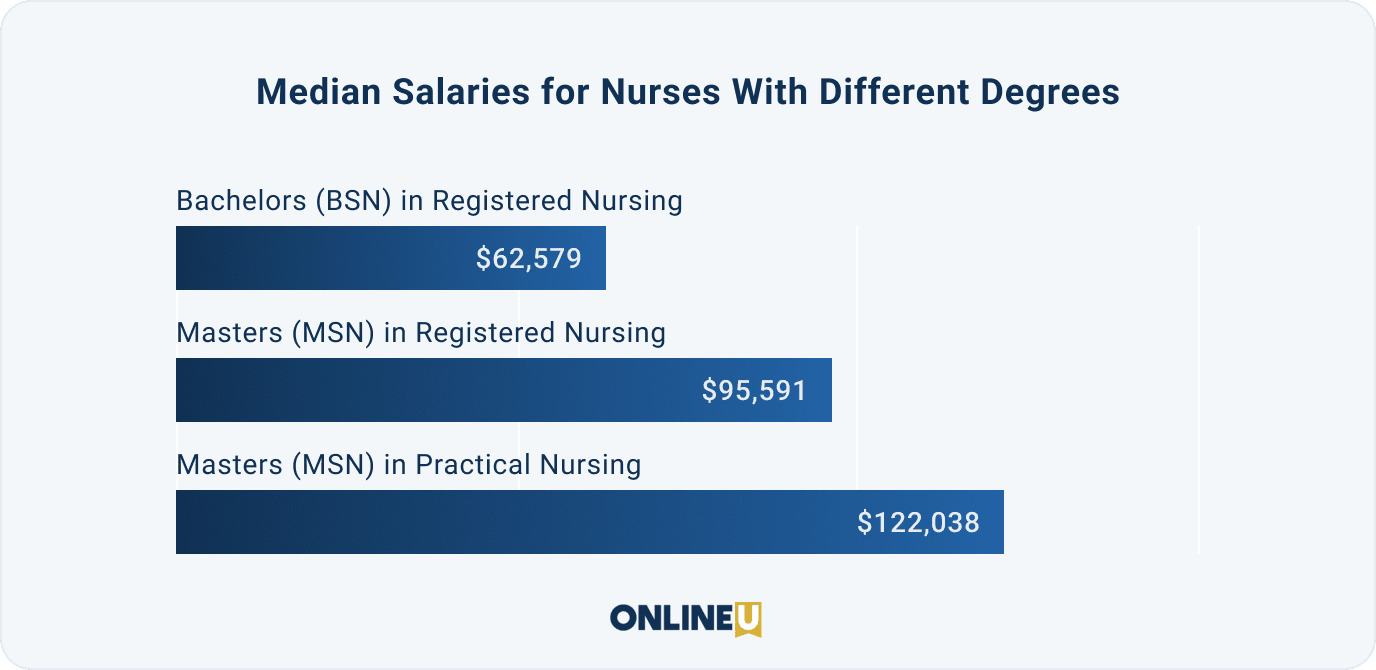 A look at the chart above shows the remarkably wide median salary gaps between bachelor's and master's degrees in nursing. Most professions show some salary boost from gaining an advanced degree, but nursing stands out in this regard. In fact, nursing is the #4 degree for highest salary jump from a bachelor's to a master's. The graph shows that bumping your bachelor's in Registered Nursing up to a master's in Registered Nursing results in a 52.8% salary increase.
While advancing your Registered Nursing degree offers a large salary jump, pursuing a Practical Nursing MSN almost doubles the BSN salary, with a median salary of $122,038 in the first year after graduation.
Looking at data of almost 50,000 bachelor's graduates since 2010, 13.9% have sought out these higher salaries by pursuing a master's degree. Among those with a master's degree, 3.9% are seeking further education.
Nurses With BSNs Are Likely Working as RNs and Other Front-Line Jobs
Top Occupations for BSN Alumni Three Years After Graduation
| Nursing Specialization | Number of Alumni | Percent of Alumni |
| --- | --- | --- |
| Registered Nurse | 34,348 | 67.40% |
| Intensive / Critical Care Nurse | 3,465 | 6.80% |
| Emergency Room Registered Nurse | 754 | 1.48% |
| PACU Registered Nurse | 714 | 1.40% |
| Pediatrics Registered Nurse | 595 | 1.17% |
| Nursing Assistant | 533 | 1.05% |
| Cardiology Registered Nurse | 497 | 0.98% |
| OB / GYN Registered Nurse | 469 | 0.92% |
| Clinical Nurse Educator | 42 | 0.84% |
The results above show that the overwhelming majority of alumni at the bachelor's level land jobs as Registered Nurses (RN). This is not surprising, as Registered Nursing encapsulates a broad variety of specialties. Registered Nurses have wide and varied duties and they often have significant interaction with patients and their families.
Rounding out the top three occupations for BSN grads are two front-line nursing jobs. Critical Care Nurses and Emergency Room Nurses both work under extreme pressure to triage and treat patients that urgently need help. These nurses spend most of their time in the Intensive Care Unit (ICU) or the Emergency Room. The top three jobs for BSN grads are arguably some of the most emotionally trying and physically taxing jobs in nursing.
In the course of our analysis, we also pulled data on top occupations for nurses who are one year, three years, and five years out from graduation. We've visualized only the three-year data to consider how a few years' experience contributes to career options.
As it turns out, not very much. The one-year alumni and the three-year alumni have the same top ten specializations with only some shuffling in the rankings' order. The outcomes three years after graduation are remarkably similar to the outcomes one year after graduation, with just a few less Registered Nurses after three years.
An MSN Opens Up A Wide Range of Paths
Top Occupations for Masters Alumni Three Years After Graduation
| Nursing Specialization | Number of Alumni | Percent of Alumni |
| --- | --- | --- |
| Nurse Practitioner | 2463 | 20.82% |
| Registered Nurse | 2134 | 18.04% |
| Psychiatry Nurse Practitioner | 2063 | 17.44% |
| College Professor / Instructor | 728 | 6.15% |
| Nurse Anesthetist | 388 | 3.28% |
| Pediatrics Nurse Practitioner | 284 | 2.40% |
| Intensive / Critical Care Nurse | 219 | 1.85% |
| Primary Care Nurse Practitioner | 214 | 1.81% |
| Nurse Manager | 212 | 1.79% |
| Vocational Education Instructor | 157 | 1.33% |
The only occupations that appear on the list of BSNs and the list of MSNs are Registered Nurse, at the second-ranked spot, and Intensive/Critical Care Nurse.
A nurse can opt to pursue a master's degree for many reasons, but according to this list, many take their MSN and become Nurse Practitioners of some kind, a profession that requires a master's. Nurse Practitioner (without specialization) accounts for over one-fifth of jobs on this master's list. When we add up the numbers of NPs, Psychiatry NPs, Pediatrics NPs, and Primary Care NPs, they make up 42% of the occupations MSN graduates hold three years after graduation.
The distribution of the most common occupations for master's grads is far less top-heavy. The top five occupations for master's degrees account for approximately the same percentage as the top occupation for bachelor's graduates, Registered Nursing.
But even among MSN graduates, RNs are second on the list, signifying that not all nurses pursue a specialization or an NP job. Nearly one-fifth continue on as Registered Nurses, but with the stronger potential for advancement that an MSN brings.
Registered Nurses are followed very closely by Psychiatry NPs, who represent 17.4% of MSN graduates. As mental health becomes more of a factor in a holistic assessment of one's well-being, more Americans than ever are going to psychiatrists, straining already limited and uneven mental health resources. Psychiatry Nurse Practitioners help take some of the burdens off of psychiatrists by performing work such as initial assessments or refilling prescriptions.
A postgraduate degree further helps in landing managerial posts, like Nurse Manager, and teaching positions, like Vocational Instructor or even College Professor. It was surprising to see that a master's degree could catapult so many nurses into academia, especially since many schools require PhDs of their professors. College Professor/Instructor was in fact the fourth most common job for nurses with an MSN.
It is clear from the list of jobs that a postgraduate degree can change the direction of a nurse's career, or it can prepare them for advancement within the Registered Nurse profession.
Master's Degrees in Nursing Lead to Salary Benefits and More Job Choices
It is a unique time in the world of nursing. Forecasts show strong long-term growth potential for both RNs and specialized nurses, while in the short term, strong demand and limited supply for nurses is pushing up wages. All of this comes at a time when the profession enjoys broader appreciation and respect than they have in the past.
Those looking at a career in nursing or are already employed in the field can see a number of takeaways in our analysis that could push them towards the kind of career they imagine for themselves.
As our analysis has shown, an MSN certainly opens up possibilities, especially for those looking to become Nurse Practitioners of any stripe. Other options for MSN grads range from becoming a Nursing Manager, a College Professor, a Nurse Anesthetist, or many more occupations that did not make the top ten list.
And, as we saw early in this study, salary outcomes between a BSN graduate and an MSN graduate are significant. The premium in median salaries for master's degrees ranges from $30,000 to $60,000, depending on the specific nursing master's program.
Methodology
For the median salary outcomes in this study we used College Scorecard, an annually updated resource provided by the U.S. Department of Education, for graduates who were one year out.
Occupation data came from Burning Glass Technologies, which we then used to analyze the outcomes of 50,530 bachelor's nursing graduates and 11,828 master's nursing graduates three years after graduation, including those who graduated from 2010 on.
Burning Glass Technologies collects employment data from millions of current resumes and social media profiles of graduates — mainly on LinkedIn — to obtain individuals' occupations, alma maters, and fields of study.
Related Articles
How Much Do College Professors Make?
The median annual salary for college professors is $79,640, but discover how pay varies by location, institution, subject, degree level, and academic rank.
How To Become a Counselor
If you are curious about the requirements to become a counselor, check out our article that covers everything from counseling careers to common questions.