Accessibility 101: Navigating College with a Disability
Experts weigh in on choosing a school, self-advocacy, and finding support on campus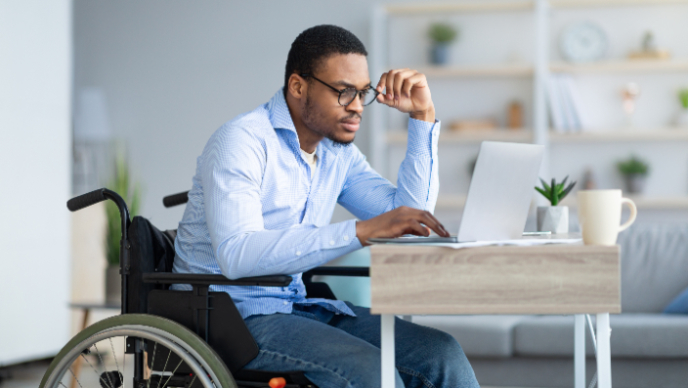 This month marks the 32nd anniversary of the passage of the Americans with Disabilities Act, which improved access to education for students with disabilities when it was introduced in 1990.
Thanks to the passage of the ADA and the Individuals with Disabilities Education Act, federally funded universities are required to offer accessibility accommodations to provide the same opportunities they offer students without disabilities. For many students, earning a degree wouldn't be possible without accessibility requirements.
"Without disability accommodations, I probably wouldn't have pursued a post-secondary education at all," said Jennifer Jones, who is legally blind and currently pursuing her master's in music education.
The fact that there are elevators on campus means she can get to classes safely even with low depth perception associated with her diagnosis. She also uses special transport to get to school and needs to be extra cautious on campus, especially in winter when the ground may be icy or wet.
Since these acts were introduced, our understanding of disabilities, how they impact people, what accommodations may be necessary, and even what qualifies as a disability has changed. An amendment in 2008 qualified more people to be covered under the ADA, including those with psychiatric disabilities.
College Students and Disabilities
Data from the National Center for Education Statistics shows 19% of undergraduate students had a disability in the 2015-16 school year. About 12% of students in graduate school had a disability in the same year.
Although disabilities are not uncommon for undergraduate students, the 2020 Student Technology Report from Educause found that nearly half of students with a disability don't register with their school.
Students report many reasons for not registering with their disability services office, including stigma surrounding disabilities and the difficult process of getting approved or receiving accommodations. A lack of awareness also contributes, with 5% of students with disabilities reporting they didn't know there was an office or accommodations available.
This is especially concerning given that students who don't get support early on may be less likely to graduate.
Even for those who do clear the hurdles to report their disability, barriers remain. One-third of students with disabilities don't receive the support they need for accessible content and technology accommodations. Students most often have trouble getting their tech accommodation needs met quickly. Many also experience difficulty working with their professors, who may be either unaware of what accommodations are necessary or available, or reluctant to make them.
Statistics on College Students and Disabilities
The 2020 Student Technology Report from Educause found that:
Mental health conditions and learning disabilities are the most common disabilities for college students
13% of undergraduate students report having been diagnosed with a disability
Students at community colleges are more likely to report a disability than those at other schools
50% of students with disabilities have a mental health disorder, while 46% report a learning disability such as ADHD or dyslexia
12% report sensory impairments such as vision or hearing problems, and 11% have a mobility impairment
How Accessible Are Colleges?
The ADA is the reason why many schools have elevators and access ramps, automatic doors, and braille on school signs. However, many students still find it difficult to get the accommodations they need to fully participate in their degree programs, despite the laws in place. Accessibility varies widely depending on the school and a student's needs.
While most colleges have a disability services office and are accessible in theory, students still recount difficulties accessing adequate accommodations. Others, such as the University of Wisconsin at Whitewater, make a more concerted effort to offer equitable education options.
"The entire campus is geared toward accommodating students who declare disabilities," said Jo Anne Oravec, a Wisconsin professor and researcher on disability studies. "The disability declaration process at UW-Whitewater is non-stigmatizing and we have staff with extensive expertise in the area."
Other schools may offer programs for students with different learning needs, and a handful are solely dedicated to these students. Landmark College in Vermont, for example, is designed for students with learning disabilities, ADHD, and autism.
"The upshot of all this is that students should do some research prior to entering a school [to find out] whether it has the institutional culture and orientation that make for an appropriate level of accommodation for them," Oravec said.
Self-Advocacy for Students with Disabilities
Ultimately, the type of accommodations required will vary from student to student depending on what type of disability or disabilities you live with and how accessible a space or college already is. But regardless of your diagnosis or where you go to school, experts have some tips to help students navigate college.
Register with the disability services office
First and foremost, experts agree that it's highly beneficial for students to register with the disability resources office at their school.
"Seeing that students are in the middle of the summer, if they haven't communicated with their student resources yet, they should," said Adam Lalor, the Vice President of Neurodiversity Research and Innovation at Landmark College.
It's important to do this step as soon as possible, because it may take some time to confirm eligibility. The office may also need documentation from you or your doctor to determine your eligibility and specific needs, Lalor said.
Registering is important because it gives you legal rights and informs your professors you may need accommodations when you register for a class, said educational therapist Bibi Pirayesh, who works with neurodiverse children and teens through the transition to college.
If you're nervous to register, you should at least make an appointment and talk to the staff about what's available, said Dana Jones, Director of Disability Services at Aims Community College in Colorado. "Once meeting the staff and asking questions, a student might feel more assured that the office is there to help provide access and provide support as needed," Jones said.
"The Office of Accessibility Services is there to help the students who need it," said Ilene Miller, an educational consultant and special needs advocate who works with students with various disabilities. "The trepidation is understandable but their help, in most cases, is invaluable."
You can also pair up with a mentor if you're nervous to go alone, Miller said. Mentor programs are often a key component in helping students overcome barriers to graduation.
Get familiar with your needs and barriers
After registration, you'll work with a disability resources officer to figure out what accommodations you need. "During this process, the student must disclose their disability, discuss what has and has not worked in the past, the challenges they face, and the barriers they face academically, residentially, or in other settings," Lalor said.
Effective self-advocacy requires students to spend some time learning about their specific learning needs, strengths, challenges, and anticipate any barriers they may run into. Giving as much information as possible will help you get the most out of your resource center, Lalor said.
"Knowledge is power, and the more information you have about your specific needs, as well as potential support available, the better," said Renee Rosales, a neurodiversity, education, and advocacy expert and founder of Theara, an organization that supports neurodiverse students. "Do your research and don't be afraid to reach out and ask for what help is available to you."
Talk to your professor early on
While many students report difficulties working with their professors, establishing clear and frequent communication can help.
"Unlike K-12 teachers, [professors] often know very little about disabilities and have had no training," said educational therapist Bibi Pirayesh. "They also often do not see any invisible disability, like learning disabilities or mental health issues, as a disability. In other words, ableism runs high."
Pirayesh recommends students take time to meet with each professor before the quarter starts to start building that relationship and get a sense of their professor early on.
"It's important to have individual conversations with professors because students need to get a feel for them too. When you know who you are dealing with, you can plan better," Pirayesh said. While some professors may not be very aware of the different needs of students, others may surprise you, Pirayesh said. Professors may even be able to get you accommodations you don't know about or don't qualify for through the office.
Keep records
Depending on your school and what type of disability you have, you may not need to provide documentation. However, not having the proper paperwork necessary can be a significant barrier when trying to get accommodations in the middle of the quarter, for example.
"I recommend all students… document everything," Pirayesh said. "Notes from doctors, psychologists, etcetera, go a long way."
Asking for documentation that describes personal circumstances, limitations, and necessary accommodations ahead of time makes it less likely that you'll need to set up an appointment and incur additional costs when seeking services. It also means you won't have to wait on your doctor's schedule. There may be telehealth options available to expedite this process as well.
Find support
Whether you work with a mentor, a nonprofit, an education counselor, or a family member, having extra support can be instrumental in overcoming the barriers you may face.
"Students should align with outside advocacy organizations in their community so they don't have to go in alone," said Pirayesh.
Building community on campus can also play an important role. Pirayesh recommends joining or starting a club on campus focused on disabilities and accessibility.
"The point is to help them hold on to their power," said Pirayesh. "The university campus can be an incredibly violent place for those with disabilities but this can also be an incredible time for students to learn about the history of the disability movement and to step into their politics, which they wear on their body."
Be kind to yourself
For Theara founder Rosales, her expertise doesn't just come from working with students. She also knows what it's like to navigate the process firsthand.
"I spent years struggling, masking my symptoms, or using ineffective coping strategies," Rosales said. "Now that I have embraced my neurodiversity, my life is richer, fuller, and happier. I have learned to work with my neurodiversity, not against it."
It's important to be kind and compassionate to yourself throughout the process, Rosales said, especially when it can be overwhelming or you feel shame or judgment from others.
"Self-compassion will help to build your confidence, resilience, and self-acceptance," Rosales said. "Advocacy is a lifelong process, so the sooner you start practicing, the better."
What Accommodations are Available?
The type of support you can get will vary depending on your individual diagnosis, the requirements of your program, and your specific strengths and challenges.
Sometimes the simplest of changes can make the difference between earning your degree and not finishing college. For Evan Cruz, who has Asperger's Syndrome, extra time on tests, quizzes, and assignments made graduating possible. Cruz graduated in 2020.
"One of the benefits of having Asperger's Syndrome is being able to learn things and be able to engage with the material at a deep level that it doesn't feel like work," said Cruz. "On the flip side, autism reduces processing speed."
Because of this, it took Cruz longer to study and finish exams.
"It's not because of me not knowing the material well enough, but because of the slow processing speed associated with autism," he said. "This is what extra time accounts for."
Cruz said his university was very accommodating. Working with the Disability Resource Center was crucial in getting the support he needed to graduate. Aside from extra time for tests, they also worked with him and his professor to address other issues he ran into throughout the year, such as difficulty working in groups in a specific class.
"The official working with my professor for the class was able to identify this issue and come up with a resolution with the professor so that I can be successful in the class, which I was," he said.
For students with autism, Cruz suggests using noise-canceling headphones to block out distractions during tests. He also says students can anticipate likely needing more time to study than their peers, which for him meant less time to participate in internships or extracurriculars.
Some other accommodations available may include:
Extra time for tests and quizzes
Closed captioning for virtual classes or video lectures
Recorded lectures
Emailing or printing a copy of the presentation
Testing rooms with no distractions, no bright lighting, or other requirements
Using a tablet or computer when it otherwise wouldn't be allowed in class
Transportation to and from campus
Access to digital materials for class
A scribe (someone who takes notes for a student in class)
Additional devices or softwares for students with sensory impairments
Requesting a seat close to the front to hear and see better
What to do if help isn't available
Despite all the laws in place and the centers available, students may still have difficulty accessing the services they need. It's a good idea to talk with a disability resource center before applying or enrolling to find out what accommodations a school can provide.
"I would say that disabled students should pick a university that has a capable Disability Resource Center since they will be in a position to make sure the student has the appropriate accommodations to graduate," said recent graduate Evan Cruz.
If a school doesn't offer adequate accommodations, students with disabilities may want to look for a more accessible option to get better support during their studies.
However, this is not always an option.
If you're not getting what you need at your college of choice, talk to your disability resource officer to see if there are alternative solutions.
"Sometimes, students do not receive the specific accommodation they want, but instead receive something that provides them with equal access," said Adam Lalor of Landmark College. "Accommodations should be adjusted if they do not work for them."
After exhausting all resources on campus, you can try working with an outside support organization, such as an educational therapist or counselor. You may also be able to get support and guidance from nonprofits and advocacy groups.
"The grievance process is available to students if they do not receive the appropriate accommodations. If the student is not receiving the accommodations they need, they can access the office of civil rights, and a review will be done for them," Lalor said. "There should always be someone available to answer their questions."