Mental Health Counseling Degrees See Spike Along With Labor Demand
Key Insights:
The popularity of a Master's in Mental and Social Health Services increased 31.5% from 2016 to 2020.
45% of all Mental and Social Health Services degrees were completed online in 2020.
Grand Canyon University, a major nationwide online school, is the top college for this, churning out 1,135 graduates in 2020, or 8.4% of the nationwide total.
Much has been written about the national mental health crisis, with President Biden recently making it a part of his 2022 State of the Union speech. Within this umbrella term, the White House includes the substance abuse crisis, the student mental health crisis, the inequity of access to treatment, as well as various ways that the pandemic has deleteriously affected behavioral health.
Of course the administration also released a multi-part plan to address these issues, from prioritizing front-line health workers' mental health, to plans to launch a "998" national mental health crisis hotline this summer.
But the same announcement also emphasized that it can't do much if there aren't enough mental health care professionals available. We can all recognize that the most direct way to improve our country's mixed record of mental health treatment is to get more of the people that need help access to trained and qualified mental health counselors.
As the administration, health policy experts, and mental health advocates know, the number of mental health counselors we train will almost certainly have an impact on how mental health is treated in five, ten, twenty years. Given all of the needs outlined by the administration, we can expect demand for mental health counselors to grow faster than the overall demand for labor.
Demand for Mental Health Counselors Set to Skyrocket
The Bureau of Labor and Statistics' Occupational Outlook manual shows that demand for mental health counselors is expected to grow at 23%, nearly triple normal labor growth rates. According to analytics firm Burning Glass, the field is considered a "high demand" job, with almost 105,000 job postings in the past year.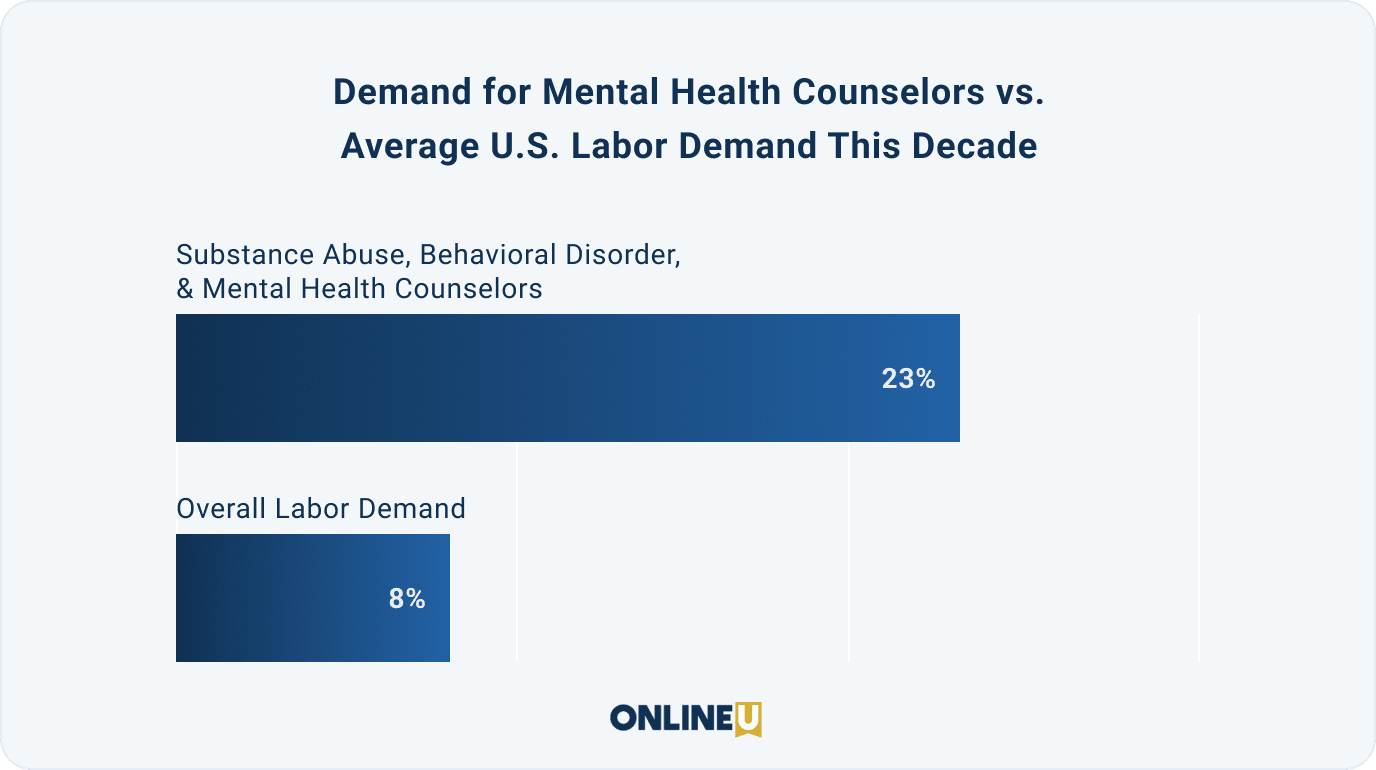 Besides nurse practitioners, which will see over double the demand growth of mental health counselors, there are few health care or social services jobs that are expected to grow as fast.
The BLS says that much of the need for new mental health counselors will be the result of a need to replace workers who leave the occupation or exit the workforce entirely.
There also seems to be growing need for mental health treatment. A 2020 study from the Centers for Disease Control and Prevention (CDC) showed that nearly one-in-five Americans received mental health treatment of some form in 2019. All of this is before the pandemic triggered months of social isolation, financial uncertainty, and relationship concerns.
The American Psychological Association (APA) surveyed mental health professionals in 2021, and found that more Americans were seeking mental health treatment than in 2020, especially for anxiety, depression, stress, and trauma. Other mental health issues that had become more common included sleep-wake disorders, obsessive-compulsive and related disorders, and substance-related and addictive disorders.
More than four in ten surveyed mental health providers felt they could not keep up with booming demand for their services, with referrals skyrocketing and waitlists getting longer and longer.
Some of this increase may be specific to pandemic-related stressors, but as the projections above pointed out, labor experts don't see this as a short-term problem. This is at least in part because of growing acceptance that mental health treatment of some kind can make us better students, workers, parents, and friends.
Another factor driving mental health counseling growth is the increased pressure on insurance companies to cover mental health treatment just as they do physical health care. Though they are already technically required to do so according to the 2008 Mental Health Parity and Addiction Equity Act, the 2010 Affordable Care Act, and various state mental health parity laws, insurance providers often have inadequate networks for such care. Mental health awareness groups are trying, through class action lawsuits and other initiatives, to force insurers to expand access to mental health care.
Mental Health Degrees See Spikes In Response
Ten Schools Conferring the Highest Number of
Master's in Mental Health Degrees
| Institution | 2020 Conferrals | Market Share 2020 | Conferrals 16-20 |
| --- | --- | --- | --- |
| Grand Canyon University (Online) | 1,135 | 8.4% | 72.8% |
| Liberty University (Online) | 1,026 | 7.6% | N/A* |
| Capella University (Online) | 770 | 5.7% | 55.6% |
| Walden University (Online) | 415 | 3.1% | -13.5% |
| Florida State University (Online) | 251 | 1.9% | N/A* |
| Lesley University (Online) | 206 | 1.5% | 23.4% |
| Michigan State University | 200 | 1.5% | -13.4% |
| Northcentral University (Online) | 200 | 1.5% | 198.5% |
| Johns Hopkins University | 162 | 1.2% | 13.3% |
| New Mexico Highlands University | 155 | 1.1% | 9.2% |
Fortunately, the supply of trained mental health counselors has been growing as well, with 15,502 people earning their master's in Mental and Social Health Services and Allied Professions in 2020. This marks a 31.5% increase since 2016, when 12,270 degrees were conferred.
The list above shows many of the ten schools conferring the most mental health counseling degrees are ones that are offered online. The only on-campus schools to break into the top ten were Michigan State University, Johns Hopkins University, and New Mexico Highlands University. But even their combined total of 517 conferrals would only get them to fourth on the list.
However, when we zoom out of the top ten and look at the entire list of schools conferring these degrees, we see a different picture. Looking at all 458 schools offering this degree, online degree programs actually only make up 45% of conferrals, compared to 55% for on-campus.
This shows that a few of the large online schools are taking up a major portion of the market share for mental health counseling degrees. Grand Canyon, Liberty, and Capella alone account for 21.7% of the market. Looking holistically, however, there are hundreds of schools (most of which are in-person) that confer anywhere from dozens to single digits of mental health degrees per year.
Though on-campus degrees leading to mental health counselor jobs still remain a bigger slice of the pie, online schools have made enormous strides in the past four years. In 2016, online institutions awarded only 31% of these degrees, but by 2020 they were up to 45% of conferrals.
For some online programs, the difference between 2016 and 2020 is even more stark. The graph above shows the top five schools by number of degrees conferred in 2020. Two of them, Liberty University and Florida State University, conferred zero of these degrees in 2016.
Liberty University, a private not-for-profit online institution, went on to be the runner-up in degree conferrals by 2020, trailing Grand Canyon University by just 109 conferrals.
Florida State University, the top public program in 2020 with 251 conferrals, also started from nothing. But from 2017 on, the school awarded a few hundred degrees each year. It still trails the four private online schools ahead of it by quite a bit, but it did earn FSU the fifth spot for number of degrees conferred.
Will More Counselors Be Enough?
As we outlined initially, the country's demand for improved mental health care is based on many factors. Some of those issues will hopefully recede, such as lockdown-induced stressors, while others will likely stay with us, like the stubborn fact of inequity of health care access.
With so many variables it is difficult to say if more counselors will be enough to address the country's broad range of mental health needs, in inner cities and rural areas; for the rich and the poor; and among vulnerable populations like the youth, the elderly, the infirm, the incarcerated.
The data we do have however is encouraging. It shows that more individuals are pursuing Mental and Social Health Services master's degrees, and it shows that the labor market already knows that long-term demand for such professionals will increase. In theory, compensation should be able to adjust to keep incentivizing more people to give the occupation a look.
America's mental health crisis is made up of many societal, economic, and health factors that may improve, worsen, or disappear in the coming years. Despite that uncertainty, what is certain is that whatever the composition of the mental health crisis in the future, the numbers seem to suggest that we will at least have more mental health professionals on hand to help us through it.
Methodology
For this study we used projections for future employment demand for mental health and substance abuse counselors from the Bureau of Labor and Statistics' Occupational Outlook Handbook.
Data on the schools conferring the most master's degrees in Mental and Social Health Services and Allied Professions was gathered from Burning Glass Technologies, an analytics company that uses LinkedIn profiles and other publicly available data to provide current updates on the higher education and labor markets.
Related Articles
2023 Most Affordable Online Master's Degrees in Counseling
Explore our 2023 list of the most affordable colleges for online master's degrees in counseling.
Dual Degree vs. Double Major: What's the Difference?
Learn all about dual degrees and double majors and find out how they're different, how to decide which is right for you, and what to look for in a program.