Where Did the Top Environmental Lawyers Go to College?
A look at the law schools behind the 500 leading environmental attorneys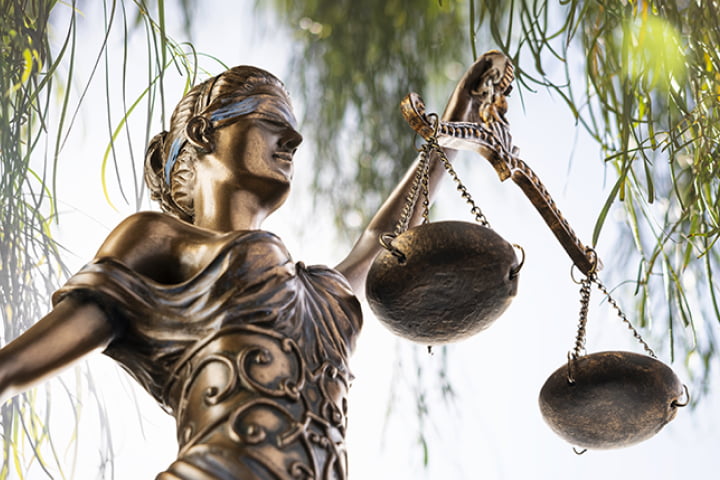 Key Insights:
Harvard was the top school, and alma mater to the most nonprofit lawyers
Lewis & Clark Law, known for its environmental programs, out-performed NYU Law and Michigan Law
Texas Law ranked third with the highest rate of environmental lawyers at large firms
The field of environmental law has grown continuously over the last 50 years. The United Nations Environment Programme noted that the number of laws related to climate and environment grew by 38 times from 1972 to 2019. However, when it comes to implementing and enforcing, society has fallen short.
As we gain a better understanding of environmental issues and increasingly experience the impacts of climate change, the need for lawyers specializing in the field also continues to grow.
Many of the significant changes we've seen to environmental and climate policy are thanks to legal battles fought by attorneys at nonprofits, environmental firms, government organizations, and large firms representing major clients.
This year, LawDragon released its list of the top 500 environmental and energy lawyers, noting that it features some of the youngest attorneys ever recognized in their rankings.
While there are many rankings of the top schools for environmental law, there is limited data available on the best path to becoming a successful environmental attorney. We analyzed the educational backgrounds of the LawDragon 500 environmental lawyers to highlight the top colleges behind these industry leaders.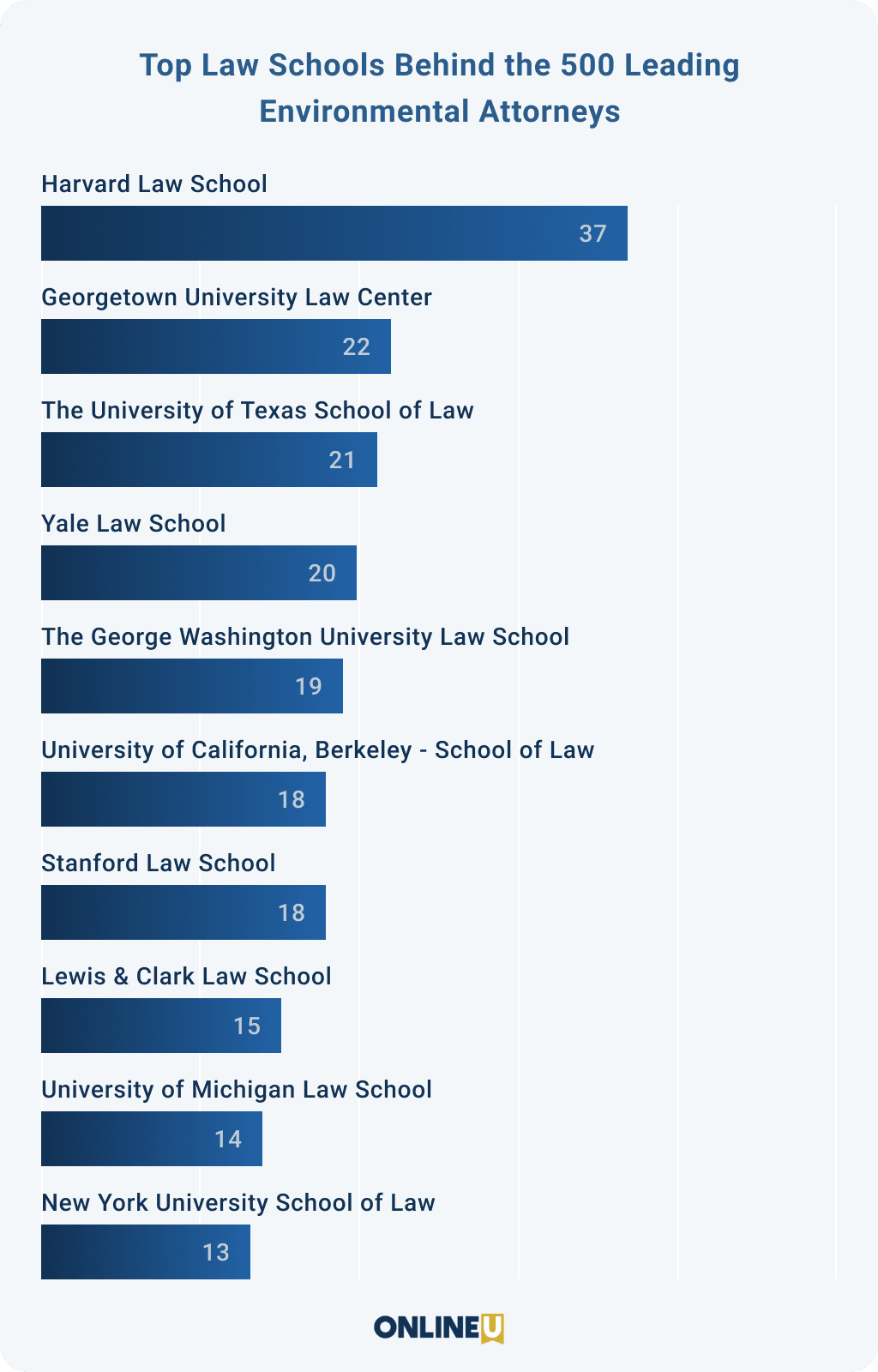 Unsurprisingly, some of the biggest and most prestigious law schools produced the highest rate of top environmental lawyers, likely due in part to their size, quality, and name recognition.
Harvard University, Georgetown University, New York University, and the University of Michigan, all of which appear here, are among the largest law schools and are often highly ranked.
However, we did have a few surprising finds. The University of Texas at Austin and Lewis & Clark College in Oregon both produced a high number of leading environmental attorneys despite significantly smaller enrollment numbers and less prestige in national law school rankings.
1.
Harvard Law School
37 Graduates in Top 500 Environmental Lawyers Top School for Nonprofit Attorneys

Known for its prestige and high enrollment, Harvard Law School produced the most environmental lawyers on the top 500 list. A total of 37 leading environmental attorneys earned their JD at Harvard, accounting for 7.4% of the lawyers that made the list.
While graduates from most schools on this list predominantly work for large firms, 43% of leading environmental lawyers who went to Harvard work for a nonprofit or university. Four out of nine Natural Resource Defense Council attorneys and both Oceana attorneys on the LawDragon 500 went to Harvard.
2.
Georgetown University Law Center
22 Graduates in Top 500 Environmental Lawyers

Georgetown, also known for its high enrollment and prestige, graduated 22 total alumni recognized by LawDragon for their work in environmental law.
These Georgetown graduates predominantly work at firms rather than universities, nonprofits, or government agencies, with 15 of the 22 working for general practice or environmental firms. Employers for these alumni include Cascadia Law Group, Morgan Lewis, and Perkins Coie.
Georgetown currently offers environmental law as a focused area of study, although it's unclear when the program was established.
3.
The University of Texas School of Law
21 Graduates in Top 500 Environmental Lawyers Top School for Environmental Work at a Major Firm

Despite lower enrollment numbers than behemoths like Georgetown and Harvard, a comparable number of Texas Law graduates appear on the top 500 list. Given the massive focus on energy production and export in the Lone Star state, it makes sense that Texas graduates find work in this sector.
These Texas Law alumni exclusively worked for private firms, with 18 at large firms such as Baker Botts, Jackson Walker, and Vinson & Elkins. Two alumni work for environmental law firms Cascadia Law Group and Guida, Slavich & Flores.
While the university doesn't offer an environmental law specialization for its JD program, it does offer an LLM on energy and environmental law.
4.
Yale Law School
20 Graduates in Top 500 Environmental Lawyers

With a much smaller enrollment than most top law schools, Yale ranks 3rd with 20 graduates in the top 500 environmental lawyers. Most Yale graduates on the list work for large firms like Arnold & Porter or Kirkland & Ellis. However, a handful work for nonprofits including Earthjustice and World Wildlife Fund, universities, or environmental firm Shute, Mihaly & Weinberger.
Yale's high rate of leading environmental lawyers is likely due to the university's focus on climate issues. Not only does it offer an environmental law program, it's also home to an environmental law clinic, a student-run environmental law association, and the Yale Center for Environmental Law and Policy, established in 1994.
5.
The George Washington University Law School
19 Graduates in Top 500 Environmental Lawyers

While GW Law is not quite as prestigious as some of the other schools on this list, it is one of the largest law schools by enrollment and ranks #27 on US News' top law school rankings.
The DC-based university produced 19 graduates on the list, most of whom work for large firms such as McGuireWoods, Kirkland & Ellis, or Crowell & Moring. GW Law also had a higher rate of alumni who earned their JD in the 21st century than Harvard, Yale, and other colleges listed here.
6.
University of California, Berkeley - School of Law
18 Graduates in Top 500 Environmental Lawyers Top School for Environmental Firms

Given that Berkeley Law describes itself as one of the first big schools to offer an environmental law program, it's not necessarily surprising to see the university here.
A total of 18 leading environmental attorneys went to Berkeley Law, including six working for environmental firm Shute Mihaly in San Francisco. Three alumni work for nonprofits EarthJustice and the Surfrider Foundation. Berkeley Law also has a high rate of attorneys who graduated in the 21st century, with 7 out of 18 earning their JD in 2000 or later.
7.
Stanford Law School
18 Graduates in Top 500 Environmental Lawyers

Stanford Law has about half the enrollment of Berkeley Law, but is alma mater to the same number of top environmental lawyers. Stanford graduates from the list were spread across sectors and less heavily focused in large firms.
Stanford graduates were recognized for their work at nonprofits Defenders of Wildlife, Public Justice and Sierra Club, as well as firms like Beveridge & Diamond, Hogan Lovells, and even the White House.
8.
Lewis & Clark Law School
15 Graduates in Top 500 Environmental Lawyers

While Portland-based Lewis & Clark Law isn't typically seen as a prestigious law school, it is widely recognized as the top environmental law school in the country. The college offers a variety of environmental law programs and has a smaller enrollment size than any other school on this list.
Alumni on the list went onto work for environmental firms such as Cascadia Law Group or Guess & Rudd as well as larger firms including Stoel Rives and Perkins Coie. One graduate works for the Center for Biological Diversity, and two work for the college itself.
Lewis & Clark Law was also home to a higher rate of more recent graduates, with 5 out of 15 attorneys on the list earning their JD during or after the year 2000.
9.
University of Michigan Law School
14 Graduates in Top 500 Environmental Lawyers

Known as a top public law school with a larger enrollment size, Michigan Law graduated 14 attorneys on the list. The university offers an environmental law program and partners with the National Wildlife Federation to offer an environmental law clinic.
Michigan Law alumni mostly worked at law firms, including Baker Botts, Perkins Coie, and environmental firm Shute Mihaly. One alum is now president of nonprofit Environmental Defense Fund.
10.
New York University School of Law
13 Graduates in Top 500 Environmental Lawyers

Alongside Harvard, NYU Law is also alma mater to a notably high rate of attorneys recognized by LawDragon for their nonprofit work. Five of the 13 NYU Law alumni work for the Natural Resources Defense Council, the Environmental Defense Fund, or Lawyers for Civil Rights.
Aside from nonprofits, NYU alumni work in environmental law with firms such as Shute Mihaly, Manko, Gold, Katcher & Fox, and Arnold & Porter. NYU Law offers an LLM in environmental law, and is one of the largest and top-rated law schools in the country.
Can Higher Education Keep Pace with a Growing Need for Environmental Lawyers?
The intersection between the environment and the law provides a complex space for attorneys and legal educators. While our knowledge about climate, energy, and related technologies grows rapidly each year, the legal industry and higher education often move very slowly in comparison.
Given the fact that the majority of these attorneys graduated before the year 2000, it's likely that many of them didn't have the opportunity to pursue an environmental law program at their school.
However, today many of the top law schools have at least incorporated a specialization into their JD program or launched an LLM in environmental law. Other schools, like Lewis & Clark Law, have carved out a solid reputation in the industry.
While there are far more education options for today's JD candidates pursuing a career in environmental law, this research highlights law schools with a strong track record of producing the top attorneys in the industry.
Related Read: Best Online Bachelor's Degrees in Environmental Science
Methodology
Our data team manually researched education backgrounds for each attorney on the LawDragon 500 Leading Environmental and Energy Lawyers list using company websites and LinkedIn profiles. The university where the attorney earned their Juris Doctor and the year they graduated, if available, were collected. For graduates of the 10 schools with the highest rate of alumni on the list, additional data was gathered on what type of firm or organization they work for. Data collection occurred from January 12-26, 2022.
Related Articles
The Best Law Schools for Alumni Salary in 2022
College is a significant investment, especially for law students. This list highlights law schools where alumni see the highest starting salaries.