Is a Master's in Education Worth It?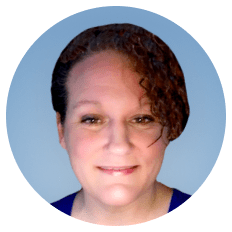 Sara Austin is an academic researcher and technical writer with an M.Ed in Instructional Technology and an Ed.D in Educational Leadership. Her most recent research focuses on classroom equity and strategies for unlocking the limitless potential of all students through positive representation and culturally relevant instruction. She spends her free time working with her husband on their off-grid homestead deep in the Maine woods.
If you are a classroom teacher who has been teaching for a few years, you may be wondering what is next for you professionally. If so, you may want to consider a master's in education. A graduate degree program in education has the potential to increase your yearly salary by an average of 29%. But this advanced degree and professional development will give you more than just a significant salary bump and a few letters behind your name, it will give you a deeper understanding and appreciation of the work that you do and prepare you to share your skills and knowledge with others.
The curriculum for a master of education program will often depend on the specialization you choose. You can choose to focus on curriculum and instruction, teaching, leadership, assessment, special education, and many other specialties. The coursework for these programs focuses on developing your knowledge of pedagogy, understanding of the theory of teaching and learning, assessment development strategies, and culturally-sensitive communication skills.
Let's look at some common questions about earning a master's in education.
What Are Some of the Skills That Master of Education Students Might Gain From Their Education?
By engaging in advanced study in education, students gain a deeper understanding of the theory and practice of teaching. With this understanding, teachers are able to make more informed choices regarding classroom management, teaching methods, and instructional approaches, making them more effective as educators. Graduate programs aim to help you develop both soft and hard skills that you can immediately apply to your job.
Critical Thinking: Much of the curriculum for a master's in education program is designed to disrupt your current patterns of thinking. When you learn to interrogate your internal biases and how they may impact your view of the world, you begin to think more critically.
Evidence-Based Decision-Making: Student data extends far beyond the attendance rolls and gradebook. Learning to recognize patterns in behavior and outcomes will empower you to make decisions based on evidence.
Communication: A teacher who cannot communicate effectively cannot teach. A master's in education program will help you sharpen essential skills in writing and verbal instruction.
Time Management: As a master's in education student you will need to sharpen your time management skills. As you develop these skills, you become more effective with managing time in the classroom as well.
Content Knowledge: Whatever your teaching specialty, a master's in education program will broaden your understanding of how to effectively teach any topic.
Pedagogical Knowledge: A master's in education program provides insights into teaching and learning theory, as well as best practices for instruction.
Technological Skills: Teachers need to develop and cultivate skills in technology to keep up with today's learners.
Is the Cost of a Master's in Education Worth the Investment?
Earning a master's in education is a solid investment in your future. While the cost of graduate education varies from school to school, the median tuition for this advanced degree is $11,908
The higher salary you will receive with this credential makes it easy to justify the expense. The Department of Education's College Scorecard reports that the average salary for those with a bachelor's degree in Teaching/Education is $35,594 and for those with a master's degree, the average is $45,919. This means that elementary and secondary school teachers who obtain their master's in education receive, on average, a pay increase of more than $10,000 per year - an ultimate boost of 29%. In addition, earning a master's degree will open up opportunities for advancement, particularly in the area of educational leadership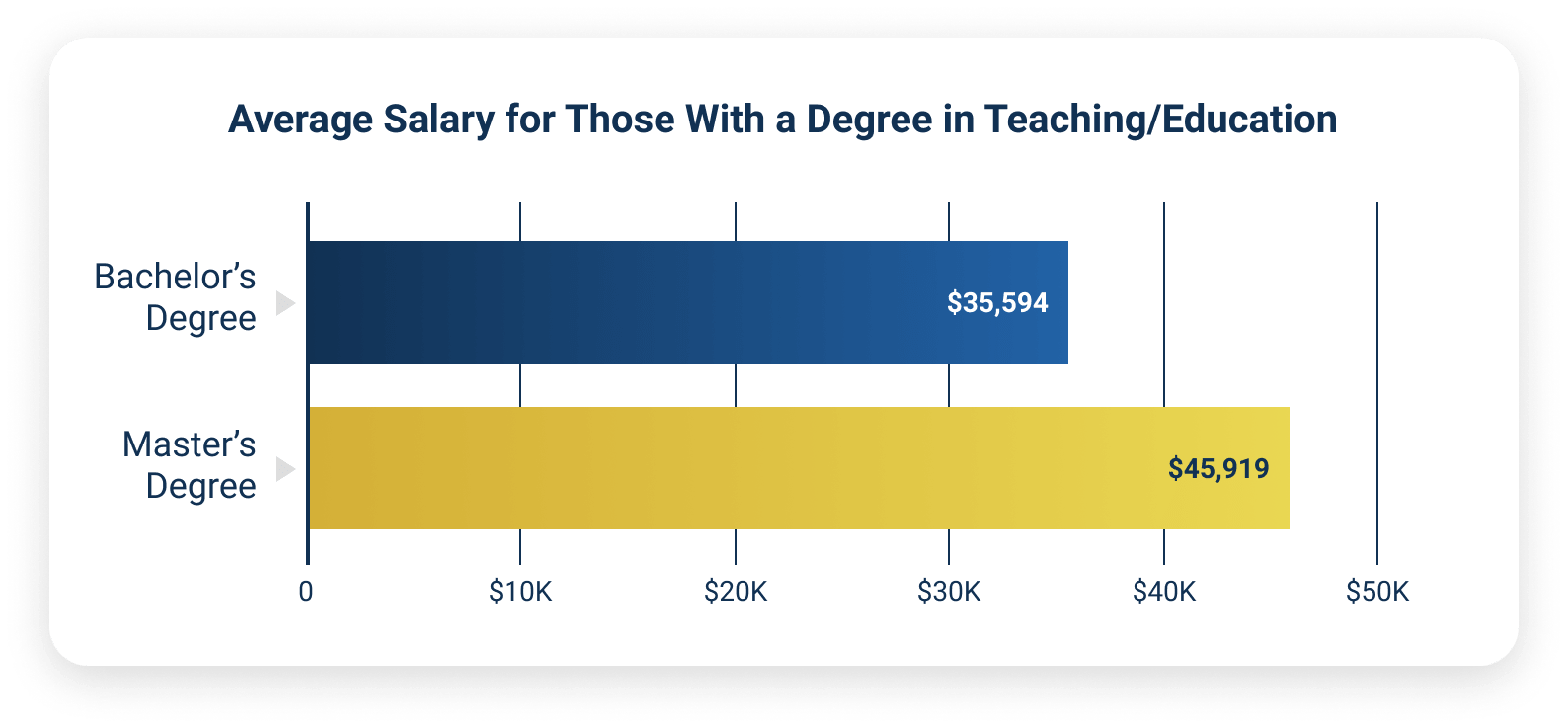 How Will a Master of Education Degree Help My Career?
A master's in education will help your teaching career by establishing you as an expert. This credential not only shows that you have a deep level of expertise in the field, it also shows that you are committed to further developing skills to succeed in this profession.
With a graduate degree, you can move beyond teaching to education administration. To qualify for a position as a principal or superintendent, you not only need years of teaching experience, but a graduate-level education as well. A master's degree could also raise your profile as a teacher and prepare you to mentor new teachers entering the field.
If you hope to take a leadership role in education, whether through administration or consultation, you will need a master's in education degree. Many people with this degree also venture down alternate career paths and go on to find work in other fields, such as corporate training and development.
What Are the Differences Between an Online Master's in Education Program and a Traditional Master's in Education Program?
As a practical matter, there are significant differences between online and traditional master's in education programs.
Adult learners, with responsibilities at work, school, and home, value the flexibility of the online learning experience. Asynchronous programs let adult learners work on their education at the time and place of their choosing. Synchronous online programs have a set schedule for class meetings, but students aren't required to travel to campus to attend class in-person.
Peer-to-peer collaboration is different in online learning as well. For the most part, you will not get to work with your peers in-person. Working with peers in the online classroom could involve interaction via a discussion board or video conference discussions.
Are Online Master's in Education Programs More Affordable Than Traditional Programs?
Earning a master's in education online can save you money. With an online degree, you don't have to worry about finding time in your busy life to travel to campus, nor do you have to pay fees associated with campus infrastructure or amenities. The tuition for online learning can also be significantly lower than on-campus tuition, with some online programs available for less than $5,000 per year. We've put together a list of the best online teaching degrees based on ROI.
Peterson's estimates that the cost for a traditional master's in education can range from $30,000-$40,000 per year, and you will still need to travel to and from campus. With the convenience of online learning and a price tag that can be as much as 90% lower, it is easy to see why so many learners choose to earn their master's in education online. The lower cost of online grad school allows you to minimize your student loans while still reaping the same benefits of increased earning potential and job prospects post-graduation.
With the convenience of online learning and a price tag that can be as much as 90% lower, it is easy to see why so many learners choose to earn their master's in education online.
What Should I Consider In a Master's in Education Program?
Aside from the cost, reputation, and convenience of a master's in education program, there are some other factors you should also consider. These include:
Accreditation
Both online and traditional schools and programs are accredited at the national level and at a specialization level. The national accreditation body for teaching and education programs is the Council for Accreditation of Educator Preparation (CAEP). You should also check to see if the graduate education program you are considering is regionally accredited.
Accreditation is important because it is a third-party's assessment of a school's curriculum and whether it delivers on its promises. Making sure you are in an accredited program is important for your future as well. If a student earns their undergraduate degree from an unaccredited institution, they will not be able to use that credential to qualify to attend an accredited graduate school.
Expert Tip
If a student graduates with a bachelor's degree from an unaccredited institution, they will not be able to use that credential to qualify to attend an accredited graduate school.
Advising Services
Advising services offered by colleges range from career counseling to job placement. You may assume that if you study online you won't have access to this kind of help, but that's not always the case. Research what your master's in education program offers to help you professionally, both before and after you graduate.
Practicum Opportunities
Practicum opportunities can be invaluable as they give you the opportunity to practice your new skills in the field. These field experiences are often included as part of the last year of study and are intended to give you practice in the field. These projects usually have graduate students working closely with experienced mentors and faculty as they complete a project or simply gain experience working with K-12 students. For online students, these practicum opportunities are supported by local mentors, in collaboration with the faculty from your program. As an added benefit, practicums and internships offer wonderful networking opportunities within local schools and school districts.
The True Value of a Master's Degree in Education
As a teacher, you understand the value of education. With this advanced credential, you can increase your earning potential by as much as 29%, even if you don't seek a leadership role. Even more importantly, you will deepen your understanding of teaching and learning, making you more effective in the classroom.
If you are considering a leadership role, adding a master's degree to your resume will set you apart from your colleagues and make you eligible for roles such as school administrator or mentor for other teachers within your own school.
As you consider online vs. traditional programs, you will need to assess your own needs. If your life requires flexibility so that you can succeed in your studies while also handling your other responsibilities, you should consider if an online program is right for you.
If you prefer face-to-face instruction on a set schedule, there are many in-person master's in education programs to choose from. No matter what you choose, a master's in education will make you a better educator and give you the skills and knowledge you need to become a leader in your field.
Related Articles
2023 Best Online Master's Degrees
A master's program can expand your employment options and earning power. Explore our list of the best online master's programs based on alumni salaries.
2023 Best Online Master's Degrees in Elementary Education
Explore the schools that offer online master's degrees in elementary education in 2023 that are ranked by reported alumni salaries.