Financial Aid Letters: Why they're so confusing, and how to read them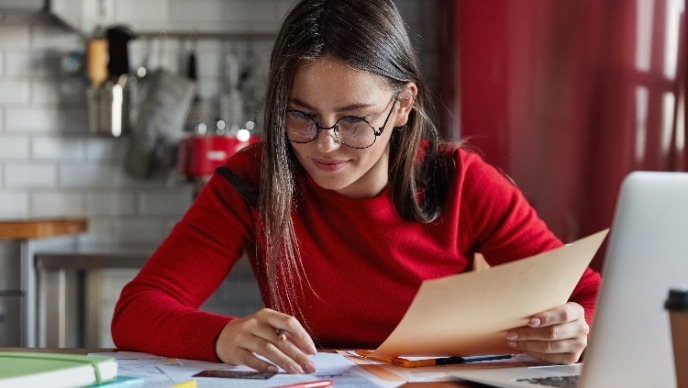 We've all seen the tropes of high school students applying to their dream school, visiting campus, buying the school swag, and jumping up and down when they finally find out they got in. What often gets skipped in this narrative is students receiving their financial aid offers and the complicated process behind figuring out if they can afford their dream college.
Nearly 90% of college students use some type of financial aid to pay for college, and these award letters are incredibly important for students making decisions about where to go to school. They're supposed to tell you how much it will cost, and how much funding you'll get to pay for school. These letters are also notoriously confusing for students and their families.
"Students know and their families know that college is a big decision, and they feel the high stakes in it," said Carole Trone, co-director of The Fair Opportunity Project, a nonprofit focused on improving access and affordability in higher education. "We find they often worry, and justifiably so, that they'll make a wrong decision."
Students and families are under a tremendous amount of pressure to make the "right choice" — a lot rides on the college decision. Students need to consider their career and academic goals alongside choices like how far they want to be from home and what city they want to live in for the next four years. On top of all that, there's the money aspect. How much will college cost, and can they afford it?
The problem with financial aid letters
In 2018, nonprofit group uAspire teamed up with research group New America to take a deep dive into financial aid letters. Their analysis found several common problems with financial aid offer letters that can make it nearly impossible for students to understand how much college would actually cost them.
Many students don't realize financial aid isn't just free money. In addition to grants and scholarships, student loans and Parent PLUS Loans are also included in financial aid offers, which schools often lump together as one sum students are receiving in aid.
"All of these offers of some kind of financial assistance come with important rules, guidelines, and restrictions, and the letter may not have much of that information," said Trone. "So families and students are left with the letter, excited they got accepted, and they may feel like they have a sense of urgency to respond to this."
Sophie Nguyen, a higher education policy analyst at New America, said the fact that loan dollars are often hidden in the total amount of aid offered can be misleading for students.
By including gift aid and loans in the total amount of aid offered, schools are able to say 100% of a student's financial needs have been met and they have no remaining balance for the school year. Students like to see that they won't have to pay anything else to go to college, Nguyen said, and may not read closely enough to see they'll have to take on loans.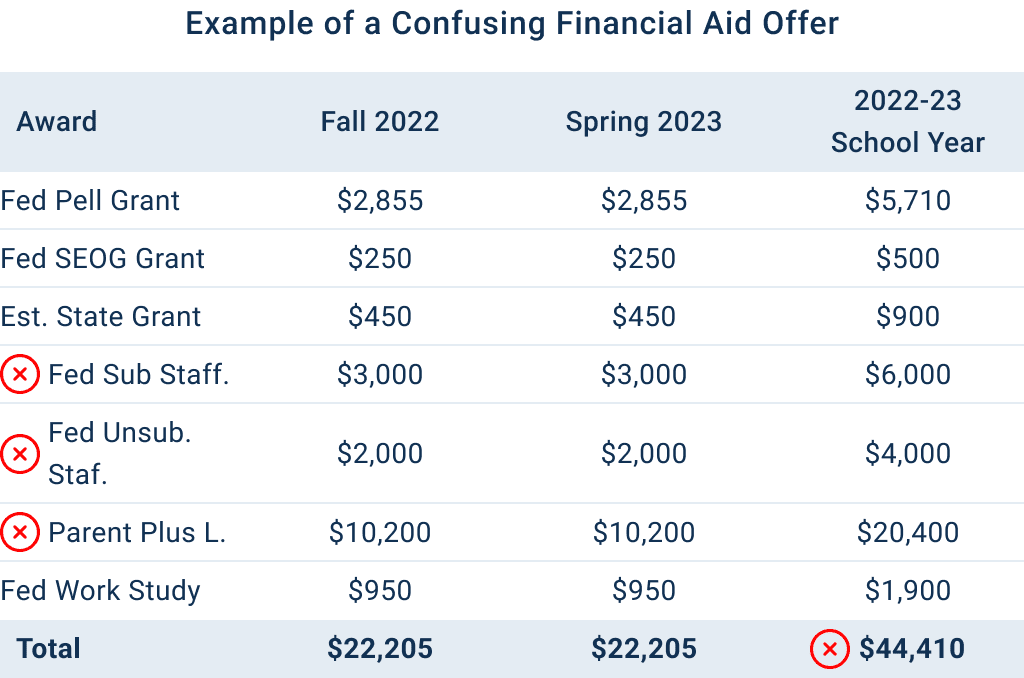 "The way that these letters are phrased impacts student decisions," Nguyen said. "Sometimes students can just gloss over them. They just want to choose the letters that offer them the least amount of loans."
Today's younger generations are more hesitant to take out student loans than in years past and tend to go with the school that offers them the most gift aid, something that Nguyen says she is seeing reflected in her work at New America.
The process can be confusing even for students who have family members who can help them navigate it. For first-generation college students, however, or those without family support, it's even more complex.
Financial aid offer letters tend to use complicated financial terms that aren't intuitive for students, who often don't find explanations readily available, Nguyen said.
"For students with parents who can help them, they have to go through the hassle of creating their own spreadsheets. They have to input all the information manually so they can compare apples to apples," Nguyen said. "For other students with no help or less help, they just have to figure out those terms on their own."
Why are these letters so confusing?
The cost of college and mounting student loan debt have dominated headlines for years. There's been publicly available data on exactly what is confusing to students and the damage it causes since 2018. It seems like an easy step in the right direction to redesign letters. So why hasn't higher education adapted?
Previous coverage has highlighted the lack of federal regulations as the biggest hindrance to transparent financial aid offers for college students. While efforts have been made by New America, the Department of Education, and policymakers to encourage universities to clarify their letters, there's only so much standardization that can happen without federal regulations.
Multiple bills were introduced to address these issues, but little progress has been made in recent years as other policies had the spotlight. Essentially, it's less of a priority compared to other issues in today's political landscape, Nguyen said.
Updated recommendations from the Department of Education came out last year on how to craft a clear financial aid offer, but similar guidelines were provided in 2012 by the Obama administration that don't seem to have made a significant impact. Around 500 colleges and universities voluntarily agreed to adopt the original guidelines released in 2012, but that only amounts to 10% of colleges.
"That uAspire study that happened in 2018, I think that really did shed important light on the variability, and I think that there has been some improvement in letters," Trone said. "But that tends to be more on an institution by institution basis and not an across-the-board kind of change."
So what is stopping schools from making their financial aid offers easier to understand? The reasons can vary, Nguyen said. "Sometimes it's that the software they used to make the offers just allows a certain number of words. So they maybe cannot spell the loan out, or cannot spell the full name, like the unsubsidized direct loan, for example."
Schools also struggle to standardize because of different needs in their letter format, such as accommodating for semesters vs. quarters. Schools also may not realize their financial aid offers are confusing students. However, it's impossible to ignore the fact that enrollment numbers are a big focus for universities, especially with enrollment down since the start of the COVID pandemic.
"We think another reason is it can be an enrollment management tactic that the schools use," Nguyen said. Including loan and gift aid in one sum means schools are able to entice students by saying their financial need is fully met for the year, without drawing attention to the fact that that includes student loan debt.
How to Read Your Aid Offer
Think tank New America conducted further research published in 2021 on what elements are necessary for a user-friendly financial aid offer experience. This research, alongside guidance from the Federal Student Aid office, identifies key elements that enable students to make informed decisions about their education. It can also help students know what to look for or ask questions about.
1. Look for the Cost of Attendance (COA)
One of the most critical pieces of information is how much it will cost you to go to school for one year. It should be in your letter, but if it doesn't include this, you can find the cost of attendance on your school's website.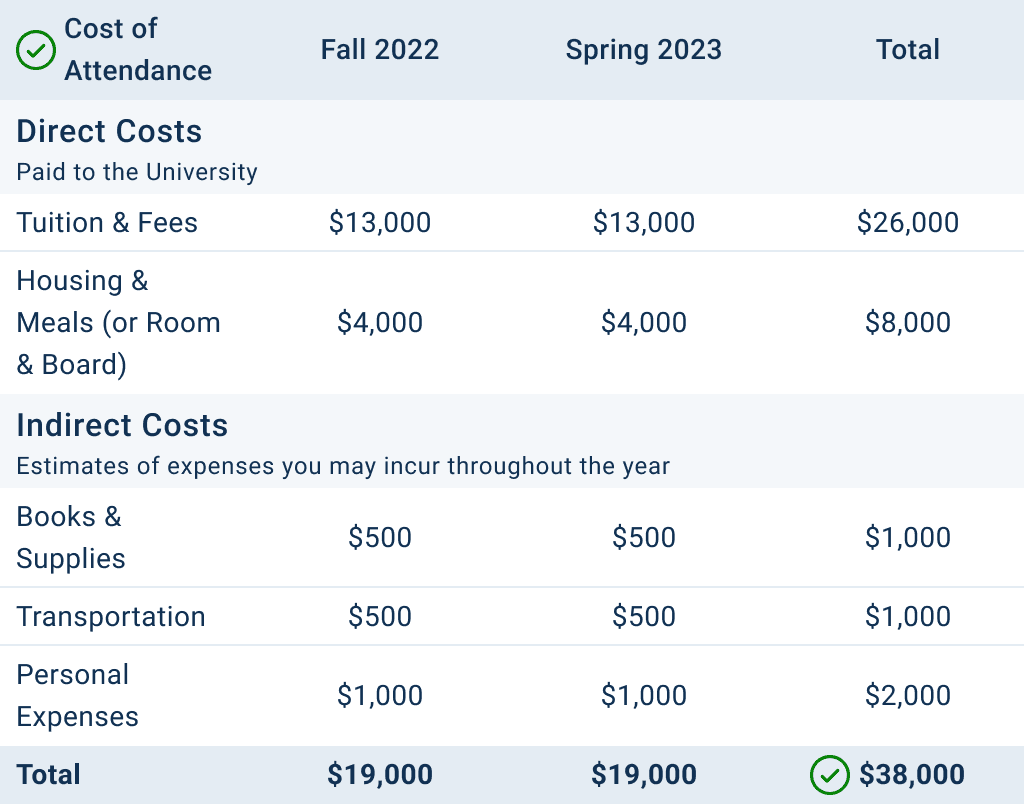 It should have direct costs, which are paid to the university and are usually broken down into tuition and fees, and room and board (or housing and meals).
It should also include some estimates of things you may need to pay for throughout the year or indirect costs. This may look like textbooks and school supplies, transportation, and other personal expenses.
2. How much gift aid did you receive?
Gift aid includes grants and scholarships from the federal government, your state, and your school, which you do not have to pay back.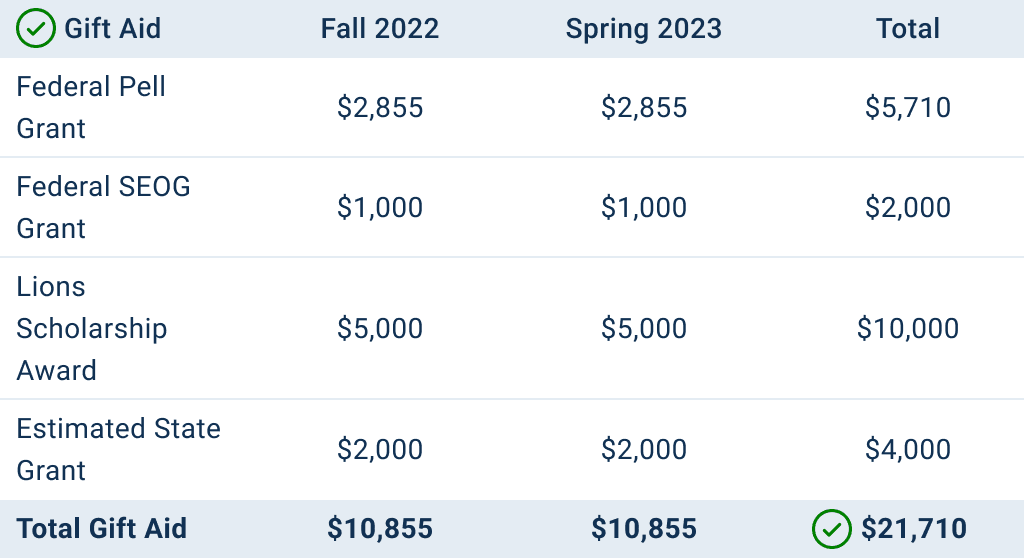 Your school should separate gift aid from loan offers and work-study funds. If they don't, make sure you add up all your gift aid funding separately so you know how much you can take off your total cost for the year.
3. Student loans
The most common loan offers are federal student loans, sometimes called Stafford loans. The federal government offers two types of student loans for undergraduates: Direct Subsidized and Direct Unsubsidized Loans.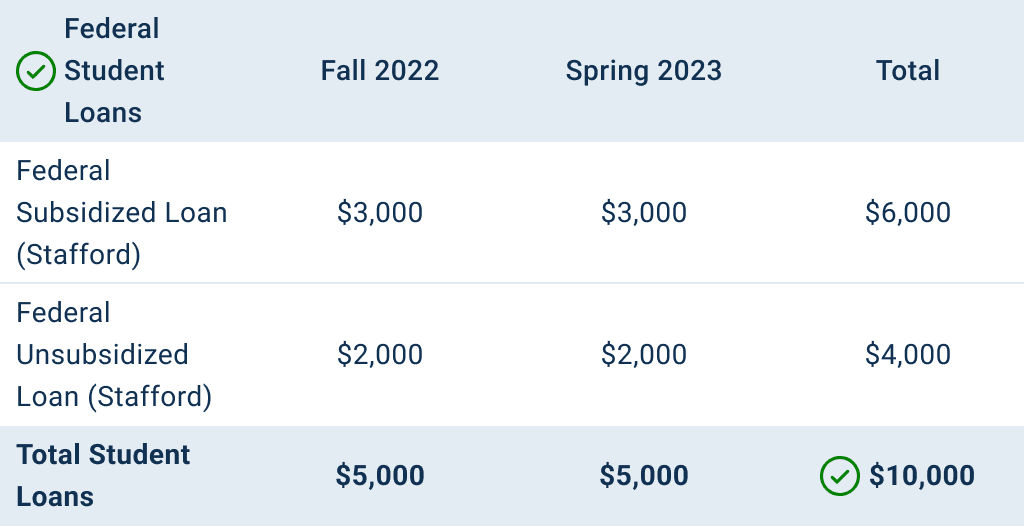 Subsidized loans are generally the better option because they don't gather interest while you're in school. Unsubsidized loans start gaining interest as soon as you take them out. Both are typically a better option than private student loans, however.
You may also see two other types of loans on your financial aid offer: private loans from your college, and the Parent PLUS Loan for dependent students. As we've already seen, private loans typically aren't the best option for students. The Parent PLUS Loan is something a student's parent can take out if they are approved, which requires a credit check.
4. Figure out your Net Cost (what's left over for you to pay)

Your net cost is how much a year of school will cost after gift aid. If your letter doesn't include it, take the total cost of attendance for the year and subtract the total amount of gift aid you received. This is how much you'll need to pay using student loans, a Parent PLUS Loan, savings, a work-study job, additional scholarships, or other funds.
If you need to take out student loans to help pay for school, our Guide to Student Loan Debt will outline your options and help you make financially informed decisions about your college payment plan.
5. Next steps
Usually, you will be able to accept or decline aid, including student loans, through your school's website. If your letter does not have a deadline you need to respond by, contact your financial aid office to find out when you need to make a decision. You should also contact them if you have any questions. It's important to understand what your options are and what you're signing up for before you accept or decline.
What to know before accepting your offer
Here is a brief overview of the things you should look for on your financial aid offer:
Estimated Cost of Attendance and what it includes
Gift aid amount — grants and scholarships
Student loan amount
Parent PLUS Loan amount
Work-Study funding amount and requirements
Net Cost — what is left for you to pay after gift aid is applied
How to accept or decline
When you need to make a decision by
Who to call for questions
Broadly speaking, these are the fundamental pieces of information that should be included in your financial aid offer. If things are missing or unclear, your financial aid office will help you understand your aid offer and what it includes.
Once you have all these pieces of information, you can plug them into a spreadsheet to easily compare financial aid offers from different colleges. Here are some comparison tools:
Some other things to note:
Usually, you will be able to accept or decline aid, including student loans, through your school's website. If your letter does not have a deadline you need to respond by, contact your financial aid office to find out when you need to make a decision. You should also contact them if you have any questions. It's important to understand what your options are and what you're signing up for before you accept or decline.
You may see work-study funding on your financial aid offer. This is funding from the government that you have to earn by getting a part-time job at your school. You're only able to earn the amount of funding they give you, and you're limited to working part-time, typically at a job on campus.
don't have to accept all of your loans and can take out only a portion of what you're offered. You're also able to go back throughout the quarter and accept more funding if you need it.
There may be strings attached to your aid, such as maintaining a certain GPA. Make sure you ask your financial aid office what requirements there are for receiving and keeping financial aid, and exactly what it can be spent on.
If your Cost of Attendance doesn't include something important you know you'll need to buy, like a new laptop, you can work with your school's financial aid office to see if they can incorporate that cost. The amount of aid you receive is determined by your Expected Family Contribution and your Cost of Attendance. If your school adjusts your COA, you may qualify for more funding.
If you have questions about the different types of aid, the Federal Student Aid help center has live chat and automated chat options that may help answer your questions or direct you to resources.
How can students advocate for themselves?
The most important thing students can do to advocate for themselves? Make sure they understand their offers and take advantage of any chance to ask questions.
"Make sure you go through line by line, everything that is in that letter," Carole Trone from the Fair Opportunity Project said. "What I recommend that you do is you go through it and if you're funding your education with your parents, you should all sit down if you can, and write down what you think each line item means."
This is also a good time to write down any concerns or questions you have to ask your financial aid office. How will the financial aid package change next year? Do the scholarships have requirements you should know about? What do you need to do to get a work-study job?
Once you've outlined your questions, contact your aid office to make sure you're clear on your offer. It's also important to take time to weigh your options and think about the next four years.
"Make sure you actually look at what the cost of attendance is and understand essentially what you are going to need to cover," Trone said. "In most cases the aid you get will not fully cover all of your costs. So you need to map that out because it is an investment."
So what can students who don't get enough aid do to help bridge the gap? There are a few options available.
Other Ways to Help Pay for School
Work-Study: If you're awarded work-study funding from the federal government, you can earn up to your funding limit working part-time at your school.
Federal Parent PLUS Loan: If you're eligible for Parent PLUS Loan funding, your parent will need to pass a credit check to apply for this federal loan. If approved, they can borrow money to help pay for your school. Independent students typically qualify for more federal student loan funding instead of the Parent PLUS Loan.
Tuition Payment Plan: If you aren't able to pay the remaining balance in one lump sum, your school will work with you to establish a monthly payment plan.
Aside from work-study funding, working part-time at a higher-paying job, and hunting for other scholarships, students may also be able to negotiate with their school for a better offer.
"You can appeal your offer. If your circumstances have changed, if COVID put your parents out of work, if you had a catastrophic medical expense, let the college know. They will work with you," Trone said. "Not enough people know that it's an offer."
You can also ask your top choice school if they will match or compete with another college's more generous aid offer.
Trone recommends using a free resource called Swift Student, which offers financial aid appeal letter templates. Students can find resources to appeal their aid, find out how to write an appeal, and ask for additional aid for disability-related expenses, a new laptop, childcare costs, and even to exclude parental income in the financial aid calculation.
When is it "too late" for financial aid?
While financial aid deadlines are important to know, what happens if you miss one? You should always apply for aid, even if you think it's too late. While some aid sources, such as state grants or school scholarships, may have limited funds, it's rarely too late for most other funding, said financial aid expert and higher education consultant Matt Newlin. You can fill out the FAFSA and get aid up until June 30th of the year you need aid for.
If you're scrambling to get money to help pay for school, see if there's an opportunity to file an appeal.
"More and more undergraduates are skewing older and so underrepresented students, students who are parents, nontraditional students, a lot of them will have those unusual or atypical financial expenses at home," Newlin said.
Newlin's other piece of advice? Look for scholarships.
"Make sure you're searching online for every scholarship that's available. There are scholarship funds out there for non-traditional students, students who are over a certain age or who are coming back to school to finish a degree or to change careers," Newlin said. "There are scholarships for different racial and ethnic populations, for students of color, for first-generation students, and so really just get out there and explore scholarships that you can utilize at your institutions."
Related Articles
First-Generation Student Guide
College may come with unique challenges if you're a first-generation student. Here's how you can succeed.
Financial Planning
These guides tell you everything you need to know about financial aid, budgeting, working while you study and more to help you manage your financial health during your education.