9 Higher Ed and Career Podcasts We Love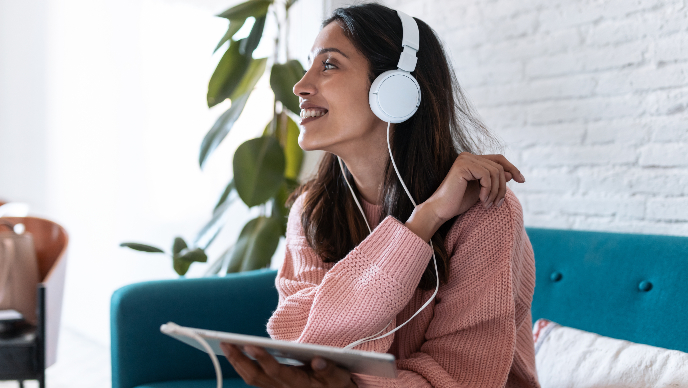 Podcasts are a great tool to turn college students and job seekers into lifelong learners. They're also one of the best ways to stay up to date on current trends in education and the labor market.
Whereas news articles and other forms of media tend to pull in multiple sources and provide a lot of context for the general population, podcasts cater to a niche audience and take a deep dive into a topic with one source. Show hosts often hear from key players across industries that can share personal experiences on what they're seeing at their colleges or workplaces.
College students can use podcasts to help them choose a school, see a maximum return on their investment, develop strong study habits, or prepare for graduation. Job seekers and career changers can find the advice they need to keep their job search strong or inspiration to make their job work for them.
These nine podcasts are our go-to sources for higher ed and labor market trends and finding actionable insights to do better at work, school, and everywhere in between.
For Job Seekers and Career Changers
Pivot is perfect for those hoping to get more meaning out of their career, whether that means changing careers, shifting perspectives, or starting a side hustle. Blake's book "Pivot: The Only Move That Matters Is Your Next One'' focuses on tapping your interests and strengths to guide you forward while you take your next step.
"What's next? This is a question we're all having to ask and answer more frequently," Blake says on her show. "If change is the only constant, then let's get better at it."
Her podcast is full of great insights on everything from combatting imposter syndrome to career coaching tips on finding purpose.
Geared toward those searching for a more fulfilling work life, this podcast guides listeners through the process of changing careers. Host Scott Barlow founded the show and career coaching company after "hitting professional rock bottom" and doing a major overhaul of his work life. Today he translates 10 years of experience looking for a fulfilling career into helping others find their own dream jobs.
While "Pivot" and "Happen to Your Career" tend to be focused on getting more meaning out of work and making major changes, "Career Warrior Podcast" is a better option for those struggling with the nitty gritty of the actual job search. Host Christ Villaneuva, the founder of resume services company Let's Eat, Grandma, talks with industry experts to answer listeners' questions on topics like condensing a resume down, skill building for job seekers, and recession-proofing your resume.
For College Students
College preparation coach Denise Thomas breaks down the strategies she uses to help students and her own children graduate without student loan debt. While geared toward parents helping their kids, these strategies are relevant to college students of any age, whether they're getting help from their parents or financially independent.
This podcast comes from public policy think-tank the American Enterprise Institute, featuring revolutionary economist Beth Akers who specializes in higher education, student loans, and workforce development research. Her show focuses on helping students use data to inform their college choices and get the most out of their investment.
The college decision-making process tends to be one wrapped up in many emotions. However, Akers argues (and we agree) that, like any financial investment, choosing a college should include a cost-benefit analysis. Students should be asking how long it will take for their investment to pay off. On the show, Akers takes a deep dive into the economist's perspective on choosing a college.
Most college students are familiar with the chaos and stress that comes with bad habits in school. Host Jesse Mogle taps his 12 years of experience in college to help current students develop better habits and avoid the pitfalls many experience when dealing with issues like procrastination, trouble focusing, or lack of personal responsibility.
For Anyone Interested in Education and Career Trends
Nonprofit journalism organization WorkingNation covers the U.S. labor market and workforce development. The "Work in Progress" podcast, hosted by longtime business reporter and editor-in-chief Ramona Schindelheim, explores viable solutions to address the nation's labor shortage and the future of the workforce. The show delves into topics like online career training, ageism and supporting older adults in the workforce, and closing the digital skills gap.
Lessons Earned from the Strada Education Network
Although this podcast is updated less frequently, "Lessons Earned" is a great show for those interested in the perspectives of leaders and innovators in higher education, alternative pathways, and the labor market.
Those in the higher education space likely will recognize the two hosts of "Future U." Jeff Selingo is the former editor of The Chronicle of Higher Education, a current professor at Arizona State University, and published author of "College (Un)Bound: The Future of Higher Education and What It Means for Students." His co-host is Michael B. Horn, the author of Choosing College who is known for his work on education disruption. The two explore the future of education and visit campuses across the country to highlight the latest trends for colleges and universities.