Gen Z and Millennials Are Twice As Likely As Gen X and Baby Boomers to Pick College Based on Prestige
OnlineU/YouGov survey shows younger generations are twice as likely to choose a college based on prestige than older generations, though other factors weigh more heavily on college choice
Key Insights:
12% of Gen Z said the most important factor in choosing a college was earning a degree from a prestigious school, vs. 5% of Gen X and 6% of Baby Boomers
Other factors — especially being able to pursue your passions — were more important than prestige across all generations.
"Attending a college with a prestigious reputation" was, in fact, the least common reason for choosing a college across generations.
Nevertheless, the difference between younger and older generations is significant enough to suggest prestige has become more important as college degrees became more common.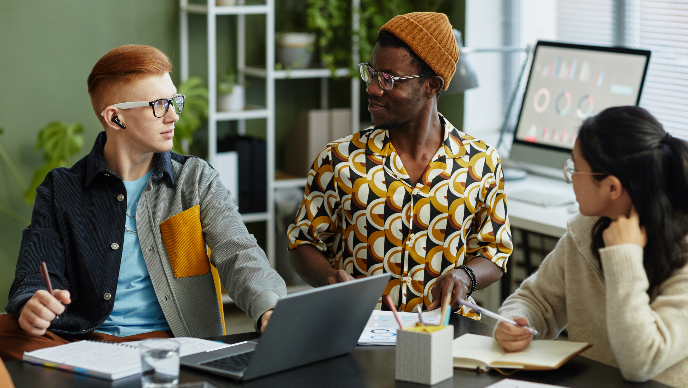 Younger Generations Place Much Higher Premium on Prestige in Choosing Colleges
OnlineU and YouGov conducted a survey this spring to clarify some of the differences between generations on college's purpose, how each generation paid for college, and other issues. One question we asked looked at what those surveyed looked for in a college. Answers ranged from graduating with high earning potential, to being near home, to attending the most prestigious college they could get into.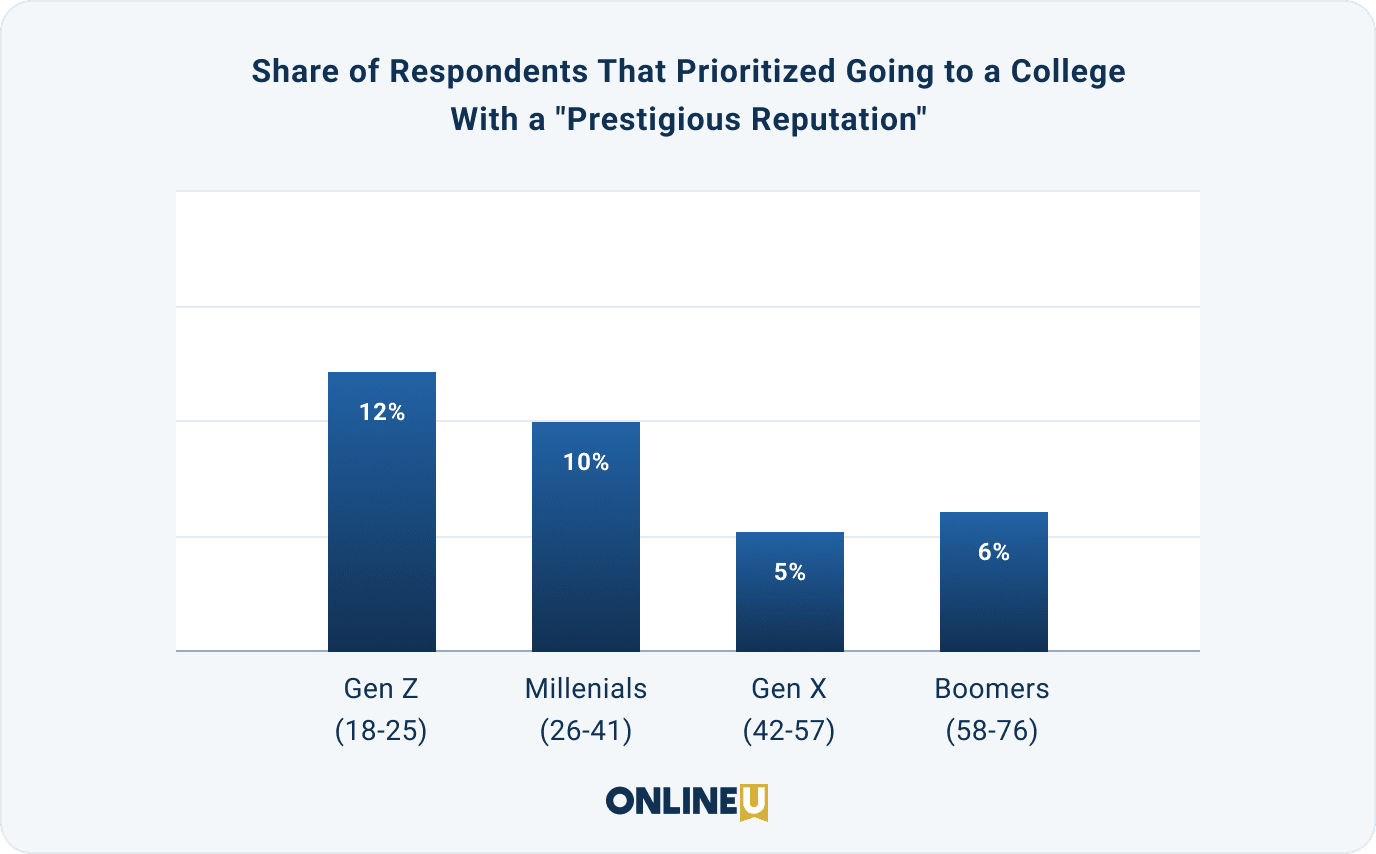 The survey showed that the primary motivator for choosing a college was the ability to pursue your passions in school. However, this became progressively less important to younger generations.
Meanwhile, attending a prestigious university was the least important factor in choosing a college. But here we see that it has become progressively more important to younger generations.
For example, 12% of Gen Z said the most important factor in choosing a college was earning a degree from a prestigious school, while 10% of millennials said so.
By comparison, only 5% of Gen X and 6% of Baby Boomers said the institution's prestige was the driving force behind their college decision.
While it was the least common response, the difference between younger and older generations on this question is significant enough to suggest prestige has become more important as college degrees became more common.
There was little or no difference between genders, races, or regions. However, there was some correlation between certain education and income levels and the importance survey respondents placed on attending a prestigious college.
Those Who Pursued Advanced Degrees Cared Most About Prestige
One of the groups significantly more likely to prioritize prestige when choosing a college was those with a postgraduate degree. These include those who went on to earn a master's, PhD, law, or medical degree.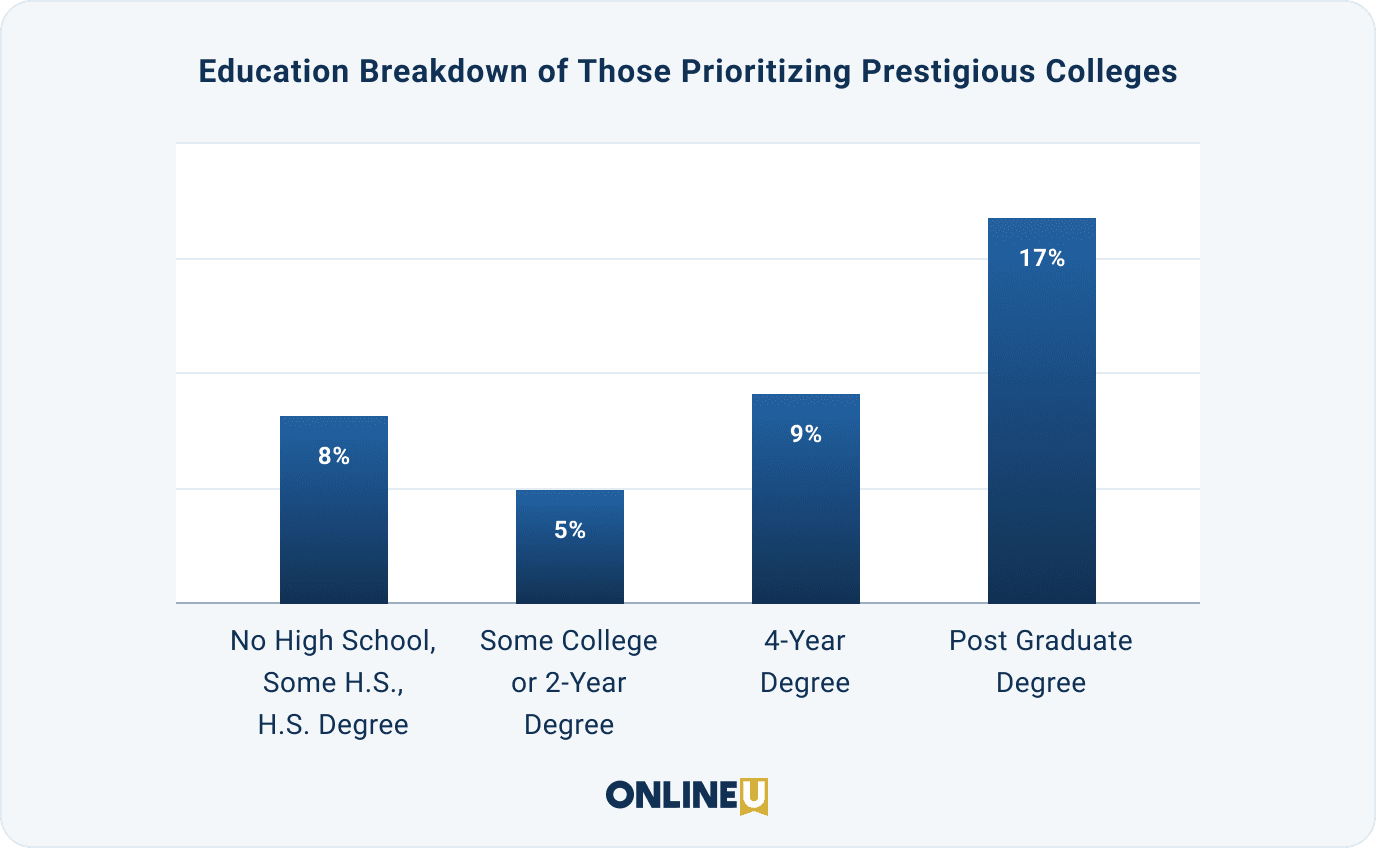 College Attendance Grew Dramatically From Baby Boomer Era to Gen Z
Over the past half-century, the share of the "college age" population attending college has skyrocketed. NCES data shows that this measure went from around one-quarter of 18-24-year-olds in 1970, to over 40% today.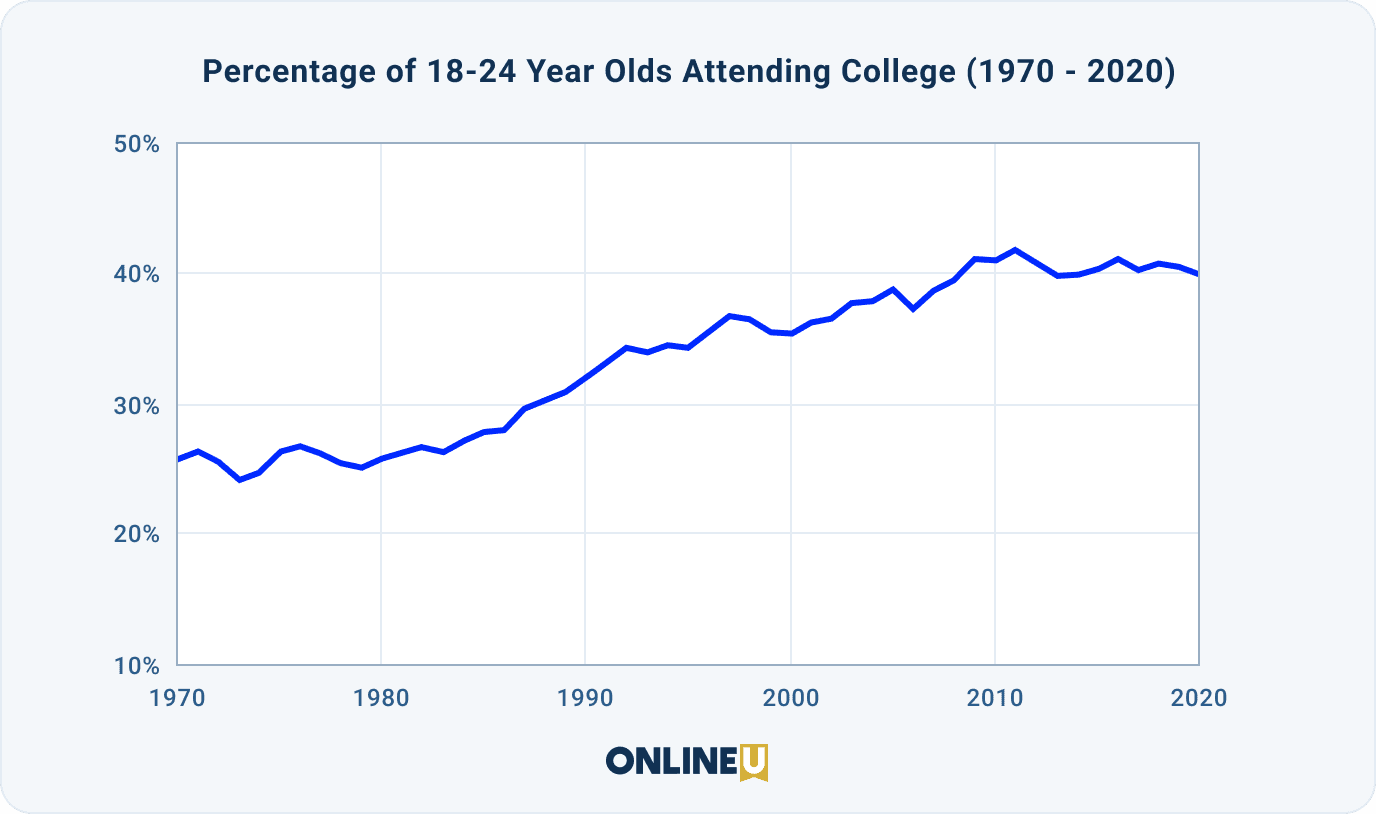 This steady rise over the past 50 years takes into account the growing population. What it shows is that generation after generation, more of the young adult population was trying to earn their college degree.
The rise in college attendance may be fueled by each generation trying to improve the lot of its successors. For example, Baby Boomer parents encouraged their Millennial children to go to college to secure their future, just as Gen X parents encouraged their Gen Z children to do the same.
However, the flattening of the curve over the last decade suggests many in the younger generations are questioning the value of a degree, especially if that degree saddles them with insurmountable student debt.
Ivy League Admissions Rates Dropped Dramatically Over Decades
All of the Ivy League schools had single-digit admissions rates last year. These schools are all more exclusive now than they ever have been. They're also growing more discreet about their incredibly exclusive admissions, with some schools declining to publicize their numbers as scheduled this year.
Ivy League Admissions Rates 2021
| School | Acceptance Rate 2021 |
| --- | --- |
| Brown University | 6% |
| Columbia University | 4% |
| Cornell University | 9% |
| Dartmouth College | 6% |
| Harvard University | 4% |
| The University of Pennsylvania | 6% |
| Princeton University | 4% |
| Yale University | 5% |
| All Ivy League Schools 2021 | 6% |
As an example of this growing hyper-exclusivity, we can look at the Ivy League's standard-bearer, Harvard University. Harvard accepted only 4% of applicants in 2021. According to the Harvard Crimson, the acceptance rate in 2010 was 9%, and 20% in 1970.
That is a rapid drop in the share of people who get a chance at a degree from these most prestigious universities. This trend has accelerated during the pandemic as some schools dropped requirements for SAT or ACT scores, sending overall applications up.
These top-tier universities are made even more exclusive by how slowly they've grown in comparison to the steady growth of the college applicant pool. Ivy League colleges grew by 14% over the past 30 years, a third of the 44% growth in high school graduates over the same period, according to the Washington Post.
For the "prestigious" colleges, it's a win-win. They can charge more for their degrees because more people want them, with more accessible colleges often following their lead. Meanwhile, their low admissions rates make them more desirable for the prestige-focused college prospect.
As Undergraduate Degrees Became More Common, Students Focused on Prestige
Using the responses from the survey, the data showing more young adults in college over time, and the historically low admissions rates at "prestigious" schools, we can reasonably conclude that some students believe a prestigious degree will give them a leg up in their career or life goals.
Oftentimes, that is the case. But if the goal is a strong return on investment, prestige shouldn't be the only factor. Our proprietary Salary Score can be a predictor of future income based both on where you graduate and what you study. If you're interested in how a specific program or overall school scores, you can check the 2022 Salary Score rankings. Spoiler alert: Harvard is number one there, as well.
Methodology
OnlineU.com commissioned YouGov PLC to conduct the survey. All figures, unless otherwise stated, are from YouGov PLC. The total sample size was 2,573 adults, among whom 1,739 attended or plan to attend college. The figures have been weighted and represent all U.S. adults (age 18+). Fieldwork was undertaken on March 10-14th, 2022. The survey was carried out online and meets rigorous quality standards.