Data show today's environmental science grads have more diverse job prospects
We analyzed employment outcomes for 20,000+ environmental science graduates to find out where today's alumni are finding jobs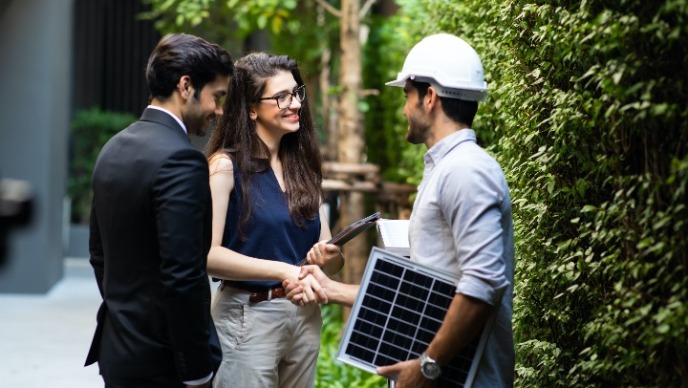 Key Insights:
Student interest in environmental science is growing, with a 24% increase in degrees awarded since 2016
For recent environmental science graduates, government hiring eclipses architecture and engineering as 2nd largest employer
Today's environmental science grads pursue more diverse jobs, which may signal increased interest in eco-friendly practices across sectors
As we continue to see the impacts of climate change firsthand, environmental protection has become increasingly important for businesses, governments, and the public.
With this increased focus comes new green jobs, which in some cases are slotted to grow rapidly over the next decade. Wind turbine service technicians and solar photovoltaic installers as some of the fastest-growing occupations in the country.
While traditional jobs for environmental science majors may not be booming the way that healthcare and tech are, a variety of green jobs are projected to grow faster than the national average of 8% through 2030. According to the Bureau of Labor Statistics, these include jobs in environmental compliance, soil and plant research, forestry, forest fire prevention, and environmental scientists themselves.
To get a better sense of what the landscape looks like for environmental science majors, we looked at student outcomes three years after graduation for 20,000+ bachelor's alumni who graduated between 2005 through 2010, and 2015 through 2020. Employment data comes from Burning Glass Technologies, an analytics company that offers insights into the current labor market and alumni outcomes based on a variety of sources including social media profiles, job postings, and federal education data.
Data show rapid growth for environmental science degrees
Job growth, public sentiment, and increasing concerns over climate change have also led to increased interest in the major for college students. Data from Burning Glass show the number of environmental science degrees awarded each year has increased by 24% since 2016.
However, much of that growth has occurred in a handful of universities. These six colleges accounted for 15% of all environmental science degrees awarded in 2020:
American Public University System (online)
Southern New Hampshire University (online and campus-based)
Western Washington University
University of California - Davis
University of South Florida
University of Washington
While online schools don't typically tend to be popular for environmental science majors, APUS and SNHU together account for nearly 8% of the market share. Washington schools are also top contributors, alongside UC-Davis and USF.
Government hiring up for recent environmental science grads
For alumni who graduated in the late 2000s, higher education and engineering firms made up nearly 30% of employers. However, since 2015, government jobs have increasingly taken a larger share of early-career alumni.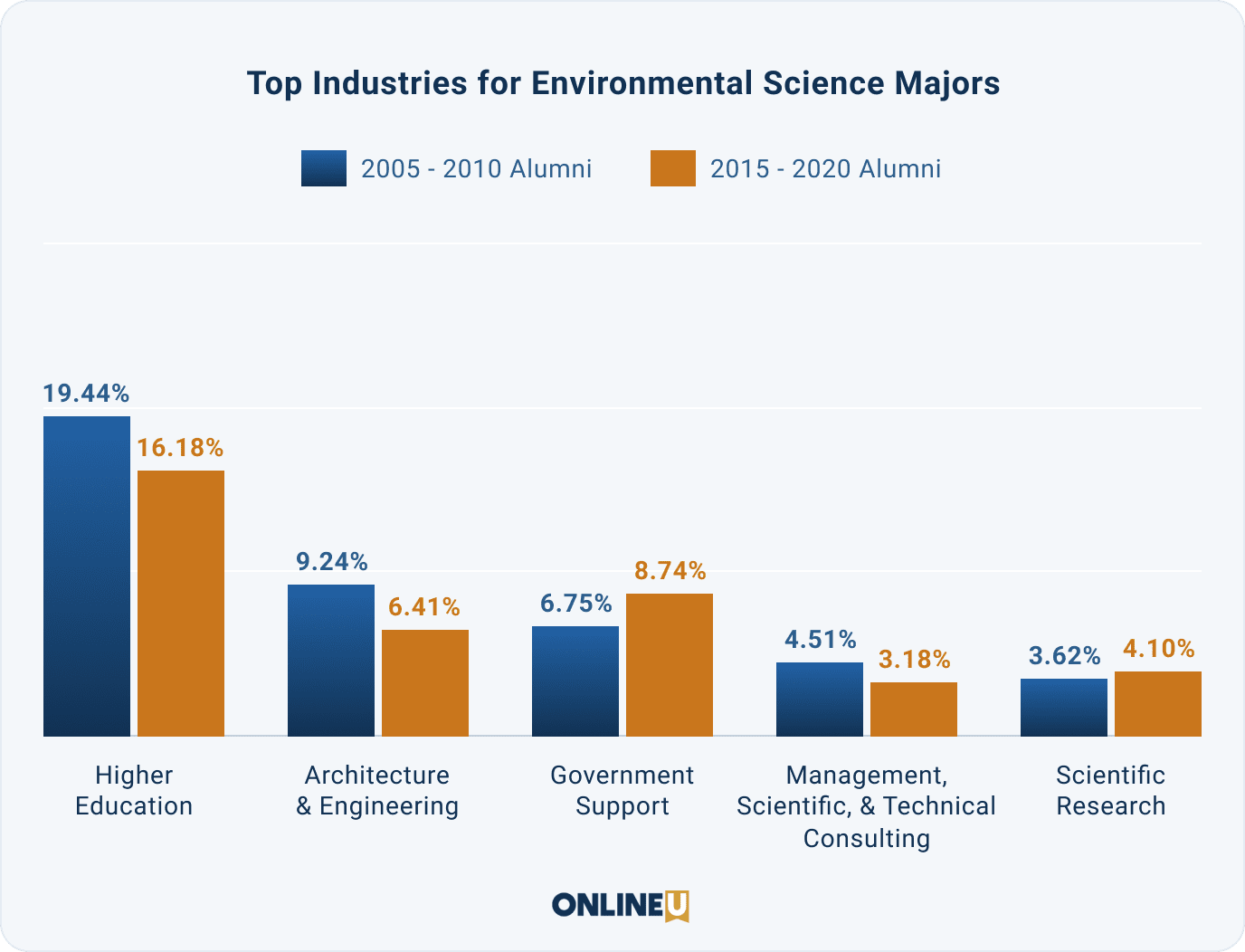 Higher education tends to be a large employer for recent graduates across fields. It's not uncommon for alumni to remain on as research assistants, work in administration, or keep the jobs they held as students for a few years after graduation, especially if they go directly to graduate school.
The federal and state governments have increasingly become one of the largest employers for environmental science majors, eclipsing hiring at architectural and engineering firms. This likely has occurred in response to the growing public desire to protect the environment alongside public health concerns, which have in turn impacted laws and government action.
Architectural and engineering firms hire a smaller share of environmental science graduates overall than in years past. However, some of these design firms are still top employers.
Jobs in management, scientific, and technical consulting firms are also down, with alumni increasingly going to scientific research organizations.
Top Employers for Environmental Science Majors
Top Employers
Forest Service
AECOM Technology Corporation
Texas Commission On Environmental Quality
Amazon
Us Environmental Protection Agency
National Park Service
Triumvirate Environmental
Florida Department Of Environmental Protection
Arcadis
Stantec, Inc.
Government organizations are some of the largest employers for environmental science graduates. These include federal agencies such as the Forest Service and the EPA, as well as organizations in Texas and Florida. While the largest campus-based environmental science programs are in Washington and California, neither of these states are top employers.
A handful of design and consulting firms are still major drivers of employment for environmental science majors, despite a downturn in industry hiring overall. The largest of these is AECOM, which employs more alumni than all organizations except the Forest Service.
Arcadis and Stantec are among the other design and consulting firms hiring environmental science graduates after college. Both are foreign companies headquartered internationally, with office locations across the US.
Most Popular Jobs for Environmental Science Majors
Today's environmental science graduates are finding employment in more diverse positions than in years past. While more graduates are working for science and research organizations, jobs in research themselves have dropped 5% compared to the 2005 through 2010 cohorts. Fewer graduates are also working in business management positions, which may be reflected in the drop in hiring at management consulting firms.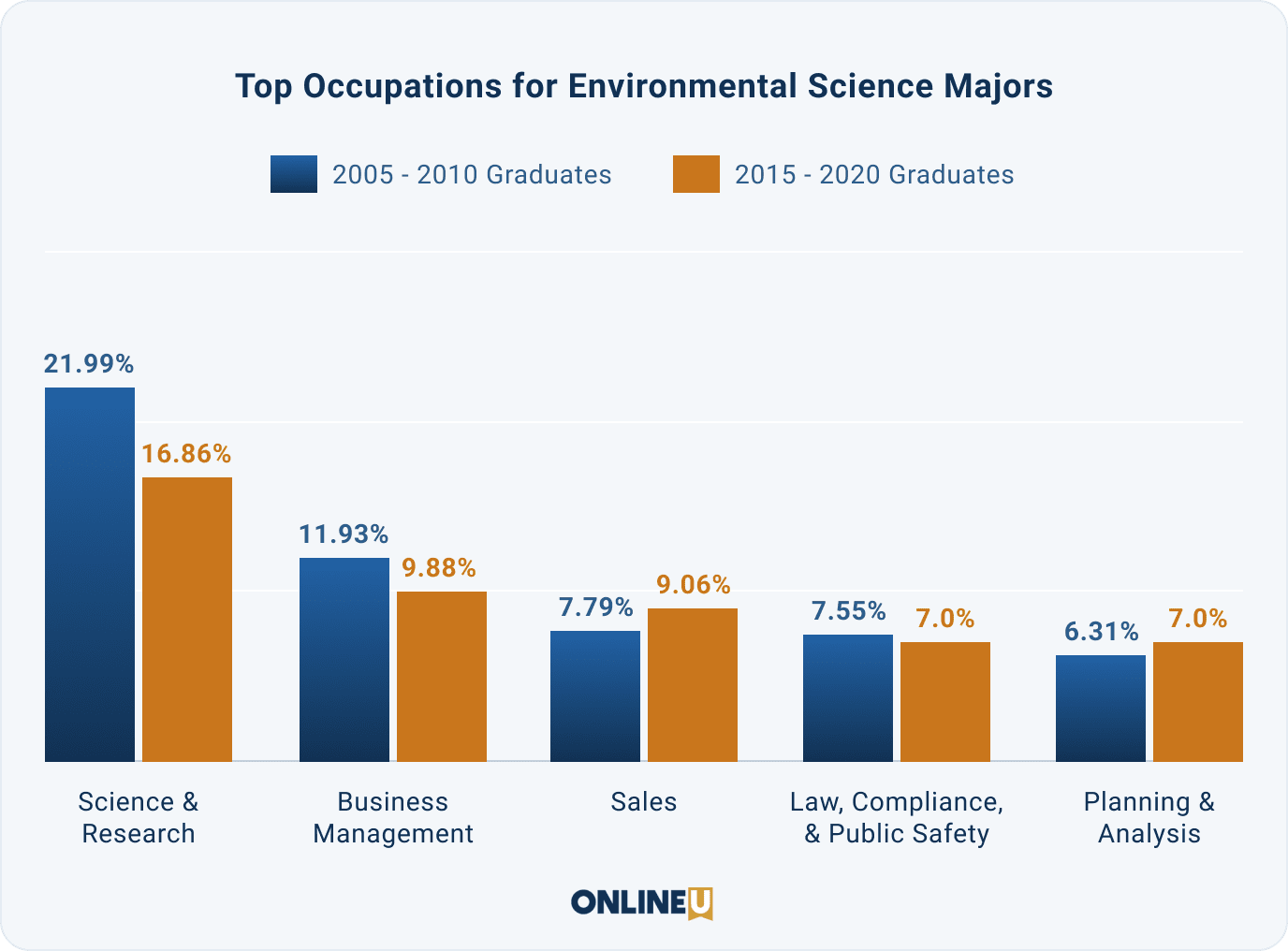 Rather than going into one sector, employment data show jobs are more diverse for recent graduates who earned their degrees from 2015 to 2020. Environmental science majors have increasingly found jobs in sales, planning and analysis, healthcare, IT, marketing, and agriculture, alongside incremental growth in many other job areas.
| Job Title | % of 2015-20 Graduates |
| --- | --- |
| Environmental Scientist or Planner | 5.18% |
| Research Assistant | 2.63% |
| Environmental Compliance Specialist | 2.11% |
| Environmental Technician | 1.87% |
| GIS Analyst | 1.56% |
Some of the most common jobs for early-career environmental science majors are environmental scientists, compliance specialists, and environmental technicians, all of which the BLS projects will grow faster than average over the next decade. Research assistants and GIS analysts are also common.
Environmental science background a growing asset in other industries
Professionals with environmental science expertise are becoming increasingly important for jobs in environmental law, statistics, economics, and epidemiology. Most of these rapidly growing careers require a master's degree. However, Burning Glass data show that just 16% of bachelor's graduates from 2015 to 2020 went on to pursue another degree. Students with a bachelor's in environmental science who are interested in these fields of study might consider graduate school, as there will likely be a growing need for master's graduates in these areas.
Methodology
We examined employment outcomes for 20,929 bachelor's graduates who earned their degrees in Natural Resources and Conservation (CIP Code 03). This includes 8,686 bachelor's alumni who graduated from 2005 through 2010 and 12,243 alumni who graduated from 2015 through 2020. Occupation, employer, and industry were measured three years after graduation. Employment data was sourced from Burning Glass Technologies. Additional data was gathered from the Bureau of Labor Statistics.
Related Articles
Majors where HBCU grads earn higher than average starting salaries
Data shows that HBCU grads can earn more than average for their field of study in these seven majors.
STEM Careers
STEM careers are available in various industries and tend to pay well. Learn about career options and requirements and see which STEM jobs are in demand.