How do Duke, UNC, and NC State Stack Up for Salaries?
A look at which majors at North Carolina's "Research Triangle" give students the best shot at a competitive salary after graduating.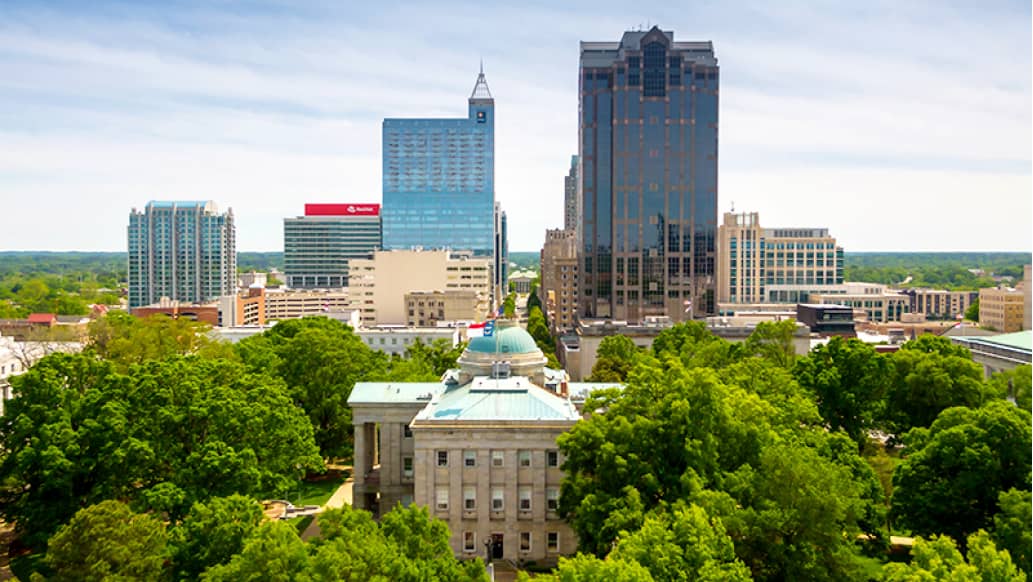 Key Insights:
Duke beats UNC and NC State in overall Salary Score, and for high-paying fields such as Computer Science and Engineering
NC State has a slightly stronger overall Salary Score than UNC-Chapel Hill, despite UNC's stronger academic reputation in other rankings.
NC State offers competitive salaries for Forestry, Teaching, and Criminology, while UNC excels in Business, Mathematics and Communications.
The "Research Triangle" of North Carolina is anchored by three major universities that have attracted top academic and corporate talent to the rapidly growing area. Those schools, Duke University, the University of North Carolina at Chapel Hill, and North Carolina State University, have a rich history of rivalry, in sports, culture, and academics.
The vibrancy of the Research Triangle, which includes the state capital of Raleigh, is itself a strong draw, leading many students to apply to all three schools. When deciding where to attend, prospective students weigh many factors. But arguably two of the most important factors are tuition and expected salary, particularly by field of study. For many majors, there is a notable boost in future earnings for grads who pay for elite education. But in other fields, public schools offer similar salary outlooks, without the heavy price tag.
To get an unbiased look at how college's graduate earnings by major compare to other schools nationally, we have created Salary Score. We give each program that a school offers an individual Salary Score by comparing the median starting salary of graduates to other graduates from the same program nationally. A score above 50 suggests above-average salaries compared to their program peers from other schools, while a Salary Score below 50 shows an expected salary that is below the national average. These program-level Salary Scores are then used to determine a school's overall Salary Score to indicate their strength across all programs.
Using this method, we can see that all three of the Research Triangle schools rank in the top five universities in the state based on Salary Score. Digging into the details of these Salary Scores and the programs behind them will help paint a better picture of which schools offer the best outcomes for which programs.
A High Level Look: Salary Scores for Duke, UNC, and NC State
Looking at the three schools' Salary Scores across all of the programs that they offer, Duke beats out both UNC and NC State by over 30 points. This means that compared to other schools nationally, Duke is in the top percentile of schools and is ranked #30 for Salary Score. UNC and NC State, however, are still above average for graduate earnings with their close Salary Scores of 60 and 61, respectively.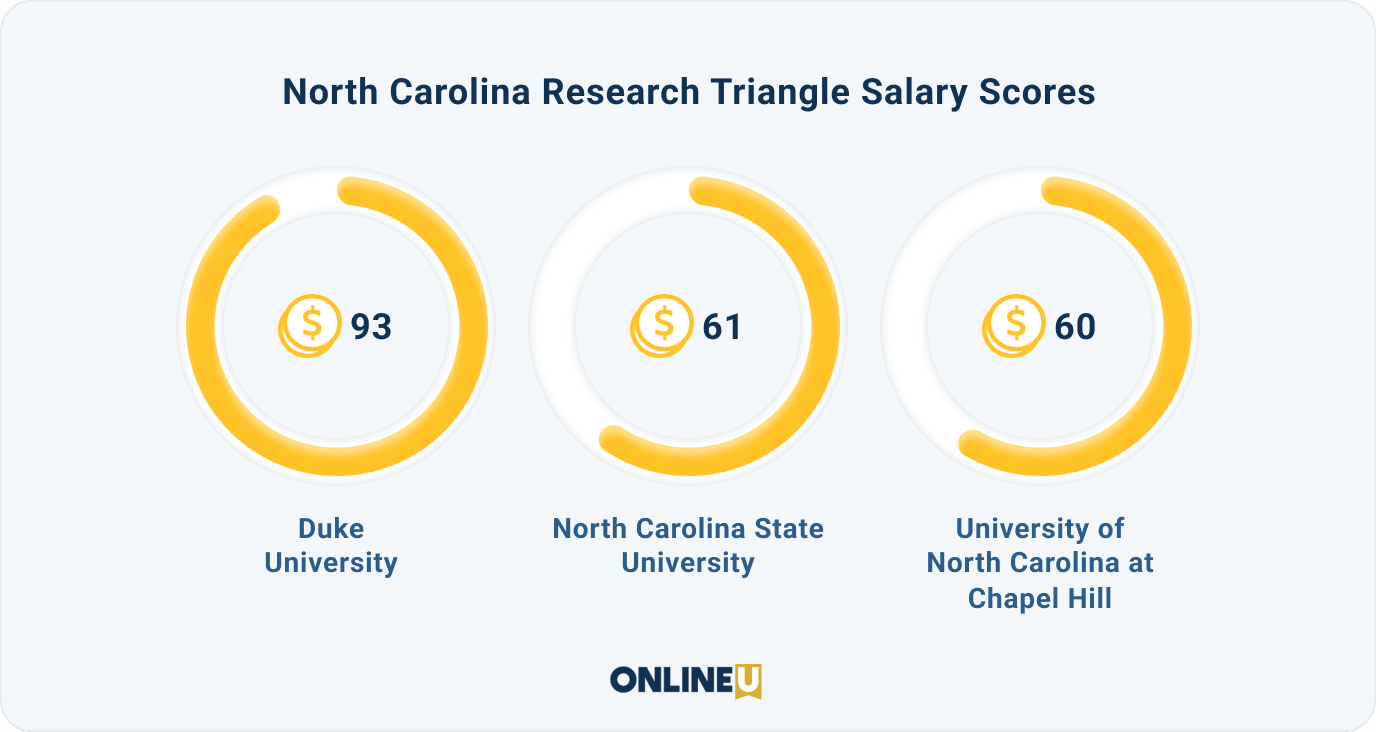 Elite Duke University Bests Rivals, But For a Price
Of the three schools, Duke University is the only private institution. With less than 7,000 undergraduates, it is also the smallest of the schools. Academically, Duke is considered roughly on par with Ivy League colleges and other top-tier schools. Its elite status is bolstered by a low acceptance rate of 8%, an impressive 6:1 student-teacher ratio, and a sticker price of $57,633, excluding room and board. For such a high price, and an excellent Salary Score, Duke alumni may well expect to make more money than their counterparts at other schools in the same field of study at other schools. However, to understand whether Duke is "worth it" means we will have to identify which programs at Duke actually pay off by giving alumni the salary boost they expect and pay for.
North Carolina State Edges Out University of North Carolina
The University of North Carolina at Chapel Hill is a public institution with less nationwide name recognition than Duke, but still a strong reputation, especially among public universities. However, it does claim to be the "nation's first public university," imbuing the school with historical significance. It is, like Duke and NC State, a major research institution as well as an educational one. It is also at least $20,000 less expensive than Duke, with out-of-state tuition at $36,159, while North Carolinians pay $8,980 for tuition and fees. Its undergraduate acceptance rate of 25% means it is still a relatively competitive school to get into. It is generally considered a more prestigious school than NC State, with U.S. News ranking it the #5 public school, while NC State is #32.
Twenty-five miles away from Chapel Hill, in the bustling state capital of Raleigh, is North Carolina State University. It is the largest of the three schools, with over 26,000 undergraduates; UNC trails by over 6,000 undergrads. Each counts some 10,000 graduate students as well. NC State costs about the same as UNC for North Carolina residents, at $9,101 in tuition and fees. However, it is over $6,000 cheaper for non-residents, with a $29,220 out-of-state tuition. NC State has the highest acceptance rate of the three, sending offer letters to 46% of applicants. This, along with UNC's placing in U.S. News rankings, leads some to consider NC State an inferior school. But the Salary Scores tell a different story, where NC State is effectively tied with UNC when we look at the schools' salary outcomes for their graduates.
These two schools have much in common, offer more majors than Duke, and have nearly identical Salary Scores. So the question is, between the Research Triangle's two more affordable, public schools, which one will be the best destination for a particular major in terms of projected future earnings?
How Competitive Are These Schools When Looking at Majors Head-to-Head?
We took a look at the individual program Salary Scores of each of the schools to get a better understanding of which colleges are strong for which majors. Duke has salary data for 22 majors, UNC for 39, and NC State for 66. Between them, these schools have salary data on 85 unique fields of study, but only twelve majors have data from all three. Looking at these dozen shared majors is one of the few ways we can make direct comparisons at the program level.
Salary Scores for Majors Shared Across Schools
| Program | Duke | NC State | UNC |
| --- | --- | --- | --- |
| Anthropology | 99 | 65 | 80 |
| Biology | 11 | 69 | 40 |
| Biomedical Engineering | 95 | 81 | 41 |
| Computer Science | 100 | 64 | 64 |
| English | 96 | 53 | 25 |
| History | 100 | 43 | 49 |
| Language Studies | 92 | 31 | 41 |
| Mathematics | 100 | 55 | 76 |
| Natural Resources Conservation | 71 | 40 | 19 |
| PoliSci and Gov't | 98 | 61 | 66 |
| Psychology | 98 | 20 | 43 |
| Sociology | 100 | 27 | 34 |
We can see that Duke offers greater Salary Scores compared to UNC and NC State in every program they share, except for general Biology. For that program, Duke grads can expect to earn less than the average Biology major nationwide, and below their Research Triangle competitors' Biology majors. That being said, an undergraduate degree in Biology has limited earning potential, so these wide differences in Salary Score translate to less than $10,000 difference in median salaries.
A related and slightly more popular program at Duke with a much better Salary Score is biomedical engineering (95). But even there, North Carolina State's program (80) offers competitive, above-average future earnings, and can potentially be had for a fraction of the price.
UNC and NC State offer many overlapping majors, leaving room for direct comparisons between the two public schools. Both schools have above-average Anthropology Salary Scores, with UNC nearly in the same league as Duke. The two public universities share an above-average score of 64 in Computer Science and also both have Salary Scores in the 60s for Political Science and Government. They diverge in Mathematics, where UNC scores a 76, while NC State is around the median in the low 50s. Neither school exceeds the median in popular majors such as Psychology, Sociology, and History. However, UNC remains slightly stronger across those majors.
While Duke beats out UNC and NC State for many of the overlapping majors, this leaves out some of the well-performing, popular majors. Next, we'll dig into the top Salary Score programs at each of the schools to get a better look at where each college does well.
Duke's Top Programs by Salary Score
We looked at the top programs by Salary Score for each school, limited to programs that are popular at the school and had significant alumni earnings data.
| Program | Salary Score | Median Salary |
| --- | --- | --- |
| Computer Engineering | 100 | $105,310 |
| Computer Science | 100 | $119,250 |
| Economics | 100 | $95,120 |
| History | 100 | $52,110 |
| Mechanical Engineering | 99 | $80,290 |
Duke University offers the number one economics undergraduate degree and number one history undergraduate degree. It also has the second-best overall bachelors degree in the state, being edged out by Elon University.
Looking back at our question of whether a Duke degree is "worth it," we should note that most of Duke's top majors by Salary Score are those where salaries are often high to begin with. Majors in Computer Science and Engineering, Economics, and Mechanical Engineering all offer Duke graduates median starting salaries over $80,000. These and related fields of study with high Salary Scores are majors where the payoff could be especially worth the premium tuition costs.
Over half of Duke's majors with College Scorecard data have Salary Scores over 95, pointing to high average future earnings within the program. But, beyond the 16 majors it has with scores in the 90s, there are four (Neurobiology and Neurosciences, Cellular Biology, Nursing, and Public Health) that hover around the average Salary Score of 50. Meanwhile, International and Comparative Education (24) and Biology (11) leave Duke alumni's salaries well below their peers'. And for Biology in particular, both of Duke's rivals here offer better Salary Scores.
UNC Chapel Hill's Top Programs by Salary Score
| Program | Salary Score | Median Salary |
| --- | --- | --- |
| Business Admin., Management, Operations | 100 | $76,040 |
| Communication and Media Studies | 84 | $39,690 |
| Anthropology | 80 | $30,930 |
| Economics | 77 | $57,100 |
| Mathematics | 76 | $54,050 |
The University of North Carolina at Chapel Hill has the fifth best undergraduate business degree in the nation, and its Salary Score of 100 reflects that. If a prospective student is set on earning an undergraduate degree in business, which remains one of the most popular majors nationwide, UNC is the best choice, not only over Duke, but over many other universities. NC State also offers a strong Business Administration program, with a Salary Score of 82, but the median salary lags behind UNC by almost $25,000. The school is also strong for other business-related majors, including Communication and Media Studies and Economics.
North Carolina State's Top Programs by Salary Score
| Program | Salary Score | Median Salary |
| --- | --- | --- |
| Forestry | 100 | $62,010 |
| Health and Physical Education/ Fitness | 97 | $39,300 |
| Biochemistry, Biophysics and Molecular Biology | 87 | $42,360 |
| Design and Applied Arts | 86 | $43,800 |
| Criminology | 86 | $40,230 |
North Carolina State's highest Salary Score is in the Forestry program, which neither Duke nor UNC offer. Criminology, another major unique to NC State, is also a program with a track record of helping alumni earn competitive salaries.
In addition to Health and Physical Education, it also has a strong Teacher Education program, with a Salary Score of 83.
With 15 majors earning Salary Scores of 75 and above, NC State offers a large number and diverse array of majors with above-average earning potential. It is particularly attractive to those pursuing fields they may not find at other schools.
When Does Duke's Elite Education Really Pay Off in Terms of Salary?
As we could see from the beginning, Duke is the superior school in terms of Salary Scores, both overall and in most programs we could compare head-to-head. The only outlier was Biology, where Duke's Salary Score of 11 fell far short of its competition. But for the other programs it offers, Duke graduates can expect higher-than-average salaries down the line. Duke degrees appear to be particularly "worth it" in Computer Science/Engineering, Mechanical Engineering, and many of the popular social sciences such as Psychology, Sociology, History, and English.
The only real challenge to Duke's dominance in overall Salary Scores comes on the Master's degree front. There, UNC Chapel Hill's Tar Heels are right on Duke's heels, with a masters Salary Score of 84 at UNC just behind Duke's 87.
In terms of bachelors degrees, though, UNC-Chapel Hill and NC State have some way to go to reach Duke's overall Salary Score. However, there are certain programs that UNC and NC State excel in. At UNC, these include the Business, Communications, and Mathematics. Meanwhile NC State's comparative advantage lies in majors such as Forestry, Teaching, and Criminology.
Students that know where they want college to take them will be able to take a look at the data, and make a decision that will best position themselves for post-college life, regardless of which of these three schools they choose.