Lower Cost of Living Makes Midwest Colleges' Salary Outcomes More Competitive
Expensive West Coast and Northeast states lost some of their Salary Score advantage when we overlaid a cost of living index on top of states' salary outcome scores
Key Insights:
The big gainers were a swathe of Southern and Midwestern states, where affordability, compounded with solid initial salary outcomes, produced the highest adjusted scores.
Expensive states like NY and CA saw scores drop well below the national average after adjustments for cost of living.
Washington, D.C., the top ranked state in our unadjusted list, tanked nearly 30 points, but was still able to keep its adjusted score above the national average.
Hawaii, which already struggled in our initial list, fell from 42 to dead last when we adjusted for cost of living.
Cost of living is a perennial issue, but has been a particular problem for policymakers in the past months, which have seen inflation break decades-long records. Food prices have risen, house prices continue their seemingly ceaseless upward trajectory, and rent is rising in the U.S. faster than it has in decades. Meanwhile, the war in Ukraine's impact on energy prices has put upward pressure on both utilities and transportation costs.
In such an environment, states with high cost of living may be especially vulnerable to the effects of inflation. While the average income in these states tends to be higher, the rising price of most necessities means that salaries won't go as far as they used to.
Part of our mission at OnlineU is to improve transparency regarding the salary outcomes a college graduate can expect based on major and college. Here we use this year's Salary Score for Bachelor's Degrees, including average Salary Scores across states, and a state-by-state cost of living index. These data points give us cost-of-living adjusted Salary Scores and remind us that a "high" salary depends on where you are earning that salary.
Which States Gained or Lost the Most?
Top States That Increased
| State | Change After Cost of Living Adjustment |
| --- | --- |
| Kansas | 7.25 |
| Iowa | 6.49 |
| Wisconsin | 6.36 |
| Texas | 6.20 |
| Oklahoma | 5.86 |
Top States That Decreased
| State | Change After Cost of Living Adjustment |
| --- | --- |
| California | -17.43 |
| New York | -17.64 |
| Hawaii | -17.90 |
| Massachusetts | -19.28 |
| District of Columbia | -29.20 |
As the map above shows, expensive states in the Northeast and West Coast took significant hits to average Salary Scores when we factored in the state's cost of living.
In the case of New York, which was near the median in unadjusted salary outcomes, the nearly 18-point drop after adjusting for cost of living put it in the bottom ten states for adjusted salary outcomes.
Meanwhile, Washington, D.C. saw the biggest drop between unadjusted and adjusted salary outcomes. But the district's original Salary Score, which beat out all other states, allowed it to take that 29 point hit on the chin and still end up with an almost perfectly average adjusted score.
Average, in this case, means that a graduate from a D.C. school could expect to earn the median salary for their field of study upon graduation, so it's not much to boast about. But it does point out that some of these high cost of living states make up for it with higher salary outcomes.
On the other hand, the big gainers were a swathe of Southern and Midwestern states, where affordability, compounded with solid initial salary outcomes, produced the highest adjusted scores.
Another category of states are those that had low average salary outcomes initially, and continue to have low salary outcomes even after adjusting for cost of living. These include Mississippi, Montana, and South Carolina. Put simply, their affordability was not enough to significantly improve these states' average salary outcomes.
How Does Cost of Living Impact Salary Score Rankings?
Map of States by Salary Score, No Adjustments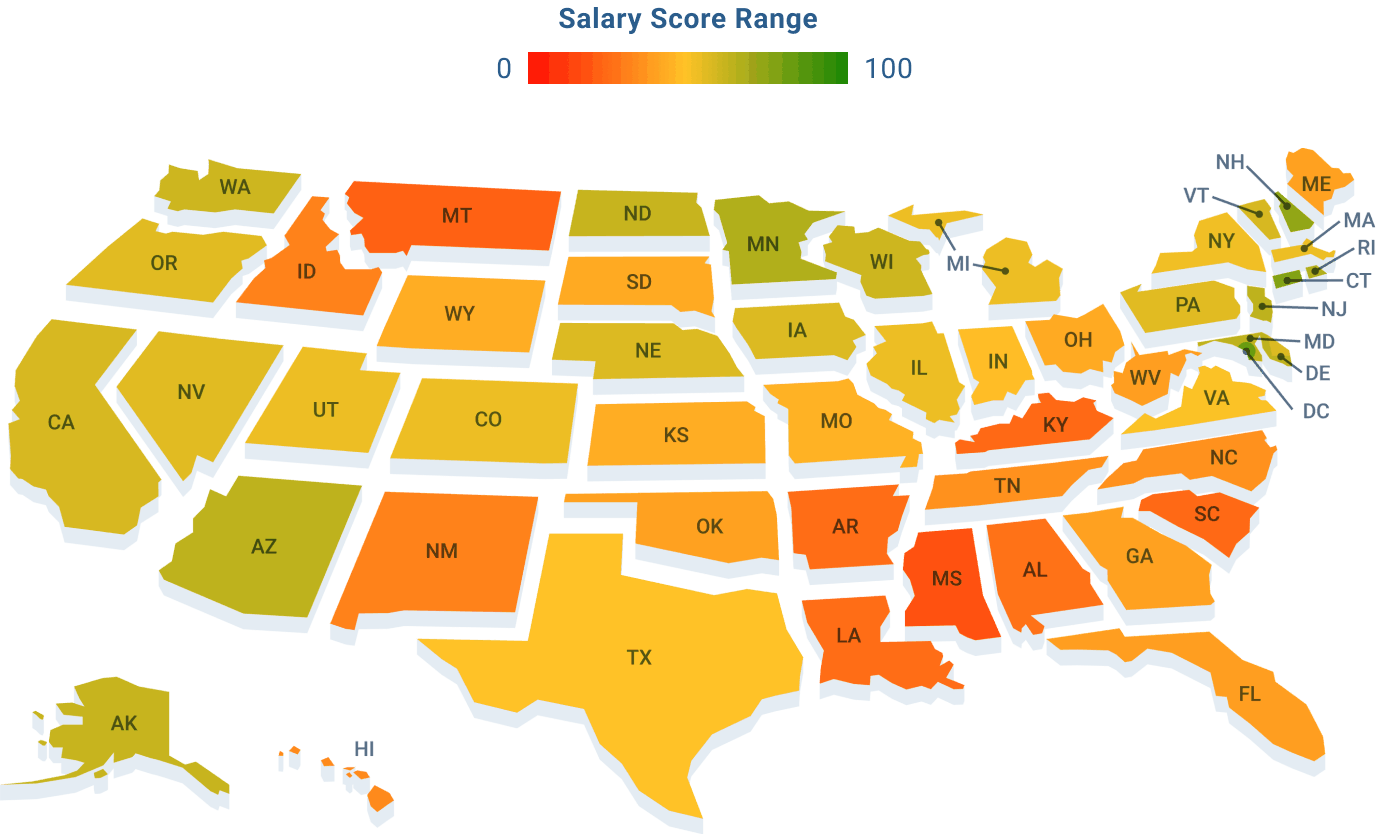 Map of States By Salary Score, After Adjusting for Cost of Living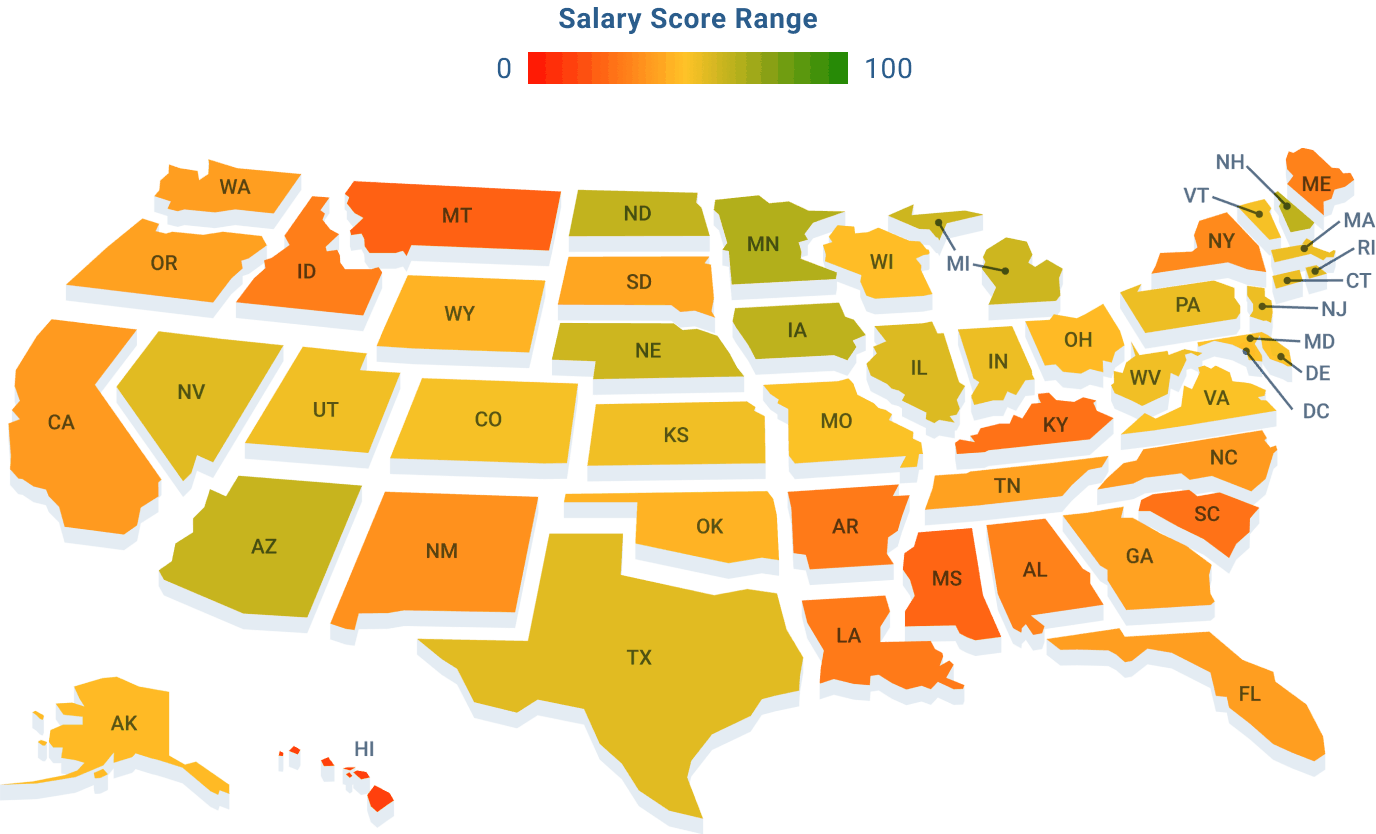 The basic premise of a cost of living index is that certain things are priced differently at different locations. People tend to consider some states generally more expensive, such as New York or California. A cost of living index puts a specific number on how much more or less it costs to live in a particular state, relative to the national average.
Our recent 2022 Bachelor's Salary Score rankings showed the top schools for salary outcomes, while ignoring subjective measures such as the school's prestige and reputation. We also used those scores to highlight the states with the highest average scores among all of their included schools.
Scores were adjusted using this state-by-state cost of living index for 2021 published by the Missouri Economic Research and Information Center. See our methodology section for more on how we calculated adjusted scores.
Cost of living impacts a state's average salary outcome in one of two ways. If a state's cost of living is above 100, indicating it is an expensive state to live and work in, it will reduce the adjusted Salary Score. If a state's cost of living is below 100, indicating it is a less expensive state to live and work in, it will raise the adjusted Salary Score. If a state's cost of living is exactly 100, representing the national average cost of living, the Salary Score stays the same.
Besides Minnesota, which has a cost of living index of 100, all other states saw movement in their adjusted Salary Scores, as we see in the table below.
2022 Bachelor's
Salary Score Rankings
| State | Unadjusted 2022 Salary Scores |
| --- | --- |
| District of Columbia | 79.45 |
| Massachusetts | 74.38 |
| New Hampshire | 72.67 |
| Rhode Island | 67.14 |
| Minnesota | 66.33 |
| Connecticut | 65.13 |
| Arizona | 62.98 |
| New Jersey | 62.62 |
| Maryland | 62.41 |
| North Dakota | 62.29 |
| Alaska | 62.06 |
| Wisconsin | 60.62 |
| Washington | 59.42 |
| Vermont | 59.24 |
| California | 58.73 |
| Iowa | 57.78 |
| Nebraska | 57.56 |
| Delaware | 57.54 |
| Pennsylvania | 56.85 |
| Colorado | 55.53 |
| Illinois | 54.71 |
| Utah | 54.58 |
| Oregon | 54.55 |
| New York | 54.23 |
| Michigan | 54.11 |
| Virginia | 52.31 |
| Nevada | 52.19 |
| Indiana | 50.35 |
| Texas | 50.18 |
| Missouri | 47.04 |
| Kansas | 46.45 |
| Wyoming | 45.5 |
| South Dakota | 44.72 |
| Ohio | 43.65 |
| Maine | 43.4 |
| West Virginia | 42.83 |
| Oklahoma | 42.56 |
| Florida | 42.38 |
| North Carolina | 39.42 |
| Georgia | 38.62 |
| Tennessee | 38.3 |
| Hawaii | 37.08 |
| New Mexico | 35.26 |
| Idaho | 34.78 |
| Alabama | 31 |
| Arkansas | 30.42 |
| Louisiana | 30.37 |
| South Carolina | 29.35 |
| Kentucky | 29.26 |
| Montana | 27.09 |
| Mississippi | 23.36 |
Salary Score Rankings After Taking State Cost of Living Into Account
State
Adjusted
Salary Score
Wisconsin
66.98
Minnesota
66.33
New Hampshire
66.12
Iowa
64.27
North Dakota
63.43
Nebraska
61.43
Arizona
61.03
Vermont
59.84
Michigan
59.27
Utah
59.26
Washington
58.37
Illinois
58.02
Rhode Island
57.29
Texas
56.38
Indiana
55.57
Pennsylvania
55.46
Massachusetts
55.1
New Jersey
54.36
Kansas
53.7
Connecticut
53.56
Delaware
53.33
Colorado
52.74
Missouri
52.38
Maryland
50.33
District of Columbia
50.25
Nevada
49.1
Alaska
48.83
Oklahoma
48.42
Ohio
47.81
Wyoming
47.2
Virginia
44.71
South Dakota
44.28
Georgia
43.49
Tennessee
43.03
Florida
42.25
Oregon
41.93
California
41.3
North Carolina
41.19
New Mexico
38.75
West Virginia
38.38
Maine
37.74
New York
36.59
Alabama
35.27
Idaho
34.06
Arkansas
33.47
Louisiana
32.66
Kentucky
31.43
South Carolina
31.36
Mississippi
28.04
Montana
26.9
Hawaii
19.18
There were already some relatively affordable states in the original Salary Score list's top tier, such as Minnesota and, to a lesser extent, New Hampshire. Both of those states stayed in the top five of cost-adjusted salary outcomes.
But Washington, D.C., Massachusetts, and Rhode Island were replaced by some much more affordable states from America's heartland. Wisconsin, Iowa, and North Dakota made their way into the adjusted top five based on solid statewide salary outcomes, made even sweeter by below-average costs of living.
How Should Cost of Living Factor Into College and Career Decisions?
Now more than any time in a generation, young adults should be thinking about cost of living as they make decisions about where they should go to college and where to take a job after graduation. Nationwide, inflation rose in April at a rate of 8.3% year-over-year. And while certain inflationary pressures will likely ease in the coming months and years, economists say it may come at the cost of a worsening labor market, or even a recession.
Even if none of these outcomes materialize, cost of living issues do not go away. Because it has a direct impact on what a certain salary actually means, cost of living should always be part of the calculus in choosing where someone lives, works, and studies.
Prospective students moving away for college need to understand that wherever they move to may be more expensive than their hometown. This cost of living premium should be tacked on to their budgets, on top of tuition payments, books, supplies, and the like. A prospective student looking at different colleges may also want to keep varying costs of living when comparing how much one college charges for room and board compared to another.
Students and recent graduates considering moving for a job should also keep different costs of living top of mind. Many companies say they factor these costs into determining salaries at different offices, but there's no guarantee that an employer is using recent or entirely correct data to make those adjustments.
Before agreeing to move, it's important to understand what kind of lifestyle the initial salary offer will get you in that particular city. Keep in mind long-term goals such as saving, building up credit, or having money to invest, and how a higher cost of living can hurt your ability to work towards those goals.
It's best not to make assumptions about how much life costs in certain areas. Remember there is immense variation across regions, states, and cities. A cost of living calculator is your friend here. It will tell you how cost of living inputs can detract or add to your salary.
For example, using this calculator, you can see that someone earning $50,000 in Chicago would need to earn nearly $100,000 in New York to maintain their lifestyle. Does that mean an offer for a $50,000 salary for a job in Chicago is no worse than an offer of $100,000 based in New York? The answer to that depends on the individual, the job, and the life a graduate wants to live.
A final tip: Depending on the sector and company, recruiters have been very eager to hire during the first half of 2022. Those with room to negotiate their salary and benefits package should absolutely mention cost of living (when it helps). You may or may not get a salary boost, but few prospective employers will see it as an unreasonable request. When it comes to negotiating, if cost of living is going to impact your salary negatively, it's always worth asking.
Methodology
Our data on alumni earnings comes from College Scorecard, an annually updated resource provided by the U.S. Department of Education. The earnings data used in our Salary Score is for alumni in the first year after completing a degree. The data was released on March 14, 2022, and is for students who graduated in 2017 and 2018, with earnings measured in 2018 and 2019, respectively, and inflation-adjusted to 2020 dollars.
The data is based on the earnings of students who received federal financial aid because that is the sample for which the Department of Education has data. This excludes students who did not receive federal financial aid. Please see our "What is Salary Score?" resource for additional information.
To adjust for cost of living differences, we began with the state's average Salary Score for bachelor's degrees. Using a state-by-state cost of living index for 2021 published by the Missouri Economic Research and Information Center, we divided each state's Salary Score by its index percentage (with 1 being the average cost of living in the United States).
Related Articles
How Inflation Affects College Students
Inflation is continuing its record-setting run. Here's how students can weather the increasing costs of attending college.