Companies That Pay for Grad School
With thousands of grants, scholarships, and other funding programs out there, bachelor's students have a lot of resources available to them. However, when you're considering going to graduate school, funding sources for master's and doctoral programs can be scarce, competitive, and require a larger time commitment. For working professionals thinking about going back to school, participating in a fellowship or working for the university just isn't an option most of the time.
Employer-funded education programs are one of the best ways to help pay for college. According to the Society for Human Resources Management, 48% of employers offer tuition reimbursement. Their data also shows that more employees are seeking companies offering professional development, with 65% ranking it as an important benefit, up from 51% pre-pandemic.
Using data on recent job postings from analytics company Lightcast, we highlighted 29 companies that offer education benefits for master's and, in some cases, doctoral degrees. Prospective graduate students looking to advance their career can use these benefits to earn an advanced degree without having to get a job on campus to do so.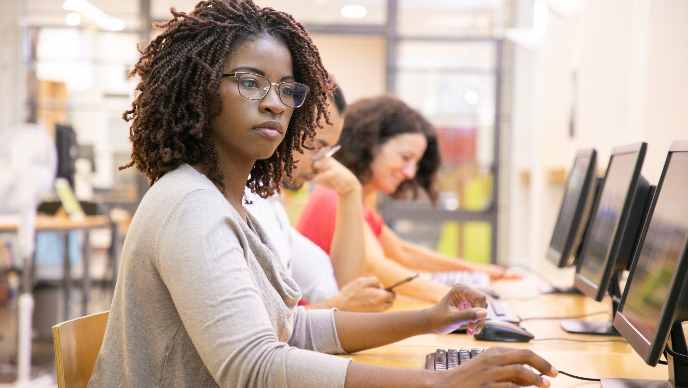 Other Companies That Will Pay for a Master's Degree
Company
Maximum Amount
Who is it available to?
Program Restrictions
JetBlue
Tuition discount
JetBlue employees in good standing after two years
30+ graduate programs at partner schools
UCHealth
$5,250 per year with full funding for specific programs
UCHealth employees

Fully-funded programs include social work and behavioral health degrees through Guild Education partner schools

Partial funding available for other programs and colleges

Stanford University
$5,250 per year
Regular or fixed-term staff members in benefits-eligible positions for at least one year
Master's and doctoral programs at regionally-accredited schools recognized by the U.S. Department of Education
University of Pennsylvania
100% of tuition, and general and technology fees at UPenn for up to two course units each term

Regular, full-time faculty and staff and limited service staff after 6 months in their eligible role

Retired faculty and staff are also eligible

Any graduate programs and post-baccalaureate programs at UPenn
Qualcomm
Up to 100% of tuition
Unknown
Accredited schools and some massive open online course providers such as Coursera or Udacity
Baylor Scott & White Health

Up to $5,250 for clinical degrees and leadership programs

Up to $4,250 for non-clinical programs

Regular full-time employees

Regular benefits-eligible part-time employee with at least 40 regularly scheduled hours per pay period

Available for master's and doctoral programs
Chipotle

Full funding for some programs

Up to $5,250 per year for other approved programs

Part-time and full-time employees who have worked for 15 hours per week for at least four months
80+ master's degrees offered in partnership with Guild Education
Best Buy
Up to $5,250 per year minus any amount you receive from scholarships, government-sponsored grants or other sources
Active, full-time Best Buy employees after six months

Nationally accredited schools recognized by the U.S. Department of Education

Online schools must be members of the National University Continuing Education Association

Must be job-related

Abbott Laboratories
Up to $10,000 per year
Employees with at least 1 year of full-time business experience
Business-relevant classes
Gap, Inc
Up to $5,000 per year

Full-time employees in good standing after at least one year of employment

This includes employees at the following Gap companies: Old Navy, Banana Republic, Piperlime, Athleta, and Intermix

Courses taken at a regionally or nationally accredited institution
McDonald's
Up to $5,250 per year for full-time management positions
Up to $2,500 per year for other employees

Employees who work an average of 15 hours per week, have worked McDonald's for at least 90 cumulative days, and are in good standing

Schools accredited by the U.S. Department of Education

Kaiser Permanente
Up to $3,000 per year
Employees who work at least 20 hours a week
Approved programs
Pizza Hut

15% discount on tuition at Excelsior College for salary or hourly employees

$5,250 per year for salaried, full-time corporate employees

Salaried, full-time corporate employees

Equity or franchise, salaried or hourly employees and their immediate family members are eligible for tuition discounts

Excelsior College
Deloitte
Full tuition reimbursement
High performing consulting professionals who have worked for two years at Deloitte will be reimbursed after two more years of employment following graduation
Limited to MBA degree
State of Florida
Tuition and fee waiver for up to six credit hours per semester, limited to $5,250 per year
Full-time, salaried employees
State colleges and universities in Florida on a space-limited basis
Intel
Up to $50,000 per program
Unknown
Unknown
Disney
100% of tuition paid
Full-time and part-time hourly employees through Disney Aspire program
Limited to partner programs and schools, largely online
Papa John's

Up to 100% of tuition paid for corporate employees

Reduced tuition for franchise employees

Corporate team members and franchise employees
Limited to online partner schools
T Mobile

$5,250 per year for full-time employees

$2,500 per year for part-time employees

100% of tuition paid at some online schools

Active full and part-time employees in good standing after 90 days of employment
Full tuition benefit limited to Ashford University, Capella University, Colorado Technical University, Kaplan or University of Phoenix (UoP)
Boeing

Up to $25,000 per year

No annual limit for eligible STEM degrees and courses

Unknown

Limited to Boeing-approved fields of study

Master's and doctoral students must remain at the company for 2 years
Related Articles
2023 Most Affordable Online Master's Programs
Explore the most affordable online master's degree programs in 2023 and choose the one that's right for you.
15 Highest Paying Jobs for College Graduates
Discover the 15 highest paying jobs for college graduates and see the median annual salary, career outlook, and requirements for each position.