New Enrollment Data Shows 60% of For-Profit Career Schools Grew Last Fall
Published: December 15, 2021
Key Insights:
Federal data highlights which two-year schools grew enrollment in fall 2020 amid pandemic declines
For-profit career schools grew during COVID — over half saw enrollment increases while student numbers plunged at public community colleges
Nearly 75% of schools with the highest growth were for-profit
Health and medical colleges were heavily represented among schools with most growth
Community college enrollment declines topped headlines for two years in a row following the annual fall enrollment data release from the National Student Clearinghouse Research Center. The latest data shows enrollment is down nearly 15% at public two-year colleges since 2019. However, that research doesn't include a breakdown for private for-profit two-year schools that offer career training and associate degrees.
The U.S. Department of Education's fall 2020 enrollment numbers show which community colleges were hit hardest by enrollment drops last year. The data also highlight which two-year institutions made dramatic gains in student numbers.
For-profit career schools grew during COVID while enrollment dropped at community colleges
Nine out of 10 public community colleges saw a drop in enrollment for fall 2020. While 862 community colleges lost students, just 104 public two-year schools grew enrollment last year. Four public colleges saw no change in enrollment.
Comparatively, nearly 60% of for-profit career and technical colleges grew enrollment. A total of 101 for-profit schools granting associate degrees and certificates saw an enrollment increase, while 69 saw the pandemic enrollment declines similar to public colleges.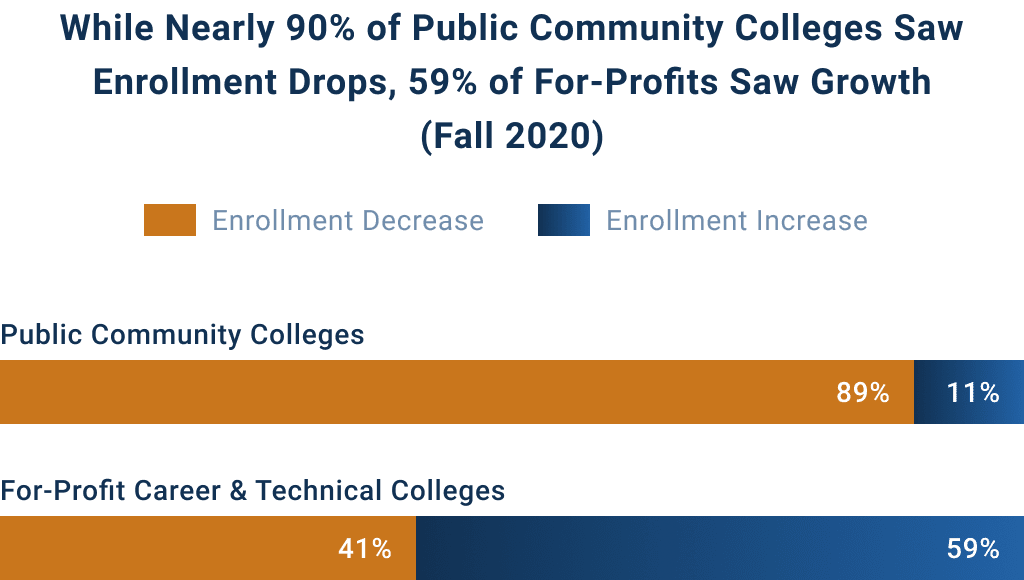 Given that public colleges dominate this sector of higher education, we did expect to see a somewhat higher rate of public schools experiencing declines. However, public two-year colleges carried the burden of enrollment drops at a much higher rate than for-profit career schools.
For-profit schools made up the majority of two-year colleges with highest enrollment growth
While the vast majority of two-year colleges (both public and private) lost students, COVID-19 had the opposite effect for a small portion. We took a look at the schools that thrived during the pandemic. A total of 42 schools saw dramatic enrollment increases of 20% or higher from fall 2019 to fall 2020.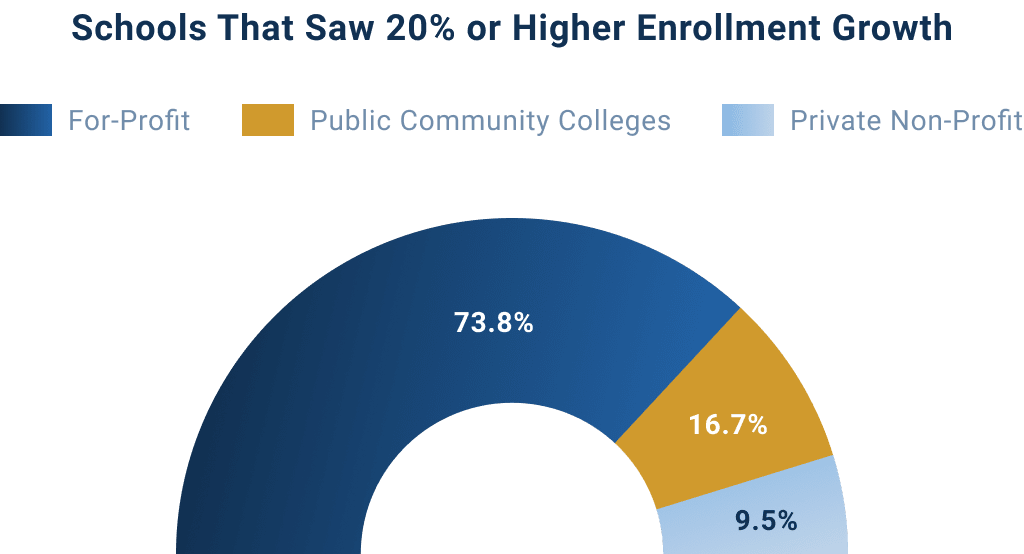 For-profit colleges make up nearly 75% of two-year schools with the highest growth rates. Of the 42 schools that saw sharp increases of 20% or more, 31 were for-profit career and technical colleges. This is particularly notable, as for-profit colleges make up a small fraction of the total schools offering two-year degrees. Only a handful of public and private nonprofit schools saw similar increases.
Health and medical schools make up more than a quarter of schools with the most growth. Over 28% of the schools that saw the highest enrollment increases were in healthcare, and most were for-profit schools. This trend likely reflects the growing demand for healthcare workers during COVID, and a shift in the workforce as people lost jobs and pursued careers in high-demand fields.
Community Colleges and Career Schools with the Highest Enrollment Growth in Fall 2020
School
Fall 2019 Enrollment
Fall 2020 Enrollment
Absolute Change
Percent Change
El Centro College




TX

12,947
74,781
61,834

477.59%

Florida Career College - Houston




TX

509
1,155
646

126.92%

Tompkins Cortland Community College




NY

2,203
4,764
2,561

116.25%

Auguste Escoffier School of Culinary Arts - Boulder




CO

3,673
7,600
3,927

106.92%

Unitek College




CA

2,147
3,618
1,471

68.51%

The College of Health Care Professions - Houston Northwest




TX

1,684
2,811
1,127

66.92%

Southern Careers Institute-Austin




TX

596
987
391

65.60%

Nightingale College




UT

853
1,335
482

56.51%

Galen College of Nursing-Cincinnati




OH

682
1,067
385

56.45%

Eastern Gateway Community College




OH

25,648
40,036
14,388

56.10%
Takeaways from the Top 10 Community Colleges with the Highest Growth
Two public community colleges saw significant growth. While for-profit colleges largely dominate the list of schools with the highest growth during COVID, public school El Centro College in Dallas tops the list. The community college gained nearly 62,000 students, growing their undergraduate numbers by 478% from fall 2019 to 2020.
Eastern Gateway Community College in Ohio ranks No. 10 for the highest growth at community colleges and career schools, increasing enrollment by 56%. The public school gained 14,388 students from fall 2019 to 2020.
Texas two-year and career schools are heavily represented. Aside from the massive gains seen at El Centro College, three other schools in Texas also saw dramatic growth. This includes two for-profit career colleges and one for-profit healthcare school.
This study highlights changing educational priorities for students during the COVID-19 pandemic. The choice not to enroll at all for many students is reflected in the significant drops at public community colleges across the country. Schools that saw declines lost more than 650,000 students last fall.
However, schools that grew enrollment gained 130,000 students — about 20% of the group missing from other colleges. For-profits made up about half of the schools that did see an increase, and a significant portion of the schools that saw dramatic growth.
This trend also seems to be concentrated in community and career schools. Enrollment growth at four-year colleges during COVID was much more varied, which may reflect the diversity of options available for students at the bachelor's level.
While it's important to note that these findings are impacted by the smaller enrollment size of some career colleges, these results still highlight a growing trend. The pandemic accelerated an increased need for fast and accessible career-training in higher education — a role that many for-profit schools fulfill.
In the face of the economic downturn and high unemployment rates, many people sought to pandemic-proof their careers through training programs in healthcare and other fields with high demand.
Read: Four-Year Colleges with the Largest Enrollment Declines During COVID-19
---
Methodology
Our study includes 1,184 degree-granting institutions that primarily graduate students below the bachelor's level. This encompasses community colleges, career schools, and vocational training. These criteria exclude schools that grant certificates and no degrees. We limited our study to institutions that had at least 500 undergraduate students enrolled in fall 2019. All data comes from IPEDS and was reported by colleges to the U.S. Department of Education.