College in the COVID Era: Students Share What Went Well and How Schools Can Do Better
Surveys conducted early in the pandemic show students were not happy with the quality of education when classes initially moved online due to COVID-19. Since then, schools have worked to improve online programs by training faculty and adapting curriculums. Now that spring quarter has ended and fall classes are underway, we wanted to hear from students about their overall experience with online learning.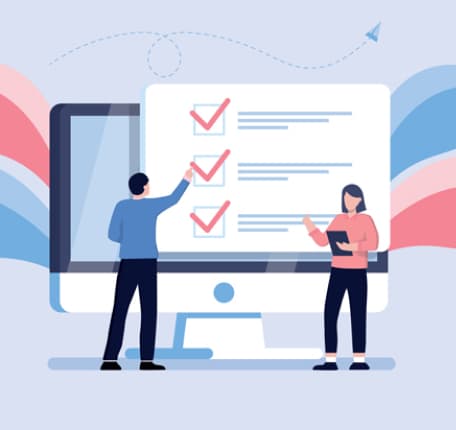 We conducted a survey in August and early September to find out how the shift to online learning affected students, and how schools could alter their approaches. We received responses through SurveyMonkey from 496 current college students across degree levels, subjects, and age groups.
Respondents were enrolled at 387 universities, community colleges, and technical schools across the country, including Duke University, University of Florida, University of Southern California, Yale University, Texas A&M, and Johns Hopkins University. As start dates for fall quarter varied, some responses reflected experiences in online classes for both fall and spring while others were focused only on spring quarter.
Key Findings
Now that they've tried online classes, 50% of students say they're more likely to pursue it in the future (and 33% are less likely)
Students enjoyed the flexibility of online classes, and felt safer and less anxious about COVID-19 with the ability to learn from home
More than 1 in 4 students said distractions in the home such as family, friends, or pets were the most disruptive aspect of the switch to online learning
Students need more support – 24% asked for more office hours, and 23% want more communication from schools and professors
Humanities classes were easiest to learn online, while math and science were most difficult
At the time of the survey, 55% of students said their schools were fully online for fall quarter, 40% were holding hybrid courses, and 5% had fully in-person courses
Our survey results showed students had mixed feelings about online education, but more than half of students said they were satisfied or very satisfied with their online experience.
This may indicate that efforts to improve online education during spring quarter and in preparation for fall have been successful. It may also suggest that students are adapting to new learning environments.
In a recent article, we heard from four new graduates who just joined our team at Optimal. They spoke more in-depth on these topics and shared everything from what went well in the switch to online to advice on looking for a job during a pandemic.
More information on higher education during COVID-19, including online programs, taking a gap year, financial aid, and the job market can be found on our COVID-19 FAQs and Resources page.
What did students like about online learning?
Students most frequently said they enjoyed the added flexibility that comes with online learning. Three in ten students (28%) cited the convenience of attending class online as something that worked well in the transition. Students said recorded lectures allowed them to take classes on their own schedule, at their own pace.
This is one of the biggest draws of asynchronous learning, where students do not meet with their class at a set time. Some seek out asynchronous online programs to accommodate work, family, or other responsibilities.
"Tailoring classes [around] work hours was a major benefit. Students could go at their own pace while still completing assignments to meet deadlines," wrote a pre-med student in their junior year at the University of Maryland.
Nearly 20% of students said remote learning helped with their mental health, safety, and comfort during COVID-19. Being able to protect themselves by isolating and learning from home rather than being on campus made students feel safer and reduced anxiety levels.
Online learning also benefited those who lived off-campus – 16.5% of respondents said they had more time in their day because they no longer had to drive, walk, or bus to school.
"Usually, I would spend four hours in total for my commute per day. Now, I don't have to worry about getting ready or waiting for the train," a senior studying media at Brooklyn College said. "I can be home in sweats and learn online."
Respondents said remote learning tools as well as staff and instructor support were highlights in their online experience. Advisors, professors, and other school employees worked to support students as best they could during the transition. Zoom, Blackboard, and other online learning tools also made the transition more successful for 11% of respondents.
Faculty adapted to emergency remote classes by changing assignment requirements, canceling or adjusting exams, and switching to pass/fail grades. For some students, online courses were more challenging, but around 10% said classes were easier online.
"Tailoring classes [around] work hours was a major benefit. Students could go at their own pace while still completing assignments to meet deadlines."
What was most disruptive in the switch to online?
When higher education switched to online learning, many found it difficult to focus, with nearly 30% of students saying they were struggling.
The biggest distractions students mentioned included family and friends, cellphones, and not having a quiet place to study or watch lectures.
Some students struggled because they were also helping their children with virtual learning. Others said being out of the classroom environment made it hard for them to stay engaged.
"At home, there are so many more distractions, and I sometimes find myself wanting to do other things instead of doing online class," a senior in the nursing program at Concordia University Wisconsin said.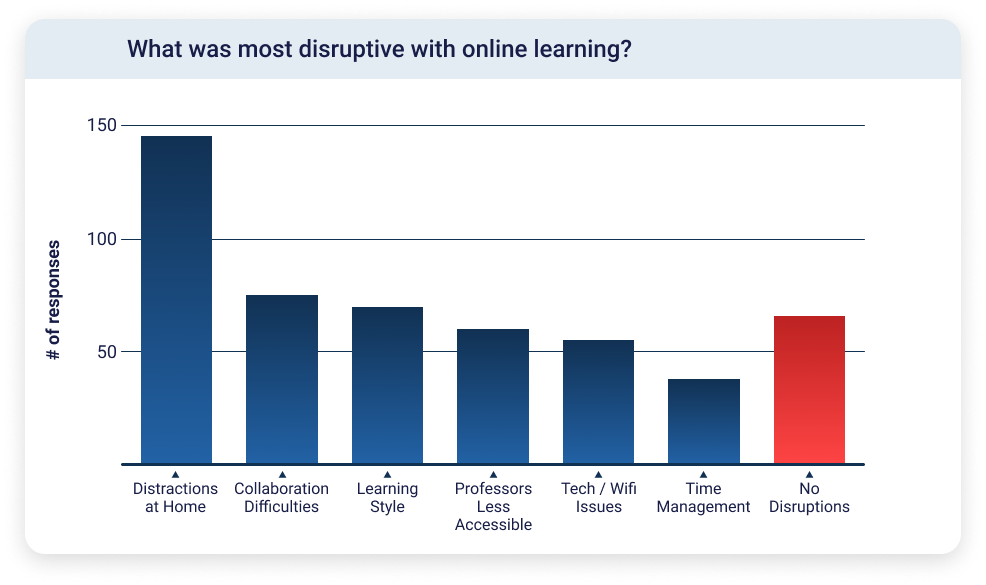 Many students found it challenging to collaborate with peers in group projects or discussions when schools switched to online. A journalism sophomore from Murray State University shared that, as a hands-on learner, the loss of study groups was detrimental to his learning experience.
Other students echoed this sentiment. One respondent, a senior studying creative writing at Wheaton College, said the loss of class conversation made learning more difficult.
"As someone who cannot easily jump into a conversation without raising my hand, it was difficult to insert myself into discussions to participate," the student said. "It was also hard not having face-to-face interactions. There is a certain feeling in a college classroom that you cannot get online."
Students also struggled with technical difficulties, Wi-Fi issues, time management, and getting help or talking with professors.
Do certain subjects work better in an online format than others?
Some classes are a natural fit for online delivery, whereas others typically require hands-on experience and are not as easily adapted for remote learning.
We found that 25% of respondents felt humanities classes transitioned best to online. These included classes such as English, foreign languages, writing, history, and theology.
Students said these classes were easiest to move online because they were fact-based and largely required reading and writing, which was easily done from home. They also shared that there were helpful resources available online in these subjects to supplement classroom reading materials.
One-quarter of respondents said math was more difficult online than in-person. Many students said they had a hard time working through math problems and grasping concepts without the visuals and in-person discussions they had in class.
"As someone who cannot easily jump into a conversation without raising my hand, it was difficult to insert myself into discussions to participate. It was also hard not having face-to-face interactions. There is a certain feeling in a college classroom that you cannot get online."
One respondent said it was hard to get the comprehensive support available in class in the online format.
"Math is hard to learn online because you don't always have the teacher there to answer questions and go over step by step how to work a math problem," a senior studying marketing at Coastal Carolina University said.
It can be more challenging to get support in part because it's harder to ask for it in a virtual format. While Zoom does have a "raise a hand" function, it can be awkward to interrupt class in an online setting, especially for students who are new to the format.
As a society, we have had to learn new rules and etiquette for the virtual world. Many are not used to these new communication methods, and studies show it can result in negative psychological effects as our brains try to adapt and interpret signals.
Twenty percent of students found science to be the most difficult subject to learn in emergency online instruction, citing the loss of labs as a top concern.
Because they are so hands-on, classes such as biology and human anatomy were difficult to complete online, wrote an occupational therapy junior at Lone Star College.
This is an issue that could be solved with more time to plan for a remote quarter. The unexpected shift to online classes did not allow professors time to prepare, but online programs have several ways to address this problem.
Some schools use at-home lab kits, have supplies mailed to students, or use online programs that simulate lab experiments. Others may have students complete scientific fieldwork in the area around them, such as their yard, a park, or the beach.
Students saw room for improvement in online classes
As we look ahead, there's no doubt that online learning will play a significant role in higher education throughout the pandemic and likely for years to come. We felt it was critical to gather student feedback on how faculty can improve the online learning experience.
Overall, our survey results show students want more support and better communication from schools and faculty – 24% of respondents said they wanted professors to have more office hours, and 23% said they wanted more communication from the school and professors.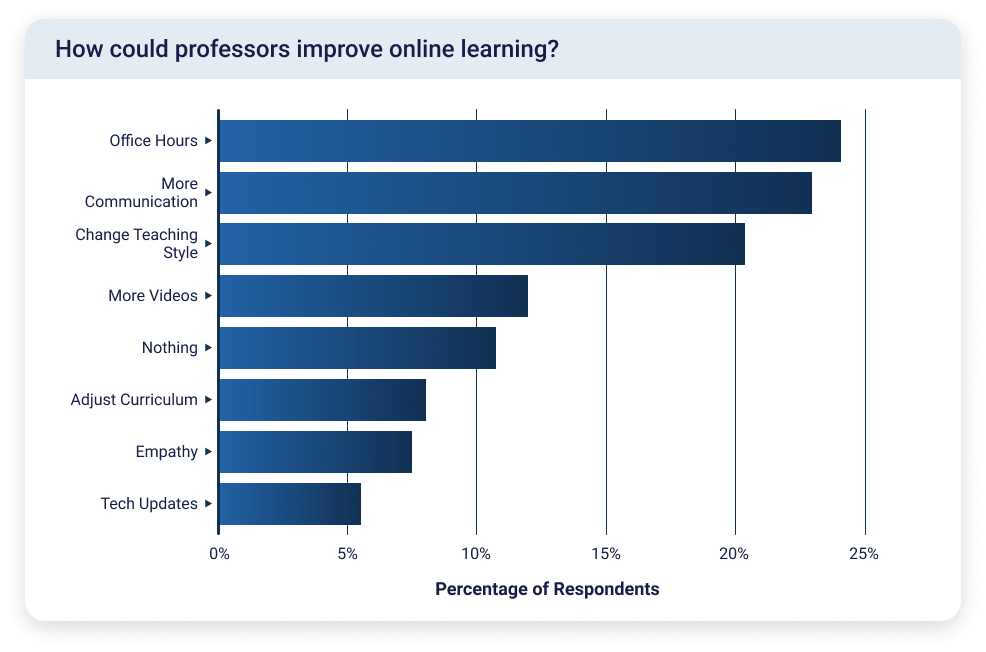 One respondent said adding more office hours and providing opportunities for one-on-one video chats would help those feeling unsupported.
"It is hard asking questions when you are not seeing and meeting with your professors online," a senior in the psychology program at Stony Brook University said. "If professors could add FaceTime office hours to give the office hours a more personal feel, that would be very helpful with learning."
They also wanted more engaging classes. One in five students (21%) said professors should change their teaching styles to be more interactive and engaging.
"They could find better ways to substitute hands-on learning," a senior studying biomedical engineering said. "These [experiences] are critical to my major, so this is something I greatly missed in online learning."
Other suggestions students had included adjusting curriculums, being more empathetic, updating technology, and providing resources such as laptops or tablets.
Were students satisfied with online classes after spring quarter?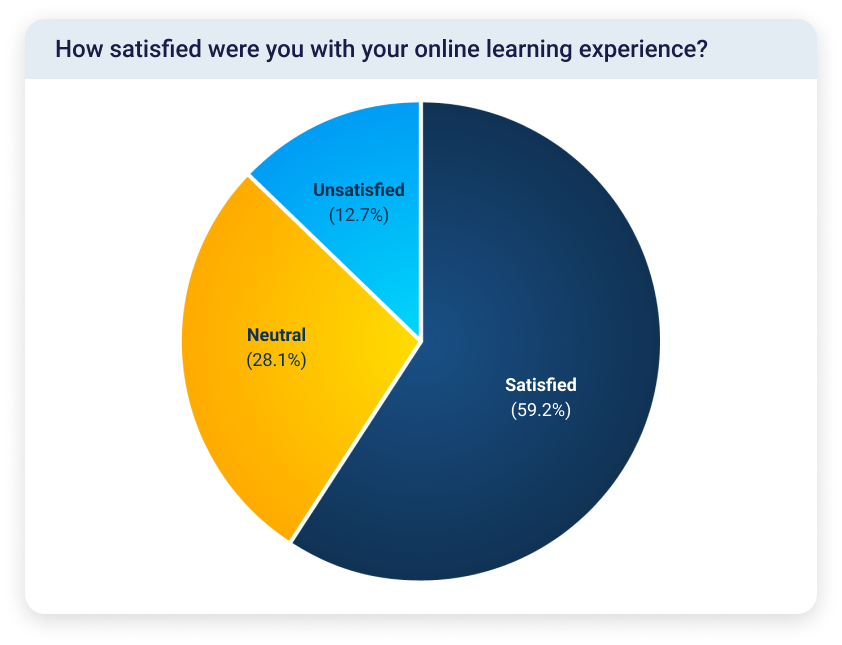 We found that 59% of students were either satisfied or very satisfied with their online learning experience so far. These results contrast with several other studies, such as these OneClass and Niche studies, which found students were dissatisfied with their online learning experience.
These earlier studies were done in March and April when instructors had recently switched to emergency remote learning and had little time to prepare or adapt curriculums.
Our results may show a positive trend in progressing online learning. Higher education faculty spent the summer months learning how to use online tools and transitioning their curriculums.
"It's easier for me. I could take my time to actually learn and lock down what I need to retain in my mind. Also, I can attend to other things at the same time by not having to get dressed, gather books and things, and travel to the actual school."
We are more than six months into the pandemic and have all had time to adapt to new social norms, workspaces, and other changes. Students may be more comfortable in the online learning space, and professors may be better at teaching online now that they have had more experience, training, and time to prepare.
For many students, the added flexibility and benefits have changed their perspective on online learning.
Half of the students surveyed said they were more likely to pursue online education in the future after learning remotely due to COVID-19. Students said they found online classes more convenient, more affordable, and equally as valuable as in-person education.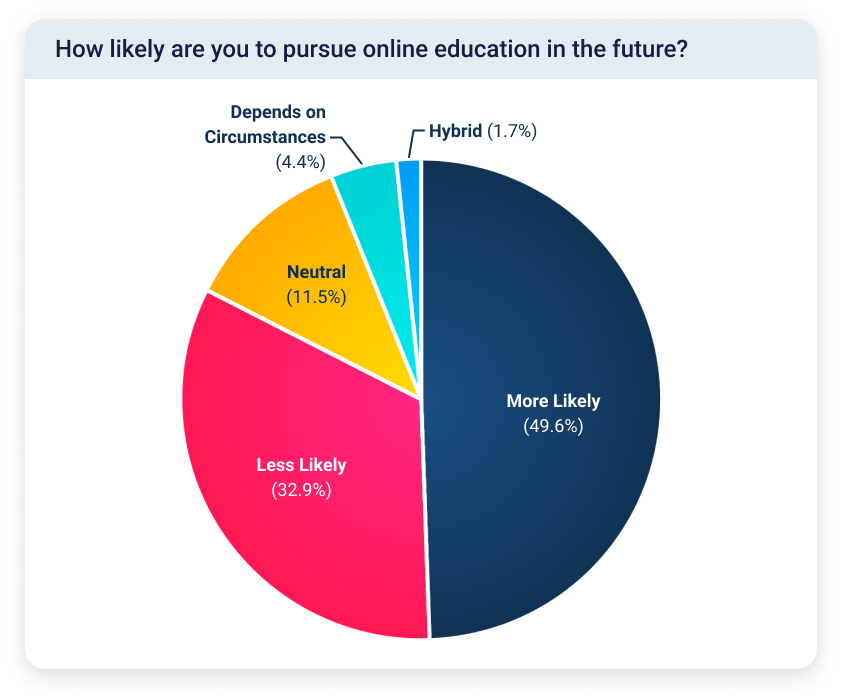 "It's easier for me. I could take my time to actually learn and lock down what I need to retain in my mind," a sophomore studying business administration at Miami University said. "Also, I can attend to other things at the same time by not having to get dressed, gather books and things, and travel to the actual school."
While the majority of students were more open to online classes, 33% said they were less likely to consider it in the future after their remote learning experience.
"I think our college did a great job at the online learning experience, but I still prefer to take classes in person because it's much more personal and I'm an extrovert," said a junior studying Spanish at Covenant College. "I like being around people."
Those who were less likely said they missed the campus atmosphere, or that virtual classes just didn't work well for their learning style.
Some students said they were more open to online classes, but would prefer to take subjects such as math and science in person.
Online learning continues to progress, and these trends are likely to continue
The massive shift to emergency online learning had both benefits and drawbacks for students across the country. Many enjoyed the increased flexibility and convenience of learning from home, but distractions were also heightened as students struggled to learn in environments very different than that of the classroom.
Some subjects, including humanities and liberal arts, are easier for students to learn online. Others, such as math and science, proved to be more difficult and were significantly impacted by the loss of in-person interactions and access to labs.
Students had many suggestions for how teachers and schools can improve the online learning experience. These included providing more office hours, increasing communication at the classroom and university levels, and more engaging teaching styles for the online learning space.
While many complained about the quick switch to online learning, 50% of students are actually more likely to pursue online classes in the future after this experience.
More than half of students also report being happy with their online experience, suggesting efforts to improve online learning in recent months have been successful.
Exposure to online learning has changed perspectives on higher education and has opened up new possibilities for many students, and has permanently changed the future of higher education. As the number of online learners continues to grow, educators must continue to expand resources and develop new methods to better support them.
Related Articles
Is an Online Degree Respected?
If you are wondering whether an online degree is respected or considered the same as traditional degrees, read our expert advice from an HR representative.
Mental Health for College Students
A guide to dealing with anxiety, depression, and other common mental health issues for students.