Biden Announces $10,000 Student Loan Relief, Up to $20,000 for Pell Grant Recipients
Borrowers making less than $125,000 per year will be eligible for the new plan, which materialized after months of internal debate on how far the White House should go in terms of loan relief.
Key Aspects of Plan:
Plan will forgive $10,000 for federal borrowers, the minimum acceptable to Democrats' key constituency of youth voters.
Amount of forgiveness will be $20,000 for low-income borrowers who went to college on Pell Grants.
Also includes the eighth extension of the pandemic-era student loan payment freeze; Biden says it will be extended "one final time through Dec. 31, 2022."
Those paying off undergraduate federal loans on an income-driven repayment plan can also cap monthly payments at 5% of their monthly discretionary income.
To find out eligibility and apply for relief, borrowers can visit studentaid.gov, though the website was experiencing more visitors than it could accommodate immediately after the president's debt forgiveness announcement.
The White House argued in a fact sheet that this and other measures show that it is acting with urgency to a generational student loan crisis that presently ensnares about 40 million Americans in some $1.75 trillion of debt:
"Since 1980, the total cost of both four-year public and four-year private college has nearly tripled, even after accounting for inflation. Federal support has not kept up: Pell Grants once covered nearly 80 percent of the cost of a four-year public college degree for students from working families, but now only cover a third. That has left many students from low- and middle-income families with no choice but to borrow if they want to get a degree."
President Biden added during a press conference announcing the move that many borrowers were compelled to "leave school because the financial strain was much too high."
This left "about a third of borrowers [with] debt for no degree, the worst of both worlds," Biden said.
To the administration and supporters of student debt forgiveness, some level of relief is necessary not just to help students, but to help the economy as a whole. Once former debtors can begin their upward climb towards greater financial security, the rest of the economy will reap the rewards of having more upwardly mobile consumers, the president emphasized during his press conference..
Biden also pointed out during his press conference that student debt is spread unequally, with the burden being especially heavy for Black and Hispanic borrowers with less family help to lean on.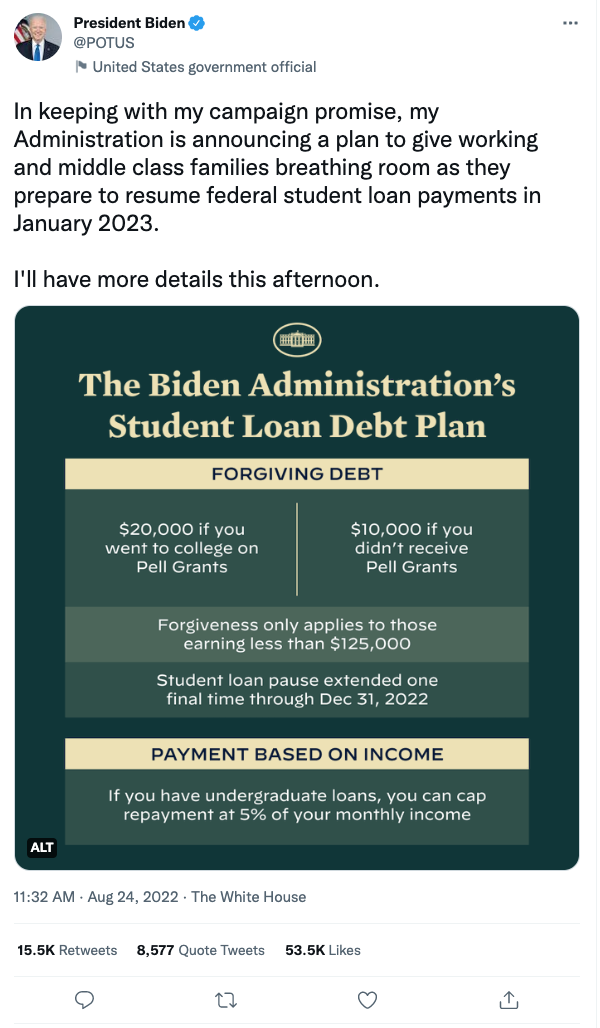 Why Some Say It Goes Too Far
Top Republican Senator Mitch McConnell argues that the plan amounts to a "massive bailout for Ivy League graduates" by "working Americans."
Canceling $10,000 for each borrower earning under $125,000 a year could cost the government nearly $300 billion, according to a Penn Wharton Budget Model estimate. This does not take into account the higher forgiveness amount for Pell Grant recipients.
Some commentators have said forgiving loans would increase inflation. However, most economists say it will have little to no inflationary impact in the short term, as loans are generally paid off over decades.
Why Some Say It Doesn't Go Far Enough
Other major Democratic figures, including Senate Majority Leader Chuck Schumer and Senator Elizabeth Warren, were pushing for $50,000 of debt forgiveness.
Senator Bernie Sanders was leading a charge to entirely wipe out public and private student debt, though that was never likely to become policy.
The NAACP and others have been adamant that a flat $10,000 debt relief is not enough considering historic wealth gaps between Black and white families and earnings gaps between white men and Black women in particular.
None of the actions will directly address the root of the problem, which is the decades-long growth in the cost of a college education. According to the National Center for Education Statistics, the average cost of attendance for the 2020-21 school year was over $35,000.