Colleges With Best Student Veteran Resources and Salary Outcomes
Student Veterans Seek Colleges Offering Flexibility, Support, and Strong Salary Outcomes
Key Insights:
Few states have colleges that offer the VITAL program, which provides clinical health, academic, and social support for student veterans.
Many of the schools with the most student veterans are online institutions, though only one online school is part of the VITAL network.
Student veterans may have to decide between the flexibility of online colleges or the stronger support networks of on-campus schools, but there are options in both groups that lead to strong salary outcomes.
Most veterans know that one of the perks of enlisting is financial assistance with paying for college after the military. But just because certain legislation, chiefly the Post-9/11 GI Bill, compels the government to help pay for college, doesn't mean that all is well for the student veterans it supports.
Student veterans tend to be somewhat older and often more mature than many of their peers in college. However, whether a first-year student is 18 years old and right out of high school, or with years, even decades, of military experience, both groups come to college for many of the same reasons. A college degree has been shown to boost lifetime earnings and career prospects.
Even for those who intend to continue soldiering, a degree in something like cybersecurity could open up new and rewarding pathways within their service. And when the time comes to leave the military, they will have a degree — on top of years of service — to help them land on their feet in the civilian world.
Salary Score Rankings for Schools With Most Student Veterans
The Post 9/11 GI Bill — named and partially modeled after the original GI Bill, implemented after World War II — is meant to provide assistance to those who served in the Afghanistan War, the Iraq War, or otherwise were on active duty after September 10, 2001. The benefits apply to veterans in and from 56 states and U.S. territories. The table below has other metrics showing the scale and reach of the legislation.
Post 9/11 GI Bill by the Numbers, for Student Veterans
| | |
| --- | --- |
| States and Territories With GI Bill Students | 56 |
| Schools With GI Bill Students | 14,693 |
| GI Bill Students | 492,844 |
| Total Amount of GI Bill Benefits Disbursed | $ 1,691,735,757 |
| Average Amount of GI Bill Benefits Disbursed Per Student | $3,433 |
Of the almost 14,700 schools which have student veterans attending on the GI Bill, there are some that particularly stand out in terms of career outcomes after graduation, such as online schools Excelsior College, the American Public University System, and Capella University.
In theory, colleges can lose their ability to enroll students using GI Bill funds if they fall out of compliance with certain standards. In March 2020, the Department of Veterans Affairs said it would suspend five colleges due to the schools' predatory recruiting practices. One of the offenders, University of Phoenix, a massive online school, had received more GI Bill funding than any other institution in the 80-year history of the program.
However, the VA reversed course just four months after its initial announcement.
Below is a table with most of the top schools in terms of how many students there are paying their way using the GI Bill. The schools are listed in order of their Salary Score.
Salary Scores represent alumni salaries after graduation within specific programs and degree levels. To calculate a school's overall Salary Score by level, we compared alumni earnings for each individual program to the same programs at schools across the country. You can learn more about this unique data point we use here.
Salary Score Rankings of Colleges With Most GI Bill Students
| Largest GI Bill Campuses | Salary Score | GI Bill Students | GI Bill + Yellow Ribbon Aid |
| --- | --- | --- | --- |
| EXCELSIOR COLLEGE | 94 | 2,156 | $11,889,840 |
| AMERICAN PUBLIC UNIVERSITY SYSTEM | 92 | 18,012 | $62,203,465 |
| NATIONAL UNIVERSITY SAN DIEGO | 92 | 4,773 | $38,400,724 |
| CAPELLA UNIVERSITY | 92 | 2,405 | $10,175,658 |
| UNIVERSITY OF MARYLAND GLOBAL CAMPUS | 89 | 12,048 | $50,852,038 |
| COLUMBIA SOUTHERN UNIVERSITY | 87 | 3,717 | $9,125,919 |
| EMBRY-RIDDLE AERONAUTICAL UNIVERSITY-ONLINE | 86 | 2,334 | $10,605,252 |
| WESTERN GOVERNORS UNIVERSITY | 84 | 9,597 | $29,046,354 |
| WALDEN UNIVERSITY | 83 | 2,772 | $13,105,152 |
| TRIDENT AT AMERICAN INTERCONTINENTAL UNIVERSITY | 81 | 2,210 | $10,281,499 |
| SOUTHERN NEW HAMPSHIRE UNIVERSITY ONLINE | 79 | 13,894 | $53,627,285 |
| GRAND CANYON UNIVERSITY | 75 | 6,784 | $28,919,625 |
| GEORGE MASON UNIVERSITY | 72 | 2,371 | $24,222,989 |
| UNIVERSITY OF PHOENIX-ONLINE CAMPUS | 72 | 10,405 | $56,461,207 |
| TEXAS A&M UNIVERSITY-COLLEGE STATION | 71 | 2,251 | $12,332,227 |
| ARIZONA STATE UNIVERSITY-TEMPE | 69 | 7,833 | $54,542,188 |
| STRAYER UNIVERSITY-ONLINE-WASHINGTON DC | 68 | 3,439 | $21,602,342 |
| PENNSYLVANIA STATE UNIVERSITY-WORLD CAMPUS-UNIVERSITY PARK | 65 | 1,898 | $15,283,226 |
| THE UNIVERSITY OF TEXAS AT ARLINGTON | 65 | 2,075 | $8,755,280 |
| THE UNIVERSITY OF ARIZONA GLOBAL CAMPUS | 62 | 5,199 | $29,921,590 |
| PURDUE UNIVERSITY GLOBAL | 59 | 5,412 | $24,344,875 |
| UNIVERSITY OF NORTH TEXAS | 59 | 2,139 | $12,029,874 |
| UNIVERSITY OF ARIZONA | 58 | 2,265 | $16,531,107 |
| UNIVERSITY OF ARKANSAS | 57 | 2,524 | $2,360,051 |
| COLORADO TECHNICAL UNIVERSITY-ONLINE | 57 | 2,883 | $24,040,806 |
| TEXAS STATE UNIVERSITY | 55 | 2,771 | $13,368,392 |
| DEVRY UNIVERSITY ONLINE | 55 | 2,995 | $20,632,067 |
| KENNESAW STATE UNIVERSITY | 55 | 1,860 | $4,305,167 |
| LIBERTY UNIVERSITY | 54 | 13,760 | $62,218,462 |
| FLORIDA STATE COLLEGE AT JACKSONVILLE | 53 | 1,872 | $2,691,372 |
| UNIVERSITY OF ALABAMA-TUSCALOOSA | 51 | 2,127 | $11,545,484 |
| SAN DIEGO STATE UNIVERSITY | 46 | 1,779 | $5,944,904 |
| OLD DOMINION UNIVERSITY | 46 | 3,501 | $19,796,004 |
| UNIVERSITY OF COLORADO COLORADO SPRINGS | 45 | 2,063 | $11,638,643 |
| EAST CAROLINA UNIVERSITY | 43 | 1,884 | $5,050,842 |
| UNIVERSITY OF CENTRAL FLORIDA | 41 | 2,362 | $6,001,206 |
| UNIVERSITY OF SOUTH FLORIDA-MAIN CAMPUS | 40 | 2,143 | $6,442,650 |
| THE UNIVERSITY OF TEXAS AT SAN ANTONIO | 39 | 3,891 | $12,742,609 |
| GEORGIA STATE UNIVERSITY | 36 | 1,975 | $3,745,273 |
| AUSTIN PEAY STATE UNIVERSITY | 30 | 1,960 | $7,446,326 |
| ECPI UNIVERSITY | 29 | 2,107 | $22,653,427 |
| FULL SAIL UNIVERSITY | 26 | 4,341 | $60,034,195 |
| CENTRAL TEXAS COLLEGE MAIN CAMPUS | 12 | 2,814 | $3,049,032 |
How Do Veterans Avoid a Cold Welcome on Campus?
There are a number of metrics we can use to decide if a campus may be particularly welcoming to veterans. Here are a few of the programs that denote if a college has been vetted and approved for a specific program, some of which are run by the VA, the Pentagon, the Department of Education, or other groups. Each has a set of criteria a school needs to meet to be eligible for the program in question. Click the links to understand more about what each designation means in terms of veteran support.
Higher Education Programs for Student Veteran Success
| Program Title | # Schools Approved | % Schools Approved | # GI Bill Students Served | % GI Bill Students Approved |
| --- | --- | --- | --- | --- |
| Principles of Excellence (POE) | 10,227 | 48% | 721,104 | 86% |
| DOD Military Tuition Assistance (MOU) | 3,837 | 18% | 732,741 | 87% |
| Yellow Ribbon (YR) | 5,628 | 26% | 496,308 | 59% |
| Student Veteran Group | 1,688 | 8% | 502,130 | 60% |
| Eight Keys to Veteran Success | 1,924 | 9% | 518,397 | 62% |
| Veteran Success on Campus (VSOC) | 144 | 1% | 11,795 | 1% |
The Veteran Success on Campus (VSOC) program is the least prevalent on college campuses, with less than 150 campuses with VSOC's specific advantages for student veterans. These include a vocational counseling program run by a Veteran's Administration (VA) staffer.
Another well-known group of colleges and universities are those that qualify as Yellow Ribbon schools. These institutions have committed to providing services or funding above and beyond those required by the Post-9/11 GI Bill.
The most prevalent program at schools is the Principles of Excellence, which can be found at over 10,000, or almost half, of all campuses that apply for PoE approval.
However the program that has touched the most number of student veterans is the Department of Defense Tuition Assistance program, which is approved for 87% of GI Bill recipients.
Some of these programs are directly tied to grants for student veterans, which is particularly meaningful as college costs soar and schools are cutting grants. Last year, schools doled out about $235 billion in grant-based aid, according to CollegeBoard, which is $7 billion less than the year before.
Student Veteran Support Programs by State
States By Number of Veterans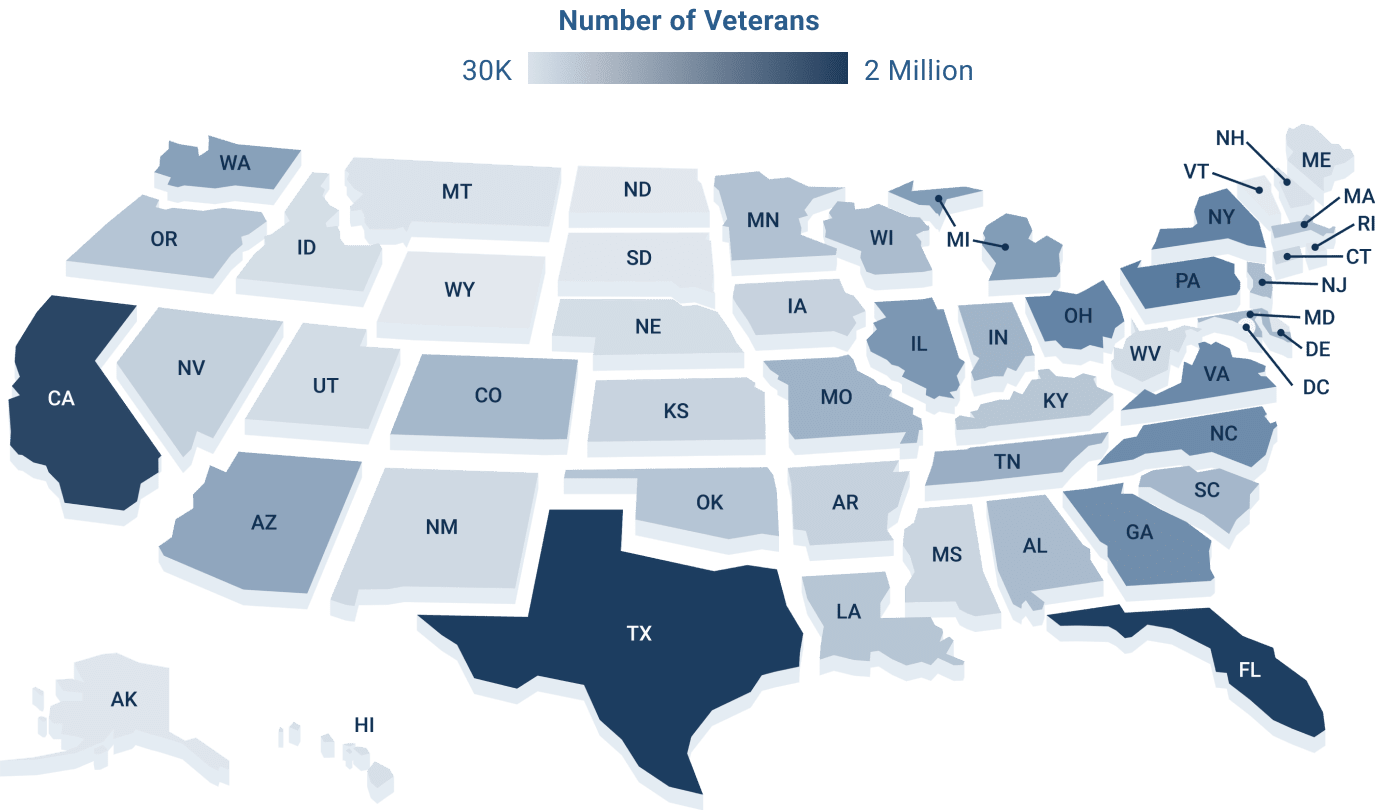 States By Proportion of Veterans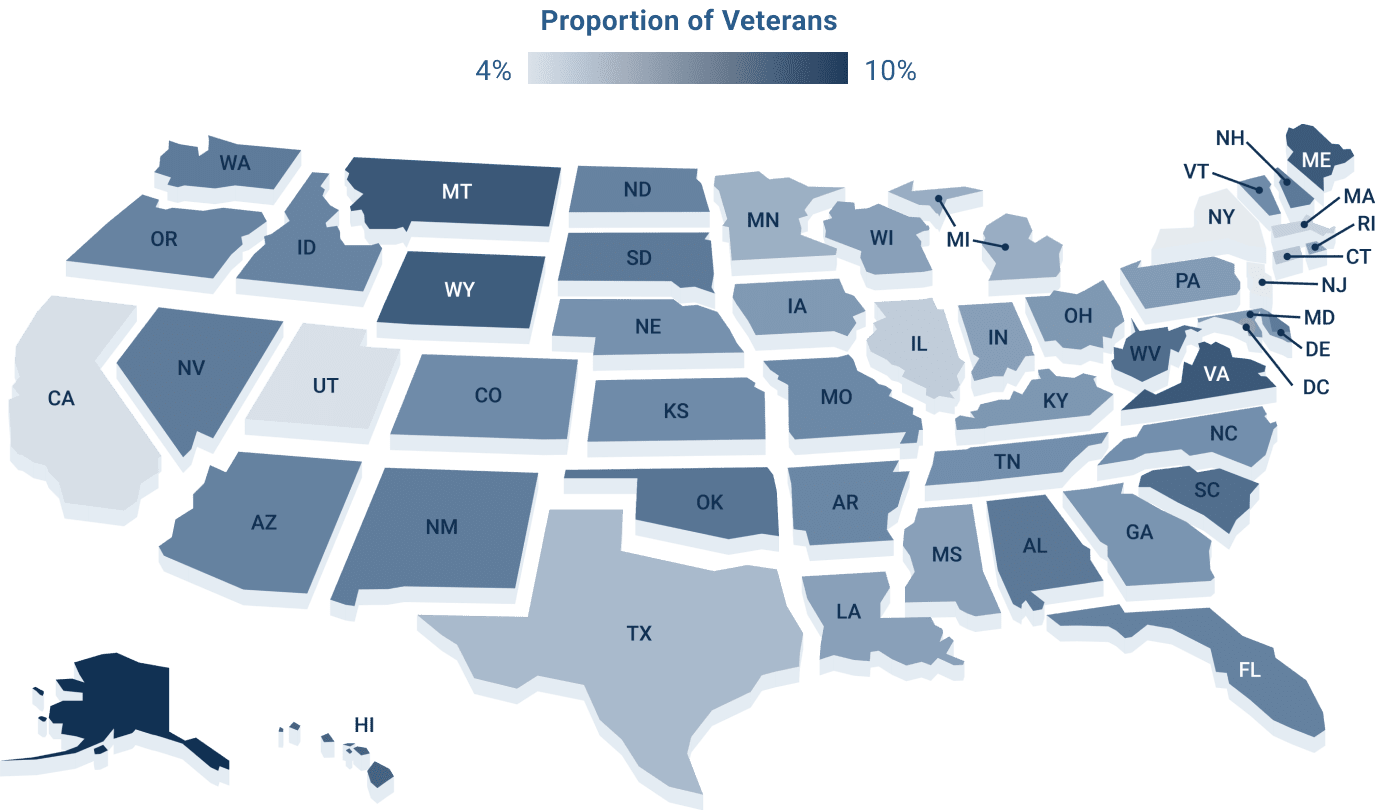 As these maps show, veterans are present in every state The low end of the dataset is over 30,402 vets, and that's from tiny D.C. Larger states have even larger veteran populations: Texas and Florida are home to over 1.5 million veterans, while California is home to over 1.75 million.
Now, if veterans are living, working, and learning in every state, does each of those states have the support structure set up so those vets can succeed in their endeavors?
Unfortunately, the following map suggests that by one key metric, most states are not giving their veterans the help that they could be in college. Over half of states have no college that is part of the VITAL program.
The VA's Veterans Integration to Academic Leadership (VITAL) program offers "seamless access to VA and campus-based resources, including transition counseling, mental health support, and assistance with accessing campus and VA programs and resources."
Some of the specific services that VITAL programs provide at colleges and universities are:
Evidence-based on-campus mental health counseling by a clinically licensed mental health provider, such as a psychologist or social worker.
Facilitating on-campus veteran enrollment in VA programs.
Working with veterans to create individualized treatment plans and education goals to facilitate their successful academic and social integration.
Collaborating with existing on-campus mental health providers or counseling centers.
VITAL was created specifically to address many of the challenges veterans face when they enter college, often immediately after military service. So why isn't it in more colleges and universities, especially those in states with high veteran populations? Florida, with its more than 1.5 million veterans, is perhaps the most glaring omission from the VITAL network.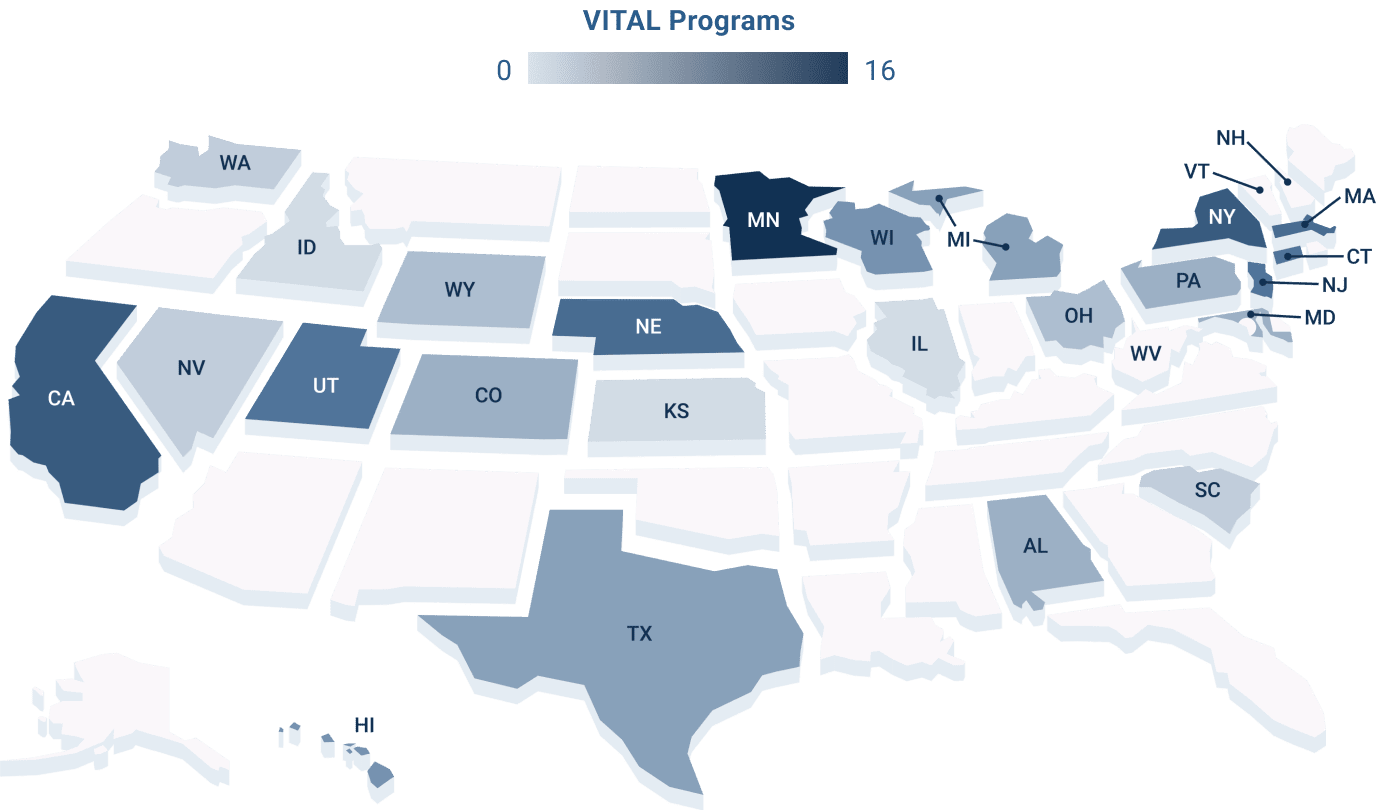 This dearth of a key program in colleges and universities neutralizes — to a degree — two of the key benefits of on-campus learning for student veterans: building social skills with non-military peers and having a network of veterans to lean on, right on campus.
Student veterans may find that online programs don't provide the same level of clinical, educational, and general support the right campus can offer. Western Governor's University is the only VITAL-certified online institution. It's also one of the largest online higher education providers in the country.
However, considering the lack of VITAL or equivalent programs on campuses across the country, online programs' lack of student veteran services may be less relevant. If a veteran can't access on-campus support, why not take advantage of the flexibility and self-pacing common among online programs instead?
Of course, this is only one data point related to how veterans feel they're received and supported on campus. But, given VITAL's specific mission, it's an important data point.
The schools with the largest veteran populations are generally online schools. This is because it works for veterans who may need flexibility in their schedule or location. Certain service members can even begin earning college credits while still in the military.
Veterans who have finished their commitment to the military may want to work during school, or have other responsibilities to navigate. So, there are plenty of reasons — financial, familial, or personal — that make a more flexible schedule a priority.
But this flexibility that online colleges offer comes at the cost of on-campus clinical help. That said, the VA, which covers most medical expenses for veterans, has been accepting telemedicine claims since at least 2016. Now, with more healthcare providers offering telemedicine as an option, the combination of online school and online student veteran services is a real possibility.
However, depending on the individual's physical and mental health needs, telemedicine may not be the best choice, or even an option at all. In those cases, an on-campus college with a strong VITAL program or other veteran support services may be the best choice.
The VITAL programs and other college-affiliated veterans groups also bring to the table the likelihood of meeting other student veterans, which can often form a network of informal support.
How Can Student Veterans Make the Best Education and Career Choices?
Student veterans may have to decide between the flexibility of online colleges or the stronger support networks of on-campus schools. Luckily, there are options in both groups that lead to strong salary outcomes. If you're a veteran intending to go to college, do your research on careers that are in demand and align with your interests and skills. Then, it's a good idea to look at fields of study that can lead to those careers. All of those resources are available in our career guides.
You can also utilize the Salary Scores, a product of our team of data experts' analyses, to easily compare colleges by alumni salary.
So, what do you want to do now that you've served your country? What kind of degree, or what will you need to know or study to be able to accomplish those post-military goals? You've done your duty. Now do your research and make sure your next move is the best move.
Methodology
Our data on alumni earnings comes from College Scorecard, an annually updated resource provided by the U.S. Department of Education. The earnings data used in our Salary Score is for alumni in the first year after completing a degree. The data was released on March 14, 2022, and is for students who graduated in 2017 and 2018, with earnings measured in 2018 and 2019, respectively, and inflation-adjusted to 2020 dollars.
The data is based on the earnings of students who received federal financial aid because that is the sample for which the Department of Education has data. This excludes students who did not receive federal financial aid. Please see our "What is Salary Score?" resource for additional information.
Information on government programs for student veterans came from the Veterans Administration, the Department of Defense, and the Department of Education. Some data were a product of all three departments, such as the information on the number of GI Bill students in each school and how much GI Bill funds had been disbursed to that college. Other data came from two of the departments, such as the number of VITAL programs, which came from DoE and VA.
Related Articles
2023 Best Military-Friendly Online Colleges
Learn about the best online colleges in 2023 for students coming from a military background. Find the military-friendly college that fits your needs.
2022 Best Undergraduate Colleges in the U.S.
A list of the colleges with the highest alumni starting salaries for bachelor's graduates across majors