The Best Colleges for Underrepresented Students: How to Find Them
Every prospective college student has a lot to think about when choosing the best college to attend. Programs, cost, culture, location, and size are all important factors. Some students want a campus community that's familiar and comfortable, while others want something radically different from what they've already experienced.
Students from historically underrepresented communities have another layer of considerations to address, experts say. Whether they're attending school on campus or online, they need to feel safe, accepted, and valued — but often don't. Identifying those colleges where diversity, equity, and inclusion (DEI) are tangible attributes, and not just marketing buzzwords takes a little extra legwork.
Our college guides for Black, Latinx, LGBTQ+, and other underrepresented student groups offer additional tips and information from multicultural officers at a number of diverse colleges.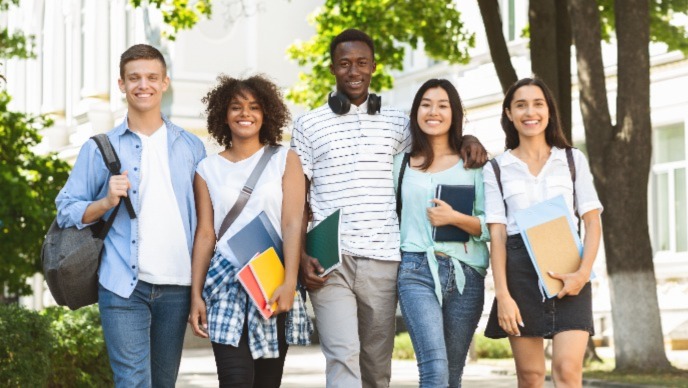 ADVERTISEMENT
Online Programs You May Be Interested In

Southern New Hampshire University Online
Annual Tuition: $9,600
156 Programs (view all)

Annual Tuition: $16,639 - $17,479
21 Programs (view all)

Annual Tuition: $17,800
195 Programs (view all)
---
Why DEI Is Important On College Campuses
In recent years, virtually everyone involved in higher education has come to recognize the need to create more inclusive learning environments at universities, community colleges, and vocational and technical schools alike. Perhaps the most important motivator behind this drive is the diversity of today's college students.
A report on research spearheaded by professors at Indiana University is just one of many that emphasize how students from various underrepresented groups often feel they don't belong in college. They are more likely to disengage, achieve poor academic outcomes, and possibly drop out of school.
Numerous other studies support these findings, concluding that these students — and all others — need to live and learn in an atmosphere where they feel free to express themselves openly without fear of repercussions, whether it be microaggressions or overt acts of violence. Additionally, all students deserve to feel empowered by seeing themselves reflected in the faculty, curricula, and resources.
Not only does a welcoming campus climate improve the well-being of students while in school, but educators also agree that it helps prepare alumni for greater success in the future by enhancing professional development. For example, a campus that encourages open dialogue helps students learn to be more thoughtful and intentional when they communicate with others. Interacting with a diverse range of people inside and out of the classroom also helps students develop other valuable soft skills, such as emotional intelligence, self-analysis, collaboration, and conflict resolution. These abilities may lead to increased opportunities and a stronger workforce, which benefits everyone.
What Are Colleges Doing to Be More Inclusive?
With so many obvious advantages to diversity and inclusion, many colleges and universities have begun to implement a range of DEI initiatives. One of the most common actions has been hiring DEI staff — on average, 3.4 new positions have been created for every 100 tenured faculty positions. Many schools now have an office of diversity and a chief diversity officer. While this may be a worthwhile response in many cases, a recent report concluded that these professionals are sometimes ineffective in addressing issues or increasing student satisfaction at their schools.
Nevertheless, many colleges have taken positive steps aimed at changing behavior and enhancing the college experience, especially for students who identify as members of underrepresented groups. As part of their college search process, prospective students may want to assess each college on some of these initiatives.
How Do You Know When a School Is the Right Fit for You?
Dr. Amber Williams, Inaugural Vice Provost for Student Success at the University of Tennesses, Knoxvill, says that "Fit, to me, is feeling like you can be your authentic self and that you are at your best."
Meanwhile, Sara Rivera, Assistant Director of the Latinx Student Cultural Center and Northwestern University chalks it up to feeling comfortable, saying "As a student, you're investing in your future, and you want to feel that this space is a space that you feel welcomed in and that you feel safe in and that you feel that they want you there.
Reducing Bias In The Admissions Process
In recent years, numerous studies have identified long-hidden yet serious obstacles in the admissions process. Scott Jaschik, writing for Inside Higher Ed, notes that researchers have found that standardized test scores and college application essays are just two of several factors that tend to favor students from more affluent backgrounds. This research has prompted admissions directors at many universities to re-evaluate their review processes in an effort to level the playing field for all prospective students.
In response, a significant number of colleges have begun to modify their admissions criteria and enhance diversity in colleges. For example, many schools have gone "test-optional" or "test-blind," refusing to consider applicants' SAT or ACT scores as part of the evaluation process.
Also, admissions teams at some schools, such as Smith College and the University of Southern California, now review applications as a group and openly discuss any implicit or explicit biases on the part of reviewers before making decisions. A few schools, including Pace University, send admissions representatives to high schools in underserved communities to help build a pipeline for students who want to go to college but may not have the resources or role models to help navigate the admissions process.
Increasing Diversity Among Faculty and Staff
Although statistics show us that college student populations have become increasingly diverse in every sense — race, ethnicity, sexual orientation, gender identity, economic status, and so forth — faculty and staff often do not reflect that same diversity on college campuses. These pie charts represent the disparity in ethnicity between students and faculty. According to the NCES, the same is true for gender, as approximately 48% of faculty identify as female while 57% of undergraduate students identify as female.
Many thought leaders in higher education believe that faculty diversity — hiring faculty members with all types of varied backgrounds and experiences — can shore up students' sense of belonging, allow them to understand differing perspectives, and help broaden their own perceptions by learning from the experiences of others.
Although higher education in general has been slow to adapt, some colleges and universities are making efforts to align the demographic make-up of their faculty and staff with that of their student populations. The University of Houston, for example, has earned a reputation as a strong proponent of DEI, as evidenced by its data-driven approach to hiring faculty members who reflect the school's students.
Fostering Inclusive Behavior In the Classroom
Perhaps one of the best places to implement DEI-related changes is among the educators themselves since they often set the example for students. Many college faculty are now following the lead of vocal proponents of inclusive teaching, like Deborah Willis, Shaun R. Harper, and Charles H.F. Davis III. Forward-thinking educators are adopting actions such as:
Questioning personal behaviors to check for stereotyping and bias.
Making sure students have fair access to materials.
Incorporating diverse voices into lectures, readings, and other resources.
Providing learning materials — such as audio and video — that appeal to all types of learners.
Learning to pronounce students' names correctly and using their preferred pronouns.
Addressing conflict responsibly among students when it arises.
Establishing Codes of Conduct
Fostering inclusive behavior on the part of educators is a smart initiative, but many schools also require students to exhibit inclusive behavior at all times on campus — from the classroom to the dormitories and beyond. Colleges often spell out their expectations in written codes of conduct, which are shared at orientation and throughout the enrollment process. The rules usually forbid abusive, hateful, or bullying language or any other forms of harassment or discrimination. Codes may also explain how students can anonymously report any type of harassment or abuse they've experienced, as well as the consequences for students who fail to follow the rules.
Fostering inclusive behavior on the part of educators is a smart initiative, but many schools also require students to exhibit inclusive behavior at all times on campus.
Michigan State University provides an excellent example of a school that has adopted numerous tactics for preventing and addressing on-campus hate crimes. These include providing specialized training for campus police officers, presenting workshops and other informative programs on discrimination, and conducting school-wide campaigns that raise awareness of DEI issues.
Providing Individual Mentors and Support Groups
One of the most popular DEI initiatives on college campuses is the creation of multicultural centers and similar types of dedicated spaces for underrepresented students. The programming at these centers is typically designed to ease students' transition into college life and reassure students that they're not alone in their feelings and experiences — two of the most important objectives espoused by Mesmin Destin and Mary Murphy in their report titled "Promoting Inclusion and Identity Safety to Support College Success."
Part of the success of multicultural centers is that they address students' needs in both individual and group settings. Many schools have organized affinity groups for Black, Latinx, Asian, LGBTQ+, and many other groups that have been historically underrepresented. Through these centers or college academic offices, schools may also offer to pair individual students with trained mentors. Studies, such as the National Academies of Sciences, Engineering, and Medicine's report on mentoring, have shown that mentor relationships have the potential to improve students' academic performance and support students in completing their degrees.
Shining A Spotlight On Diversity
Another way some colleges promote awareness of cultural diversity on campus is through celebrations. The University of North Carolina and Swarthmore College, just two of many possible examples, both hold cultural appreciation events each year. Their festive atmosphere makes these events approachable and inviting, allowing all students to expand their cultural awareness in a fun and relaxing environment.
Next Steps for Students
For obvious reasons, students who identify as members of one or more underrepresented groups may want to attend a college that is actively working toward becoming more inclusive. Before investing time and money into a campus visit, there are several ways prospective students can explore the status of diversity, equity, and inclusion on college campuses:
Ask admissions advisors and recruiters. These professionals are prepared to answer any questions about their schools, so feel free to ask broad and specific questions about their DEI initiatives. As Brandi Stone, director of African American Student Services at the University of New Mexico, has said, "Ask the hard questions." An interesting way to begin may be to ask how the college goes about listening to its students' needs and concerns. Pennsylvania State University, for example, conducted a community survey designed to discover what the school is doing well and what it could do better. Middlebury College in Vermont used a social media campaign called "Leaning Into Discomfort" to ask for honest feedback from students.
Explore each college's website. Setting aside that a website is a marketing tool, often filled with photos of happy students from diverse backgrounds, a deeper evaluation of a site may reveal the school's priorities. Do faculty photos suggest ethnic and age diversity? Has the school posted a DEI statement? Does the school lay out its strategic plan for DEI initiatives — as Auburn University has done — that shows the school's efforts to approach solutions from every angle? Look for signs of a genuine commitment to inclusivity. Dr. Brandon Haddock, LGBT Resource Center Coordinator at Kansas State University, adds, "Representation matters, so students need to see that their identities are being affirmed in the materials they're given."
Check student body social media. Some savvy searching on various social media platforms may lead to honest comments from college students about their schools. Posts from the "Black at" and "Dear" Instagram campaigns, for example, provide eye-opening insights. Individual messages need to be taken with a grain of salt, however, as they may not represent the predominant attitudes of most students at a given school.
Search for ratings from independent third parties. One great example comes from Campus Pride, a nonprofit organization that advocates for safer college campuses for LGBTQ+ students. Each year it rolls out a list of the best LGBTQ-friendly colleges and universities, as well as schools at the opposite end of the spectrum. A few schools that have topped Campus Pride's recent lists include Ithaca College (NY), Rutgers (NJ), Pennsylvania State University, Ohio State University, Purdue University (IN), MIT (MA), Northern Kentucky University, and the University of Washington.
Diversity On College Campuses
Largely motivated by students themselves, most colleges and universities are responding to the demand for greater equity and inclusivity. It's an evolutionary process, and so far some schools have been more successful than others at implementing effective initiatives.
Nevertheless, from modifying hiring practices to re-examining course syllabi to clamping down on discriminatory behavior, many schools are actively trying to right the wrongs of past injustice. One way students from underrepresented groups and their allies can continue to push for change is by enrolling in those schools that have made DEI a visible priority.
Related Articles
Best schools for graduating with no debt
(that you can actually get into)
These 15 schools result in the lowest debt for students and have at least a 50% acceptance rate
The 100 Most Popular Accredited Online Schools & Colleges
These popular accredited online schools have established strong brands that resonate with a large number of the prospective students who visit our site.