Amazon is Top Recruiter of Recent MBA Graduates for Seventh Year, As Big Tech Scoops Up Top Business Talent
Amazon is the first tech giant since IBM to show that its appetite for recent business school graduates exceeds deep-pocketed accounting and consulting firms
Key Insights:
Amazon has been the #1 MBA recruiter for seven years running, a position traditionally held by financial services and consulting firms.
The company is also the top recruiter of recent MBA graduates when we look at the past decade cumulatively.
Other companies competing for recent MBAs include consulting firms, banks, the U.S. military, and other tech companies such as Google, Apple, Microsoft, and Cisco.
Despite being a relative newcomer to recruiting MBAs in large numbers, Amazon's rapid growth has made it the third largest recruiter of recent MBAs in the past 30 years, right behind McKinsey and Deloitte.
For years, Amazon has been a company to watch, growing from a hot tech startup focused on selling books online to a company with the market heft to change the standards of the whole retail industry. It's now one of the most valuable brands in the world, focused on e-commerce, cloud computing, digital streaming, and artificial intelligence.
When the acute stage of the pandemic hit in 2020, many Americans consigned themselves to staying at home, ordering necessities and luxuries online. This pandemic-induced change in shopping habits boosted Amazon's sales over brick-and-mortar competitors.
In addition to selling everything under the sun, Amazon was well-positioned to continue operating its tech and retail businesses even as competitors initially struggled under pandemic constraints.
Amazon was among the first companies to voluntarily send workers home in March 2020. This helped put it ahead of the curve compared to companies that only shifted work habits due to mandatory government stay-at-home orders.
The relative ease for tech workers to work from home alongside the change in shopping habits pushed Amazon to become the #1 employer for recent college graduates who earned their bachelor's degrees in 2019 and 2020.
Another look at the data reaffirms that Amazon's hiring spree is not limited to undergraduates. Amazon is the #1 employer of MBA graduates in the first year after earning the advanced business degree. Perhaps an even greater testament to Amazon's size and growth, before and during the pandemic, is that it has been the top employer for recent MBAs for the past seven years.
Amazon's Size and Growth Drive Its Need for More MBAs
A part of the reason Amazon has been a top MBA recruiter in the last ten years is because of how rapidly the company had grown in the decade before. From its founding in 1994 until 2002, the company was unprofitable and was just starting to broach $1 billion in annual revenue.
In 2011, less than a decade later, revenue was about $50 billion. And then growth truly took off, with the company selling nearly $470 billion of goods and services in 2021. It also netted a profit of almost $33.5 billion that year.
Why Amazon is snatching up so many MBAs isn't a question. A company with its growth profile, profitability, and sheer size couldn't afford not to do everything to attract and retain competent business people.
Amazon Rockets Up List This Decade
Amazon has been the number one recruiter of MBA graduates for the last seven years. The following graphic shows the top ten recruiters for the last ten years.
Top 10 Recruiters of Recent MBAs Each Year
2012
Deloitte
McKinsey & Company
U.S. Air Force
U.S. Army
Amazon
2013
Deloitte
Amazon
McKinsey & Company
U.S. Air Force
U.S. Army
2014
Deloitte
Amazon
McKinsey & Company
U.S. Air Force
U.S. Army
2015
Amazon
Deloitte
McKinsey & Company
Boston Consulting Group
U.S. Air Force
2016
Amazon
McKinsey & Company
Deloitte
Boston Consulting Group
U.S. Air Force
2017
Amazon
McKinsey & Company
Deloitte
Boston Consulting Group
Bain Company
2018
Amazon
Deloitte
McKinsey & Company
Boston Consulting Group
Bain Company
2019
Amazon
Deloitte
McKinsey & Company
Boston Consulting Group
Bain Company
2020
Amazon
McKinsey & Company
Boston Consulting Group
Deloitte
Bain Company
2021
Amazon
Lockheed Martin Corporation
The Boeing Company
Fidelity Brokerage Services
Abbott Laboratories
Amazon has been in the top five recruiters for all ten years shown. It took the top spot after unseating Deloitte in 2015. That same year Amazon saw its fastest e-commerce growth yet. Analysts projected Amazon to take $0.51 out of every $1.00 of e-commerce growth. This all but cemented its status as the king of e-commerce, with all other retailers fighting over less than half the share of e-commerce sales growth that year.
Other Tech Companies Focused on Recruiting MBAs
In addition to being a major retailer, Amazon is a tech titan. In some ways, the chart of top MBA recruiters can be interpreted as showing the rise of what we now know as "Big Tech" companies.
For example, Microsoft Corp. broke into the top ten recruiters of MBA graduates in 2015, the same year Amazon took the top spot on the strength of its e-commerce and its tech operations. Microsoft stayed in the top ten list for five of the next six years.
Google, Inc. broke into the top ten MBA recruiters in 2016 and was the sixth biggest recruiter by 2018. (Google, Inc. is now the flagship subsidiary of parent company Alphabet.)
Just last year, two major tech companies, Apple, Inc. and Cisco Systems broke into the top 10.
Both were companies that had experienced tremendous successes and failures over their storied histories. But while the high-value products and services they offered were built and run by developers and engineers, the companies decided they needed more business experts to help them keep growing.
In contrast, IBM, a predecessor of computing companies like Apple and Microsoft, fell out of the top ten in 2014. IBM has long been the dominant U.S. technology company since World War II. This suggests that the rise of the new Big Tech may have come at the expense of the original tech giants that inspired today's top tech companies.
Short- and Long-Term MBA Recruitment Trends
MBA Recruitment Over the Past Five Years
We can zoom in to the past five years to get a better understanding of how different companies and industries have fared in that battle for top business talent. While the table above showed each year's top MBA recruiters, the following table shows the top recruiters based on the past five cumulative years.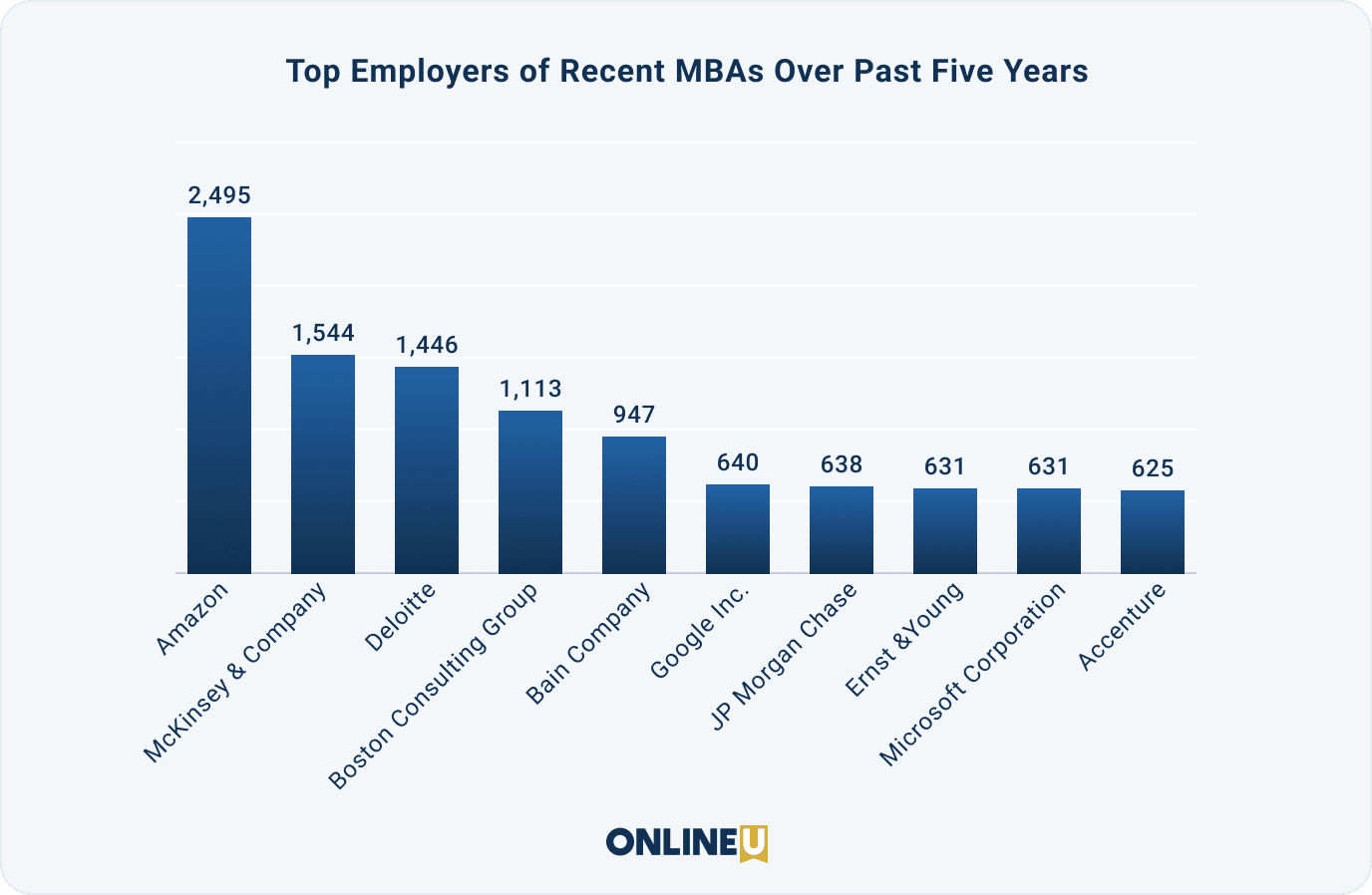 The first takeaway here is that there are other tech companies on the list when we look at the past five years instead of year by year.
Besides the tech bloc of Amazon, Google, and Microsoft, most of the companies are in the financial industry and have traditionally been the top employers of both undergraduate and graduate business degree alumni. Consulting firms in particular hire about one-fifth of all business undergraduates, our research shows.
Amazon Was Third-Biggest Employer of Recent MBAs Over Past 30 Years
Over the short and medium timeframes, Amazon has led tech companies in the drive to hire more recent MBA graduates. As the previous chart showed, Amazon had a 60% lead over the runner-up in employing recent MBAs over the past five years.
When we take a longer time horizon, Amazon is not the same MBA recruitment juggernaut it has been more recently. It is, however, still in the top tier, trailing consultancies Deloitte and McKinsey by about 11%.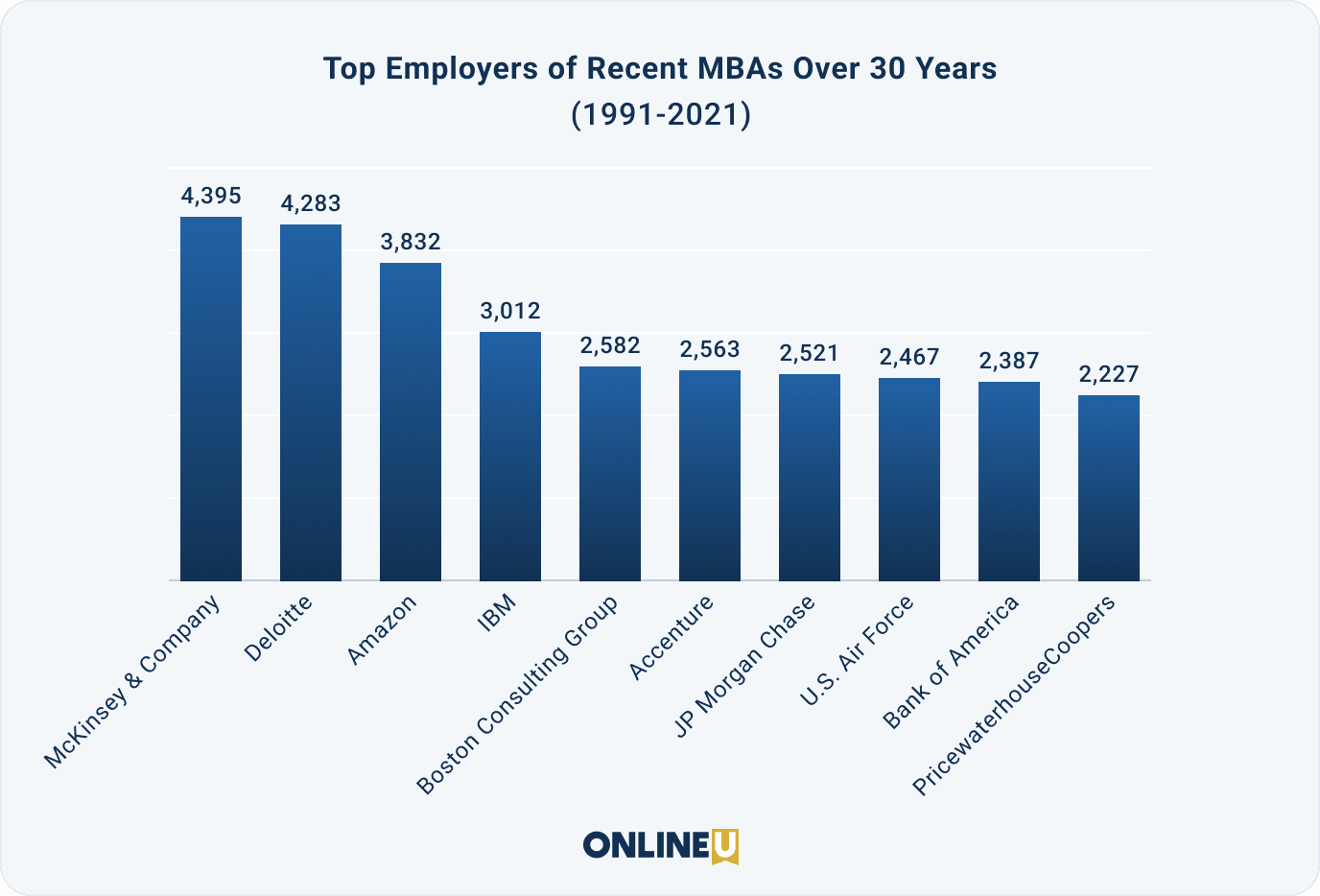 This shows that despite being a relative newcomer to recruiting MBAs in large numbers, Amazon is still the third largest recruiter of recent MBAs over the past 30 years, close behind two large consulting firms and ahead of fellow tech company IBM.
What Does This Mean for MBA Graduates?
Now more than ever, MBA graduates have a wide range of choices as to where they'll end up. Industries beyond finance are opening their doors to MBA graduates in the hope their business acumen will help the company's bottom line.
The tech industry is no exception. Amazon in particular is clearly hungry for workers with business experience, so it's certainly a viable option for those with a graduate degree.
While Amazon is the number one recruiter of recent graduates of business schools, it's far from the only option available. If your passions lie somewhere else besides finance, tech, or retail, you should be able to pursue them with an MBA specialized in, for example, non-profit management.
Also, the once-unique perks and hiring practices of the tech world have become more and more mainstream. Many of them now just come with the package, like free on-campus food or other services and amenities. And if it isn't part of the job, you should feel comfortable asking for certain perks that are important to you.