Pandemic pushes Amazon to #1 largest employer for recent college graduates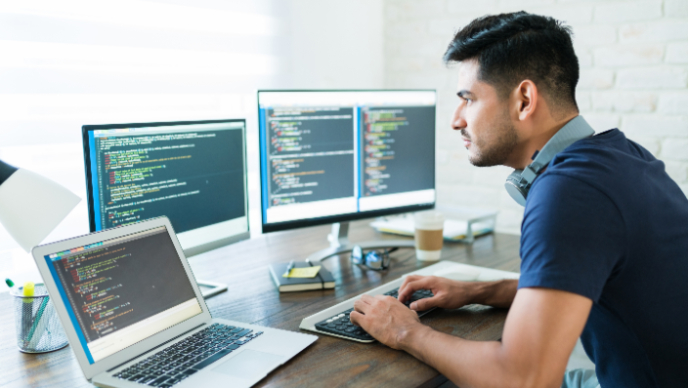 Key Insights:
Record profits during COVID-19 led Amazon to become the largest employer for recent bachelor's grads
The tech company favored computer science and business administration majors
Amazon was also the largest employer for marketing alumni
The company continues to outpace hiring at top firms, with more job openings in the past 30 days than any other company
Pre-pandemic, Amazon was already a rapidly growing company changing the game for retailers around the world. When lockdowns hit in 2020, the online retailer saw sales skyrocket as consumers stayed home hoarding toilet paper, baking bread, and online shopping.
Amazon was among the first companies to send workers home in March 2020 and was well-suited to respond to stay-at-home orders, both on the tech side and the online retail side.
The relative ease for tech workers to work from home alongside an increase in shopping habits pushed Amazon to become the #1 employer for recent college graduates who earned their bachelor's degrees in 2019 and 2020.
Amazon Hiring Pre-Pandemic
Employment data from analytics company Emsi Burning Glass, which uses public sources such as job boards and LinkedIn to provide insights into the labor market, highlights Amazon's rise. The tech giant has climbed the list of America's largest employers for recent bachelor's graduates over the last decade or so.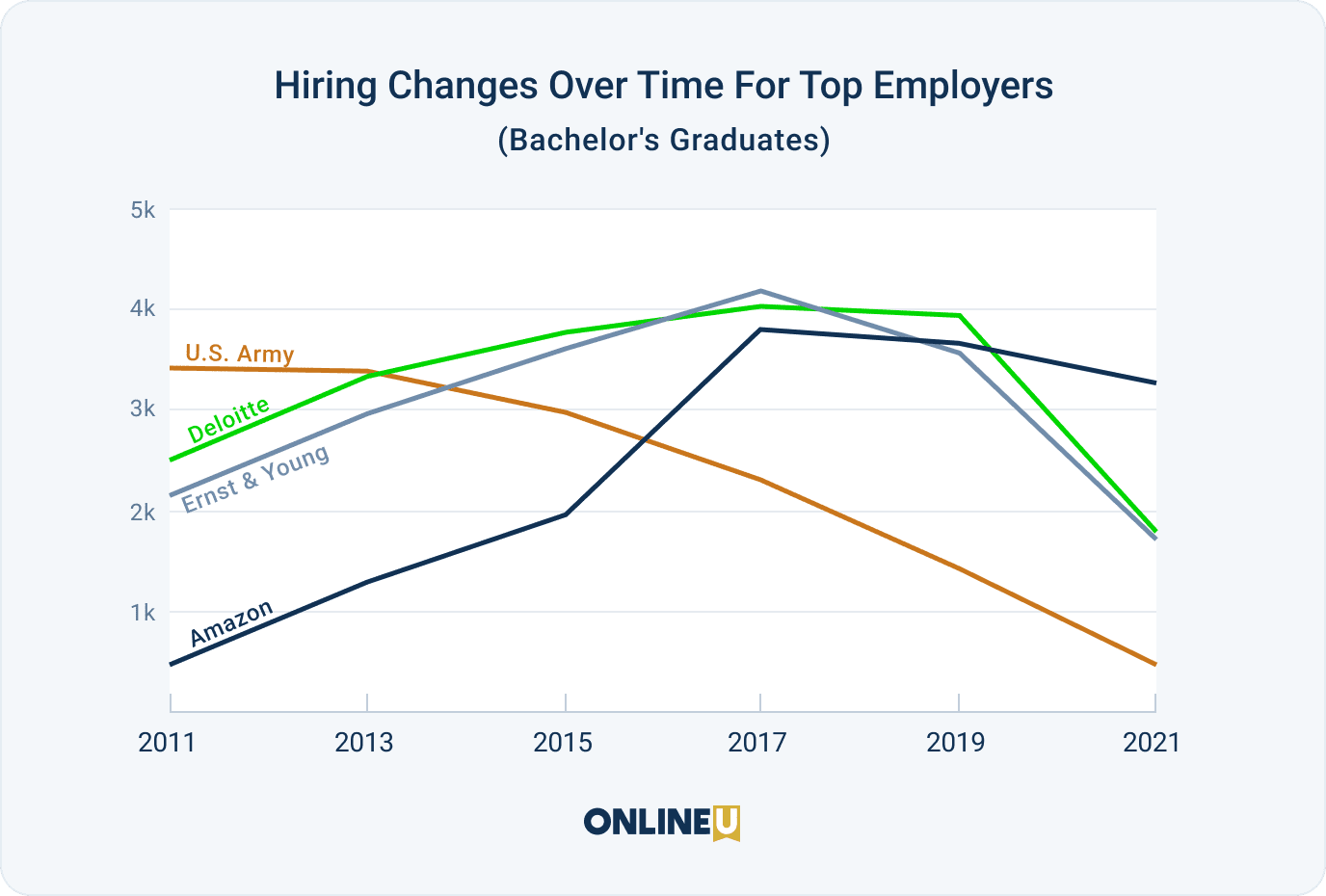 In 2012, The U.S. Army was the largest employer for bachelor's graduates, followed by four major accounting and consulting firms. Amazon was the 33rd largest employer for college graduates one year after earning their degree. Over the next six years, Amazon made its way up the ranks, reaching #3 in 2018.
In the year before the pandemic, Amazon was the second-largest employer behind only Deloitte. It accounted for more than four times the number of recent college graduates it had in 2012.
Amazon Hiring During COVID-19
During the COVID-19 pandemic, Amazon reached #1 as more than 7,300 graduates from the classes of 2019 and 2020 worked for the tech giant one year after earning their bachelor's degrees.
Amazon's number of recent graduate hires peaked in 2020 at 4,033, the most the company has hired in the last decade based on LinkedIn employment data.
Pandemic hiring at Amazon immediately brings to mind the suddenly increased visibility of the company in the early months of the pandemic. By the summer of 2020, packages with the smiling arrow logo were seemingly on every doorstep, and dark blue vans were making multiple daily rounds in city neighborhoods.
While a sharp uptick in business meant hiring more than 175,000 warehouse and delivery employees in the first two months of the pandemic, it also meant hundreds of open positions for bachelor's graduates fresh out of their computer science and business administration programs.
Most Popular Jobs for Pandemic Grads at Amazon
While many recent bachelor's graduates struggled to find relevant work during the pandemic, by and large, those who got jobs at Amazon were working in tech and management positions.
The number one most popular job for bachelor's graduates at Amazon was software engineering, followed by general managers. People also frequently got hired as interns, order processors and entry clerks, warehouse workers, and operations managers.
Top Degrees for Pandemic Grads Working for Amazon
Unsurprisingly, the number one bachelor's hire for Amazon was computer science and, less often, computer engineering majors. However, these grads are working in many different roles aside from software development.
After that, alumni of programs in business administration, management, and operations were the second most frequent hire, often to general manager positions. Amazon was also a top employer for marketing and psychology majors, who worked in a variety of areas including management, warehouse, order processing, operations, and internships. Communications majors and economics graduates also found jobs at Amazon during COVID-19.
Will Amazon Retain its Dominance Post-Pandemic?
Although we don't have data for many 2021 graduates, most of whom are just now hitting their one-year mark, labor market data for spring 2022 shows Amazon has listed far fewer entry-level jobs for recent bachelor's graduates than other companies. Of course, job postings don't always correlate with how many people actually get hired, but companies in healthcare, finance, and recruiting are demonstrating a much higher need than Amazon.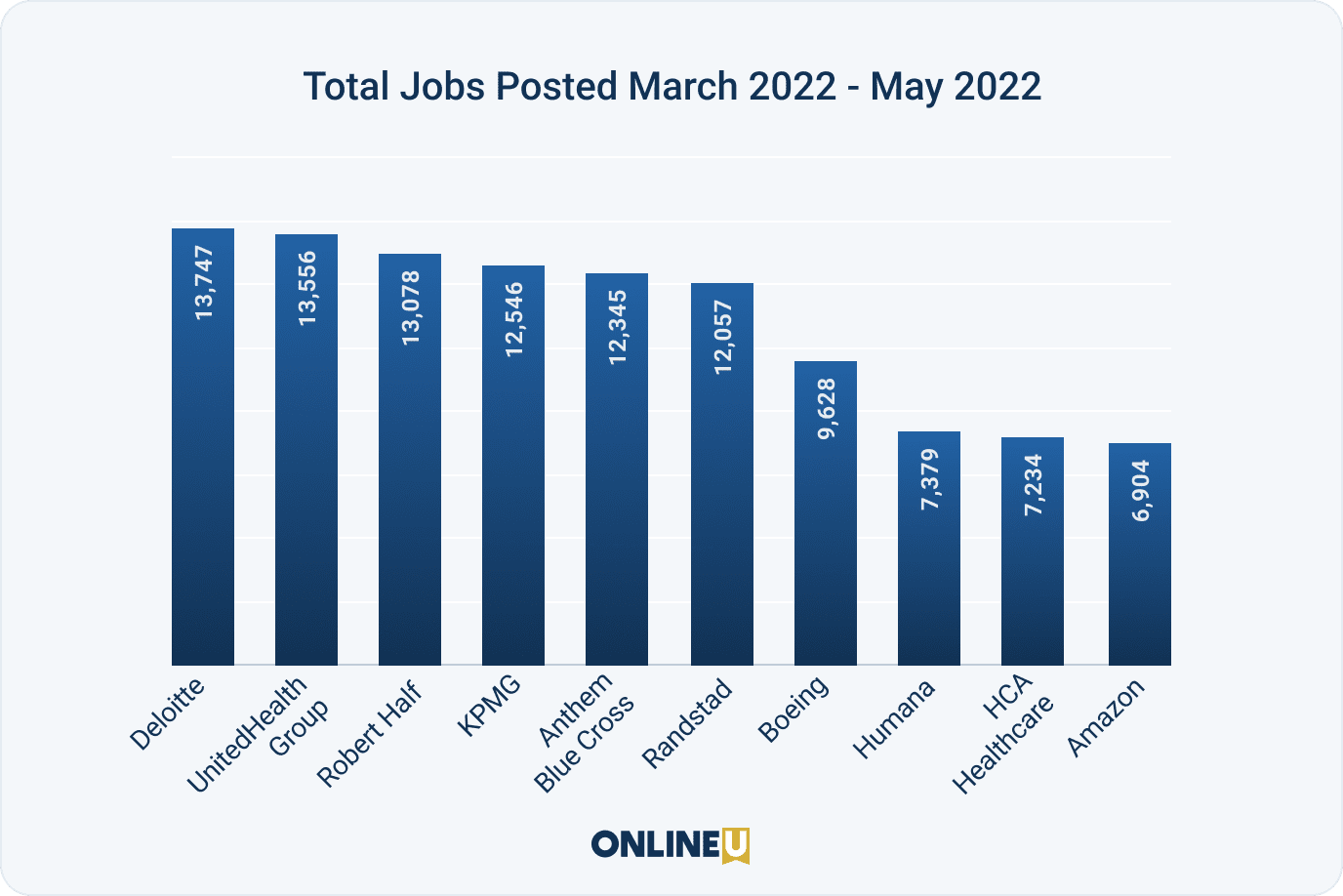 So, what does this mean for the class of 2022? It's tough to say whether Amazon will retain its dominance in the current labor market for fresh college graduates. There's no doubt that the online retailer will continue to rake in profits and hire workers. However, online shopping now has competition from areas such as travel and entertainment again. This factor, coupled with labor shortages in fields such as healthcare and education, may mean the return from COVID-19 could bring stronger competition along with it.
Methodology
Data was sourced from Emsi Burning Glass at economicmodeling.com and looked at employment outcomes for bachelor's graduates one year after earning their degrees from 2011 to 2021.
Related Articles
Companies That Pay for Grad School
These companies offer employee education benefits for master's and, in some cases, doctoral degrees.
Amazon is Top Recruiter of Recent MBA Graduates for Seventh Year, As Big Tech Scoops Up Top Business Talent
Deep-pocketed tech and finance firms are both attempting to attract top-tier MBA graduates.