Backed by Millions in Grants, More Colleges Are Training Faculty in "Evidence-Based Instruction"
ACUE, an organization that teaches instructors how to instruct, serves as a potential blueprint for future data-driven interventions in higher education.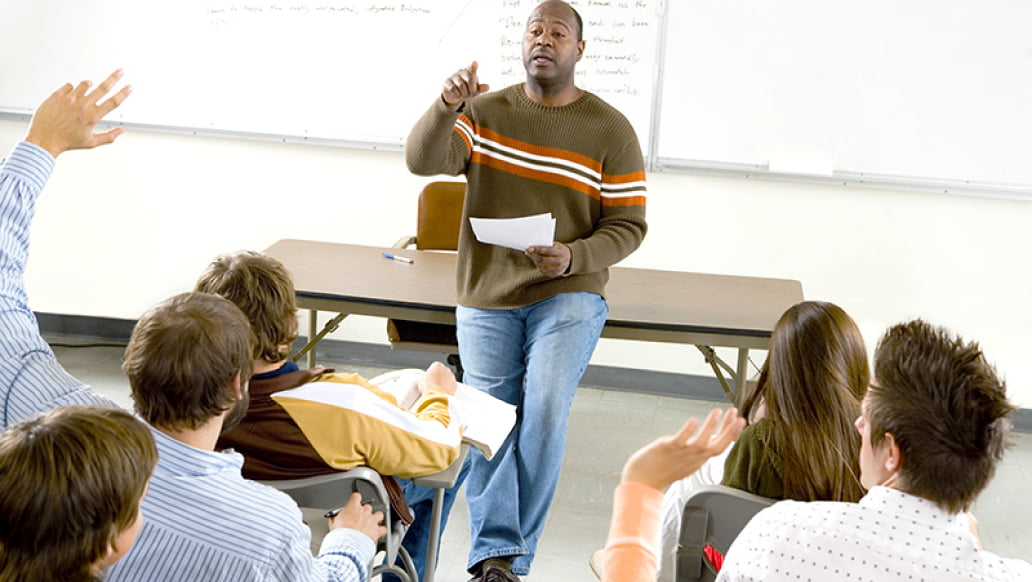 Key Insights:
University of Southern Mississippi experienced higher retention rates and improved academic outcomes from students who took a course with an ACUE-certified instructor
Improvements in academic outcomes included better subsequent grades, higher passing percentages, and lower failure and withdrawal rates from the course
The improvements in course completion and passing rates were greater among Pell Grant-eligible and Black students at USM
The instructors at colleges and universities are often experts in their fields, with some contributing to groundbreaking research, patenting cutting-edge inventions, and collaborating with peers from around the world. It can be very impressive, without a doubt. And most schools will make sure that potential students and families know about their faculty's achievements.
But are superstar professors really what a potential student should seek out? A growing body of research says that an instructor's aptitude in evidence-based teaching methods is more indicative of students' academic success and colleges' retention rates.
In the United States, there are no national or state training requirements for college-level instructors, that would be analogous to the state-level teaching standards and required certifications for high schools and lower grades. The Association of College and University Educators (ACUE) has identified that as a glaring shortcoming of the higher education industry, and is trying to change that.
Their focus on evidence-based instruction is backed by a number of peer-reviewed studies conducted at a wide variety of schools. These studies have shown evidence of improved academic performance, higher passing rates, and increased retention and graduation rates.
"What is most remarkable about our collection of studies is their consistency in showing improved outcomes across all kinds of schools," says ACUE Chief Data Officer Meghan Snow. "We have shown that whether it is at four-year schools or community colleges, at big schools or small schools, across regions, we have an approach that works."
The data also often points to even better outcomes for marginalized groups and Pell-eligible students, suggesting that widespread adoption of evidence-based instruction could be an engine for socioeconomic mobility.
ACUE's high reviews from instructors and data trove of improved student outcomes, especially among under-served students, has caught the attention of major funders.
Last summer the Thurgood Marshall Foundation said it would spend $1.4 million to help ten HBCUs offer more ACUE certification to their instructors. And just last month the Bill and Melinda Gates Foundation committed $1.5 million to twelve schools to support a national study involving more than 1,500 educators.
All of this attention – and funding – gives ACUE an opportunity to reaffirm its contention that its certification leads to better instructors and, ultimately, better and more equitable student outcomes.
What is ACUE?
ACUE's mission is to ensure student success and equity through quality instruction. To get there, they have partnered with dozens of schools and taken a data-driven approach in measuring success. In one study they found that faculty confidence increased after they were taught how to implement various teaching practices. In another with Delta State University, they found retention rates led to a five-fold return on the school's investment in ACUE training.
But what they have consistently shown, to varying degrees, is that ACUE training improved key indicators of how a college is serving its students. The number of students getting a D, an F, or withdrawing from a course drops. The average of grades for students with trained instructors generally rises. And the number of students who lose confidence and drop out of college or transfer to a different school goes down.
According to ACUE surveys, this leads to more collegial faculty, persistent and confident students, and money in the university's bursary.
For its main certification, ACUE has five broad areas of training that instructors must adequately perform in, usually over a period of three semesters. These are Designing an Effective Course, Establishing a Productive Learning Environment, Using Active Learning Strategies, Promoting Higher Order Thinking, and Assessing to Inform Instruction and Promote Learning.
The courses within these broad subjects can focus on in-person, online, or blended instruction strategies, and there is room for customization of the modules so individual instructors are actually getting what they need from the process.
Faculty development around effective teaching is critically important for student success. I think it's the missing piece in a lot of people's student success agenda." -University of Southern Mississippi Vice Provost Amy Chasteen
What Are the Results of ACUE's Latest Study?
The organization is confident in its ability to basically guarantee certain outcomes. But it's worth delving a little deeper into their data to see for ourselves what the impact really is. A case study conducted over two academic years at the University of Southern Mississippi showed that ACUE training improves retention rates and academic performance.
The study was structured to compare certain metrics of students who took at least one gateway course with an ACUE-certified instructor, compared with students who took no classes with an ACUE-certified instructor.
The results showed that over the two years (2017-18 to 2018-19), students who had at least one ACUE teacher were more likely to return to the school the following year. Retention rates for the non-ACUE group was 67.3, while those in ACUE classes saw retention rates of 71 percent, a 3.7 percentage point increase.
Academically, the study focused on gateway courses, which are often classes that many students have to take because they are the "gateway" to higher-level courses in a field of study. A student's performance in these courses not only affects the prospects for which majors they can choose, but sometimes it dictates whether or not they can even graduate.
This can make them intimidating, especially to students already struggling to keep up academically. But quality instruction can make a difference in these critical courses. Passing rates went up 6.4% for first year gateway courses, while DFW rates (the proportion of students getting a D, an F, or withdrawing) in those courses went down 5.3%, and 6% for black students.
USM Vice Provost Amy Chasteen notes that these percentage increases, and the corresponding confidence boost they give students, help them feel better prepared for success in future courses.
"Faculty development around effective teaching is critically important for student success," she said. "I think it's the missing piece in a lot of people's student success agenda."
Philanthropic Institutions Back ACUE on Strength of its Data
Historically Black colleges and universities are often seen as a vehicle for social and economic mobility, although outcomes for students vary depending on the school, the course, and other factors. In an attempt to better standardize the quality of teaching a student receives at any HBCU, the Thurgood Marshall College Fund announced it would donate $1.4 million for HBCU instructors to receive ACUE training and certification.
The head of the fund emphasized at the time ACUE's track record of achieving quantifiable, consistent student outcomes.
"ACUE is the national leader in effective collegiate instruction. No other organization has ACUE's proof of impact or earned as much trust and respect," said Dr. Harry L. Williams.
It remains to be seen how many instructors they will fund, or if the institutions themselves will find the outcomes so impressive that they invest their own money into instructor training.
The funding will be split up among twelve HBCUs:
Alabama State University
Albany State University (GA)
Bowie State University (MD)
Charles R. Drew University of Medicine and Science (CA)
Harris-Stowe State University (MO)
Medgar Evers College—CUNY (NY)
Norfolk State University (VA)
Southern University Law Center (LA)
Tennessee State University
Virginia State University
West Virginia State University
Winston-Salem State University (NC)
More recently, in February 2022, the Bill and Melinda Gates announced an initiative to fund ACUE training at ten schools. The $1.5 million grant will allow ACUE to execute a major national study among 1,500 educators. The study is being designed to expand higher education's understanding of how Black, Latinx, Indigenous, and Pell-eligible students enrolled in gateway courses can benefit from evidence-based teaching.
The ten participating institutions are:
Borough of Manhattan Community College, City University of New York
California State University, Northridge
Georgia Southern University
Ivy Tech Community College (IN)
North Carolina Agricultural and Technical State University
Ohio Association of Community Colleges, including Cincinnati State, Cuyahoga Community College, and Lorain County Community College
University of Hawai'i at Manoa
University of Houston
The study will examine the relationship between evidence-based teaching practices, faculty mindset, and student outcomes, the Bill and Melinda Gates Foundation said.
Or, as ACUE's data chief Snowe said of the upcoming study: "We know [our program] works. We want to know more about the mechanisms through which it works."
ACUE's Momentum Mirrors Broader Push for Data-Based Changes to Higher Education
ACUE's CEO Scott Durand sees this as a potential inflection point in his organization's push for evidence-based instruction at the college level. The infusion of cash and the possibility of more to come is a validation of ACUE's painstaking efforts to not just train instructors, but to study the outcomes of that training in as many schools as possible.
But the next phase will show whether ACUE's certification program can truly scale beyond the 15,000 instructors they've already trained. That is only 1.28 percent of the 1,276,900 postsecondary instructors the Bureau of Labor and Statistics estimates are on the job.
When asked where he sees the organization in the future, Durand is open about wanting to see "a day where if you are a college-level instructor, you have gone through training in evidence-based instruction practices."
It appears there is a good amount of faith in ACUE as a pedagogy for college instructors, as evidenced by the buy-in from major donors and the investments made by many schools themselves. But Durand insists that compelling data will continue to be central to ACUE's strategy. ​​"It shouldn't be faith-based. We should hold ourselves accountable to prove it, and that's what we've done and continue to do."
In the long term, "Growth through impact is the goal. We should not exist if ACUE-certified faculty are not improving outcomes for students," Durand said.
If ACUE continues to provide more robust data from wider populations, which they are trying to do with the upcoming nationwide study, they should be able to even more confidently confirm findings on student impact. Such results, if or when they come, would be a vindication of their instruction process.
Perhaps even more importantly, it would be a vindication of the data-based, outcome-oriented approach that has allowed ACUE to partner with schools and donors to scale up.