Guide to Online Teaching Degrees
The country always needs teachers, and many colleges offer education and teaching degrees to satisfy that need. The goal of these programs is to prepare you for a teaching career by completing coursework in pedagogy, developmental psychology, and educational technology. You'll also take classes in the subjects you intend to teach. As a prospective student, you can select from a variety of traditional or online education degrees, giving you choice in what and how you learn. Below, we give information that may help you as a candidate for an education degree at any level.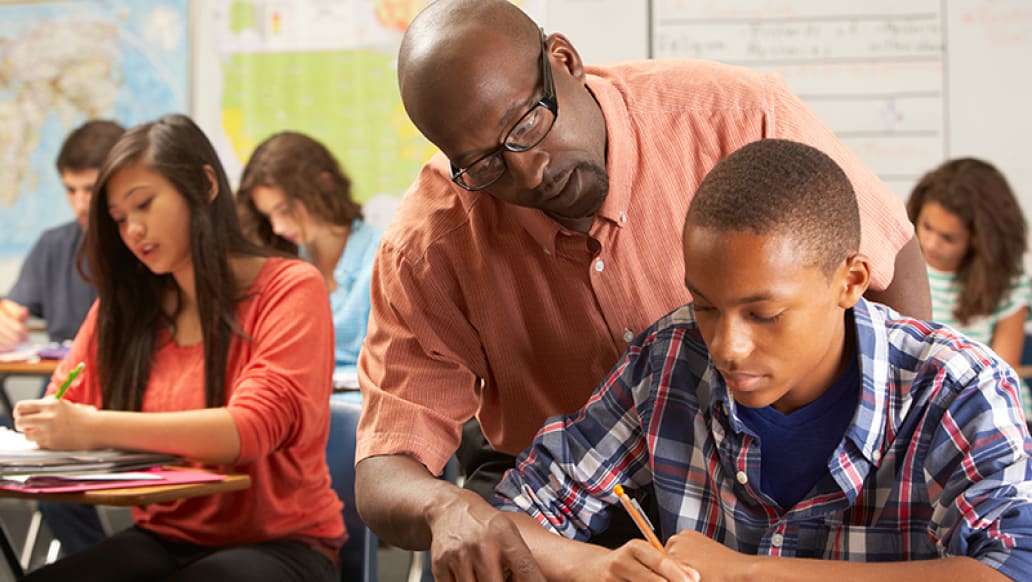 Types of Teaching Degrees
Teaching degrees come in many forms, from bachelor's degrees to doctorates in education. They may feature a curriculum tailored to early childhood learners, special education or general K-6 students, or middle and high school students. Below is a breakdown of the types of education degrees you can pursue.
Associate degrees in education may qualify graduates to work in a classroom in several capacities, such as a teacher's aide, preschool teacher, or substitute teacher. An associate program also builds a foundation for a bachelor's degree if you choose to continue your studies.
A bachelor's in education is the minimum credential required to become a non-substitute K-12 teacher. Faculty design most bachelor's programs to lead to certification in the state where they're offered.
Master's degrees in education features advanced pedagogical coursework and may grant teachers an extra credential to improve their salary and employment prospects. A special type of master's degree, called a Master of Arts in Teaching (MAT), is intended for students who earned a bachelor's in a subject other than education. MATs cover much of the same curricula as an education bachelor's degree and typically lead to certification.
Doctoral degrees in education come in two varieties: a PhD or a Doctor of Education (EdD). PhDs are research-oriented and best suited for enrollees who want to be professors of education. EdDs are professional doctorates for teachers who want to enter the administrative field.
At the bachelor's level, education degrees can take the form of a bachelor of education (BEd), bachelor of arts (BA), or bachelor of science (BA). Similarly, a master's degree may be called a master of education (MEd), master of arts (MA), or master of science (MS). The differences are usually minimal between programs of the same level, though colleges may designate a degree with a science or math focus as a BS or MS and one with an English or social studies focus as a BA or MA.
You only need a high school diploma to enroll in an associate or bachelor's program. For most education master's degrees, you must hold a bachelor's diploma in education. An MAT is the exception to this rule, because these programs are designed for people with no teaching background. Doctoral programs typically require a master's degree and some professional teaching experience — unlike some disciplines, it's rare that a doctoral program in education will accept a candidate who doesn't hold a master's.
What Do You Learn in an Education Program?
Teacher education program curricula vary by school, specialty, age of students taught, and degree level. The following table breaks down what's required to enroll in and complete several types of in-person or online education degrees. Costs refer to the 2019-2020 school year, which is the latest year for which the National Center for Education Statistics (NCES) has data.
Full-Time Program Length

One year (20-25 credit hours)

Common Concentrations

Early childhood education
Special education

Admission Requirements

High school diploma or GED

Average Annual Cost of Tuition & Fees

$3,800 at two-year public schools (most certificate programs are offered by these institutions)
Full-Time Program Length

Two years (60 credit hours)

Common Concentrations

Early childhood education
Elementary education
Special education

Admission Requirements

High school diploma or GED

Average Annual Cost of Tuition & Fees

$3,800 at two-year public schools
Full-Time Program Length

Four years (120 credit hours)

Common Concentrations

Early childhood education
Elementary education
Reading and literacy instruction
Middle school education
Secondary education
Special education

Admission Requirements

High school diploma or GED, usually with minimum 2.5 GPA

Average Annual Cost of Tuition & Fees

Public: $9,400
Private non-profit: $36,700
Private for-profit: $19,100
Full-Time Program Length

Two years (30-36 credit hours)

Common Concentrations

Elementary education
Middle school education
Secondary education
Mathematics
Science
English as a second language

Admission Requirements

Bachelor's degree in education, often with minimum 3.0 GPA

Average Annual Cost of Tuition & Fees

Public: $12,410
Private non-profit: $28,430
Private for-profit: $14,289
Full-Time Program Length

One or two years (30-36 credit hours)

Common Concentrations

Usually none — these are condensed programs without much space for specialization

Admission Requirements

Bachelor's degree in any subject except education, often with minimum 3.0 GPA

Average Annual Cost of Tuition & Fees

Public: $12,410
Private non-profit: $28,430
Private for-profit: $14,289
Full-Time Program Length

Three years

Common Concentrations

Educational psychology
Educational leadership
Rural education
Special education
Urban education

Admission Requirements

Master's degree in education — often with minimum 3.0-3.2 GPA — and some teaching experience

Average Annual Cost of Tuition & Fees

Public: $12,410
Private non-profit: $28,430
Private for-profit: $14,289
Full-Time Program Length

Variable, often between four and six years

Common Concentrations

Usually none — students specialize based on dissertation topics rather than coursework

Admission Requirements

Master's degree in education — often with minimum 3.0-3.2 GPA — and some teaching experience

Average Annual Cost of Tuition & Fees

Public: $12,410
Private non-profit: $28,430
Private for-profit: $14,289
Common Curriculum
Education degree curricula can differ significantly by degree level and specialization. However, programs of similar type often have some courses and desired learning outcomes in common. We've included examples of these below to give a flavor for what you might encounter in various teaching degree programs.
Certificates include only the courses you need to earn a credential in a focus area, such as special education.
Associate degrees introduce concepts such as curriculum design and instructional technology. Depending on a program's concentration, you may take courses on developmental psychology or common issues in special education.
Bachelor's degrees seek to make you into a licensed teacher through more advanced pedagogy courses, classes in your chosen subject, classroom observation, and student teaching. They also include about 60 credits of general education and liberal arts courses to round out your education.
Master's degrees contain about half subject-area classes and half professional teaching education courses. These programs typically end with a capstone course where you present the results of a research project. An experienced educator will also observe your classroom if you're a working teacher. If you're an MAT student, you'll take many of the same pedagogy courses as undergraduates and begin student teaching in the latter half of the program, with the goal of quickly becoming a knowledgeable teacher.
Doctoral degrees differ by type. EdD courses focus on practical application of education theory, especially in your chosen specialization. PhD programs feature research-heavy classes that emphasize theory as well as both qualitative and quantitative methods of collecting data. All PhD candidates write lengthy dissertations, but only some EdD students do. As an EdD candidate, you may instead create a dissertation in practice — applying research practices to a practical situation at your school and analyzing the results.
Can You Get a Teaching Degree Online?
You can find online education degrees at all levels and at both private and public institutions. Education departments usually design these programs to fulfill all local requirements for teaching licenses, but it's a good idea to check a college's accreditation status to be safe.
Most distance learning programs feature asynchronous coursework, which means you're not required to attend live sessions. You instead watch recorded lectures, interact in discussion forums, and submit assignments through a learning management system. This format lets you participate at convenient times so you can better balance school with other responsibilities.
You should understand that some schools have classes with synchronous elements, such as live class discussions or mock teaching sessions. In addition, one major component of an education degree isn't online: student teaching. Professors design most master's degrees and EdDs for working teachers and administrators, so students in these programs typically use their own classrooms as their student teaching venue. But as a bachelor's or MAT student, you'll partner with a teacher in your community to teach their classes for a set period.
Teaching Degree Specializations
Young learners come in all varieties and have different educational needs based on their age, background, and physical or mental capability. For this reason, colleges offer teaching degrees with a range of concentrations that allow you to serve special populations. Read on for details of the most common specializations in teaching education.
Early Childhood Education
These programs cover infant and child psychology, early literacy development, the importance of social context, and the family's role in learning. You may also take classes in teaching ethics and topics in special education for pre-K learners.
Faculty discuss the educational needs of students from kindergarten through sixth grade, including their early forays into reading, math, social studies, and science. Generalist programs typically contain survey classes on special education and English language learners, but you may also choose concentrations in these areas.
This specialization highlights subject matter expertise: You take many courses in your focus area alongside pedagogy courses to ensure you can transfer this knowledge. Programs also feature courses on emotional and cognitive development during adolescence.
Courses in this specialization cover how to assess students' mental and physical abilities, develop individual education plans, and create tailored lessons and activities. Because of the wide range of student backgrounds in special education classrooms, faculty emphasize skills like empathy and adaptability rather than expert knowledge on specific disabilities.
Children and adolescents need to exercise their bodies as well as their minds, and physical education degrees aim to make teachers who can help them do this. Coursework includes lessons on physical development, injury prevention and treatment, assessment techniques, and PE for special education populations.
What Are the Best Colleges for Education Majors?
Education is a popular major, and a large number of schools offer degrees in the discipline. This is good news for you as an applicant, because you have plenty of choice in what and how you study to become a teacher.
Below, we've collected pages from our site that highlight education degrees. Some of these list the most commonly searched schools while others are rankings of the best programs of their type.
Teaching Licensure and Certification
Earning your teacher certification depends on where you live and what you want to teach. In fact, it may even be called "licensure" in some states rather than "certification." Thankfully, the non-profit Teach.org — a collaboration between Microsoft and the U.S. Department of Education — has a helpful guide to teaching certifications in all areas of the country.
No matter where you live, the traditional path to certification involves a few key steps:
Earning a bachelor's or master's degree in education from an accredited institution
Passing both a basic skills test and a test of your subject area knowledge
Passing a background check
However, you can still seek certification in most areas of the country if you hold a bachelor's diploma in a subject other than education. Most states have created alternative paths to certification that could allow you to start teaching with a provisional certification as long as you commit to educating yourself about the teaching profession. In this case, the state will ask you to earn one of three additional credentials depending on its policy:
A certificate of completion from a state-approved teaching academy with a certification program
A one-year certificate in education from an accredited college
An MAT
Because certification requirements differ by state, you may wonder whether another state will recognize your certification if you decide to move. As with everything else relating to this topic, the answer depends on the states in question. Most states have some level of certification reciprocity, but they might require you to take additional coursework or exams at some point. The Education Commission of the States breaks down reciprocity details by state, so consult this helpful resource if you're considering a move.
What Can You Do With a Teaching Degree?
The obvious answer to this question is that you can become a teacher. But not all teachers have the same experiences, so we give details of several types of teaching below.
How To Choose an Education Program
Your degree-selection process is unique because only you can decide what you want in a program. As you weigh various factors, ask yourself the following questions to see if they help your process.
What do I want to teach? Maybe you're interested in early childhood special education, or perhaps you want to continue the legacy of the high school math teacher who inspired you. These career paths involve different choices at the beginning of your higher education journey, so it's useful to think through your goals now.
Do I have professional experience in another field? You might consider one of your state's alternative paths to certification if you hold a bachelor's degree in another discipline and want to switch careers. In this case, you'll most likely pursue either a postgraduate certificate or an MAT.
Is this school regionally accredited? Many colleges seek regional accreditation, which is a sign of approval from an independent organization that speaks to a school's educational quality. Regional accreditation is considered more prestigious than national accreditation because regional agencies tend to have higher academic standards. For this reason, regionally accredited colleges typically don't accept transfer credits from nationally accredited schools.
Is the program accredited? Academic degree programs can also earn accreditation from special review bodies. For education, the relevant organization is the Council for Accreditation of Educator Preparation (CAEP). You don't necessarily have to graduate from a CAEP-accredited program to earn licensure in all states, but this credential is an extra testament to a degree's quality.
Do I want to study online or in person? You might be convinced that distance learning's flexibility will help you best organize your life, or you may crave the informal interactions of a campus experience. It's best to answer this question early so you only spend time looking at suitable programs.
Is an Education Degree Worth It?
Your goals, interests, and personal circumstances are different from everyone else's, so the real question is whether an education degree is worth it for you. As with any career, this major comes with possible pros and cons, some of which we outline below. Much of the available data is a few years old because the bulk of recent research on teaching and teacher education has focused on COVID-19's effects rather than perennial topics.
If you're specifically considering a graduate degree, check out one expert's opinion on whether an online master's in education is worth it.
Potential Benefits
Potential Drawbacks
Frequently Asked Questions
What Degree Do You Need To Be A Teacher?
In some states, you can become a substitute teacher with an associate degree in education. But you need a bachelor's degree and certification to be a full-time teacher anywhere.
How Much Does an Online Teaching Degree Cost?
According to the NCES, undergraduate tuition and fees average $13,360 per year. In addition, graduate degrees have an average annual cost of $19,792. These numbers exclude room and board but include both on-campus and online programs. However, you have several options for saving money on your education. First, you can attend a public college in your state to receive the in-state tuition rate. You can also attend an online program, which is often more affordable than traditional programs without sacrificing positive career outcomes. Finally, you should always apply for all available financial aid — check out some scholarship options in the "Resources for Education Students" section below.
What Is the Easiest Education Degree to Get?
In general, a program that takes less time is easier to complete. Therefore, a one-year certificate is most likely the easiest education credential to get. In terms of subject matter, your skills and abilities determine what you find easy or difficult — for example, you may be a math virtuoso but have no interest in searching for themes in poetry.
How Long Does It Take To Earn a Teaching Degree Online?
You can earn an online bachelor's degree in four years if you study full-time, and this gives you the minimum degree needed to become a certified teacher. In reality, only 41% of undergraduates finish in four years, though this sample is for all bachelor's students and not only those studying online.
Resources for Education Students
Read on for helpful sources of information about education degrees and the teaching profession.
Certification and Licensure
Financial Aid and Scholarships
Related Articles
2023 Best Online Secondary Education Degrees
Ready to pursue an online secondary education degree? Our 2023 list includes the best online secondary education degrees with each program's tuition.
Accredited Online Teacher Licensure Programs
Find online teaching programs that lead to licensure. Learn about licensure and certification requirements, as well as program accreditation, and teaching careers.