Guide to Online STEM Degrees
An online degree in a STEM field — science, technology, engineering, and mathematics — provides an interdisciplinary approach to learning as each field relies on each other to understand and solve real-world problems. STEM degrees focus on hands-on, problem-based learning through majors such as biology, information technology, electrical engineering, mechanical engineering, statistics, and many in health care. You can become a STEM major at every degree level, from an associate through a doctorate. A STEM degree can lead to a gratifying career that the U.S. Bureau of Labor Statistics (BLS) predicts will experience 10.5% job growth through 2030.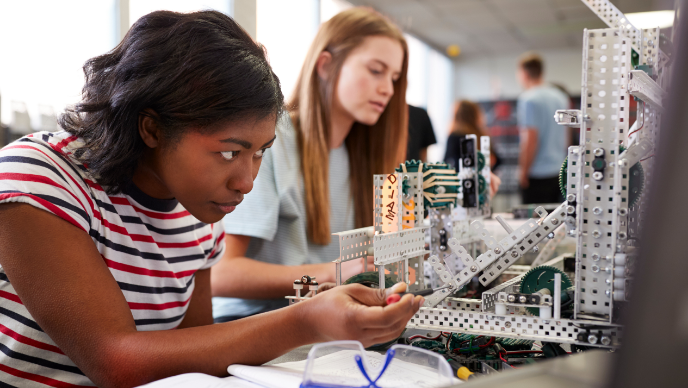 What Will You Learn in a STEM Program?
No matter which STEM major you choose, you can learn to become a better critical and independent thinker who can work with others to solve complex problems. In addition, you'll have the opportunity to hone digital literacy, creativity, communication, and initiative skills. Many of the skills you can gain overlap regardless of your major because STEM topics integrate closely and rely on each other to solve problems.
Each major provides unique learning opportunities:
Science
There are several distinct majors within science, as listed in the following section. You can develop core critical thinking and statistical skills by studying any of these. In addition, you'll have opportunities to apply the scientific method to test theories and reproduce experiments while testing hypotheses and solutions.
Technology
The curriculum is designed to teach you about the computer hardware, networks, and systems we use daily in almost every industry to solve problems. Courses help you develop a working knowledge of these technologies and skills for making these systems better to keep pace with needs.
Engineering
You'll also have opportunities to learn math and science as they relate to solving real-world problems. Solving these problems often requires the urgency engineering affords that can't be obtained through scientific experimentation. Coursework helps you develop skills to creatively troubleshoot, design and implement a solution, and test and retest what you've created until it meets expectations.
Math
Math is one of the oldest and most basic forms of scientific inquiry — it helps bring order and sense to the world. You can choose to study subjects such as calculus, statistics, or math education for teaching careers. Regardless of your chosen major, you can develop an understanding of general math principles, science concepts, communication skills, and computer technologies.
STEM Majors
We've included a list of STEM degrees by field that may be of interest. While the lists are not exhaustive, they give you a general idea of what may be available.
Science
Astronomy
Biochemistry
Cellular Biology
Genetics
Technology
Artificial Intelligence
Software Development
Mathematics
Actuarial Science
Applied Mathematics
Data Analysis
Math Education
Numerical Analysis
Optimization Theory
Pure Mathematics
Statistics
What Types of STEM Degrees Are Available?
You can earn associate, bachelor's, master's, and PhD or other doctorates in most STEM subjects. Which degree you choose depends on what educational level you need to achieve to enter your chosen field as a working professional.
Dual degree and double major programs may also be an option to maximize your education and career potential. Dual degree programs allow you to earn two degrees in undergraduate and graduate programs so you can hone your skills in two fields. A double major enables you to earn a degree with two specializations that may appeal to employers. Each may take a little extra time and effort but may help you gain expertise and specialization within your field.
Online STEM Programs
An online STEM degree program may be ideal if you can't commute to campus due to a disability, location and schedule availability, or a scheduling conflict. Online programs offer the same rigor as on-campus programs and are often taught by the same instructors. In addition, you may appreciate studying a STEM program online because the subject matter usually requires contemplation and analytical thinking — working autonomously can help eliminate distraction.
Online programs offer the same rigor as on-campus programs and are often taught by the same instructors.
Courses are delivered via a learning management system (LMS) such as Canvas or Blackboard. These platforms ensure security and privacy while you learn. Classes may be taught asynchronously, allowing you to participate as your schedule allows, or synchronously, meaning you have to log in at a designated time.
What Are the Graduation Requirements for a STEM Degree?
General STEM degree graduation requirements are based on the degree level and are similar to that of other majors.
Degree Level
General Requirements (Approximately)
Length of Time To Complete (Full Time)
Associate

60 semester credit hours including 24 in general education (GE), 20 within the major, and 16 in electives
Must graduate with a minimum 2.0 GPA

Two Years
Bachelor's

120 semester credit hours including 60 in GE and core courses (if not transferring from a community college), 20 in electives, and 40 in major courses
The completion of a senior capstone or other graduation project
A practicum or internship depending on the course of study
A minimum 2.0 or 3.0 GPA if attending graduate school

Four Years
Master's

40 semester credit hours
The completion of a capstone or thesis
A practicum or internship depending on the course of study
A minimum 3.0 GPA

Two Years
Doctorate or PhD

60-120 semester credit hours depending on the course of study
The completion of a dissertation and research

Four or More Years
Of course, there will be curriculum requirements specific to each major related to the subject matter you study.
STEM Degree Admission Requirements
STEM degree admission requirements are similar to that of any degree program at the same educational level and generally include:
An application and fee of approximately $50
Applicable high school, college, and military transcripts
College entrance exam scores such as the SAT and ACT
A letter or essay of intent
Letters of recommendation (usually applicable to graduate programs)
A resume or CV
However, programs may have additional requirements unique to the major. Always check with the admissions office program department to determine what else they may need prior to enrollment.
Common STEM Degree Courses
In general, classes in STEM degrees support a curriculum that aims to help you develop skills in analysis, design, creativity, and critical thinking. At the same time, many classes you take will be unique to your major, and several cross-over. For example, engineering relies on technology as well as math and science; therefore, you may see some overlap in classes.
Some courses may include a lab. Lab work enables you to hypothesize, observe, practice, and analyze. You may work in small groups or with a lab partner to conduct experiments and apply practical skills. If you are in an online STEM program, you may be required to perform lab work on your own at home, or your program advisor may help connect you to the lab at a local college or university.
We've included a sampling of class titles within each broad STEM degree program that may be relevant to your course of study.
STEM Degree
Common Course Titles
Science

Cell Structure and Function
Chemical Analysis and Instrumentation
Biochemistry Laboratory
Experimental Techniques
Disease and Society

Technology

Business and Social Impact of Information Technology
Digital Manufacturing and Design Technology
Information Technology Systems Analysis
Introduction to Blockchain Technologies
Hardware and Software Design

Engineering

Design Engineering and Problem Solving
Engineering Computation and Algorithmic Thinking
Machine Learning and Artificial Intelligence
Structural Analysis
Topographic Drawing and Surveying

Math

College Algebra: Enhanced
Applied Statistics
Calculus and Analytic Geometry
Differential Equations
Discrete Mathematics
Is a STEM Degree Worth It?
STEM degrees can be worth the effort because the U.S. Bureau of Labor Statistics (BLS) anticipates that computer occupations will fuel job growth in STEM fields about three times faster than the national average through the decade's end. In addition, average median salaries in STEM fields are over twice that of all occupations at $95,420. Unemployment is also lower for workers with a STEM bachelor's degree and was 1.6% compared to 2.4% for those with a non-STEM bachelor's degree in 2019.
However, there are other factors beyond a steady job and paycheck. Before you embark on an online STEM degree, you may want to consider the following:
While STEM degrees can prepare you with in-demand skills, those skills can become outdated quickly.
This is especially true of technology degrees, considering how quickly technology changes. As a result, you may have to update your skills frequently and learn new applications as they emerge to keep them relevant and retain your marketability. However, this may create a financial hardship if your employer doesn't pay for training. Continued learning can also be difficult if you have multiple responsibilities.
There are efforts to promote diversity in STEM, but much work still needs to be done.
Several programs and associations are in place throughout the U.S. to help promote equality in STEM, such as the Association for Women In Science (AWIS) and the American Association of University Women (AAUW). We have also identified online schools as great options for female students pursuing STEM degrees. However, significant inequality still exists within this field. For example, only 9% of STEM workers are Black and 7% Hispanic. Women in STEM also only earn about 72% of what their male counterparts make.
You may have started studying STEM early, but you may still not feel prepared for college.
A 2020 research study found that while students gain STEM knowledge in high school and enjoy their classes, they don't necessarily learn practical, real-world skills. The students surveyed also acknowledge that while they appreciate their teachers, they would like to hear from industry experts with practical STEM skills. Not having this access can make it difficult to be confident and motivated to continue STEM in college.
Is a STEM Degree a Good Fit for Me?
You'll have to carefully consider your character and nature in relation to STEM to determine if it's a good fit for you. In general, you'll need the following abilities and skills to enjoy pursuing a STEM education and career.
Problem solving. STEM majors enjoy solving problems and creating solutions.
Creativity. Problem solving takes a lot of creativity and out-of-the-box thinking. You have to be comfortable with making mistakes in order to learn from them.
Inquiry skills and curiosity. It takes initiative and an investigative nature to ask the right questions and propose solutions to problems.
Math and science skills. Math and science are the foundations of STEM, and solid skills in both are needed to successfully solve problems.
Engineering-design thinking. This element is crucial for STEM because you need to be able to create and implement solutions quickly. This includes identifying problems and how to address them, and testing and retesting solutions until you reach resolution.
Collaboration. STEM projects take the collaboration and cooperation of many. You'll need to feel good about working as part of a team and appreciate the perspective each member brings.
What Can You Do With a STEM Degree?
You'll have several high-growth STEM career options if you choose to major in a STEM field. The BLS anticipates these careers to experience 10.5% job growth, with some significantly higher. For example, statisticians can expect an astounding 35% job growth and information security analysts 33% through the rest of the decade.
You'll have several high-growth STEM career options if you choose to major in a STEM field.
You may also be able to apply your STEM skills to whatever you choose to do day-to-day. For example, skills obtained through a math degree program can apply to many careers in business and finance. Similarly, you can use skills earned through a technology degree in any industry relying on computers and network infrastructure to optimize efficiency and protect data, such as the federal government, health care, and manufacturing.
Funding a STEM Degree Program
You may need financial aid to help pay for a STEM degree. The first step is completing a Free Application for Federal Student Aid (FAFSA) to see if you are eligible for federal grants, scholarships, work-study programs, or low-interest student loans. Once eligibility is determined, you can apply for other funding sources, including GI bill education benefits if you are a veteran or the child or spouse of one, or private loans from banks and other lending institutions. There are also several ways you can work to save money and cut expenses when in college to help offset some of the costs.
Scholarships for STEM Students
You can also apply for private scholarships, which are like getting free money because they don't require repayment. Your school's financial aid office representative can help you research options. To help get you started, we've found several scholarships available specifically for STEM students that may help you pay tuition.
The American Institute of Aeronautics and Astronautics (AIAA) Scholarships
AIAA offers over a dozen scholarship opportunities to students in pursuit of degrees in science and engineering programs. Awards range from $500 to $10,000 and applications are accepted between October and January annually. You must become an AIAA student member and have a 3.3 GPA or better to be eligible to apply. Individual scholarships have additional requirements to meet.
The Armed Forces Communication and Electronics Association (AFCEA) Scholarships
AFCEA has four different scholarships for undergraduate STEM students in several STEM majors that support U.S. cyber enterprises. Awards range from $2,500 to $5,000. You must be a full-time student with a GPA of 3.0 or higher and in your second or third year of school at a four-year university to be eligible to apply between January and May of each year. You need to complete one application only. You'll need to become an AFCEA student member to be eligible to apply.
The Lockheed Martin STEM Scholarship
The STEM scholarship program annually awards $10,000 scholarships to 200 students studying engineering or computer science at a four-year university. You must have a GPA of 2.5 or higher and plan on attending college full time. You must also be able to demonstrate financial need. Preference is given to students who self-identify as members of groups traditionally underrepresented in STEM.
Microsoft awards scholarships to full-time students pursuing a degree in a STEM major at a four-year university.
The Women at Microsoft scholarship is awarded to graduating high school students who identify as women and/or non-binary. Awards may total up to $5,000 per year and are renewable. You must have a GPA of 3.0 or higher and plan on majoring in STEM or the arts.
The Blacks at Microsoft scholarship is awarded to students majoring in engineering, computer science, computer information systems, or business. You must be a graduating high school student of African descent with a 3.3 GPA or higher to apply. Microsoft will award four $20,000 scholarships and forty-one $2,500 scholarships each year.
The National Science Foundation (NSF) Graduate Research Fellowship Program (GRF)
The NSF awards fellowships to master's and doctoral degree program students pursuing STEM graduate degrees. To be eligible, this must be the first graduate degree or GRF you've earned. The NSF awards approximately 2,000 fellowships annually. Recipients receive an annual $34,000 for three years, including a $12,000 cost of education allowance to the institution.
The Robert Noyce Teacher Scholarship Program
This scholarship program provides funds for schools to offer scholarships to undergraduate students pursuing a STEM degree with the intent of teaching K-12 education in high-need schools. Scholarship awards vary depending on the school, but may total $10,000-$15,000 annually. Check with your school's financial aid office to see if they offer the Noyce scholarship and how you can apply.
How to Choose a STEM Program
When you are ready to choose a school and program, several factors must be considered to ensure your education is convenient, affordable, and of high quality. You may want to consider your career goals to make sure the program curriculum meets industry standards and if potential employers hire graduates. These considerations also include salary and job growth projections for that profession to determine the return on your investment. The BLS Occupational Outlook Handbook can be a great resource to start your research.
Once you've narrowed your options, you may want to search student reviews to see what others say about the school and program. Program advisors may also be able to connect you with alums you can speak with to gauge their experience. LinkedIn is also a great place to network with alums to hear about their experiences and recommendations, and you can get a head start searching for job opportunities.
Institutional and STEM Program Accreditation
Choosing an accredited school is imperative to ensuring educational quality and credit hour transferability. Public and private nonprofit colleges and universities are generally institutionally accredited by voluntarily going through a peer-review process to verify their programs meet standards of academic excellence.
Individual programs may also be programmatically accredited through industry associations ensuring specialty programs meet industry standards. Your knowledge and skills should meet industry and employer standards and expectations when you graduate, so you are employable.
Make sure that the Department of Education (USDE), through its Database of Accredited Postsecondary Institutions and Programs (DAPIP) and/or the Council for Higher Education Accreditation (CHEA), officially recognizes the accrediting body.
FAQs About Online STEM Degrees
Resources for STEM Students
You can access numerous STEM resources to help with your educational pursuits, career exploration, and job development. Industry associations are often great places to find camaraderie, networking opportunities, career development tools and job postings, industry publications, and continuing education courses. You will probably have to join and become a member to use these benefits, but many organizations offer discounted student membership.
We've also identified several educational resources and academic journals that can assist with your studies and help you conduct research for projects. While some journals are open access, others may require a subscription. However, they may be accessible through your school library for free.
We've included a sampling of these valuable resources.
Related Articles
What Is STEM and What Is a STEM Degree?
STEM is an acronym for science, technology, engineering, and mathematics. Learn why STEM is important and the types of STEM degrees and careers available.
Guide to Online Engineering Degrees
Learn what to expect and what to look for in online engineering degree programs and explore career opportunities, FAQs, and resources for students.