Guide to Online Speech Pathology Programs
Speech-language pathologists (SLPs) help people communicate with the world around them, and an online speech-pathology program is one way to earn the education you need to become one. As a student, you'll learn the physiology behind speech and hearing, various types of speech disorders, diagnostic procedures, and treatment methodologies. You can study this discipline as a bachelor's student, but you'll need at least a master's degree to enter the field. Once you become a speech pathologist, you'll be part of a highly professionalized, rapidly expanding occupation.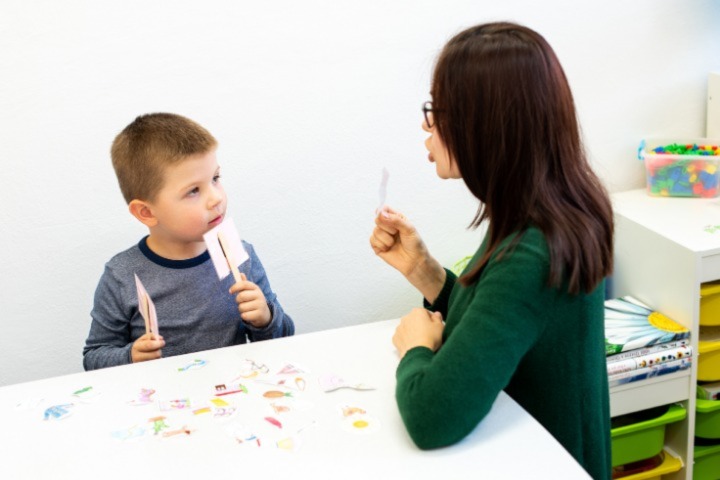 What Is Speech-Language Pathology?
Speech-language pathology is the diagnosis and treatment of speech, language, and swallowing disorders. SLPs use proven clinical techniques to assess patients' issues, diagnose and explain their disorders, and treat them over a sustained period. They document every step of this process for their employer's records and to bill insurance.
Speech pathologists can work in schools, hospitals, residential care homes, or outpatient therapy centers. Many SLPs specialize in a particular age group or disorder, such as school-age children or adults with aphasia from strokes or head injuries.
What Will I Learn in a Speech-Language Pathology Program?
This depends on what type of degree you're studying for. Bachelor's degree programs introduce students to the major concepts and practices in speech-language pathology, including language development in children and adolescents, language science, neuroanatomy, and basic audiology.
Master's degrees contain more advanced coursework in communication science, speech and hearing assessment, and providing therapy across cultural divides. Each program also includes a lengthy clinical placement, during which you assist a working SLP at a speech-language treatment facility. You're required to complete a clinical assignment to graduate, and your documentation of these work hours will help you earn a license to practice.
Doctoral degree programs are less common and come in two varieties.
Clinical doctorates prepare you for a role as an advanced practitioner by requiring more research on a focused specialization than a master's program. Such programs have no standardized title, though "Doctor of Speech-Language Pathology" is common.
PhD programs are for students who want to become professors of speech-language pathology. If you go this route, you'll write a dissertation based on an original research project.
Most doctoral programs require a master's degree in speech-language pathology to apply. Faculty, therefore, assume your familiarity with the field and instead focus on advanced research methodology, cutting-edge issues in speech and language, and organizational leadership.
Online Speech-Language Pathology Programs
Distance learning is an increasingly popular way to earn a degree because it offers more convenience and flexibility than the traditional campus-based model. You can study speech-language pathology online at any level from bachelor's to doctorate.
Most online education programs feature asynchronous classes without set meeting times. In this mode, you sign in to a learning management system to watch recorded lectures, read and submit assignments, and participate in discussion forums. However, even online speech programs have in-person clinical requirements. If you don't live near your college, you'll usually work with program administrators to find a suitable location near your home for your clinical placement.
Admission Requirements
Individual schools may be more or less selective, but most of them share a few basic requirements for speech-language pathology programs. See the table below for common requirements by degree level.
Degree
Education Needed
Other Requirements
Bachelor's
High school diploma or GED

Recommendation letters from teachers
ACT or SAT scores
Official transcripts from any postsecondary schools you've attended
Personal essay
Nonrefundable fee

Master's
Bachelor's degree in any subject, usually with minimum 3.0 GPA

Recommendation letters from professors
GRE or GMAT scores
Resume of any work experience
Personal essay
Nonrefundable fee

Doctoral
Master's degree in speech-language pathology, usually with minimum 3.0-3.2 GPA

Recommendation letters from professors
GRE or GMAT scores
Resume of work experience
Record of clinical rotation hours from master's degree
Personal essay
Nonrefundable fee
Is a Speech-Language Pathology Program a Good Fit for Me?
To answer this question, you need to determine how passionate you are about helping people with their speech problems. In an undergraduate program, there's less pressure to make sure you select the ideal major — it's possible to get a range of jobs with a bachelor's degree in hand, no matter what you studied. But you should understand what speech-language pathology entails if you're going to commit to a graduate degree that qualifies you for immersion in this discipline and little else.
According to the Bureau of Labor Statistics (BLS), it's important that SLPs possess analytical skills, communications skills, and compassion. This is to ensure accurate diagnoses, enhance cooperation with other members of a care team, and win patients' trust and buy-in. Analysis of job postings for SLP positions also indicates the importance of these traits. According to the labor market analytics company Emsi Burning Glass, the top nontechnical qualities that employers request are facility with treatment planning, communications, and collaboration.
In short, you might thrive in a speech-language pathology program if you feel compassion for people with speech disorders, like to solve problems, and work well with others.
State Licensure Requirements for Speech-Language Pathologists
Every U.S. state and territory requires SLPs to either register or earn a license. No matter what it's called, the outcome of this process is the same: the state's approval to practice as an SLP.
Every U.S. state and territory requires SLPs to either register or earn a license. No matter what it's called, the outcome of this process is the same: the state's approval to practice as an SLP.
In all cases, you first need to earn a master's degree in speech-language pathology that's programmatically accredited by the Council on Academic Accreditation (CAA), a division of the American Speech-Language-Hearing Association (ASHA). The CAA ensures that programs seek to instill the necessary knowledge and skills through classwork and clinical experience.
In most states, you must complete a postgraduate fellowship to qualify for the state licensing exam. This usually lasts 36-40 weeks under a licensed SLP's supervision. Once this is complete, you need to pass the state's licensing exam. ASHA lists the different state licensure requirements on its site, which is a helpful resource.
Additional Certifications
Most SLPs pursue ASHA's Certificate of Clinical Competence in Speech-Language Pathology (CCC-SLP) by taking a standardized Praxis exam. This certification indicates deep knowledge of the profession's best practices. Employers typically don't require this credential for new hires, but it can signal your dedication to upholding the latest standards of practice.
You can also obtain one of three specialty certifications to show your expertise in fluency disorders, child language disorders, or swallowing disorders. Each of these requires you to first hold the CCC-SLP.
What Can I Do With a Speech-Language Pathology Degree?
You can pursue a range of jobs as a bachelor's graduate, but a common path is becoming a speech-language pathology assistant (SLPA). These workers support SLPs and gain potentially valuable exposure to the field, as well as a professional network of contacts. The National Council of State Boards of Examiners details the state requirements for becoming an SLPA.
Faculty design SLP master's degrees for one purpose: to train the next generation of SLPs. But you can tailor your career based on the patient populations, disorders, or work settings that interest you.
With a doctorate, you might become an advanced SLP on a management track. You could also become a professor if you earn a PhD requiring a dissertation.
Funding a Speech-Language Pathology Program
Most college and graduate students take out at least some loans to fund their education. Federal and state government loans typically have the best terms and interest rates. But before you begin loan applications, it's a good idea to apply for all available financial aid. The best forms of aid take money off your total expenses without requiring repayment: grants, scholarships, and work-study programs.
Scholarships for Speech-Language Pathology Students
Some organizations fund scholarships specifically for students in speech-language pathology or related healthcare programs. We're included a few of these below.
How to Choose a Speech-Language Pathology Program
When considering your educational options, some factors will matter more to you than others. It's up to you to weigh the various criteria, but we've included some questions here that may help you choose a program to fit your needs.
Are the school and program accredited?
Accreditation is a complicated subject, but several considerations should help narrow your range of choices for a speech-language pathology degree. First, it's best to consider schools that are regionally rather than nationally accredited. ASHA has demonstrated a preference for this form of accreditation, and it's required for licensure in some states.
The CAA's program accreditation is also crucial if you're enrolling in a master's degree. Most employers only consider candidates who graduated from a CAA-approved program, and it's also necessary to earn the CCC-SLP designation. The CAA only accredits master's programs, but you should still consider the school's accreditation when selecting a bachelor's or doctoral program.
What's the cost of attendance?
Cost is hugely important to most enrollees. Tuition is the largest portion of expenses, but you also need to account for fees, books, and supplies. On-campus students also have to consider either room and board or commuting costs — this is a major factor that distance learners can disregard.
How well do alumni succeed?
Accreditation is the first indicator of a college's quality, but it can help to know whether graduates of a particular program find jobs that pay relatively well. Many schools highlight their job placement rates, and you can often find them on the school's website. You can also consult student reviews, which may give some insight into how alumni have fared in the job market.
Would I prefer an online or in-person degree?
You might consider online if you want to attend a distant school but don't want to disrupt your life too much, or if the flexibility of asynchronous learning appeals to you. On the other hand, campus learning might offer the traditional college experience that many students crave.
The possibilities are endless. You may qualify for a considerable discount because a close relative works at a college, or you may have heard good reports about a school's accommodations for disabilities. In general, it's a good idea to research the quality of each school's services, such as the financial aid office, library, and tutoring opportunities.
FAQs about Online Speech-Language Pathology Degrees
What Education Is Required to Be a Speech Therapist?
---
You must have a master's degree in speech-language pathology before you can call yourself an SLP. In addition, your graduate program must hold CAA accreditation.
What Undergraduate Degree Is Best for Speech Pathology?
---
No undergraduate major is necessarily better than any other, and SLPs have studied a variety of subjects as undergraduates. But if you know you want to study speech-language pathology as a master's student, you might consider it as an undergraduate major as well. With this education, you can become an SLPA and gain useful experience in the field as well as a professional network.
How Long Does It Take To Become a Speech Pathologist?
---
It takes about eight years after you graduate high school to become a speech pathologist. Administrators design bachelor's degrees to last four years and SLP master's programs to last three years with a full-time schedule. You then need to complete a supervised clinical fellowship for about nine months before taking the licensure exam and waiting for your results.
Although you can complete college in under four years, most students actually take longer to finish. What's more, it's unlikely you can finish your master's degree early; most programs organize students into cohorts who take the same classes together, and you need to complete a lengthy clinical rotation.
What Is the Difference Between a Speech Therapist and a Speech Pathologist?
---
There's technically no such thing as a speech therapist or speech pathologist, because professional organizations use the term "speech-language pathologist." However, non-experts use both terms interchangeably, and they all refer to the same occupation.
Resources for Speech-Language Pathology Students
As a future SLP student, you might want to research the organizations below. All of them provide optional specialty certifications and continuing education opportunities for SLPs seeking licensure renewal.
Related Articles
2022 Best Online Speech Pathology Degrees
Discover speech pathology degrees available online, and answer some of your questions: What is speech pathology? What is a speech pathologist's salary?
2022 Best Online Master's in Speech Pathology
If you want to earn your master's in speech pathology online, explore our list of the best online programs and read more about this graduate degree.