Is a Nutrition Degree Right for Me?
If you're interested in a career path that involves nutrition science and public health, you may want to pursue a bachelor's degree in nutrition. Majoring in nutrition is a great way to learn how the human body works and how to stay healthy. Once you've earned your degree through a nutrition program, you can continue on to higher education opportunities or jump right into working entry-level positions in the health care field.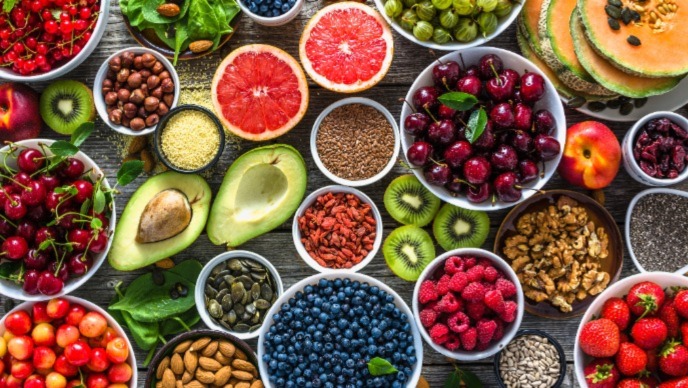 Online Programs You May Be Interested In
Advertisement
Purdue University Global
Annual Tuition: $14,358
236 Programs (view all)

Southern New Hampshire University Online
Annual Tuition: $9,600
154 Programs (view all)


What Is a Nutrition Major?
Food and wellness are central to our lives, and nutrition professionals are trained to keep us healthy. When we trust them with our bodies and mental health, we want to know they're well educated.
Nutrition degrees exist at all levels of education, from a Bachelor of Science to a graduate degree. Majoring in nutrition teaches you the fundamentals of food science, microbiology, physiology, biochemistry, and health science. Each level of education provides coursework that trains students how to best help their future patients and communities.
Nutrition degrees are designed to provide you with the following professional skills:
Analysis: A significant aspect of nutrition and health science is assessing a patient's conditions and identifying appropriate solutions. Nutritionists must competently analyze medical data and up-to-date research to help their patients.
Communication: Since a nutrition professional works closely with others, they should have strong interpersonal communication skills. They must convey important information to other health care workers and patients to ensure they're providing the best care possible.
Research: Nutrition is a science-based field, which makes the act of research a large part of any nutrition career. Nutritionists must know how to find recent research, understand it, and then apply it in practice.
Instruction: Evaluating and developing a health care plan is a key aspect of working in the nutrition field. Once a plan has been developed, patients and clients must be trained. Sometimes, nutritionists even visit schools and other organizations to educate communities on basic dietary needs.
Organization: Whether it's keeping track of current research, managing client information, or scheduling appointments, it's important to stay organized in this line of work. Successful nutritionists must know how to manage their time well and stay organized.
Core Curriculum
Answering the question, "Is nutrition a bad major?" may depend on your personal aptitude toward science. Nutrition degree programs at the undergraduate level always include several science courses: biology, anatomy, chemistry, and food science. Core coursework may also include mathematics, psychology, and a few social science courses. In general, nutrition courses often delve into medical nutrition therapy and clinical nutrition.
---
A
master's program in nutrition
expands on this knowledge in even greater depth and allows students to specialize in different fields, such as geriatric health, pediatrics, and athletic wellness.
---
Can I Earn an Online Degree in Nutrition?
Yes, universities offer online bachelor's and master's degrees in nutrition and related fields. Some online degree programs also offer certifications.
Online programs are often taught asynchronously, meaning that students can complete coursework at their convenience. Many programs are available on a full- or part-time schedule, allowing students to choose the study pace that works best for their schedules. Students typically have 24/7 access to a university's digital learning platform. For this reason, online degrees can make it easy to become a nutritionist, especially for those with other personal commitments.
How Long Does It Take To Get a Nutrition Degree?
Most undergraduate nutrition degrees take between three and four years, depending on whether you pursue your program at an accelerated pace.
While a bachelor's degree may be enough for certain career goals, other professional roles in this field require a master's degree or even a doctorate. In fact, by January 1, 2024, a master's degree will be required to sit for the dietetics registration exam. Master's programs may take between one and three years, while PhD programs may take five to six years.
By January 1, 2024, a master's degree will be required to sit for the dietetics registration exam
How To Become a Nutritionist in 4 Simple Steps
So, how long does it take to become a nutritionist? Well, it depends. While working as a nutritionist doesn't require a license, most employers prefer candidates who have a professional credential. If you want to have a successful career as a nutritionist, we suggest following these steps:
Get a Degree
Find a degree program that fits your interests within the field. Most bachelor's degrees in nutrition provide students with the necessary skills to work as a nutritionist, but consider a graduate program, too. Specializing can help you find a job in a specific area of nutrition.
Gain Practical Experience
Bachelor's programs require a certain number of hours working in the field. These hours may take the form of internships or they may be part of a practicum. If you're earning your degree while you work, you may be able to count your working hours as field experience.
Take the Registration Exam
The Commission on Dietetic Registration is the credentialing branch of the Academy of Nutrition and Dietetics. They administer the exams for registration and licensure along with the exams to become a Registered Dietitian Nutritionist or a Nutrition and Dietetics Technician, among others. Additionally, the board holds more specialized exams for those who want to become a Board Certified Specialist in Pediatric Nutrition, Board Certified Specialist in Sports Dietetics, a Board Certified Specialist in Oncology Nutrition, or a Board Certified Specialist in Obesity and Weight Management.
Begin Your Career
Once you've earned a degree and become credentialed, it's time to start your career in nutrition. Beyond working as a nutritionist, a nutrition degree is useful for many different careers. Try comparing a nutritionist's role with that of a dietician, for example.
Nutritionist Careers
Is it easy to become a nutritionist? While this largely depends on your career goals, the job growth for many positions in this field remains well above the US average — 8% across all occupations — through 2030.
Browse some possible career opportunities below or read our in-depth article about various career pathways in the nutrition field.
Nutritionists assess their clients' health and design personalized plans to improve their health. They may work with medical teams, as part of the school system, or at health care facilities.
Community health workers identify large-scale public health issues and find resources to help educate communities on health, wellness, and well-being. Part of their role may involve helping citizens enroll in government programs, such as Medicaid or Medicare. They may work at community centers, schools, or nonprofits.
Fitness and wellness coordinators develop and run education programs at recreation facilities, nursing homes, rehabilitation centers, and schools. They mentor and oversee individuals going through these programs to ensure their success.
Is Nutrition a Good Major?
If you're interested in pursuing a career in health and wellness, then nutrition science may be a good major for you. Majoring in nutrition opens the door to different types of careers, a number of certifications, and options for advanced education.
As mentioned above, the field of nutrition is growing. So, working through a degree program puts you in a position to take advantage of that job growth. The Bureau of Labor Statistics projects that about 6,000 new jobs will open each year for the next decade for "dietitians and nutritionists" alone. Diet, fitness, and overall health and human nutrition will always be important.
You may be wondering about how hard it is to earn a nutrition degree. Like any online degree program, a nutrition degree requires commitment and dedication. Earning a college degree can be difficult, but pursuing a career path that interests you can make a nutrition degree worth it. Also, finding the right program for you can make earning your degree easier and more satisfying.
Related Articles
How To Become a Nutritionist
Learn how to become a nutritionist or dietitian, including how long it takes. Follow the steps provided to land a career in the field of nutrition.
2022 Best Online Exercise Science Bachelor's Degrees
Discover the best online exercise science degrees currently available. Read more to learn: What is exercise science? Are exercise science jobs a good fit?