Guide to Online Nurse Practitioner Degrees
A nurse practitioner (NP) degree generally provides registered nurses (RNs) with the advanced knowledge and training they need to offer holistic care to their patients. Additionally, NP programs are designed to equip nursing students with managerial skills so they can assume higher-level management and administrative jobs. Earning a graduate degree to become an NP also prepares those interested in research to earn a Doctor of Nursing Practice (DNP).
With an NP degree, license, and certification, NPs can provide more advanced healthcare services than typical RNs. In addition to performing physical exams, they develop patient care plans, order diagnostic tests, and prescribe medications. Of the more than three million RNs in the U.S., about 220,300 are NPs. Most work in doctors' offices, hospitals, and outpatient clinics. Our guide offers further details about NP requirements, programs, and career prospects.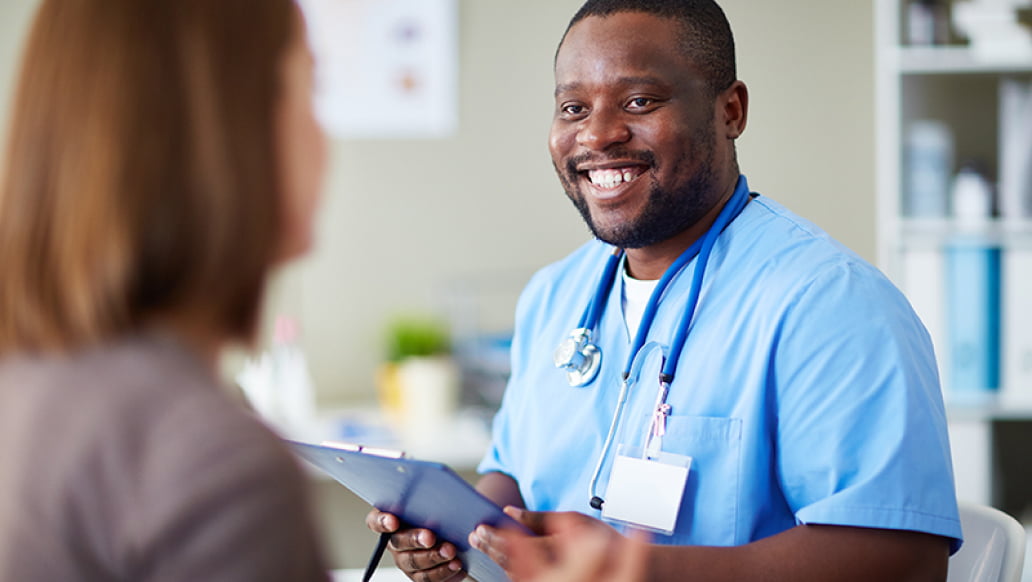 Is Becoming a Nurse Practitioner Worth It?
RNs may wonder if an online master's in nursing is worth the investment of time and effort. Only you can determine the value of continuing your education based on your personal goals and circumstances, but becoming an NP may enable you to engage in more specialized work that you find rewarding. It's also likely to result in higher pay, and it may prepare you for managerial positions with greater responsibility and more opportunities to improve healthcare in your community. Of course, practicing NPs face the same physical and mental challenges as RNs, working long shifts on their feet and making potentially stressful decisions that affect patients' health.
You'll also want to consider the pros and cons of enrolling in an online NP program. Online MSN programs are specifically designed for working professionals. While some offer the ease and flexibility of accessing course materials and completing assignments on your own timetable, many online NP classes are synchronous, meaning that virtual lectures must be attended on a prescribed schedule. Also, most online NP programs require students to visit the campus two or three times over the course of a program, which may add to the cost of the degree.
Is a Nursing Degree a Good Fit for Me?
If you're a compassionate, resourceful person who enjoys assisting and caring for others and has an aptitude for problem-solving, nursing may be a good fit for you. The U.S. Department of Labor notes that nurses require strong skills in interpersonal communication, reading comprehension, and locating and documenting information. NPs who provide clinical care also need extensive knowledge in biology and medicine, and those with managerial responsibilities must be able to coordinate work schedules, monitor resources, and mentor others.
If you're a compassionate, resourceful person who enjoys assisting and caring for others and has an aptitude for problem-solving, nursing may be a good fit for you.
How To Become a Nurse Practitioner
Becoming an NP — one type of Advanced Practice Registered Nurse (APRN) — begins with earning a Master of Science in Nursing (MSN). RNs who have already earned a Bachelor of Science in Nursing (BSN) may apply to any NP program. RNs with associate degrees in nursing can also apply, but they may need to complete several prerequisite or "bridge" courses in addition to the full MSN curriculum.
Once students have earned their MSN to become an NP and completed their state requirement for practicum hours, they can apply for state licensure and national certification, both of which require comprehensive exams. Each state's nursing board has its own criteria for licensure, so students should check their state's website for full details. Certification varies depending on a student's area of specialization. For example, Family Nurse Practitioners (FNPs) can pursue certification through either the American Academy of Nurse Practitioners or the American Nurses Credentialing Center (ANCC), while NPs who specialize in working with older adults can earn certification through the Gerontology Nursing Certification Commission or the ANCC. Both state licensure and certification need to be renewed periodically.
Nurse Practitioner Specialties
Students enrolled in NP programs must choose an area of specialization. Some NPs focus on patients within a particular age group — the most popular of which is the FNP — but there are other possibilities as well. The most common specializations are as follows:
Family (individual adults and families)
Gerontology (adults, especially older adults)
Women (women and patients who identify as female)
Neonatal (newborn babies)
Psychiatric and mental health patients
Especially for those students focused on older adults and children, coursework may further specialize in providing acute or primary care. Primary care training involves assisting patients with routine medical care, including treatment for chronic conditions, while acute care training focuses on assisting patients who need immediate medical attention for acute illnesses.
Career Outlook
According to the Bureau of Labor Statistics, NPs have a bright job outlook. As of 2020, the median annual wage for NPs was $111,680, and the demand for all APRNs is projected to expand by 45% through 2030, which is significantly higher than the 8% average for all occupations. The BLS notes that the aging population in the U.S. is causing a growing demand for healthcare services, and the pandemic has contributed to the need for more nurses. Because NPs can provide many of the same services as doctors, they are becoming an increasingly important component of the team-based approach adopted by many healthcare providers.
The aging population in the U.S. is causing a growing demand for healthcare services, and the pandemic has contributed to the need for more nurses.
APRNs who would like to leave clinical practice and focus exclusively on administrative work in the healthcare industry may want to consider becoming a medical and health services manager. A master's degree may be an advantage in obtaining this job, which has a median annual salary of $104,280 and projected growth of 32% through the end of the decade.
Nursing Courses and Curriculum
The curriculum for online NP programs typically builds upon the foundation laid in baccalaureate courses by providing more advanced, specialized knowledge. Courses emphasize evidence-based practice, including classes on research and statistics. NP programs often require students to come to campus for brief learning experiences, such as on-site examinations or intensives lasting two to five days. Some programs also require a capstone project. Students generally take multiple courses related to their area of specialization, but the following are some of the NP classes commonly found across all programs:
Advanced Health Assessment
This hands-on course combines theory with application to enhance practicing nurses' health assessment skills. Topics covered often include patient interaction, physical assessment of various body parts and systems, cultural sensitivity, and holistic assessments in terms of a patient's lifespan development. Students also explore how to develop a plan of care based on their findings.
Pathophysiology is the study of physical and biological changes that can occur because of a condition or disease. This course is designed to teach nurses how they can recognize these abnormalities so they can enhance patient care by helping with treatment, managing medications, and assisting with diagnostic tests.
Expanding on students' knowledge of various drug types and classes, this course is designed to provide a deeper understanding of drug therapy. Topics may include pharmacodynamics, which is the study of a drug's molecular, biochemical, and physiologic effects on the body, and pharmacokinetics, which is the study of how drugs move within the body.
Organizational Systems for Quality and Leadership
Especially important for students who plan to assume managerial roles, this course helps train students to assess and diagnose healthcare organizations. Coursework introduces the idea of organizational change to enhance quality, including how to facilitate it by demonstrating leadership and political skills as well as how to engage others in the process through team-building strategies.
Research and Statistical Methods
In this course, students explore the use of quantitative and qualitative research methods to resolve issues and answer questions related to nursing. Coursework explains the process of identifying problems, designing research efforts, and analyzing and disseminating results. Various methods of analyzing data may be included in the course.
Graduation requirements for an MSN also include 600-700 hours of clinical experience, known as practicum hours. Each practicum allows students to apply what they've learned in a healthcare facility under the supervision of other trained professionals. Many schools offering NP programs online have a designated clinical coordinator who helps students arrange for practicum sites, but some may have to secure these opportunities themselves. Clinical practice hours fulfill graduation demands, and they also count toward licensure and certification requirements.
Admission Requirements for Online Nursing Programs
Admission criteria for online NP programs vary by school. Some programs require applicants to have bachelor's degrees in nursing, while others accept students who have associate degrees. However, an individual without a BSN may be required to take multiple prerequisite courses. Also, many schools only accept applicants who have one or more years of recent nursing experience.
In terms of process, most schools require applicants to submit transcripts from all previous college coursework that demonstrates at least a 3.0 GPA, a resume, letters of recommendation, an essay or statement of purpose, and a copy of their active RN license along with their application form. Once schools have processed the applications, some may schedule a face-to-face interview with prospective students before accepting them into the program.
Scholarships for Nursing Students
In addition to the national scholarships listed below, many scholarships are available to graduate nursing students residing in specific states.
Two $2,500 scholarships are awarded each semester to graduate nursing students who demonstrate a commitment to leadership, innovation, and mentoring.
Sponsored by the American Association of Colleges of Nursing, this scholarship combines a $2,000 cash award with a three-day leadership development program with Dr. Trautman, AACN's president and CEO. Two master's students who demonstrate strong leadership abilities receive this award each year.
The Nurse Practitioner Healthcare Foundation has teamed up with P&G to award $1,000 scholarships annually to graduate NP students who have demonstrated service to their community and patient care.
Members of the National Black Nurses Association who are enrolled in graduate nursing programs may apply for one of four $1,000 annual awards. Eligibility requirements include service to the African American community.
Accreditation
Before enrolling in an NP online program, prospective students should confirm that it has been accredited by one of the two accrediting bodies for nursing programs: the Accreditation Commission for Education in Nursing (ACEN) or the Commission on Collegiate Nursing Education (CCNE). To become accredited, a nursing program must be evaluated by one of these independent agencies and pass a rigorous review. Accreditation ensures that the program's curriculum and learning outcomes meet professional nursing standards.
---
Prospective students also need to confirm that their chosen program is recognized by their state's board of nursing licensure. Some state nursing boards do not accept degrees from out-of-state nursing programs, even if they are accredited.
---
Enrollment in an accredited program offers a number of additional benefits. It may be required to receive federal financial aid and transfer credits to other accredited institutions. Students can visit the Council for Higher Education Accreditation or the U.S. Department of Education for searchable databases of accredited nursing programs.
FAQs About Online Nurse Practitioner Programs
Can I Get a Nursing Degree Online?
Yes, you can get a nursing degree online. Many accredited schools offer online nursing programs at all levels, including an MSN for a range of NP specializations.
How Long Does It Take To Become a Nurse Practitioner?
Most NP programs require the completion of 42-48 credit hours and at least 600 practicum hours. Full-time students often finish their NP requirements in two to three years, while part-time students may need three to four years.
How Do I Choose a Nursing Program?
Perhaps it's most important to choose an accredited nursing program, but other considerations include cost and whether the program offers the area of specialization that interests you. In addition, many online nursing programs require a few on-campus learning activities, so you may want to factor in the cost of visiting the school several times. Finally, you may want to investigate whether an online NP program's courses are primarily asynchronous or synchronous to ensure the format will give you the flexibility you're looking for.
What Is the Fastest Way To Become a Nurse Practitioner?
A few online nursing schools offer accelerated NP programs that enable full-time students to graduate in one and a half to two years. Also, students who have previously completed some graduate-level coursework that transfers into their program may be able to graduate in less time than average.
How Much Can I Earn as a Nurse Practitioner?
The BLS notes that, as of 2020, the median annual salary for NPs was $111,660. However, median salaries for NPs vary by state. The median for California, for example, is $145,970, while the median for Ohio is $105,630.
Additional Resources for Nursing Students
Related Articles
2023 Best Online Nurse Practitioner Degree Programs
Our list features the best online schools offering master's programs to become nurse practitioners.
2022 Best Online Doctor of Nursing Practice (DNP) Degrees
Find the best online nursing doctorate programs at accredited schools across the country. Learn about DNP salaries, job outlook, and program curriculum.