Guide to Online Master's in Social Work (MSW) Degrees
A master of social work program (MSW) can help you prepare for a career in the social work field, empowering others to create positive change that improves emotional and physical well-being. You can complete an affordable online MSW program that is convenient, delivers a quality curriculum, and is accredited by the Council on Social Work Education (CSWE).
Coursework in a traditional graduate school program includes the completion of approximately 62 credit hours and 900-1200 hours of fieldwork experience. These CSWE-accredited programs meet industry standards, so you can apply your licensed clinical social worker (LCSW) credentials to counsel others. Or, you may use your skills to work in a non-clinical setting with organizations committed to public policy change and social justice advocacy.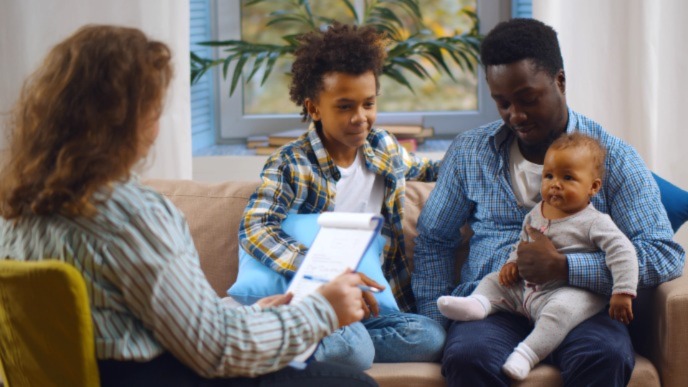 Online MSW Programs
MSW students can complete online learning programs and expect the same rigor as on-campus programs. Courses are either asynchronous, and you can attend as your schedule allows, or synchronous, requiring login at specific times. Online MSW students may participate in a group cohort where all start and graduate together and often collaborate through web-based learning platforms and apps. All of the program options listed above are available through distance learning.
Online Program Options
When considering enrolling in an MSW program as an online student, there are several options to choose from depending on your previous education, budget, availability, and career goals. The most common options include:
An advanced standing MSW program allows those with a bachelor's in social work (BSW) to earn an MSW faster and with fewer requirements. The purpose is to build skills without learning repetitious information while completing approximately 32 credit hours. You may be able to complete this program in one to two years if you attend full time.
Accelerated MSW programs take approximately 16-18 months to complete about 40 credit hours. These intensive programs do not require a BSW but may require you to attend full time.
You can expect a full-time/traditional MSW program to take approximately two to three years to complete 62 credit hours. It covers foundational courses you may not have previously taken as an undergrad.
If you can't attend full-time, you can enroll in a part-time MSW program. Course loads may vary each term depending on your availability. However, you must still complete programs within a defined period, usually three to four years.
Dual degree programs enable you to complete your social work degree while also completing a graduate degree in another field of interest, which may complement social work. You may be able to complete both in less time if credits taken can be applied to both programs — approximately three years for those attending full-time. You'll complete about 90 credit hours.
MSW Curriculum
The curriculum of an MSW program includes advanced study of the practice of clinical social work and may help you differentiate your skills to work with specific populations. Curriculum also includes approximately two field education opportunities to give you work experience in various human services organizations. You'll also need to complete field placement hours to graduate. The goal of the curriculum is to convey the importance of human dignity, compassion, human rights, and scientific inquiry when practicing social work. You'll study human behavior and apply various social work principles through electives and core coursework to prepare for a social work profession in a clinical and non-clinical career path.
Levels of Practice for MSWs
MSW curriculum is generally targeted to train students in the three levels of social work practice. Those practicing at the micro level counsel individuals, families, and small groups. Students interested in practicing at the mezzo level can become dually skilled in a specific topic so they can provide services to target populations struggling with addiction, behavioral disorders, or PTSD from past trauma. Other students would prefer to use their macro level social work skills to administer and manage public policies in community organizations rather than in clinical practice.
Common Courses
Online classes within these tracks that support the curriculum and help develop competencies may have different titles across schools and programs, but have similar learning outcomes. These courses often include:
Co-occurring Substance Use and Mental Health Disorders is for students interested in becoming licensed addiction counselors. Lessons explore the particular strengths necessary for social workers in this practice and how they can identify patterns in behavior and potential triggers.
Diversity and Difference explores diverse populations and perspectives to help students understand the motivations and limitations of those from backgrounds different from their own and how these differences can implicate the social work practice.
Helping Troops Transition Back to their Families and Communities addresses the special needs of veterans returning from tours of duty or combat and assimilating back into civilian life. Students interested in working with this target population can study the resources available and policies in place to help individuals make this often difficult transition.
Public Child Welfare tackles issues from an advanced generalist perspective by familiarizing students with evidence-based, family-focused, and outcome-oriented child welfare practices. Students interested in careers in child welfare may find this course of interest.
Social Policy coursework can provide students with an overview of US social welfare policy and how policy is created to address social relationship issues and problems in vulnerable and oppressed populations.
MSW Concentrations
Choosing a concentration in an MSW program can help you meet your career goals through specialization. A concentration is different from a minor — a minor is usually completed in another discipline, but a concentration is within the same. You'll take approximately five courses on a particular topic to be able to specialize your skills to serve different populations in various areas of need.
Degree concentrations may include:
| | |
| --- | --- |
| Adulthood and Aging | Sometimes referred to as a gerontology concentration, coursework helps prepare you to work with older adults, the aging, and their families by studying the aging process and the resulting biological, behavioral, and societal changes that occur. |
| Children, Youth, and Families | This path helps build skills in family dynamics and relationships and how societal issues impact children and teenagers. |
| Clinical Social Work Practice | This concentration helps students develop the ability to identify, assess, and treat various psychological, behavioral, and emotional problems. |
| Healthcare | Students have the opportunity to study the unique needs of clients experiencing serious healthcare events and how to apply advanced social work skills to address these challenges. |
| Military Social Work | Classes specifically focus on the challenges facing military personnel, veterans, and their families when integrating into civilian life and how to effectively manage these changes. |
| Organizations and Communities | Coursework is geared toward a macro practice that focuses on how social problems develop and perpetuate at the local, state, and national levels and how individuals can mobilize leaders, educate communities, and advocate for social change. |
| Policy Practice | This course of study enables students to use their social work skills to understand how public policy impacts communities and how to help implement change that is socially and economically sound. |
| Trauma | Courses explore the unique needs of individuals experiencing trauma or suffering from PTSD and the process of developing targeted treatment plan options. |
MSW Admission Requirements
Requirements are similar across schools and programs, and enrollment generally includes the following:
A bachelor's degree from an accredited institution of higher education
College transcripts showing at least a 3.0 GPA
The completion of standardized tests, such as a GRE, though many schools are opting to waive this requirement
A minimum of 24 credit hours of undergraduate liberal arts coursework
Three letters of recommendation attesting to your skills and work ethic
A personal essay or letter of intent
A completed application and fee of approximately $75
CSWE Accreditation
In addition to school accreditation, degrees may be programmatically accredited to ensure education is on par with industry standards. CSWE is recognized by the Council for Higher Education as the only accrediting agency in the U.S. for social work education, and most states require graduation from a CSWE-accredited program for licensure. CSWE awards accreditation to programs that meet rigorous academic standards. CSWE administers the accreditation process, which includes a self-evaluation, site visits, and a review. There are currently 309 on-campus accredited MSW programs throughout the U.S. However, it's important to note that online programs aren't always accredited. You can check CSWE's directory to find a program's accreditation status before enrolling.
Funding an Online MSW
The average cost of an MSW program is about $30,000 a year, which may necessitate applying for federal financial aid or for other funding to help cover tuition costs. Therefore, your first step should be to complete a Free Application for Federal Student Aid (FAFSA) to determine your eligibility for federal grants, scholarships, work-study programs, and low-interest student loans.
After your eligibility is determined, there are other sources you may be able to turn to for additional financial assistance:
A tuition assistance program through your employer
Discounted or free tuition as a college or university employee or the spouse or child of one
There are also programs available for graduates to help repay student loans. For example, the Health Resources and Service Administration features three loan repayment programs through the National Health Service Corps for Licensed Clinical Social Workers. In addition, loan forgiveness may be available through the federal government's Public Service Loan Forgiveness (PSLF) program if you work in a non-profit or for a local, state, federal, or tribal government. Eligibility requires approximately 10 years of public service employment and 120 loan payments. There are no income requirements to qualify.
Is an MSW Degree a Good Fit for Me?
Several characteristics are common to social workers, making this career a good fit for those who enjoy a service-oriented occupation. In social work, you'll be taking the initiative to engage with others by using interpersonal communication and active listening skills. Social workers are also generally perceptive and intuitive and are trained to employ good judgment when helping others.
The Occupational Information Network (O*NET) identifies several other skills and abilities characteristic of social workers:
Able to focus and remain attentive

Can provide valuable instruction

Able to facilitate negotiations

Speaks effectively

Stays organized

Has original and creative ideas

Can be persuasive

Solves problems

Writes and takes accurate notes

Able to manage time and prioritize
If you are interested in exploring similar degrees and career paths, you can learn more about online master's degrees in counseling, substance abuse counseling, school counseling, and Christian counseling.
Social Work Licensure
The Association of Social Work Boards (ASWB) regulates social work across the U.S. They ensure that social workers receive adequate training to safely, competently, and ethically deliver services to the public. The ASWB administers licensure exams so MSWs can work in clinical practice to complete mental health assessments, diagnose patients, and treat them.
Licensure varies by state, but common licenses include:
Certified Independent Practice Social Worker (CIPSW)
Independent Social Worker (ISW)
Licensed Clinical Social Worker (LCSW)
Licensed Master Social Worker (LMSW)
Licensed Social Worker (LSW)
Licensed Social Worker-Administration (LSW-ADM)
Licensed Social Work Associate and Advanced (LSWAA)
The steps for applying for a license generally include:
Completing a CSWE-accredited MSW program and a number of field experience hours, which varies by state
Applying for licensure through your state board.
Registering with ASWB and paying the exam fee which is approximately $230
Completing a criminal background check
Careers for MSW Graduates
MSW degree holders often become licensed social workers working in a direct practice. They assess clients' needs to create and implement changes to improve their quality of life as well as emotional and physical well-being. They may work in a generalist practice or work with groups that have specific needs, such as children, the elderly, or those struggling with addiction. With an anticipated 12% job growth through 2030, social workers earn a $51,760 annual median salary according to the Bureau of Labor Statistics.
There are also other career paths MSW graduates may choose:
These professionals educate communities about behaviors that impact overall wellness. They advocate for community members' needs at healthcare and social service organizations.
Managers use their MSW skills in a non-clinical setting to organize community programs and activities that support well-being, often working with target populations. They assess programs and implement changes as needed to ensure they are effective.
These clinical social workers become licensed to work with those who suffer from the debilitating effects of alcoholism and drug misuse, eating disorders, or depression.
FAQs About Pursuing an MSW Degree
Which Bachelor's Degree is Best for Admission into MSW Programs?
---
It generally doesn't matter which undergraduate degree you have when enrolling in an MSW program. That said, it may be helpful to have a psychology or sociology bachelor's degree because the fields closely align with social work. However, those in an advanced standing program are required to hold a bachelor's degree in social work (BSW).
Is it Difficult to Get Into an Online MSW Program?
---
There are certain challenges for getting accepted into any master's level program, including an online MSW program. However, being in good academic standing with a 3.0 GPA or higher and fulfilling all admission requirements, including an essay and recommendations, will help your chances.
Is an MSW Program Hard?
---
An MSW program can be rigorous because of its advanced curriculum. You'll also need to complete field experience or a practicum for real-world experience. In addition, the advanced standing and accelerated programs can be even more demanding because they require intensive study in a shorter amount of time. Programs can also feel more challenging if you work and have a busy schedule, but part-time options are available.
How Long Does it Take to Complete an MSW Program?
---
The length of time it takes to complete this degree depends on your educational background and the program option. For example, a traditional MSW program may take up to three years to complete if you are enrolled full-time, while an accelerated degree program may take as few as 18 months.
Is a Master of Social Work Worth It?
---
An MSW's worth ultimately comes down to your interests, budget, and your financial and professional goals. It also depends on the industry, job opportunities, and salary requirements. For instance, the BLS anticipates a 12% job outlook for social workers, faster than average. However, while the $51,760 annual median wage is higher than the $41,950 national average, the return on investment may be low if your tuition expenses are high.
Related Articles
2023 Online Master's in Social Work (MSW) Programs
Master's of social work students can use our 2023 rankings to choose from online MSWs accredited by the CSWE, including advanced standing and clinical track programs.
2022 Best Online Bachelor's in Social Work (BSW) Programs
Discover the best online social work degrees offered at the bachelor's level ranked by alumni salaries and tuition.