Guide to Online Medical Billing and Coding Programs
Approximately 95% of patient health data is submitted electronically, necessitating the skills of trained medical billers and coders. Online medical billing and coding programs help students develop their analytical and organizational skills so they will be able to accurately translate patient information recorded by clinicians into a series of classification codes for recordkeeping and billing. Additionally, graduates should be able to align patient experience with an organization's quality of care standards. Medical records and health information specialists earn an annual median salary of $45,240. This guide can help prospective online students determine if medical billing and coding is the right path by providing an overview of the program curriculum, potential career opportunities, and answers to frequently asked questions.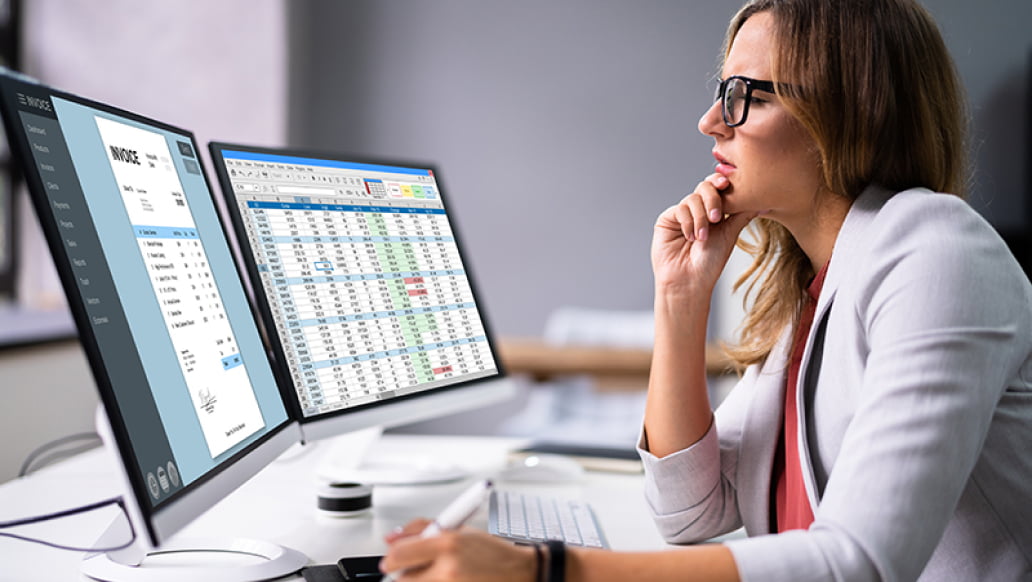 What Is Medical Billing & Coding?
Billing and coding are actually separate practices, but they work in tandem — often with one individual performing both tasks. Each function relies on a complex, global classification system of codes, which build patient health records by categorizing illnesses, injuries, and medical procedures. A medical coder's primary role is to read patient records, as transcribed by clinicians, and apply the correct codes to capture patient data. These codes translate information numerically for billing and analytical purposes, serving as a language between medical, insurance, and government entities. Medical billers are responsible for the financial side of the business. They decipher these codes to create patient bills and file insurance claims for payment.
What Will I Learn In a Medical Billing & Coding Program?
The curriculum of medical billing and coding programs centers around developing the technical, organizational, and analytical skills necessary for researching and tracking patient data. Billers and coders must learn how to perform their jobs ethically and responsibly, such as practicing patient confidentiality. They should also be trained in the necessary technology. For example, the curriculum's primary outcome is to familiarize students with the Healthcare Common Procedure Coding System (HCPCS), which includes Current Procedural Terminology (CPT) coding and International Classification of Diseases (ICD) coding. Additionally, the curriculum helps build students' basic understanding of anatomy and physiology, healthcare provider office procedures, and health insurance billing processes.
The curriculum of medical billing and coding programs centers around developing the technical, organizational, and analytical skills necessary for researching and tracking patient data.
Students can obtain an online diploma or certificate in billing and coding at a community college or vocational school in approximately one year. They usually need a high school diploma to enroll. Associate and bachelor's degree programs that provide more advanced training in health information management (HIM) may take full-time students two to four years to complete, respectively, and generally require prerequisite courses, standardized test scores, and a minimum GPA. Online instruction is delivered through distance learning platforms with asynchronous classes, so students can learn at their own pace.
Common Courses in a Medical Billing and Coding Program
Applied Medical Terminology
Coursework builds medical vocabulary, including spelling, definitions, and abbreviations. The goal of instruction is to impart a comprehensive understanding of medicine's language and how it is used to document patient information.
Fundamentals of Health Information Management
Instruction is designed to provide an overview of HIM and its role in healthcare delivery. The aim is to familiarize students with the organization of medical records, processes for medical payments, and regulatory oversight's role in health care.
Introduction To ICD Coding
Lessons demonstrate the application of ICD codes to various health conditions and diagnoses in order to accurately record patient data. It is the primary diagnostic coding system required by insurance companies, health maintenance organizations (HMOs), Medicare, and Medicaid.
Medical Office Procedures
Classroom discussions explore medical ethics and an organization's legal responsibilities to its patients through accurate and confidential recordkeeping. Topics may also include an introduction to insurance claims, coding requirements, and related terminology.
Medicolegal and Reimbursement Issues
This course introduces students to medical law and ethical principles involved with completing a medical office's financial transactions. In addition, faculty may discuss traditional and electronic bookkeeping procedures, billing and collection techniques, and insurance claim submissions.
How Much Does a Medical Billing and Coding Program Cost?
Based on our internal data, tuition for medical billing and coding certificate and diploma programs range between $1,000 and $6,000 a year, depending on the school. For example, community colleges and vocational schools may cost less than four-year universities. Tuition rates for degree programs at the associate and bachelor's degree levels are similar, though programs may take longer to complete. Therefore, students may end up incurring more tuition costs.
Funding for a Medical Billing and Coding Program
When funding a medical billing and coding program, the first action to take involves applying for federal financial aid, such as federal grants, scholarships, and loans. Students should complete the Free Application For Federal Student Aid (FAFSA) to determine their eligibility for funding. Students may also research private scholarships and grants, such as those provided by the American Health Information Management Association. However, funding may be limited to applicants who are actively seeking degrees.
Where Can I Work as a Medical Billing and Coding Specialist?
Graduates of billing and coding programs may fill roles in various environments. While about one-third of medical records and health information specialists work in hospitals, others apply their extensive knowledge of coding classification systems to patient records in physician offices and outpatient care centers. Some may work as registrars in clinics that treat specific populations, such as cancer patients, reviewing patient records and pathology reports for accuracy. According to the Bureau of Labor Statistics (BLS), the median annual salary of those in this position is $45,240, and the job growth projection is 9% — reflective of the U.S. average — through 2030.
While a bachelor's degree isn't required to apply for a position as a medical records or health information specialist, it may help individuals advance their careers and become medical and health services managers. This category includes health information managers who oversee billing, coding, and staff while also ensuring the safety and security of patient data. The median annual salary for all medical health and services managers is $104,280, with the bottom 10% earning less than $60,000 and the top 10% earning more than $196,000. This is a high-growth field anticipating 32% job growth through 2030.
What Are The Certification Requirements For Careers In Medical Billing And Coding?
According to the BLS, no U.S. state requires medical billers and coders to have certification. However, employers may still prefer to hire certified applicants to demonstrate competencies. Formerly known as the American Academy of Professional Coders, the AAPC offers some of the most highly recognized certificates available, including the Certified Professional Coder (CPC) and Certified Professional Biller (CPB) credentials.
Is a Medical Billing and Coding Program Worth It?
The potential value of a medical billing and coding program will ultimately depend on your financial goals, career interests, and aptitudes. To help determine whether this program would be a suitable fit, Burning Glass Technologies, a data analytics company, has identified several skills employers look for when hiring billers and coders, including customer service, technical aptitude, data entry, accounting, and attention to detail. If these skills are in your wheelhouse and you have an interest or prior experience in the medical field, billing and coding may be a worthwhile pursuit. However, there are other pros and cons to weigh when making this decision:
Potential Benefits
You can complete a medical billing and coding program online. This can be a convenient way to learn targeted job skills if you have a busy schedule or live far from campus. You can also take your certification exam online.
Medical billing and coding is a growing field at a critical time. As healthcare becomes increasingly reliant on digital data, more health information specialists will be needed to organize the influx of information. Additionally, as the U.S. population continues to age, people will require more medical services, resulting in additional data to be processed.
Several large national employers hire medical billers and coders, according to data from Burning Glass Technologies. For example, Guidehouse, Anthem Blue Cross, UnitedHealth Group, and Humana employ a majority of billers and coders.
Potential Drawbacks
Coding is not as easy as it may seem. Tens of thousands of codes have been created to apply to various diagnoses and health conditions, and more are added each year. Each symptom and diagnosis is assigned a code, which are strung together to paint a clear picture of a patient's health. These coding structures often change, and it's up to you to keep your skills current beyond your initial training.
To land a job, you may need certification and work experience in addition to education. While U.S. states do not require licensure for coders and billers, employers may only employ those who are certified, even for entry-level positions. Others may also want to see practical work experience, such as internships or externships.
Medical billing and coding is a sedentary job, which can be unhealthy. This type of work requires sitting for long periods and typing, which can be stressful on the body and lead to health conditions, such as obesity, diabetes, high blood pressure, and cardiovascular disease. It'll take active measures to avoid these health risks, such as utilizing a standing desk or taking regular screen breaks.
How To Choose a Program
Choosing the right coding and billing program involves thoughtful consideration. You'll have to decide if you want to earn a certificate to enter the field directly or earn a formal degree for advanced career opportunities. It's also important to select an affordable program that will help you meet your career goals. Below are some other factors to keep in mind when making the decision to pursue a billing and coding path:
Studying medical billing and coding relies on memorization and using computer-based technology, so it may be ideal for online learning. Recently, many students have switched to remote learning to achieve their educational and career goals. Online programs offer flexibility and affordability, whereas traditional learning involves commuting to campus in order to attend classes scheduled at certain times.
Internships and Job Placement Services
An internship can provide students with valuable hands-on experience while they complete a billing and coding program, and it may offer a competitive edge when they apply for a job after graduation. Therefore, it may be beneficial to seek programs with internship opportunities or those that provide job placement services.
It's essential to choose a reputable program that the healthcare industry respects. Programs should offer up-to-date training by experienced instructors to help prepare students for entering the workforce. If you type your school or program into College Scorecard, it provides specific information and statistics that could be helpful, such as graduation and retention rates. It may also help to consider what other students have to say about their experience. Check out our online college and university reviews hub to start reading student reviews.
FAQs About Medical Billing and Coding Programs
Is a Medical Billing And Coding Program Hard?
Coding is a language, and like any language, it takes practice to learn. It's also an ongoing process because codes are often added and coding structures change. It will be up to you to keep your skills up-to-date.
Can I Become a Medical Coder Online?
Yes, you can become a medical coder online. Many community colleges and vocational schools throughout the U.S. offer online medical billing and coding certificate programs.
How Much Does a Medical Billing and Coding Specialist Make?
Resources for Medical Billing and Coding Students
Related Articles
2022 Best Online Medical Billing & Coding Certificate Programs
Online medical billing and coding certificates prepare students to play a critical role in the management of clinical billing procedures.
Medical Billing & Coding Certifications
Learn about medical billing and coding certifications, the certification process, and the benefits of becoming a certified medical biller or coder.