Guide to Online Medical Assistant Programs
Online medical assistant programs focus on the importance of keeping medical offices running smoothly. As a student of this discipline, you may learn administrative practices, basic anatomy, medical terminology, and even healthcare law. Many colleges and vocational schools offer medical assistant training online, including both certificates and associate degrees. Program graduates have gone to work as medical assistants for hospitals, doctors' offices, and assisted living facilities. You can also pursue professional certifications to improve your job prospects by demonstrating expertise in a specific subject area.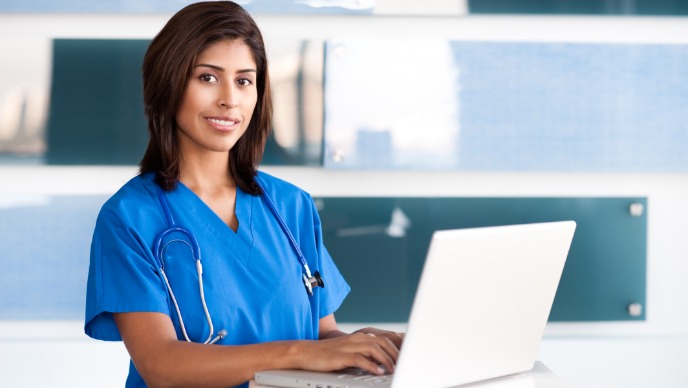 What Will I Learn in a Medical Assistant Program?
Medical assistant programs typically cover two distinct portions of a medical assistant's role: clinical patient processing and office administration. Coursework on biology and anatomy provides the basis for checking patient vital signs, asking intake questions, and handling blood and tissue samples for testing. For the administrative portion, faculty help prepare you with lessons on medical recordkeeping, office applications, and healthcare law, ethics, and confidentiality.
Medical assistant programs come in two forms: certificate and associate degree. Certificates focus on knowledge and skills needed for medical assistant roles, whereas associate degrees also contain liberal arts classes that can teach useful skills, such as English composition and psychology. Neither certificates nor associate degrees have much room for specialization in their curricula, so concentrations are rare with this major. However, associate degree programs often culminate in an externship, which is a supervised period of work in a medical setting. Certificates may also have externships, but this is less common. Both types of programs usually require only a high school diploma or GED in order to enroll.
The following table breaks down the key differences between these types of programs.
Key Differences: Certificate vs. Associate Programs
Certificate Programs
Associate Programs
Length: 9-12 months
Length: 2 years
Credit hours: 36-48
Credit hours: 60-80
Common Curriculum Includes:

Medical terminology
Anatomy and disease pathology
Basic pharmacology
Office procedures
Possible externship

Common Curriculum Includes:

General education courses
Medical terminology
Anatomy and disease pathology
Basic pharmacology
Office procedures
Externship
You may be able to earn your certificate and begin working while you pursue an associate degree. However, you should make sure your credits will transfer into the associate program before committing so you don't repeat classes unnecessarily.
Online Medical Assistant Programs
Many schools offer accredited medical assistant programs online. Distance learning's increased popularity is at least partially thanks to its flexibility. Most classes are accessed online asynchronously, which means there is no set class time. As an online learner, you would log in to a learning management system at your convenience to post discussion questions and responses, watch recorded lectures, and submit your work.
Some courses may have live components, such as class discussions in real time over video conferencing software. Others might require laboratory work, either at home with a kit or at an approved lab located in your community or at your school.
If your program features an externship, you will be required to complete this in person at an approved healthcare facility.
Is a Medical Assistant Program Worth It?
The answer depends on your circumstances and goals. We've compiled a few factors to consider as you weigh your application and enrollment decisions.
Financial Investment: These programs tend to cost less than four-year bachelor's degrees. For one thing, they take much less time to complete. For another, you have many options available at public community colleges, which typically charge lower tuition than private schools or even four-year public colleges. But medical assistants earn relatively low pay — their median annual salary of $35,850 is about $6,000 less than the nationwide median for all jobs combined.
Time Investment: As discussed, you can complete a certificate in a year and an associate degree in two. This lets you enter the job market much sooner than if you pursue a bachelor's degree in a different discipline.
Job Outlook: The future is bright for this profession. The Bureau of Labor Statistics (BLS) projects 18% growth in new jobs in the 2020-2030 period, twice the national average rate for all jobs. The reason stems from an aging population in the U.S., which affects the healthcare industry from the top down. To keep up, doctors have granted more duties and responsibilities to nurses, who, in turn, need to share some of their traditional functions with medical assistants and other trained professionals.
You also need to determine whether you want to study online or in person. Online learning is convenient and flexible but comes with fewer chances for informal networking. However, networking may not be a top concern for job seekers given the high demand for trained medical assistants.
How to Choose a Medical Assistant Program
You have much to consider when deciding what to study and how. Use the factors we discuss here as a starting point, but be sure to think through what matters most to you and your personal situation.
Program expenses vary by school. But public two-year colleges are the institutions that most frequently offer online medical certificates and associate degrees. The National Center for Education Statistics cites an average cost of $3,800 per year for tuition and fees at these schools. See below for other options to help with tuition costs.
Online learning can provide plenty of convenience but doesn't provide the traditional college experience that some students crave. You can build strong professional relationships with faculty and colleagues without ever being in the same room, but you may have to make a conscious effort to do so.
Other Factors to Weigh
Personal recommendations and student reviews
Whether a program has a part-time path
How well a school accommodates a particular disability
A range of support services for your preferred learning mode, such as virtual library access or counseling for online learners
Student groups that appeal to you, such as services for LGBTQ or veteran students
Funding a Medical Assistant Program
Most students apply for some form of financial aid to help pay for their education. Although many end up taking out student loans, it's helpful to apply for as much gift aid as possible in the form of scholarships, grants, and work-study funding. Online students typically qualify for the same aid as on-campus learners.
You can begin the process by filling out a Free Application for Federal Student Aid (FAFSA), which details your financial situation and determines how much federal money you're eligible for. If you have undocumented immigration status, you can't qualify for federal aid but might be able to complete a similar state form depending on where you live.
In addition to government funds, you can pursue scholarships specifically intended for medical assistant students. Check out a few of these below, but also contact your school's financial aid office for more opportunities and to ensure they accept all the financial aid you receive.
Medical assistant students can receive a scholarship from this organization if they submit two letters of recommendation and a 500-word personal essay. Award amounts vary.
This agency provides scholarships that pay full tuition and fee expenses for one year to healthcare students. You may qualify if you're a member of a federally recognized American Indian tribe or Alaska Native village and intend to serve these communities after graduation.
The AAMA awards multiple applicants with $1,000 each year. You can't apply for this scholarship directly; your program director has to nominate you once you've completed at least one term in a CAAHEP-accredited medical assisting program.
Careers for Medical Assistants
Medical assistant programs focus narrowly on preparing students for careers as medical assistants, but you can have different experiences within this field depending on where you work.
Read on for some descriptions of potential duties in different types of healthcare settings. All salary data comes from the BLS.
| Workplace | Duties | Median Annual Pay |
| --- | --- | --- |
| Chiropractor's Office | Assistants mostly handle administrative tasks, such as billing and scheduling in a chiropractic office. They may also record patients' medical histories during intake. | $31,470 |
| Hospital | As larger facilities, many hospitals have certain personnel dedicated to administration duties, while others perform clinical functions. Administrative medical assistants answer phones, schedule appointments, and bill insurance, whereas clinical assistants provide basic patient care such as measuring vital signs, giving injections as directed, or providing written instructions and explaining them in detail. | $37,050 |
| Outpatient Care Center | Like hospitals, larger centers may split duties between individuals. But in smaller care centers, you may perform a mix of administrative and clinical procedures. For example, you might prepare a patient for a diagnostic test, sterilize testing room surfaces, schedule a follow-up appointment, and take payment or bill insurance. | $38,860 |
| Physician's Office | At a private practice, you'll likely have a combination of administrative and clinical tasks similar to a smaller outpatient care center. It will depend on the staffing situation and each office can be different. | $35,870 |
Does a Medical Assistant Need to Be Certified?
There's no legal requirement to earn a medical assistant certification in order to work in the field. However, there's a very good chance that certification will improve your marketability to employers. Some hiring managers will only consider certified candidates, so it's definitely worth considering if you plan on this career.
You have five options for certification that are recognized by the National Commission for Certifying Agencies. We list each of these below. The application fees and recertification requirements differ for each organization, so review their sites for details.
It's hard to determine which option may be most helpful in your job search. You might talk to your professors and working medical assistants about which credentials employers prefer, as well as scan job posts in your area on sites such as LinkedIn and Indeed.
FAQs About Medical Assistant Programs
How Can I Become a Medical Assistant?
In almost all cases, you need to complete either a certificate program or associate degree in medical assisting. It's generally helpful to earn a certification as a medical assistant but may not be required by every employer.
How Long Does a Medical Assistant Program Take?
You can earn a certificate in 10-12 months and an associate degree in two years if you study full-time. Adopting a part-time schedule draws out the length of a program.
Which Certification is Best for a Medical Assistant?
There's no definitive answer to this question because employers may have different preferences. However, the CMA credential from the AAMA requires you to graduate from a programmatically accredited program, indicating a high level of quality. You can also earn this certification at the entry level, because it doesn't require work experience to apply.
How Much Can a Medical Assistant Make?
The median salary for medical assistants is $35,850 per year. The BLS notes that the highest paid 10% of their sample made more than $50,580 annually, but this is not representative of the whole. Medical assistants tend to earn more in outpatient care centers and hospitals than they do in doctors' or chiropractors' offices.
Resources for Medical Assistant Students
The following table contains links to useful sources of information on medical assistant education and careers, as well as related majors to explore.
| Subject | Resources |
| --- | --- |
| Accreditation | |
| Professional Organizations for Certification | |
| Related Online Degree Programs | |
Related Articles
Best Online Schools for Medical Office Administration
Students interested in online medical office administration degrees will find accredited options at the associate, bachelor's, master's, and certificate levels.
Medical Assistant Career Guide
Learn everything you need to know about medical assistant careers, including requirements, salary and job outlook, career pros and cons, and top employers.