Guide to Online Healthcare Administration Degrees
A degree in healthcare administration can lead to a rewarding career overseeing healthcare facilities' administrative and operational functions. While these professionals don't deliver direct patient care, they are still partly responsible for ensuring healthcare quality for the U.S.'s third-largest industry. A healthcare administration degree helps students develop a comprehensive understanding of the complexities of healthcare delivery systems to perform as an influential and integral part of a decision-making management team. You can earn an associate, bachelor's, master's, or doctorate on campus and online.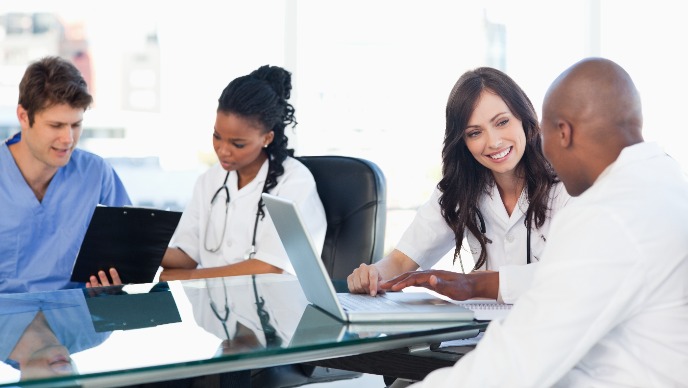 What Can You Do With a Healthcare Administration Degree?
You can join the healthcare workforce that's over 16 million strong by earning your degree in healthcare administration. Degree programs can help you develop competency in skills, such as:
Creating and implementing policies and procedures
Developing and maintaining electronic systems and databases
Carrying out fiscal responsibilities
Directing, supervising, and evaluating work and staff
Recruiting new hires, and training and motivating teams
Graduates work in diverse healthcare environments, including hospitals, physicians' offices, insurance companies, and public health. You may find work in administrative services and facilities management or human resources within these organizations. Or, you may even choose to flex your entrepreneurial muscles and work independently, providing consulting services to others in the healthcare industry. Graduate degrees can expand your opportunities for career advancement in executive and senior leadership positions within larger organizations.
Types of Healthcare Administration Degrees
Your career goals, financial goals, and prior education will dictate your degree. An associate degree may be a good option if you are entering the field for the first time or are changing careers. A bachelor's or master's degree may suit if you are a mid-career healthcare worker or are seeking career advancement. Additionally, a doctoral degree may be an option if you hold an undergraduate and graduate degree in healthcare and seek significant career advancement in senior leadership roles or academia as a healthcare administration instructor.
We've outlined information on each degree path below to give you an idea of what each degree offers and requires.
Associate Degree
An online associate degree can prepare students for work in entry-level positions within medical teams, ensuring doctor's offices, healthcare clinics, and other healthcare facilities run efficiently and smoothly. The curriculum in an associate program helps develop an understanding of the fundamentals of electronic recordkeeping, billing, staffing, and communication. Courses may include Introduction to Healthcare, Medical Law and Ethics, Electronic Health Records, and Introduction to Insurance. It takes approximately two years for full-time students to complete 60 credit hours.
Bachelor's Degree
Students pursuing undergraduate degrees in healthcare administration may do so to increase job growth opportunities. There are two bachelor's degree paths: a bachelor of arts (BA) and a bachelor of science (BS). BA degrees are broader and include classes in the liberal arts, while BS degrees focus more on technology, math, and science. The curriculum helps build skills in business strategy, project management, leadership, and fiscal responsibility. Though titles may differ from program to program, courses typically include Healthcare Marketing, Informatics, Healthcare Politics and Health Policy, and Leadership. Students also complete a practicum or senior capstone project to graduate. Full-time students usually take up to four years to complete the required 180 credit hours.
Master's Degree
A master's of healthcare administration (MHA) enables students to explore and analyze the complexities of the healthcare industry. Students develop leadership skills in strategic planning, stakeholder relations, and public policy. The curriculum helps develop cultural competence, interpersonal communication skills, data interpretation skills, and the ability to promote healthcare in target populations. Courses supporting the curriculum may include Global Health and Diversity, Strategic Human Resource Management, Biostatistics, and Program Design. It generally takes full-time students up to two years to complete approximately 36 credit hours, including a capstone project.
Doctoral Degree
A doctorate of healthcare administration (DHA) may interest students envisioning executive leadership or roles in academia. A doctorate is a terminal degree, but not a PhD. DHA curriculum helps build skills in theoretical methods, applied skills, and practical expertise required as executive leaders. Courses may include Research and Theory Methods, Advanced Healthcare Operations Management, Fiscal Responsibility and Accountability, and Qualitative Analysis in Healthcare. Most DHAs take full-time students approximately three years to complete, which is less than the 7.5-year average for doctorates in other disciplines. Students complete approximately 65 credit hours and a dissertation to graduate.
Can You Get a Bachelor's in Healthcare Administration Online?
Yes, you can earn your bachelor's degree in healthcare administration online. However, you'll want to check with a program advisor to see if any on-campus coursework is necessary. Some programs require students to attend on-campus intensive courses where they spend several days in person at the start and end of a program. You may also have to complete an on-site practicum for real-world experience at a healthcare facility near where you live. A program advisor may be able to help you secure an opportunity.
Online programs offer the same rigor as on-campus programs, are often taught by the same instructors, and are becoming increasingly popular. They may also be more affordable than a traditional on-campus program, which may yield a higher return on your investment. Many also find their career opportunities just as competitive with an online degree as if completed on campus. The healthcare industry tops the list of industries that hire the most online graduates.
Accreditation for Healthcare Administration Programs
Institutional accreditation is a voluntary process that schools participate in that evaluates factors including a curriculum's rigor, student outcomes, faculty expertise, and reinvestment of revenues. It enables colleges and universities to qualify for federal funding so students can apply for federal financial aid. Regional accreditation has been traditionally preferred over national accreditation because it implies academic rigor, but that does not mean a nationally-accredited school doesn't deliver quality education. For example, schools specializing in health education may be nationally accredited by the Accrediting Bureau of Health Education Schools (ABHES), the only healthcare accrediting agency recognized by the US Department of Education because of its demonstrated quality.
Programmatic accreditation is often awarded to programs so they meet industry standards. The National Association of Long Term Care Administrator Boards (NAB) accredits several programs that prepare students for work as long-term care and nursing facility administrators. Completion of an NAB-accredited program is required for administrator certification and licensure across the US. The Commission on Accreditation of Healthcare Management Education (CAHME) programmatically accredits healthcare administration master's programs. It's essential to verify a school's accreditation status before enrollment.
Is Healthcare Administration a Good Fit for Me?
Whether a career in healthcare administration is a good fit for you will come down to your interests, skills, professional goals, and financial situation. There are also several characteristics that many healthcare administrators possess that enable them to fulfill their responsibilities and make this occupation a good fit.
The Occupational Information Network (O*NET), a product of the U.S. Department of Labor, has identified skills and abilities common to those in healthcare administration. Some of these include:
Intuition and sensitivity
Oral and written communication
Originality and creativity
O*NET also surveyed professionals in this field to determine what an average day may be like. Activities often include:
Documenting and evaluating information
Motivating and guiding others
Relationship-building across departments
Working with information systems
Jobs in Healthcare Administration
Educated healthcare professionals are almost always in demand to fulfill several roles. As a result, the Bureau of Labor Statistics (BLS) projects a 16% overall job growth through 2030, resulting in 2.6 million jobs industry-wide.
Where Can I Find a Job in Healthcare Administration?
While healthcare administrators are seeing a higher than average job outlook, there are certain parts of the U.S. where demand is particularly high. According to data from Burning Glass Technologies, a data analytics firm, California, Texas, Florida, New York, and Illinois have had the greatest demand since 2021.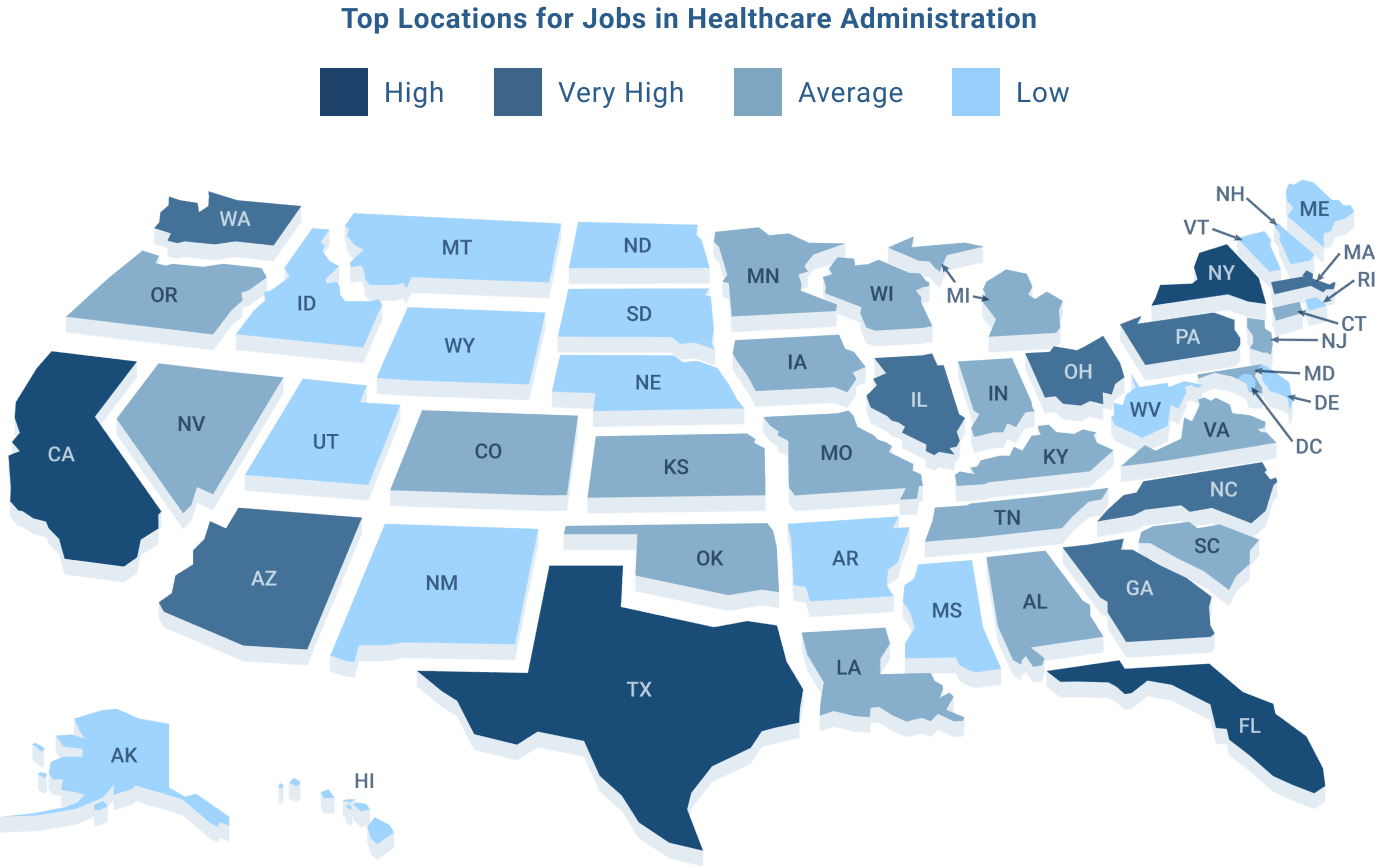 According to the same data, the five top employers nationwide include:
Anthem Blue Cross
Hospital Corporation of America
UnitedHealth Group
Guidehouse
Fresenius
Resources for Healthcare Administration Majors
Joining a healthcare administration association as a student can open the door to networking and career opportunities while still in school. Many offer affordable student membership rates so they can start accessing resources to aid through school and beyond. After you graduate and begin your career, these organizations can still be an excellent way to stay connected with others in the field, attend continuing education courses, participate in conferences, access career development tools, and stay up-to-date on the last news and trends in healthcare administration.
We've identified several organizations below that you can join for resources and support. Some of them offer a sliding scale membership for students.
| Association | Member Benefits | Student Rate Available |
| --- | --- | --- |
| American Association of Healthcare Administrative Management | AAHAM's primary goal is the professional development of its members. Member benefits include networking events, a career laddering program, webinars, certification, scholarships, an information hub, and product and service discounts. | $0-$65 |
| American College of Healthcare Executives | ACHE's mission is to make healthcare safe, accessible, and affordable for all. As a member, you'll be able to access member forums and networks, career development tools, current industry news, and scholarships. | $75 |
| Healthcare Financial Management Association | HFMA provides tools and resources to its members to address healthcare system challenges. Membership includes access to HFMA's job bank, discounted event registration, digital publications, scholarships, and the opportunity to participate in online community groups. | $50 |
| Medical Group Management Association | MGMA supports medical practice excellence through its member resources and benefits which include: industry data, career assessments, digital publications, certification, online discussion groups, and volunteer opportunities. | $35 |
| National Association of Health Service Executives | NAHSE's mission is to increase the participation of underrepresented groups in the healthcare field. Member benefits include the opportunity to participate in the annual education conference, an annual senior excecutive/CEO program, an online career center, scholarships, and a young professionals forum for students. | $50 |
FAQs About Healthcare Administration Degrees
How long does it take to get a bachelor's degree in health administration?
---
It can take full-time students up to four years to complete a healthcare administration bachelor's degree, which requires approximately 180 credit hours.
What degree do you need for a healthcare administration job?
---
According to the BLS, most employers require their healthcare administration staff to hold a bachelor's degree. Some may require a master's degree, depending on the role and level of responsibility.
How much can you make as a healthcare administrator?
---
The median annual wage for healthcare administrators is $104,280. The lowest 10% of employees earn less than $60,000 — still well above the national average of $41,950 — while the top 10% earn just under $200,000.
Related Articles
2023 Best Online Healthcare Administration Programs
Find the online bachelor's degree in healthcare administration that's the right fit for your long-term career goals. Our list is based on each program's salary score.
2023 Best Online Health Care Management Degrees
Pursue the best online bachelor's degree in healthcare management from our 2023 list ranked by salary score.