Guide to Online Health Science Degrees
Bachelor's degrees in health science are designed for students who are interested in healthcare occupations. Enrollees can pursue an online health science degree to study patient care coordination, leadership, and public health policy.
Some students begin their college experience studying for a bachelor's degree, while many others first earn an associate degree in a specialization, such as nursing, medical assisting, or laboratory science. These alumni with associate degrees can enroll in a two-year completion program to earn their online bachelor's. To graduate with a Bachelor of Science in Health Science, students typically need to earn a total of 120 credit hours, and first-year students may need four or more years to graduate.
Admission requirements are the same for online and on-campus health science students, and they are similar across colleges. First-year applicants must submit high school transcripts or GED records, which usually need to show a minimum GPA of 2.0. In addition, applicants typically provide letters of recommendation, personal essays, and fee payments. Some schools may ask students to submit particular scores on the ACT or SAT, though this requirement is becoming less frequent.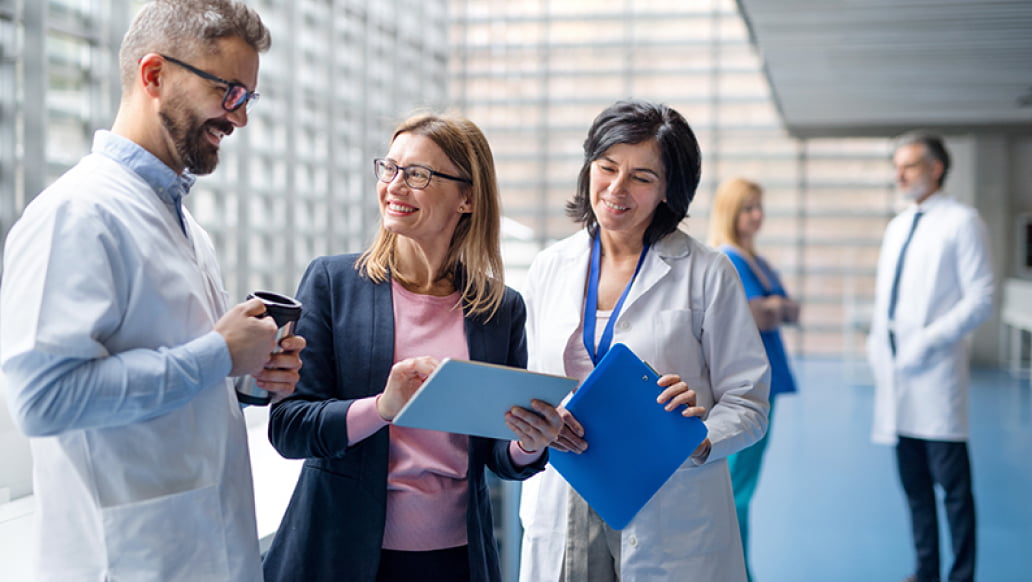 Is an Online Health Science Degree Worth It?
An online degree in health science may be a smart choice for many prospective students interested in careers in healthcare. However, all students need to carefully balance the pros and cons before deciding to pursue this degree. The factors below may be worth considering.
Potential Benefits
A degree in health science is a valuable step on many career paths. Not only does this interdisciplinary degree enable students to move directly into the workforce, it prepares graduates to pursue advanced degrees in healthcare administration, public health, or other clinical fields if they wish.
Health science degree holders face a bright job outlook. The BLS expects healthcare employment to grow the fastest among all the occupational groups that it tracks, with a 16% increase during the 2020-2030 period as compared to the U.S. average of 8% across all jobs. The aging population in the U.S. is a major factor in this growth because older patients tend to require more sustained care.
Online education allows students to select the best programs for their needs. By considering online degrees in health science, students can choose from a wider selection of program offerings with different concentrations. They can enroll in the program that best fits their career goals and budget without changing jobs or moving to another location.
Potential Drawbacks
Some employees in the healthcare delivery system may work unusual hours. According to the BLS, some medical and health services managers, health education specialists, and community health workers may have to work evenings and weekends. Some are even required to be on call in the event of an emergency.
Online programs require time management and self-discipline. Because of the relatively unstructured nature of online programs, some students may find it challenging to manage their schedules effectively and allow enough time to complete their coursework each week.
All online students have personal circumstances, such as financial considerations and other obligations, that need to be factored in as well. Individuals must determine for themselves whether the value they expect to get out of an online health science degree is worth the money and effort they'll need to invest in earning it.
What's the Difference Between Health Science, Healthcare Administration, and Public Health?
Health science, healthcare administration, and public health are related fields, and many of the same courses are included in the curricula for these three degree programs. However, subtle differences in the educational outcomes may lend themselves to some occupations more easily than others. The following distinctions may be helpful to students when they're deciding which type of degree to pursue.
Health Science: While all three disciplines train students to perform nonclinical roles, health science is broader in scope and includes elements of healthcare management, public health and policy issues, and healthcare informatics. The versatility of this degree qualifies graduates for a wide range of patient-focused support positions, such as healthcare facilities managers and health informatics managers.
Healthcare Administration: A degree program in healthcare administration focuses almost entirely on managerial functions in healthcare settings. Students learn about the healthcare system and medical terminology and also explore management topics in more depth than health science students. Public health and healthcare policy practices are generally not covered.
Public Health: A program in public health often incorporates a study of both clinical and nonclinical practices to promote best practices among future health professionals who want to provide education, prevent public health crises, and address public health issues.
See Continuing Education below for more information about master's degrees in these subjects.
Common Courses for a Health Science Major
While the curriculum for an online health science program focuses primarily on healthcare administration, it also addresses the forces that shape health services, public policy, and the various healthcare professionals involved. Coursework also helps students develop valuable critical thinking and communication skills. Most programs culminate in a one- or two-semester capstone course or senior seminar, which gives students an opportunity to apply what they've learned in real-world settings. This may be in the form of an internship at a healthcare-related agency or organization, or it may be a research-oriented capstone project. The following courses are often included in an online health science degree program:
Introduction to Healthcare Professions
Often one of the earlier courses in a health science program, this class offers an overview of clinical and nonclinical roles in the healthcare industry. Course materials typically give students a broader understanding of the U.S. healthcare system while assisting them in mapping out their career paths.
Many health science programs provide students with a course on the causes and distribution of infectious disease epidemics. This class may cover new diseases, such as COVID-19, and recurring diseases, such as whooping cough. Coursework may cover disease prevention, outbreak investigation, factors that influence distribution, public health policy, and more.
Called Health Information Systems in some programs, this course introduces students to the most common devices and methods used to store and share medical data. Students explore the many ways health informatics helps doctors, nurses, and other health professionals improve patient care. They also learn about the regulatory requirements and security issues associated with medical coding and other health documentation.
The U.S. Healthcare System
In this course, students learn how the U.S. healthcare delivery system is structured and funded. Some of the topics often addressed include employment-funded and government-funded health insurance, access to quality healthcare, and other current issues. Students may also learn about the politics surrounding healthcare reform and the future of the U.S. system.
Law and Ethics in Healthcare
Patient choice and provider responsibility are just two of the many broad areas within healthcare that are governed by numerous regulations. This course explains specific healthcare-related laws and the principles behind major policies. Real-world examples are often used to discuss ethical models and decision-making in healthcare.
Whether they're interested in pursuing clinical or nonclinical roles in healthcare, health science majors need to be familiar with the vocabulary used in the medical field. Coursework typically covers the terminology used to describe anatomy, diseases and conditions, and treatment methods. The course may also introduce students to the root sources of these terms.
Concentrations
Many schools offer areas of concentration as part of their online health science programs. Students often select a concentration to study a subject of personal interest, set themselves apart as well-qualified candidates for particular jobs, and/or position themselves for acceptance into graduate school. In health science, concentrations sometimes require courses, such as electives, from other fields besides health. Some of the more common concentrations include the following.
Aging: Students who opt for a concentration in aging may be required to take several courses related to healthcare for older adults, such as Gerontology and Health Issues Across the Lifespan. There may also be one or two required courses in Business Management to help graduates prepare for managerial roles in healthcare service organizations catering to the aging population in the U.S.
Health and Wellness: Health science majors interested in the field of public health may consider focusing on health and wellness. Some of the possible courses in this area of emphasis include Public Health Principles, Health Communication and Education, and Health Services Administration. Graduates can choose one of several career paths, such as working in health promotion or wellness programming through a non-profit organization or pursuing a graduate degree in occupational therapy.
Healthcare Management: Enrollees who already know they would prefer a nonclinical career in healthcare may focus on healthcare management. Required courses will most likely be an interdisciplinary combination of Business Management and Leadership along with Health Informatics and Health Services Administration. This concentration helps prepare graduates to become health services managers, but they could also become community health program managers or pharmaceutical sales representatives.
Physical Rehabilitation: A concentration in rehabilitation could be a logical choice for bachelor's degree students who want to complete pre-professional studies on their way to earning graduate degrees in rehabilitation, such as physical therapy, orthotics, or chiropractic care. It may also be of interest to clinicians who have earned associate degrees in healthcare — for example, respiratory care therapists — and now want to pursue a bachelor's program. Two of the more common courses for this concentration include Health and Disability and Occupational Health and Safety.
Careers with an Online Degree in Health Science
Health science majors typically pursue nonclinical occupations in the healthcare industry. There are many job possibilities in public health, health education, case management, and more. Graduates may also choose to pursue additional degrees to qualify for higher level positions or take on clinical roles in healthcare, such as nursing, occupational therapy, and physical therapy. Some of the more lucrative occupations in health science include the following.
Certifications and Licensure
Very few professionals in health science need licensure to practice, except for nursing home administrators. In the U.S., these professionals must apply to their state boards and pass an exam administered by the National Association of Long-Term Care Administrator Boards to become licensed. Assisted living facility managers may also be required to obtain licensure in some states.
Some health science professionals may decide to pursue one of the many optional certifications available. Certification adds credibility to an individual's qualifications and may make a person more attractive as a job candidate, especially when applying for advanced or specialized roles in healthcare management. Below are some examples of healthcare certifications that may help professionals advance their career after graduation.
Professional Associations and Organizations
Health science graduates can enhance their credentials by joining an industry association or organization. Not only does membership show a commitment to professional growth and excellence, it provides opportunities to stay current on healthcare issues, continue learning through the organization's resources, and network with peers. Organizations are typically focused on one particular aspect of healthcare, such as management, finance, or quality assurance, and many offer certification. A few examples of associations are listed below.
National Association of Healthcare Access Management (NAHAM) membership is available to anyone in a supervisory role within the healthcare delivery system. The group focuses on establishing best practices, and it provides continuing education, networking, and certification opportunities for members.
American Association of Healthcare Administrative Management (AAHAM) provides professional development opportunities for the individuals in certain financial roles, including those in the U.S. healthcare system who focus on the revenue cycle. This refers to the tracking and collection of income generated throughout the stages of care for each patient.
The Health Care Administrators Association (HCAA) is an educational and advocacy organization for anyone involved in health insurance, including benefit administrators, medical managers, brokers/agents, and healthcare consultants. Members meet twice a year to network and discuss industry trends.
Continuing Education
As a broad major, health science can help undergraduates prepare for a range of nonclinical jobs. But graduates may choose to pursue a more specialized master's degree if they want a clinical or managerial position. These jobs usually come with more responsibility and may require a license or certification, but they also tend to pay more. In general, alumni with graduate degrees also experience less unemployment than those with bachelor's degrees or lower.
We've listed some master's degree subjects that might interest health science students, and each links to a page with information on the best online programs in the discipline.
Accreditation
Accreditation is one of the most important factors prospective students — especially online learners — should look at before enrolling in any degree program. To obtain accreditation, colleges and universities must meet established standards of excellence for all of their academic programs, faculty, student services, and other resources.
Beyond earning accreditation for the entire institution, schools can also seek accreditation for the individual degree programs they offer. The programmatic accrediting agency for all health science programs is the Commission on Accreditation of Allied Health Education Programs, which evaluates programs for 32 health professions. The U.S. Department of Education and the Council for Higher Education Accreditation each offer a database of recognized schools, programs, and accrediting agencies.
Frequently Asked Questions
Can You Study Health Science Online?
Many colleges feature online bachelor's degrees in health science. Applicants can choose a general degree path or specialize by putting electives toward a concentration, such as aging or healthcare management. In an online format, most health science degrees feature asynchronous courses that let students complete coursework on their own time.
What Jobs Can I Get With an Online Bachelor's in Health Science?
Health science graduates may secure work in a variety of nonclinical healthcare fields, such as administration, management, health informatics, and health education. They might work for employers as diverse as university hospitals, private clinics, or government agencies.
What Is the Highest Paying Job for Graduates With a Health Science Degree?
At $104,280, medical and health services managers earn higher median salaries than any other job attainable with a bachelor's degree in health science. These professionals manage teams and projects at healthcare organizations to ensure that they run efficiently.
Related Articles
2023 Best Online Health Care Management Degrees
Pursue the best online bachelor's degree in healthcare management from our 2023 list ranked by salary score.
2023 Best Online Health Sciences Degrees
Investigate our list of the best online bachelor's degrees in health sciences based on alumni salary score for each program.