Guide to Online Graphic Design Degrees
Visual storytelling and on-brand messaging are the overarching objectives of graphic design. To achieve these outcomes, graphic artists combine words and images with other elements to create an instant impression in the viewer's mind. Aspiring designers who want to learn to use industry-standard tools and software to create innovative visuals in both two- and three-dimensional formats should consider earning a graphic design degree online.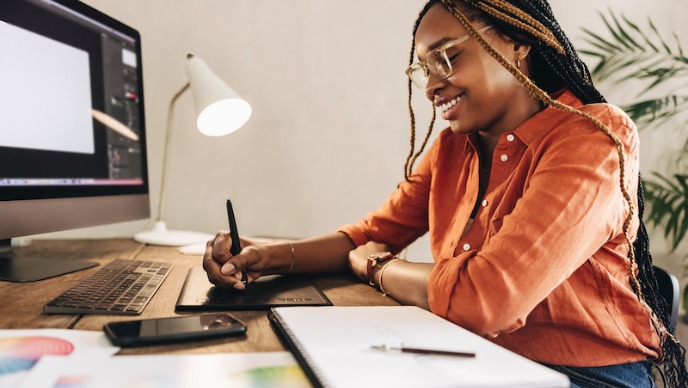 Which Bachelor's Degree is Best for Graphic Design?
Although there are several visual arts degrees that incorporate design concepts, the best bachelor's degree for graphic artists is in graphic design. Many schools offer a Bachelor of Arts (BA) degree, but some offer a Bachelor of Fine Arts (BFA). For either type of graphic design program, the curriculum covers both the creative skills and the technology know-how you'll need to pursue a career as a graphic artist. In the process of earning this degree, you'll also develop a professional portfolio of design projects you can use to demonstrate your abilities to prospective employers.
To apply to a graphics program, you'll need to submit an application, transcripts from all previous high school and college coursework documenting usually a 2.5 or higher GPA, and probably one or more of the following: a resume or list of extracurricular activities, letters of recommendation, and an essay or statement of purpose. Many schools will also ask to see a portfolio of student work. Alternatively, some schools may require you to complete a few introductory design courses before you're accepted into the program.
Online Graphic Design Degrees
Online graphic design programs offer several benefits, especially for working students who have other commitments and time constraints. Online students often appreciate the freedom to access course materials, view presentations and lectures, and interact with classmates on their own schedules. Additionally, some online graphic design programs have created virtual "gallery" spaces where students can share their work and get constructive feedback from their peers and instructors. These virtual interactions also provide opportunities to build professional networks. Another advantage to virtual learning is that students can choose the graphic design program that best supports their career goals and budget without having to relocate.
Some online graphic design programs have created virtual "gallery" spaces where students can share their work and get constructive feedback from their peers and instructors.
What Will I Learn in a Graphic Design Bachelor's Program?
Overall, a graphic design bachelor's program should enhance students' visual communication and storytelling abilities. These broad goals are supported by opportunities to develop the following skill sets.
Design skills: using the principles and elements of design to communicate the intended brand message, developing design concepts that solve problems, exhibiting a personal design aesthetic in your creative process
Technical skills: using a wide range of design-related software programs for both print and digital media, utilizing proper production procedures
Professional skills: working effectively in teams, meeting deadlines, listening to clients explain their needs, communicating your design ideas to clients, presenting your portfolio to potential clients, marketing and running a design business
Graphic Design Program Concentrations
While most graphic design bachelor's programs provide a broad curriculum intended to produce well-rounded design generalists, a few programs offer concentrations that enable students to prepare for specific occupations within the field. Students are usually required to take three or four courses in their chosen area of specialization to complete a concentration. In the process, they'll create a number of portfolio-ready projects showing their mastery of that particular aspect of design. The following options might be found at select schools.
3D modeling and animation
These courses are designed to teach students how to create three-dimensional graphics for use in gaming, advertising, education, and product development. Using sophisticated graphics software, students can practice creating concepts, building digital models, and applying the principles of animation.
User interface and user experience design
Students planning careers in web-related design can start developing their expertise in enhancing users' experience with coursework in this field. Some courses focus on user interface, which refers to how users interact with computer systems, software, websites, and applications. Other courses concentrate on user experience, which is the process of using design to create an impression of a brand within a site or app user's mind.
This concentration blends visual design with user interface concepts and computer programming. Courses are meant to teach students how to design mobile apps that effectively solve problems and are easy for users to understand and navigate.
How Much Does a Graphic Design Degree Cost?
The total cost of any college degree depends on many variable factors. For example, the tuition fees for bachelor's degree programs at public and private four-year schools vary widely, from $10,740 to $38,070. Part of this difference may be due to the fact that some schools offer lower tuition rates for online programs, especially for out-of-state enrollees.
---
Design students need to account for several additional expenses as well. According to the College Board, students at four-year colleges spend an average of
$1,240 annually in books and supplies
. This amount may be somewhat higher for graphic arts students, who need a high-quality computer, high-speed internet service, additional art materials, and a subscription to the Adobe Creative Cloud, which includes software programs like InDesign and Photoshop.
---
At least some of these expenses may be offset by financial aid provided by the federal government, state government, and colleges and universities. The preferred types of aid are grants and scholarships, which don't have to be repaid. They may also consider student loans, but these will have to be repaid with interest. To determine how much and what types of aid may be available, students should submit the Free Application for Federal Student Aid (FAFSA). After their applications are reviewed, those students who are eligible for aid will receive offers from the schools they have applied to or are attending.
Funding a Graphic Design Degree
In addition to applying for financial aid, graphic design majors may want to submit separate applications for private scholarships, including some of the following options.
What to Look For in an Online Graphic Design Program
With so many online graphic design degrees to choose from, it's important to find one that supports your career path. If you're not sure what your goals are yet, you may want to choose a program that incorporates a comprehensive range of courses in both print and digital design, including typography, design fundamentals, and art history. If, however, you're clear on the type of design work you'd like to do, it may be better to select a program that offers several courses related to that specialty. You'll also want to look for a school that supports design students' job search efforts with coaching on writing resumes, interviewing for design jobs, and compiling outstanding portfolios that will impress prospective employers.
Graphic Design Careers
Most design professionals begin with an entry-level position, typically as a production artist. At this stage, artists perform essential production tasks and take on relatively small, basic design projects.
With a few years of experience, designers can follow any one of several different career paths. Some focus on designing for print, such as advertising or magazine layouts, while others work on designing for technology, including websites, mobile ads, mobile apps, and multimedia products. Another possibility is to specialize in product design, conceptualizing everything from skateboards to cosmetics packaging. Most of these jobs have median annual salaries in the $53,000-$77,000 range. Some seasoned designers may ultimately assume managerial positions, such as art director or creative director, earning a median annual salary of approximately $97,000.
What Qualifications Do You Need to Be a Graphic Designer?
Graphic designers need a variety of qualifications to succeed in the workplace, most of which are covered in graphic design bachelor's programs. First, according to the Bureau of Labor Statistics (BLS), they should have extensive knowledge of the principles and elements of design, such as color theory and visual balance. Technical expertise with computer technology is also essential. Depending on their area of specialization, designers may need advanced skills in design, graphic imaging, video creation and editing, or web design software.
FAQs About Graphic Design Programs
What Degree Do You Need to Be a Graphic Designer?
According to the BLS, you typically need a bachelor's degree to land an entry-level job as a graphic designer. Job candidates with other qualifications may also be eligible for design career opportunities, but they may need to demonstrate the required technical skills with their portfolios.
Can You Get a Degree in Graphic Design Online?
Yes, you can get a degree in graphic design online. There are many distance learning programs for associate, bachelor's, and master's degrees in design. Some schools also offer Bachelor of Fine Arts (BFA) and Master of Fine Arts (MFA) programs.
Is Graphic Design a Hard Major?
As with all majors, the relative ease or difficulty of a graphic design program depends on the student. If you're a creative thinker and problem solver, have an eye for color and spatial relationships, and enjoy working on a computer, you will probably find it easier to succeed in graphic design courses.
How Fast Can You Get a Graphic Design Degree?
Full-time students often fulfill the 120-credit hour requirements for a bachelor's degree in graphic design in four years, while part-time learners may need slightly longer. Newly enrolled students who've already completed some coursework — perhaps by earning an associate degree — may be able to transfer credits and graduate in less time. There are also a few accelerated graphic design programs that enable students to finish their degrees faster.
Resources for Graphic Design Students
Many websites offer free resources for graphic design students to use in their portfolio projects. These include images, video clips, typefaces, and more from sites such as Unsplash, Canva, and The Noun Project. Students may also find design inspiration on Behance and Httpster.
Membership in the following organizations may provide students with valuable professional contacts and other resources.
The American Institute of Graphic Arts (AIGA)is the oldest and largest organization for design professionals, boasting 15,000 members organized into 70 chapters. Members gain access to professional development resources, product and service discounts, a job board, and more. Students with less than four years of professional experience can join as an Emerging Member.
The mission of the Graphics Art Guild is to help graphic artists and other self-employed design professionals run their businesses more effectively. Members of the guild — divided into five regions across the U.S. — can take advantage of many educational resources and events as well as discounts on products and services. Students can join at a discounted rate.
The Society for News Design (SND) is a niche organization for all print and web designers who work on newspapers, magazines, and journals. SND offers events, competitions, and other resources for its members. Students who are considering specializing in this type of design may be interested in joining at a discounted price.
Related Articles
Best Online Web Design Degrees
Check out the most popular online web design programs, alongside annual tuitions and student recommend rates. Students might focus their studies on data systems, website infrastructure, coding, and more.
2022 Best Online Art Design Degrees
Interested in an art degree? Our list of bachelor's degrees in art and design can help you choose the best program that fits your needs.