Guide to Online English Degrees
An online English degree is a common humanities degree enabling you to study various forms of human expression through language and literature. While many English majors become teachers or librarians, careers are available in multiple fields and industries, from media outlets and freelance gigs to healthcare administration and high tech. Choosing the right program will depend on what you see yourself doing professionally in the future. We've compiled information from reliable and reputable sources to help you determine if an online English degree is right for you.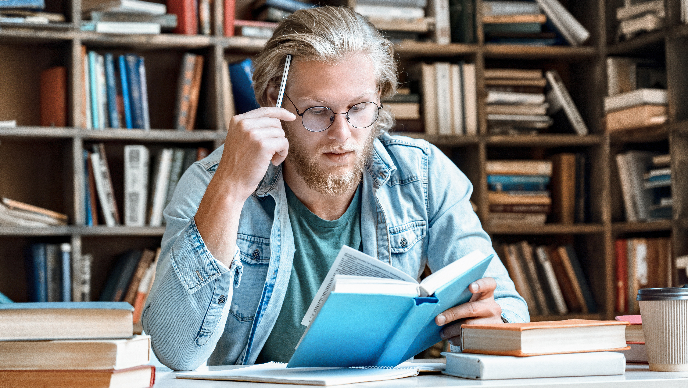 Overview of Online English Degrees
As an English major in the humanities, you'll spend time analyzing, reading, and writing about various forms of text and literary genres written or translated into the English language. Studying English and literature generally includes a historical approach to learning. This means you'll be spending time reflecting on various literary movements throughout the centuries, their impact on society, and how they continue to influence how we express ourselves today.
As an English major in the humanities, you'll spend time analyzing, reading, and writing about various forms of text and literary genres written or translated into the English language.
English degrees are valuable because they can help you develop strong critical and creative thinking skills, broaden your intercultural awareness and appreciation of diversity, help explain the human condition, and cultivate your communication skills. These soft skills are imperative to navigating the workplace and problem solving, following instructions, building relationships, communicating effectively, and leading and mentoring others. Moreover, skills cultivated in an English degree program can apply to virtually any occupation and industry.
Over 50,000 individuals earned English degrees in the U.S. during the 2019-20 school year including approximately:
38,000 who earned bachelor's degrees
7,900 who earned master's degrees
1,300 who earned doctoral degrees
3,400 who earned associate degrees
What Kinds of English Degrees Are There?
Depending on your career goals, English degrees are available at the undergraduate, graduate, and postgraduate levels. For example, if teaching English at the postsecondary-level appeals to you, you most likely will have to earn a master's or even a PhD or doctorate. However, an undergraduate degree may suffice if you're pursuing an English degree to develop your critical thinking, writing, and communication skills because you want to become a writer or use your skills in a business field.
Degree Level
Degree
Admission Requirements
Length of Time to Complete
Associate
Associate of Arts (60 credit hours)

Completed application and fee
High school diploma or GED
2.0 GPA or higher
Transcripts

Two years
Bachelor's

Bachelor of Arts (BA) (120 credit hours)

Bachelor of Science (BS) (120 credit hours)

Completed application and fee
High school diploma or GED
2.0 GPA or higher
High school/college/military transcripts
Essay
Entrance exams

Four years
Master's
Master of Arts (MA) (40 credit hours)

Completed application and fee
Bachelor's degree
College/military transcripts
Letter or essay of intent
GRE or GMAT scores
Letters of recommendation
Resume or CV

Two years
Doctorate

Doctoral (36 credit hours)

PhD (36 credit hours)

Completed application and fee
Master's degree
College/military transcripts
Statement of Purpose
GRE or GMAT scores
Letters of recommendation
Resume or CV

Three to six years
English Major Concentrations
You can choose from several English major concentrations depending on the school, program, and what you wish to achieve. We've highlighted some common options below, but your school may have other English concentrations available. Make sure you ask before enrolling to ensure the curriculum will provide the skills you need.
| Concentration | Description |
| --- | --- |
| Creative Writing | Allows students to explore writing fiction, poetry, drama, and creative nonfiction. Explores the various writing genres where students may apply these skills. |
| Education | Prepares prospective teachers to teach English, manage a classroom, create lesson plans, and explore and apply various teaching methods. Also prepares students for state certification and licensure. |
| English Literature | Explores the history of literature written or translated into English. This may include studying the classics, short stories, British and American literature, and modern works. |
| Film Studies | Students interested in film-making can study screenwriting and film production, cinematography, art direction, and post production work. |
| General English | Helps students develop their English accuracy and fluency while studying grammar, vocabulary, composition, reading, and writing. |
| Language Composition | Studies written, oral, and physically expressed communication, such as American Sign Language, and nonverbal communication, so students can learn to express themselves effectively in various situations (professionally, personally, and academically). |
| Linguistics | Develops an awareness and understanding of the components of linguistics including syntax, phonetics, phonology, semantics, morphology, and sociolinguistics. |
| Technical Communication | Builds technical writing skills to enable students to write about technology and use technology to write. This concentration can include editing, web design, and document design. |
What Can You Do With an English Degree?
You can pursue many jobs with an English degree, including working in the publishing industry, becoming a journalist, or using your communication skills and cultural awareness to work in human resources. It may be generally assumed that English majors become authors. However, you don't necessarily have to have an English degree to write. For example, you may major in another discipline, such as history or philosophy, to become well-versed in your area of interest and take electives or minor in English to learn to write with authority.
English majors often become teachers. To teach K-12, you'll need a bachelor's degree in English or English Education to apply for state licensing and certification. To teach at the postsecondary level or above, you'll need a master's degree at the minimum but most likely a doctoral degree or PhD. The projected job growth for postsecondary teachers is 12% through 2030, which is higher than that of all other occupations.
The projected job growth for postsecondary teachers is 12% through 2030, which is higher than that of all other occupations.
While the majority of English majors work in education and library services, over 15% work in management occupations, including marketing, finance, and medical and health services. Some use their undergraduate English degree to transfer credits towards a graduate degree, such as law or educational leadership.
Is an English Degree a Good Fit for Me?
An English degree may be a good fit for you if you understand the skills you develop won't be as technical as other disciplines but can still apply to your chosen career. It may also be a good fit if you love to read because it could be how you may spend the majority of your time, depending on your concentration. There is often a misconception that there's a lot of writing in an English program, but you may do a lot more reading.
There are other factors to consider, including your financial situation, your career goals, and whether studying online or on-campus is right for you — we go into the latter in more detail below. To further determine if an English degree is a good fit for you, consider the following:
You may be exposed to various genres, texts, and authors, many of which may be unfamiliar to you and not always enjoyable. This may not be easy if you aren't an avid reader. A lot of the subject matter can also be challenging to get through and can be triggering if you've experienced trauma in your life. However, it can also develop more profound empathy for others and promote greater self-awareness.
English degree classes tend to be smaller, which can feel comfortable if you're naturally introverted. However, you also have to feel comfortable sharing your work, some of which you may think is intensely personal. Because there are fewer students, you may be asked to contribute more often to discussions and engage with others which can be difficult for some. The upside to this is that you'll have opportunities to make friendships that could last a lifetime.
You may not earn as much as other majors once you graduate. English majors earn an annual median salary of $51,000 compared to $60,000 for all other occupations. You may also experience higher unemployment. For example, a 2018 report published by the National Center for Education Statistics (NCES) found that English language and literature was the only field of study where bachelor's degree-holders experienced lower-than-average salaries and higher-than-average unemployment. However, your job outlook may be brighter if you apply your degree to a job in business or management or use it as the first step towards a master's degree in a more lucrative field.
Funding an English Degree Program
There are numerous ways you can fund an English degree program. You can start by completing a Free Application for Federal Student Aid (FAFSA) which can determine your eligibility for federal aid. Federal aid includes grants, such as the Pell grant, work-study programs, scholarships, and low-interest federal student loans that offer flexible repayment options.
Additional funding methods include:
Employer-paid tuition reimbursement programs at the workplace
Private loans, though you should proceed with caution as interest rates may be high and repayment options limited
Private scholarships can be another feasible option to paying for school. Many industry associations, foundations, nonprofit organizations, and philanthropists offer scholarships to qualified applicants. You can conduct your own research or ask your school's financial aid office for assistance. Sometimes, a school's benefactor sponsors scholarships based on merit and financial need. For example, former alumni or their families may have writing scholarships for English majors. Competing for a scholarship may require submitting a portfolio of your work.
How to Choose an English Degree Program
There are several factors to consider when choosing an English degree program, and we've identified some of the most critical to help you get started.
Is it challenging navigating a college campus due to a disability? Is the program you want out-of-state? Do you work full-time? The answers to these questions may help determine whether to attend school on-campus or online. Online colleges can be convenient and affordable and provide scheduling flexibility because classes are often asynchronous, allowing you to participate at any time. On-campus programs are more structured because you have to be on campus at certain times throughout the week, which may be difficult, but it also can be fun if you want to participate in campus life.
How do you learn? Are you a hands-on or auditory learner? Do you prefer to read and write on your own, or do you enjoy the energy and engagement of classroom discussions? How you absorb and retain information can dictate whether you earn your English degree online or on campus. Online learning tends to work better if you enjoy solitary work, are well organized, and can manage your time well. In-person learning is better if you need the structure of a physical classroom environment and the energy of your peers to thrive.
Institutional accreditation is crucial because it makes it easier to transfer credits back and forth between other accredited schools. Additionally, employers who require degrees often prefer they are from accredited institutions, and it's a requirement for federal financial aid. An English degree program may also be programmatically accredited by the Commission on English Language Program Accreditation (CEA).
Acceptance into schools may depend on your SAT, ACT, GMAT, or GRE scores. For example, the Ivy League schools, such as Harvard and Yale, require exceptionally high scores, while a public state university may accept lower scores or waive the requirement altogether. Therefore, your score on these entrance exams may determine where you're accepted. You can research entrance exam requirements on the College Board website.
Graduation and Retention Rates
Higher graduation and retention rates may reflect how well schools treat students beyond their initial recruitment efforts. It's great if a school can entice students to apply and enroll, but it's even better if they can keep them there through graduation. You can research these rates at the College Board or College Scorecard.
What others have to say about their experience with a program can speak volumes. Student reviews can offer insight into the quality of instructors, the rigor of a program, and the overall university experience. However, a negative review may result from anger or a unique situation. Be sure to carefully read what others say and seek additional information when appropriate to help you decide.
FAQs about Online English Degrees
What Is the Best Degree in English?
---
The best degree in English is the one that's affordable, convenient, and helps you meet your educational and career goals — our rankings can help you choose the best program for you.
Are English Degrees Hard?
---
English degrees aren't necessarily harder or easier than other degrees, but having an interest in language and literature will help. Earning an English degree takes patience and reflection to fully understand and think critically about what you are reading and writing to appreciate the nuances and meanings hidden behind the words you see on a page.
Can You Get an English Degree Online?
---
You can get an English degree online through many colleges and universities across the U.S. Attending school online may work for you because it can be convenient and affordable, and the nature of what you'll be studying lends itself to working autonomously with minimal distractions.
What Is an English Degree Good For?
---
Aside from honing your reading comprehension and writing skills, an English degree is good for developing other soft skills applicable to many occupations. These skills include critical and analytical thinking, awareness of diverse perspectives, creative problem-solving, research, emotional intelligence, and understanding of human nature.
Resources for Students Majoring in English
There is a plethora of online resources available to English majors. We've earmarked some of the most robust to help you with your studies and beyond.
Academic Journals

(may be available through your school library)

Associations
Books and Supplemental Learning Materials
Grammar and Writing
Related Articles
2023 Best Master's in English Online Programs
The schools featured on this list provide the best master's in english online degrees. Rankings for 2023 are based on tuition rates and alumni salaries.
2023 Best Online English Degrees
Online bachelor's in English degrees are offered at a variety of colleges. Our rankings for 2023 feature the best, based on return on investment calculated with median alumni salary and debt.