Guide to Online Engineering Degrees
An online engineering degree can help you accomplish your educational goals if you are interested in a career in the engineering field. Many programs include internships that enable you to apply your skills and earn work experience while still in school. Degree outcomes are the same as on-campus programs and should prepare you to follow your desired career path after graduation. The U.S. Bureau of Labor Statistics (BLS) indicates that degree-holding engineers of varying disciplines can earn over $120,000 a year.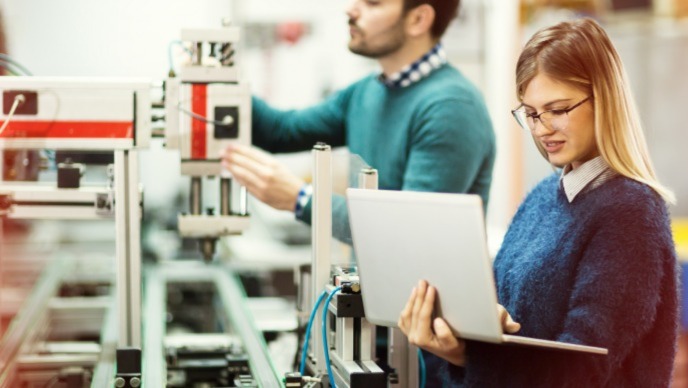 What Is an Engineering Degree?
An engineering degree is a STEM major that integrates math, science, and business courses into its curriculum. You may begin by learning general engineering concepts and fundamentals before choosing from several specialities in your second year of study. Coursework includes general core classes, major core classes, and electives. Lessons are delivered via in-person or virtual class instruction, lab work, and hands-on learning opportunities such as internships.
Engineering student outcomes generally include the following:
Identifying and solving complex engineering problems by applying science, math, and engineering skills
Creating safe and sound solutions that benefit humankind and the environment
Communicating effectively and demonstrating leadership skills
Conducting work in an ethical and professionally responsible manner
Working as a contributing and collaborative member of a team
Can You Get an Engineering Degree Online?
Yes, you can earn an engineering degree online. However, there may be occasions when on-campus work is required for lab or project work – an academic advisor can let you know what each degree requires. Online programs are often taught by the same instructors who teach on-campus programs and should therefore be held to the same academic standards and quality.
What Kind of Engineering Degrees Are Available?
There are several types of engineering degrees available at the undergraduate and graduate levels. Disciplines range from aerospace and architectural engineering to mechanical and software engineering.
Engineering Degree Levels
You can earn an associate, bachelor's, master's, or doctoral degree in engineering. There are also certificates and diplomas available at the undergraduate level, often through trade schools and community colleges, and graduate-level certificates that help degree-holding engineers develop specialized skills. However, most jobs require a bachelor's degree to become an entry-level engineer.
Engineering Majors
There is a wide breadth of engineering majors depending on your interests and career goals. Students tend to gravitate towards several common majors that can lead to lucrative careers that grow at a steady rate.
| | |
| --- | --- |
| Aerospace and Aeronautical Engineering | You can earn a bachelor's degree and a graduate degree, such as a master's in aerospace engineering, to learn how to design and build aircraft and spacecraft. |
| Architectural Engineering | Architectural engineers apply their engineering skills to the construction and renovation of buildings and their systems. A bachelor's or master's degree can help students cultivate knowledge and skills. |
| Biomedical Engineering | A bachelor's degree in biomedical engineering is designed to prepare students for work improving human health through the intersection of medicine, technology, and engineering. Many jobs require a master's or other graduate degree. |
| Chemical Engineering | A bachelor's degree in chemical engineering can provide the skills necessary to use chemicals to produce and manufacture products. A master's degree may help with job advancement. |
| Civil Engineering | A civil engineer's education through a bachelor's or master's program can help them develop skills in designing infrastructures, such as roads, bridges, dams, and high rises. |
| Computer Engineering | Students can enter into computer engineering careers by earning a bachelor's or master's degree to learn how to design, build, and test computer hardware and systems. |
| Electrical Engineering | Electrical engineers rely on the skills gained through bachelor's and master's degree programs to create and design products and systems that rely on electricity as their main power source. |
| Industrial Engineering | Industrial engineering students who are in a bachelor's or master's degree program complete coursework aimed at developing skills in creating and operating the systems that run large operations. |
| Mechanical Engineering | A mechanical engineering bachelor's program helps prepare students for work developing and maintaining large machines and equipment. A master's program can help develop advanced skills necessary for job growth. |
| Software Engineering | Software engineers learn how to develop, implement, and troubleshoot the software applications used in a variety of industries and settings. They hone their skills through bachelor's and master's degree programs. |
What Branch of Engineering Is Right for Me?
Your interests, abilities, and career goals will dictate which branch of engineering to choose. The right branch is the one that excites you, you excel at, and the one that provides career opportunities and meets your financial goals.
Your personality may also suit one discipline more than another. To identify which fits best, it can help to reach out to others in your field of interest through networking sites like LinkedIn or ask an academic advisor if you can speak to students currently enrolled in a program that interests you. O*NET can help you identify skills and characteristics necessary for each engineering career. For example, civil engineers are often realistic, conventional, and investigative by nature, enabling them to excel in their field. Electrical engineers are often investigative and realistic because they like a practical, hands-on approach to problem-solving.
How Long Does It Take To Get an Engineering Degree?
The length of time it takes to complete an engineering degree program is two to five years depending on the degree level.
An associate degree generally requires 60 credit hours and takes full-time students two years to complete.
A bachelor's degree typically requires 120 credit hours and takes full-time students approximately four years to complete.
A master's degree in engineering requires approximately 30 credit hours and can take full-time students two years to complete.
A doctoral degree requires approximately 36 credit hours and typically takes three to five years, depending on level of expertise, field of study, and enrollment status.
How to Choose an Engineering Degree Program
It's essential to find an engineering degree program that meets your goals, is convenient, and is affordable. You can complete programs online, which can suit a busy schedule and save money because schools may waive campus fees and charge flat-rate tuition regardless of residency for their online students. You'll also want to consider programmatic accreditation, which ensures a program's curriculum meets industry standards.
---
The Accreditation Board for Engineering and Technology (
ABET
) is the primary accrediting body for applied science, computing, and technological engineering degree programs.
---
What Can You Do with an Engineering Degree?
Many industries rely on the expertise of trained engineers in the production of goods and services, the management of energy and natural resources, the building of infrastructure, and the transportation of people and equipment all over the world and beyond. There are several engineering occupations within these industries, depending on your area of expertise and education level. For example, you can work as an HVAC or building system technician, a mechanical or electrical engineer, a computer network or software engineer, an aerospace engineer, or a civil engineer responsible for the roads and bridges that connect our cities and neighborhoods.
Careers Outside of Engineering
You can also choose to apply the skills and discipline you gain from an engineering degree program to careers outside of the field.
| | |
| --- | --- |
| Consulting | Consultants and management analysts may work as independent contractors or as staff by offering their services and engineering expertise within an organization so business leaders can make sound decisions. |
| Project Management | Project and engineering managers are often needed to oversee large-scale projects by coordinating and delegating work to others. Their engineering expertise can allow them to estimate costs and create budgets, supervise staff, and stick to deadlines. |
| Recruitment | Human resources managers and specialists with a degree in engineering may work to recruit others in engineering companies. Their expertise may enable them to identify qualified applicants or oversee a company's talent acquisition efforts. |
| Teaching | Those with an advanced engineering degree may be able to teach students at the high school, career and technical, and postsecondary education levels in engineering courses and programs. |
| Technical Writing | Technical writers use their expertise in areas like engineering to write publications such as instruction manuals, textbooks, and academic journal articles so others can easily understand complex subjects. |
Is an Engineering Degree Worth It?
Yes, in general, an engineering degree is worth it. It's an in-demand field that evolves as technology advances. Your return on investment (ROI) may be high as engineering jobs tend to pay well, and there is an opportunity for growth.
Your return on investment (ROI) may be high as engineering jobs tend to pay well, and there is an opportunity for growth.
However, a degree's worth ultimately depends on your goals, and financial situation. It also helps to have a strong interest in math, mechanics, and technology as you'll use these skills to create and problem solve. Finally, as with any major life decision, it helps to weigh the pros and cons to help you decide.
The potential benefits of an engineering degree include:
You'll be learning work that may benefit society. Completing an engineering degree program can help you gain the skills and confidence necessary to eventually work on projects that positively impact the environment, energy consumption, medicine, or transportation.
You can build strong leadership skills. You may take classes or even major in engineering management. Doing so can enable you to build the skills you'll need to motivate and advise others when working on large projects.
Engineering requires creative thinking. Engineering isn't just numbers and quantitative reasoning. Coursework will require you to think outside the box and use your imagination to conceptualize ideas as they come to fruition.
The potential drawbacks of an engineering degree include:
An engineering degree can be expensive. Some universities charge more for engineering degrees because the coursework is more complicated than other programs and requires costly materials. Schools pass these costs on to students resulting in additional fees.
The engineering curriculum can be intense and demanding. STEM degrees can be intellectually challenging, and while this can be motivating for some, it may prove too difficult for others. It can also be difficult if you're trying to balance school with work and family, especially if you find it challenging to carve out time to study.
You'll have to commit to lifelong learning. Technology changes at an alarming pace, and you'll have to keep up if you want to remain competitive in the job market. You may have to earn an additional degree and certification to keep pace with industry demands. Going back to school will take extra time and money.
FAQS About Engineering Degrees
Can You Be an Engineer Without a Degree?
---
Yes, you can earn an undergraduate diploma or certificate to become an HVAC technician, a CAD technician or industrial designer, a mechanical technician, an electrical technician, a land surveyor, a computer network engineer, or a wind turbine technician. The BLS anticipates a high job growth rate of 68% through 2030 for wind turbine technicians.
What Is the Best Engineering Degree?
---
The best engineering degree is the one that helps you meet your career goals. It's the one that offers you opportunities for career advancement and meets your salary expectations. For example, aerospace, electrical, and petroleum engineering degrees can lead to steady job growth and salaries that exceed $120,000 a year.
What Is the Easiest Engineering Degree?
---
In general, all engineering degree programs can be rigorous. However, online programs may be easier because you can complete them on your own time if you have a busy schedule. Programs and disciplines requiring less physics and math may also be easier for some, such as agricultural or civil engineering.
What Degree Do You Need to Be an Engineer?
---
Which degree you need depends on your career goals. Some occupations, such as technicians, only require an undergraduate certificate or diploma, while others require an undergraduate or graduate degree. You may need a doctorate if you choose to teach engineering in academia.
Resources for Engineering Students
Numerous resources are available to help guide you through your education and career. Most offer a discounted or free student membership so you can have the same level of access to resources and online communities as professional members.
| | |
| --- | --- |
| American Academy of Environmental Engineers and Scientists (AAEES) | AAEES provides board certification, training and webinars, networking opportunities, and publications for its members. Student membership is free. |
| American Institute of Aeronautics and Astronautics (AIAA) | AIAA provides a community where aeronautic and astronautic engineers can collaborate and share knowledge. Full-time university students can join for $28. |
| American Institute of Chemical Engineers (AIChE) | AIChE has over 60,000 members who participate in networking events, continuing education opportunities, and access industry publications. Students can join for $50 a year. |
| American Society for Engineering Education (ASEE) | ASEE members can convene annually at regional conferences and international forums to network and share knowledge. Members can also take advantage of continuing education courses and research publications. Students can join for $30 per year. |
| American Society of Civil Engineers (ASCE) | ASCE is the oldest engineering organization and has over 150,000 members internationally. It provides help with career growth, education opportunities, and communities where members can collaborate. Students can join for free. |
| American Society of Heating, Refrigeration, and Air-Conditioning Engineers (ASHRAE) | ASHRAE is a global society of HVAC engineers and technicians that provides technical resources, professional development opportunities, and events for professionals to engage with one another. Students can join for a $25 discounted rate. |
| American Society of Mechanical Engineers (ASME) | ASME offers opportunities for its members to earn certifications, attend classes in a virtual classroom, participate in member events, and access resources. First year students can join for free and pay $25 for each subsequent year in school. |
| Institute of Electrical and Electronics Engineers (IEEE) | IEEE helps set industry electrical engineering standards, facilitates degree program accreditation, offers credentialing opportunities, and has councils and workgroup members can join. Part-time students are eligible to join for $16 per year. |
| International Council on Systems Engineering (INCOSE) | INCOSE has virtual events and resources for its members. Members can participate in virtual cafes, webinars, and virtual networking events. Students attending school at least 75% of the time can become members for $50 per year. |
| National Society of Professional Engineers (NSPE) | NSPE has scholarships, reports, education resources, best practices, and advocacy available to its members. Full-time students enrolled in an ABET-accredited program can join for free. |
There are several training and educational resources available specifically for engineering students and those exploring engineering careers.
| | |
| --- | --- |
| Eng-Tips | Eng-Tips has information broken down by engineering discipline so you can find information specific to your field of study. |
| EngineerGirl | As part of the National Academy of Engineering (NAE), EngineerGirl caters to women in engineering with information about the engineering profession, advice from experts, writing contests, and articles and news. |
| Engineering.com | You can find information on each discipline on Engineering.com. This site also links to other engineering resources for students and professionals and online communities. |
| MIT OpenCourseWare | MIT's OpenCourseWare provides tutorials and training tools in many academic disciplines including engineering. Information is shared by professionals all over the world for free. |
| National Academy of Engineering (NAE) | NAE is part of the National Academies of Science Engineering and Medicine. NAE has articles, research, and reports students and engineers can access. |
| W3Schools | W3Schools is geared for software and computer systems professionals seeking guidance and tutorials on coding and programming languages. |
Many engineering academic journals and their articles can be accessed through your school's library for free or may be available on Google Scholar. They can be used to conduct research for assignments and keep up-to-date on the latest engineering news and developments.