What is a Doctoral Degree?
One of the oldest academic degrees in existence, a doctorate degree is a postsecondary credential that is awarded to students who have achieved the highest level of education or training in a given area of study. Our comprehensive guide covers information on what this terminal degree entails, how much it costs, as well as the reasons why students may consider pursuing one.
Doctoral programs train students to create, apply, and research original knowledge. They take multiple years of graduate study to earn, with students completing a varying mix of coursework, exams, and practicums. The challenging nature of these requirements is perhaps the reason why a large number of doctoral students — roughly 50% — drop out. However, those that achieve their degree are equipped with expert-level knowledge in a given subject area as well as transferable research, writing, and communication skills. These qualifications typically prepare doctoral degree holders for advanced positions in academia, government, or vocational settings where professionals require specific expertise.
While they are primarily offered on-campus, many colleges and universities include the option to pursue a doctoral degree online. In fact, prospective doctoral students can choose from 2,456 different degrees across 308 online schools. These include programs offering exclusively online courses as well as hybrid models with a mix of distanced and on-campus learning.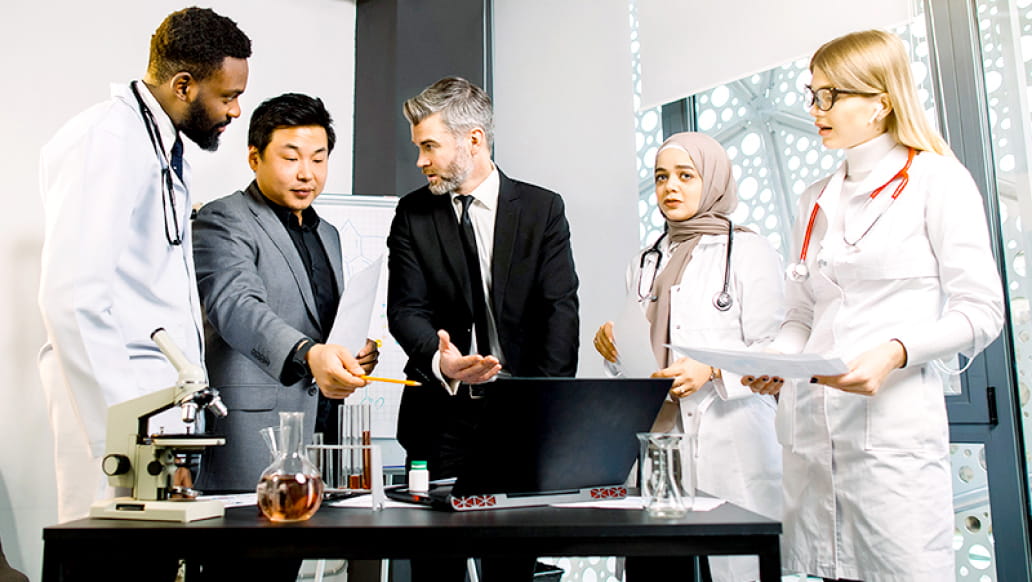 Types of Doctorates
Not all types of doctoral degrees serve the same purpose. Many prospective students may be thinking of a Ph.D. — also known as a Doctor of Philosophy — when referring to a doctorate. While correct, a Ph.D. is a research doctorate in which the primary goal is to advance new knowledge. For instance, individuals who pursue a Ph.D. degree in physics conduct original research, typically with the goal of working in academia.
By contrast, professional doctorate programs prepare students to practice a vocation. Examples include the Doctor of Nursing Practice (DNP), Doctor of Psychology (Ph.D.), Doctor of Medicine (M.D.), Doctor of Business Administration (DBA), Doctor of Education (Ed.D), or Juris Doctor (J.D.). These degree holders are trained to apply field-specific knowledge in settings such as hospitals or courtrooms.
Professional doctorate programs prepare students to practice a vocation.
Choosing a Doctoral Program
Earning a doctorate takes years of intensive study in graduate school, so it's important for potential applicants to choose the right subject, school, and format for them. When researching options, it may be helpful to a few key questions:
How much time and effort can I commit to this degree?
A doctorate typically takes 3-8 years to complete. Professional doctorates tend to take less than research-focused academic doctorates because they entail coursework and exams. By contrast, Ph.D. students who complete a dissertation after coursework take an average of 7.5 years to earn their degree.
What are my career goals?
It is best to first determine whether a doctorate is necessary or even desirable in a given field. For example, individuals who aspire to become professors, lawyers, veterinarians, psychologists, or doctors must earn a doctorate. However, those that aim to work in areas such as business or tech typically don't require this level of education. In these cases, it may be best to earn a bachelor's or master's degree.
Do I want a professional or academic doctorate?
As mentioned above, different doctoral degrees serve different purposes. Students primarily interested in conducting research, advancing original knowledge, or working in academia should opt for an academic doctorate. By contrast, a professional doctorate is better suited to those who hope to practice professions such as law or medicine in real-world settings.
Applying to a Doctoral Program
Doctoral programs typically admit only a handful of new students each year, so competition for spots can be fierce. While admission requirements vary by school, most have similar requirements and these remain constant across online and in-person degree options. Prospective students will typically need to meet the following requirements to get accepted into a doctoral program.
A completed college degree. Some graduate programs require doctoral students to have completed a master's in the same or a related field, while others accept students with a bachelor's or an unrelated master's degree.
A GPA of 3.0 or higher in all previous degrees. Schools want to train scholars who are serious about advancing their field of study, so the academic standards are usually higher than for other degrees.
Competitive entrance exam scores, with thresholds that vary by school, in the Graduate Record Examination or Graduate Management Admissions Test.
Letters of recommendation from professors, coaches, or mentors that speak to the student's academic and personal merit and likelihood of success in the particular program.
A personal essay that expresses the student's reasons, motivation, and desire to complete a high-level degree in their chosen field.
In addition to these standard requirements, some disciplines require professional work experience or language proficiency. For example, students pursuing online doctoral studies in nursing may need a minimum number of clinical hours or years of full-time employment. By contrast, applicants to Ph.D. programs in classics may need to demonstrate some familiarity with Latin or Ancient Greek.
How Long Will It Take To Earn My Degree?
Depending on individual program requirements and the type of degree, most doctoral degree programs can be completed in 3-8 years, though it may take over 10 years in some circumstances. The average time to completion is 7.5 years, and accelerated or online programs are designed to be completed in 3-5 years. It is important to note that schools may place a time limit on the number of years students have to complete their doctoral coursework and defend their dissertations or capstone projects.
Accreditation
Accreditation means that a college has passed an independent quality review. This certification also ensures doctoral students can apply for federal financial aid through their school or transfer previously-earned college credits from a similarly evaluated program. Before enrolling, students should check the accreditation status of their prospective schools via the Council on Higher Education (CHEA) or the U.S. Department of Education (DOE).
While schools can be accredited at an institutional level, some professional organizations also evaluate individual degree programs within a specific subject area. For instance, the Commission on Collegiate Nursing Education assesses both bachelor's and graduate-level degrees. While programmatic accreditation isn't necessary in every area of study, students should research whether their doctoral program needs this approval in order for them to apply for future licensure or certification in their field.
Financial Aid
Most doctoral students receive financial assistance to help fund their degree. According to the Survey of Doctorates, over half of the students graduating in 2020 received support in the form of departmental assistantships. These are awards which waive tuition and provide a small stipend for students working as teaching or research assistants. Nearly a quarter secured fellowships, scholarships, or dissertation grants — awards based on need, merit, gender, ethnicity, or research focus which don't need to be paid back. A very small proportion of doctoral students relied on loans or personal sources of funding. This is likely because a doctorate takes several years to complete and can prove extremely expensive if self-financed.
According to the Survey of Doctorates, over half of the students graduating in 2020 received support in the form of departmental assistantships.
Individuals who hope to pursue a doctoral degree should ensure they have the required financial assistance to complete their program. This may involve determining the number of years a given program offers assistantships for. Students should also research external funding opportunities which help them pay for their dissertation research. Below is a list of opportunities students can apply for depending on their discipline.
Grantees receive up to $25,000 for expenses relating to research in education.
Doctoral students from underrepresented groups in science and engineering can earn $16,000 a year for the first four years of a Ph.D. program.
Students in their final year of writing their dissertation can receive up to $5,000 for expenses.
Career Opportunities for Doctoral Alumni
Doctoral alumni earn some of the highest wages in the U.S. and face the lowest levels of unemployment. Below are a few jobs where a doctorate is required or may help someone reach the highest level of their profession, alongside median salaries and career prospects from the Bureau of Labor Statistics.
How Much Does an Online Doctorate Cost?
According to our manually researched data, the median annual tuition rate for an online doctoral degree is $14,925, which is slightly higher than the cost of an online master's degree. To help fund all of their tuition costs and pay for everyday living expenses, many traditional doctoral students earn a tuition waiver and living stipend in exchange for service as teaching or research assistants. However, such arrangements are less common for online doctoral students, who must find other forms of financial aid to help fund their education. Nevertheless, distance learners may save on other expenses such as transportation, housing, and the cost to relocate.
---
Individual doctorates ranged from $3,770 to $61,346 a year among our sample of 378 colleges.
---
Is an Online Doctorate Worth It?
Like any educational investment, the worth of an online doctorate depends, in part, on personal circumstances, career goals, familial responsibilities, finances, and learning style. However, as a highly specialized and advanced degree, a doctorate comes with distinctive benefits and challenges of its own.
There are a limited number of professions that require a doctorate. However, those that do, such as doctors or lawyers, tend to be well compensated, so pursuing a doctoral program in these fields may yield a high return on investment. By contrast, the outlook for academic doctoral candidates is less promising with both salaries and the number of full-time positions decreasing for individuals who want to work in academia. But a Ph.D. may still be worth it for those who love to conduct academic research, write, and teach, and hope to land a career where these skills are compensated.
Additionally, students that enroll in an online doctorate may benefit from accelerated learning models and complete their degree in as little as three years — considerably sooner than traditional programs. However, online learning may not always offer adequate support. Furthermore, by studying online, students may forgo important sources of financial aid such as research and teaching assistantships.
Related Articles
What Is a Terminal Degree?
Learn more about what different fields consider a terminal degree and why you may choose to pursue one for yourself.
College Degree Levels Guide
This article defines all the degree levels in college, including the types of degrees that are available to students and what order they come in.