Is a Data Science Degree Worth It?
If you're considering an information technology career that focuses on data, you may be wondering if earning a data science degree is worth the investment of time, money, and effort.
According to the U.S. Bureau of Labor Statistics (BLS), the answer is a resounding yes. The BLS states that bachelor's degree in data science is required for most entry-level positions as database administrators or architects, and a master's degree may be required for advanced positions as data scientists or information research scientists — all lucrative career opportunities that offer a high return on investment from your degree.
Still, there are many factors to take into account before deciding if a data science degree is the right choice for you.
ADVERTISEMENT
Online Data Science Degrees You May Be Interested In

Southern New Hampshire University Online

Annual Tuition: $17,800
3 Programs (view all)

Annual Tuition: $11,700
3 Programs (view all)
---
What Do You Learn in a Data Science Degree Program?
Bachelor's programs in data science are designed to provide students with a broad foundation of technical knowledge. The curriculum is constantly evolving, just as computers and information technology are continuously changing, but courses typically cover data processing and management, data systems, computer science, statistics, artificial intelligence, and machine learning. Some programs may also emphasize data analysis.
Master's programs allow students to explore aspects of data science, such as data mining or engineering, in greater depth, and they typically focus heavily on research and analysis.
While taking data science courses, students also have opportunities to develop valuable skills that can be applied in almost any work environment. Specifically, coursework and projects are often designed to help students enhance their collaboration and communication skills, as well as their analytical and problem-solving abilities.
Is Data Science a Hard Major?
The data science major, like all majors, is more challenging for some than others. Students who have a strong aptitude for math and statistics, in addition to well-developed critical thinking skills, tend to do well in data science programs. A few of the characteristics of data science that make this field of study somewhat difficult for some include:
Data science courses focus on hands-on projects, not just written papers. These projects are, of course, learning and practice opportunities, but they require students to apply what they're learning and demonstrate a mastery of essential concepts as they advance through their classes. In data science, rote learning and a basic understanding of theory is not enough.
Data scientists must learn multiple programming languages. It's not unusual for data science majors to take classes in Python, R, SQL, and Java, and possibly others like C++, MATLAB, Scala, or Julia. Mastering the intricacies of so many languages can be difficult.
Data science is an interdisciplinary field, meaning that it connects concepts from computer science and machine learning, as well as statistics, math, and even business. Some data science programs are effectively designed to help students integrate these diverse areas, but others may be less organized. Either way, students must be able to analyze concepts and make connections on their own.
Careers With a Data Science Degree
With a data science degree, graduates are qualified for a wide variety of occupations that offer a lucrative salary and a positive growth projection. A few of the natural choices are database administrators, database architects, and computer network architects. The BLS reports that these options have median incomes around $100,000, and their projected growth rate is about even with the expected growth rate for all occupations through 2030.
With a data science degree, graduates are qualified for a wide variety of occupations, including database administrators, database architects, and computer network architects.
However, the skills in data analysis acquired while studying data science may also qualify graduates for additional jobs such as management analyst, financial analyst, and information security analyst. These occupations offer similarly high median salaries, and some are projected to be in high demand over the next several years.
When you compare the lifetime earning potential of any of these career paths with the initial financial investment in pursuing a college education, you can see that there may be a relatively high return on investment with a degree in data science.
Is Data Science in Demand?
One of the advantages to a career in data science is that professionals are needed in all types of organizations and industries. Job listings from May 1, 2021, through April 30, 2022, show that a vast array of businesses — from manufacturing firms and media outlets to retailers and financial institutions — are hiring data scientists. Some of the top employers include Amazon, Humana, Deloitte, Boeing, Dell, and Microsoft. The following graph presents a clear picture of the top industries currently hiring for data scientists and related positions.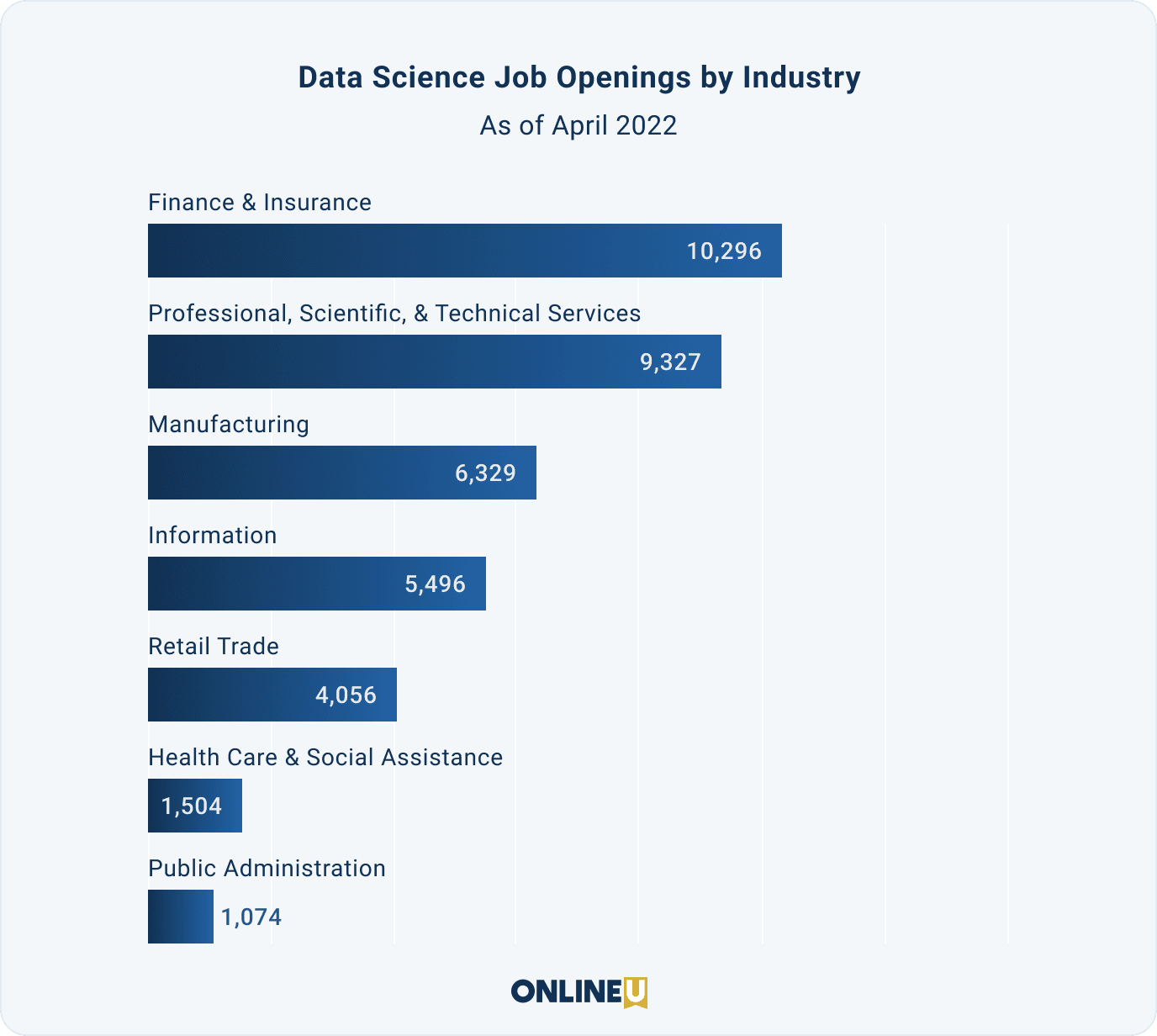 Do You Need a Degree in Data Science to Become a Data Scientist?
While some professionals have been able to enter the field without a degree, a bachelor's degree is still recommended for entry-level positions. Employers generally prefer to hire candidates who have a well-rounded education and demonstrated knowledge of data science. Higher-level roles in research and management may require a master's degree, and a doctorate is usually required for work in academia. A data science bootcamp is also an option and can offer classes to develop specific technical abilities.
The Bottom Line
From tracking product inventories to analyzing customer preferences, modern organizations rely on massive databases of information to make smart business decisions. In turn, they count on data professionals to determine how to collect, store, protect, and utilize this data both ethically and effectively. Because of their value to organizations of all sizes, data scientists with proven professional expertise are well paid and increasingly in demand.
Related Articles
Best Online Data Science Master's Degrees
Online data science master's degrees are available with a variety of specializations. Compare schools using tuition and salary data to narrow down a choice.
Data Science Career Guide
Considering a career in data science? Here's everything you need to know about job outlook, salaries, and more.