Guide to Online Cybersecurity Degrees
With policymakers warning of emerging cyber threats, colleges have been steadily creating online cybersecurity degree programs to train more professionals in the field. These d egrees seek to teach useful skills in threat detection, countermeasures, and policy planning. Whether you're a prospective undergraduate or graduate student, you can apply for an online cybersecurity program that features either a general curriculum or an optional concentration. Graduates of these degrees have embarked on careers as computer and information security specialists for government agencies, businesses, and nonprofit entities.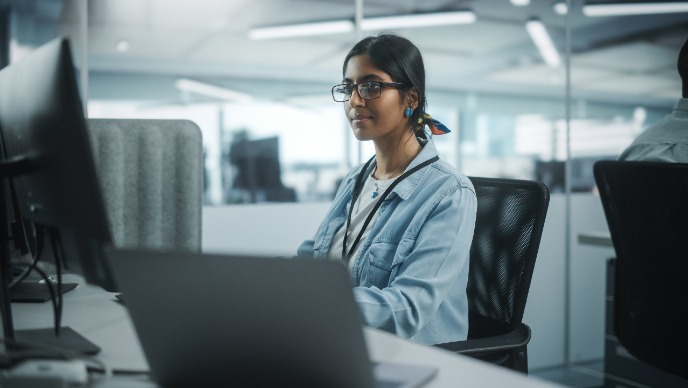 Is a Cybersecurity Degree Worth It?
There's no single answer that's true for everybody. However, an education in cybersecurity may help you join a well-compensated cohort of professionals whose services are in high demand. If this prospect sounds intriguing, consider our list of pros and cons as you plan your education.
Potential Benefits
The cybersecurity job field is growing very rapidly. According to the Bureau of Labor Statistics (BLS), information security analysts can look forward to 33% growth in new jobs in the 2020-2030 period. This is by far the fastest growing computer or IT career that the BLS tracks.
Potential Drawbacks
Cybersecurity is overwhelmingly white and male. Aspen Tech Policy Hub researchers identified 9% of cybersecurity employees as Black, 4% as Hispanic, and 24% as female. This suggests systemic barriers to entry that may be difficult to overcome.
Studying online may limit your ability to network, which can potentially affect your career opportunities. Without live meetings, you have fewer chances to interact either formally or informally with classmates and faculty. You may also find that you prefer the chance to have your questions answered in real time.
Cybersecurity Degree Requirements
Your admissions requirements will vary depending on which degree level you pursue, as will the program requisites you'll need to complete before graduating.
Admissions Requirements
You must submit several items to enroll in a cybersecurity undergraduate degree program, whether it's an associate or bachelor's.
Official high school or GED transcripts, often demonstrating a minimum GPA of 2.5
Official SAT or ACT scores — though this is less common than in the past
Recommendation letters from teachers or mentors
Personal essay, usually based on a prompt
Nonrefundable application fee
In the case of a degree-completion bachelor's program, official transcripts showing an associate degree in a specific technical subject
If you're a graduate degree candidate, you'll need to gather the following to apply.
Official transcripts from your accredited bachelor's degree institution, typically proving a minimum 3.0 GPA in a technical major such as computer science, cybersecurity, or network administration
Recommendation letters from professors
A resume detailing education and work experience
Nonrefundable application fee
Program Requirements
Colleges have wide latitude to structure their cybersecurity degrees as they see fit, but there are a few general commonalities among programs at the same level.
Degree Type
Program Length
Requirements to Graduate
Associate
Two years — 60 credit hours

24-32 credits of general education classes in liberal arts, math, and science
28-36 credits of major courses

Bachelor's
Four years — 120 credit hours

60-70 credits of general education classes in liberal arts, math, and science
40-50 credits of major core and 10-20 credits of major electives
Capstone course or internship
Possible portfolio of original work

Master's
2-3 years — 36-48 credit hours

All credits in the major, with optional concentration
Capstone course
Possible internship
Possible portfolio of original work

Doctorate
4-6 years — 48 credit hours

All credits in the major
Possible teaching assistant requirement
Comprehensive exam
Dissertation based on original research and defended before faculty committee
What Do You Learn in a Cybersecurity Program?
Network and information security professionals often find themselves scrambling to stay ahead of hackers who mean their employers harm. For this reason, a cybersecurity curriculum aims to teach critical thinking skills so that alumni can not only counter known threats but also predict the forms that future cyberattacks might take.
At the associate degree level, professors introduce computer science concepts such as networks, programming, and databases. They also survey the fundamentals of cybersecurity, including data privacy, cloud computing, security architecture, and vulnerability analysis. Cybersecurity bachelor's degrees contain this foundation but add more advanced coursework that may cover digital forensics, critical infrastructure, offensive security exploitation, wargaming, and digital privacy law.
Master's degree faculty assume a student's familiarity with computer science, so a typical curriculum is loaded with strictly cybersecurity courses. These classes cover topics in strategic operations, intelligence and counterintelligence, preemptive deterrence, database management, and cryptography. Doctoral degree students usually take the same courses as master's learners, but may also take a research methodology course to aid their dissertation.
Cybersecurity Concentrations
Schools may offer cybersecurity education in several forms. The first form is a degree in computer science, information technology (IT), or business with a concentration in cybersecurity. This includes some Master of Business Administration degrees designed for students who want to work in cybersecurity management.
Choosing between a degree in cybersecurity and an information technology degree? Here's what to consider.
The second type is a degree with cybersecurity as the specific major, such as a Bachelor of Applied Science in Cybersecurity or Master of Science in Information Systems and Cybersecurity. Some of these programs feature concentrations that let you focus your studies on a particular specialization. We've listed a few of those here.
Computer forensics courses focus on gathering digital evidence of computer crimes. Topics usually include data recovery, the chain of evidence, and criminal trial procedures. Employers also use forensic specialists to aid in disaster recovery.
Governance, risk management, and compliance is about designing and managing a strategic security program for an employer. As a student, you typically learn how to audit your IT staff, comply with regulatory requirements, and present risk analyses to executives.
Network security classes are about defending the vulnerable connections between machines, including wired, Wi-Fi, and distributed networks. Professors discuss network architecture, virtual private networks, firewalls, and intrusion detection and prevention.
Can You Get a Cybersecurity Degree Online?
Colleges across the U.S. offer cybersecurity programs via distance learning. Most online programs feature asynchronous courses, which means they don't have live class meetings. Instead, you log in to a learning management system at your convenience to complete coursework and watch recorded lectures. This learning mode may be well suited to cybersecurity because it's a technical discipline with more emphasis on computer-based practice than group discussion.
Some degree programs feature hybrid programs, which are a mix of asynchronous and live elements such as presentations over video conferencing. In addition, you typically need to complete any internship requirements in person at an approved location near your home.
Funding an Online Cybersecurity Degree
Few degree seekers can afford to fund their education by themselves, which is why most postsecondary students receive at least some financial aid. This often takes the form of loans that graduates need to repay with interest, but it's important to first exhaust all possible gift aid opportunities to reduce future debt: grants, loans, and work-study programs. In general, online students qualify for the same types of aid as in-person learners.
In addition to government money, you can apply for private scholarships specifically intended for cybersecurity students, such as the following examples. Check with your school's financial aid office to make sure they accept funds from these and other sources.
You can apply to have the U.S. Department of Defense (DoD) pay all of your tuition for a year, plus provide a living stipend. Whether you're an undergraduate or graduate student, you must agree to work for DoD for every year you receive the award, which requires earning and maintaining a security clearance. You also need to enroll in particular programs at designated institutions.
Up to 20 online bachelor's students can earn an award of $1,000-$5,000 toward a cybersecurity degree. Prospective applicants must have earned at least a 3.3 GPA in their most recent coursework, and the application includes providing a letter of recommendation and answering several essay questions.
Network security firm KnowBe4 grants this $10,000 award to one winner each year. Applicants must submit a transcript showing a minimum 3.2 GPA, a letter of recommendation, and answers to several essay questions. KnowBe4 also endows an annual $10,000 Women in Cybersecurity Scholarship.
Undergraduate women studying for a cybersecurity degree can apply for this scholarship if they've earned at least a 3.3 GPA in their most recent coursework and can demonstrate financial need. Awardees receive $10,000 for tuition and fees, along with a package of benefits to help them pay for and earn an (ISC)2 certification in cybersecurity. Raytheon also sponsors a $10,000 Intelligence & Space Minority Cyber Security Scholarship.
How to Choose the Right Cybersecurity Degree Program
There are many factors to consider when deciding what subject to study and where to apply. To help with the process, we've created a list of questions to ask yourself. This might help guide your thoughts but isn't meant to be exhaustive — ultimately, you'll decide what matters most to your educational and career goals.
Is this college accredited?
This is a good question no matter what you study. It's important to attend an institutionally accredited school, because this is a sign that your education meets recognized criteria for quality. Attending a nationally or regionally accredited school usually means you can use federal financial aid at the institution. However, you can typically transfer credits more easily from a regionally accredited school, so you may want to consider this type of college if you think you may change colleges or earn an advanced degree later. The Council for Higher Education Accreditation (CHEA) lists the regional accreditors, and each of these maintains a list of accredited schools.
Is this program accredited by a professional organization?
Programmatic accreditation is relatively new in cybersecurity, but several independent organizations currently review these degrees to ensure their quality. The first is the Accreditation Board for Engineering and Technology (ABET), which has an important voice in STEM higher education even if it's no longer recognized by the CHEA. This organization only started reviewing cybersecurity programs in 2020, so it's likely that it will approve more in coming years. In addition, the National Security Agency and Department of Homeland Security created the National Centers of Academic Excellence in Cybersecurity initiative that programs can join if they meet certain curriculum requirements. If you want to work in national security for the government, you might consider enrollment in one of these programs.
What does this school cost?
This number can vary widely once you factor in tuition, fees, books, and — if you live on campus — room and board. For both undergraduate and graduate degrees, the most affordable schools tend to be public as long as you qualify for in-state tuition. Private for-profit schools are the next most expensive, with private non-profit institutions costing the most.
Do I want to study online or in person?
Not every school offers an online cybersecurity degree at the right level for you, so the answer may eliminate several possibilities right away. Along the same lines, you may need a program that lets you study part time so you can juggle existing responsibilities.
What other factors matter to me?
Think through the process of earning your cybersecurity degree for more potential considerations. Do you have personal recommendations of a particular school from friends or family? Is the college willing and able to meet your need for disability or inclusivity accommodations? Do student reviews praise or reproach the institution's services, such as the financial aid office, virtual counseling, or tutoring?
Cybersecurity Career Outlook
The job market for information security analysts is likely to remain hot through 2030, with a 33% growth rate that's more than four times the 8% nationwide average rate. But cybersecurity program alumni might also qualify for related jobs based on some of the same skills learned in their programs, such as critical thinking, problem solving, and the ability to build security measures into network, database, operating system, and website architecture.
The following table lists some jobs that you might pursue as a cybersecurity graduate. They each pay well above the U.S. median wage of $41,950 per year, but three of the four have a slower growth rate.
Cybersecurity Certifications
A professional certification indicates expertise in the cybersecurity field, and earning one may help you market yourself to employers. Some employers might even require certifications for applicants seeking particular roles.
There is a wide array of certification options on the market, which attest to everything from general cybersecurity knowledge to specializations such as cloud security or healthcare information assurance. The U.S. Cybersecurity and Infrastructure Security Agency maintains a list of industry certifications on its website. It can be hard to determine which credential is right for you, but you can review job posts for employers and industries where you want to work for mentions of preferred certifications. You can also talk to professors in your degree program for their recommendations for certification.
Can You Work in Cybersecurity Without a Degree?
It is possible to land an entry-level position without a degree, but you'll almost certainly need other qualifications. These can include:
After spending time in your role, you can evaluate whether earning a degree will help you advance or if real-world experience will suffice for your intended career path. Keep in mind that in a recent survey of 4,753 cybersecurity professionals, only 6% topped out at a high school diploma, and 86% held at least a bachelor's degree.
FAQs About Degrees in Cybersecurity
How Long Does It Take to Get a Cybersecurity Degree?
This depends on the degree you want and whether you study full time or part time. For full-time learners, colleges design associate degrees to take two years, bachelor's degrees to take four years, and master's degrees to take two to three years. But in reality, most students take longer at each level. For example, only 45% of bachelor's students complete their degree in four years.
Is a Cybersecurity Degree Hard?
There's no universal answer to this question, because everyone has different strengths. You'll likely find some parts of a degree program harder to grasp than others, whether it's designing a firewall penetration test or writing a paper for a required English course. As you research programs, you can ask admissions officers about a college's support services, such as tutoring, writing help, and virtual library resources.
Is a Cybersecurity Degree a Good Fit for Me?
One way to answer this question is to take stock of your existing knowledge and skills and what you want to learn. You need an aptitude for technology and computer science to succeed in a cybersecurity program. It also helps if you exhibit and are willing to develop useful soft skills, such as curiosity, problem-solving, strategic thinking, and communication.
How Do I Prepare Myself for a Cybersecurity Degree?
You can primarily concern yourself with meeting the admissions requirements for the degree you're seeking. For graduate degrees, this may include prerequisite courses in computer science. If you want to further advance your knowledge before enrollment, you can read introductory cybersecurity textbooks, follow industry news and trends, or attend an online or in-person training course — the National Initiative for Cybersecurity Careers and Studies hosts an interactive map of training sites offering a range of courses, most of which will cost you some money.
How Much Does a Cybersecurity Degree Cost?
Degree costs can range widely. The latest numbers from the National Center for Education Statistics (NCES) price an average bachelor's degree program at $9,400 a year for public schools, $36,700 for private non-profit colleges, and $19,100 for private for-profit schools. This includes tuition and fees but not room and board, so it may more accurately reflect online student expenses than on-campus student costs.
The average yearly cost for a two-year public college — where most associate degree students enroll — is $3,800. The average annual amounts for graduate school are $12,410 at public institutions, $28,430 at private non-profit schools, and $14,289 at private for-profit colleges.
Related Articles
2023 Best Online Cybersecurity Degrees
Cybersecurity is a popular field, and an online bachelor's program can be a smart choice. Find the best schools in 2023 for online cybersecurity degrees.
Best Online Master's in Cybersecurity Programs
Cybersecurity is a popular field, and an online program can be a smart choice. We use tuition and salary data to determine the best options for your goals.