Types of Business Degrees
There are many educational tracks available if you're considering a degree in business. In fact, you can choose from programs that span a variety of subjects at both the undergraduate and graduate level.
While nearly all degrees in this field are designed to equip you with the necessary knowledge and skills to embark on a fulfilling career, different programs tend to delve into specific areas of business. Learning about the various types of business degrees can therefore help you choose the credential that is best suited to you.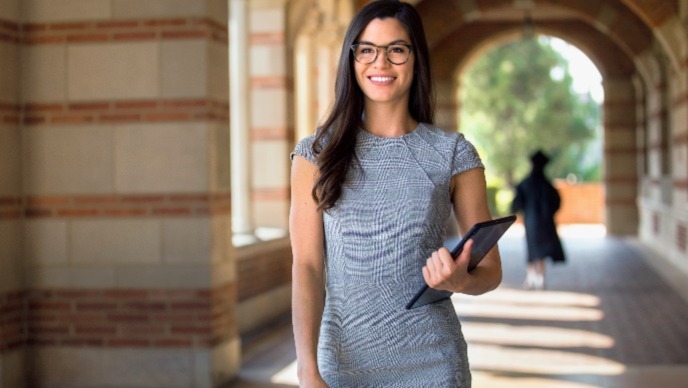 Online Business Degrees You May Be Interested In
Advertisement
Purdue University Global
Annual Tuition: $14,358
69 Programs (view all)

Southern New Hampshire University Online
Annual Tuition: $9,600
71 Programs (view all)


What Is Considered a Business Degree?
Business is a discipline that has grown over several decades to encompass multiple topics. From marketing and operations to international negotiations and entrepreneurship, many different subjects now fall under the umbrella of this field. Given this, what can be considered a business degree includes a variety of majors, each of which focuses on a particular area of study within this broader domain.
Types of Business Degrees
Business degrees offer students the chance to study a wide range of subject matters. Indeed, you can choose to specialize in several disciplines, including:
Accounting deals with the management, communication, and analysis of financial information related to payroll, expenses, and taxes, to name a few areas. Accounting students learn how to assess risk, draft budgets, and, depending on the degree level, conduct audits.
Though it may seem similar to accounting, finance is quite a different field that is based around forecasting profits, analyzing investments, and generating wealth. Students enrolled in a finance program study math and statistics, as well as various theories related to money management.
Entrepreneurship is a key sub-discipline within business that covers how to identify business goals and achieve them through various means. Those focusing their study in this subject area are trained to apply their business knowledge in the real world in creative and innovative ways.
Human resource departments that carry out tasks like hiring, payroll, and employee training are an essential part of any business organization. Students who pursue a degree in this topic study a variety of subjects, including psychology, labor laws, and conflict management as they train to become HR professionals.
Marketing is another topic that falls under the purview of a business degree. This field explores how to drive sales and present an organization's products and services to potential customers, with students learning both marketing theories as well as aspects of public relations, quantitative research methods, and data science.
A major in business management takes a holistic perspective of this discipline, often connecting the dots between various operational aspects of an organization. Students train in multiple areas, including HR, marketing, and finance, with the goal of becoming skilled managers.
Healthcare management is a field within business that is gaining rapid popularity given the growth of this industry. Students typically enroll in graduate programs to study this topic, where they learn about the unique operational and managerial practices used in the delivery of healthcare.
Like healthcare management, international business is also becoming an increasingly significant topic given the globalizing nature of business transactions. Studying this subject area involves learning how to conduct business in various settings, with classes covering topics in macroeconomics, negotiation, and cross-cultural communication.
Often, a business needs a skilled manager who can oversee a project from its inception to its conclusion. A project management degree is meant to equip students with the abilities and knowledge to execute plans in a business environment.
Business Degree Levels
Business degrees are available at both the undergraduate and graduate level. While bachelor's and associate programs cover the basics of modern-day business activities, degrees at the master's level or higher offer you the chance to delve deeper into a particular subfield or industry.
Associate Degree
Associate degrees in business are offered in multiple areas, including marketing, accounting, and management. They cover basic concepts in these fields, giving graduates a working knowledge of the modern business world and helping them foster essential communication, collaboration, and critical thinking skills. An associate degree takes two years of full-time study to complete and, depending on their interests, can prepare graduates for many different entry-level positions in business.
Bachelor's Degree
At the bachelor's level, students complete much of the same core coursework as they might in an associate program. For instance, they take classes in areas such as macroeconomics, sales, and small business management. In addition, however, students complete general education credits as well, which allows them to explore liberal arts, humanities, and STEM subjects. Graduates are therefore typically qualified for a wider range of entry-level positions than associate degree holders. They also have the option of pursuing a graduate program in business.
Master's Degree
The most common master's degree in business is an MBA, which equips students with advanced knowledge of cutting-edge business practices. MBAs are specifically designed to prepare graduates for management-level positions in the private sector, though graduates can also go on to work for government organizations and nonprofits. Additionally, there are several types of MBA degrees, which allows students to specialize in industries like healthcare management, public administration, and technology management.
Doctorate
Students pursuing a doctorate in business are enrolled in one of two types of degrees. Those working toward a professional doctorate train to apply their education in the business world, focusing on how to identify new opportunities, develop innovations, or advance business practices. By contrast, students enrolled in a Ph.D. program focus more on conducting research and developing new business theories. Ph.D. graduates mostly go on to teach at the university level.
Which Business Degree is the Best?
With business occupations expected to increase at a steady 8% through 2030, most degrees can prepare graduates for jobs in this field. However, the relative value of a business degree may still vary from person to person. For instance, if you hope to land a management position, an MBA may be a better option for you. By contrast, if you're interested in fast-paced fields such as marketing or business, you should consider majoring in these subject areas. In short, there is no one business degree that can be considered the best.
How to Choose Which Business Degree is Right for You
Given the vast number of options available, choosing a business degree can seem daunting. But picking the right education path for you needn't be overwhelming. Below are some factors to help you decide which business degree is right for you.
Accreditation: The most important thing to consider when choosing a business degree is accreditation. An accredited business degree meets nationally-accepted standards for educational excellence and is often required to land a job. You should make sure to enroll in a program accredited by the Association to Advance Collegiate Schools of Business.
Affordability: Choosing a program that is affordable is crucial, as this can determine whether you will be able to complete your education. A program that suits your financial circumstances in the short term can also yield a higher return on investment in the future.
Career goals: In a field this vast, it's important to consider your professional goals before enrolling in a specific program because careers in business can have very different education requirements. Identifying where you want to be professionally 10 years after graduating can go a long way in helping you select the right educational track.
Personality: Some subfields may be better suited to individuals with specific character traits. For example, if you enjoy paying attention to details and have an interest in math, a degree in accounting will likely suit you. On the other hand, marketing may be a better path if you enjoy conducting research and being creative.
Ultimately, choosing which business degree is right for you is a personal decision. However, determining beforehand what you hope to gain both personally and professionally from your career can help you find the right program.
Related Articles
2022 Best Online Business Degree Programs
Explore the best accredited colleges offering online business degrees ranked based on alumni salary.
Is a Business Degree Worth It?
Learn about important factors, such as the return on investment and the careers available to graduates, to decide if a business degree is worth it.