Is a Business Degree Worth It?
Business is one of the most popular subjects to study on college campuses today. According to the National Center for Education Statistics, more students earn bachelor's degrees in business than in any other subject. That's not surprising, given that flexible, versatile business degrees are designed to prepare you for a wide range of occupations in many different industries within the business world. Still, it's important to consider the investment and potential payoff before enrolling in a business degree program.
Online Programs You May Be Interested In
Advertisement
Purdue University Global
Annual Tuition: $14,358
236 Programs (view all)

Southern New Hampshire University Online
Annual Tuition: $9,600
154 Programs (view all)


What Is a Business Degree?
The term "business degree" can be somewhat confusing because it is used in different ways. Most often, it refers to a generalist degree in business administration or business management, which includes coursework in many aspects of business. Programs are designed to give graduates a foundation in business functions by introducing them to essential topics such as management, accounting, finance, and economics.
However, the term can also refer to any of the specialty degrees students may earn in the business schools of most colleges and universities. These include bachelor's degrees in HR management, organizational leadership, finance, marketing, economics, and accounting. If you're not sure which type of business degree you want, you may consider earning a general business management degree with a concentration or perhaps a minor in one of these specialties.
As you review the business programs at various schools, you may notice three different degree names or titles. These names are important because they indicate the focus of the program:
A Bachelor of Arts (BA) program blends business courses with humanities and social sciences, such as literature, foreign languages, and psychology, so that students understand the human aspect of business operations.
A Bachelor of Science (BS) program, on the other hand, includes more math, finance, and data science courses in the curriculum to help students develop analytical skills.
A few schools also offer a Bachelor of Business Administration (BBA) that provides a broad base of business knowledge.
Benefits of a Business Degree
According to the U.S. Bureau of Labor Statistics (BLS), a bachelor's degree in business is a requirement for many management-related positions, and it may assist graduates in climbing the corporate ladder and obtaining increasingly higher level jobs. However, that is not the only benefit to getting a business education. Perhaps one of the biggest advantages is the degree's versatility. This degree can be utilized in a vast number of occupations and industries. The job listings data featured in this graph reveals the diversity of management positions available.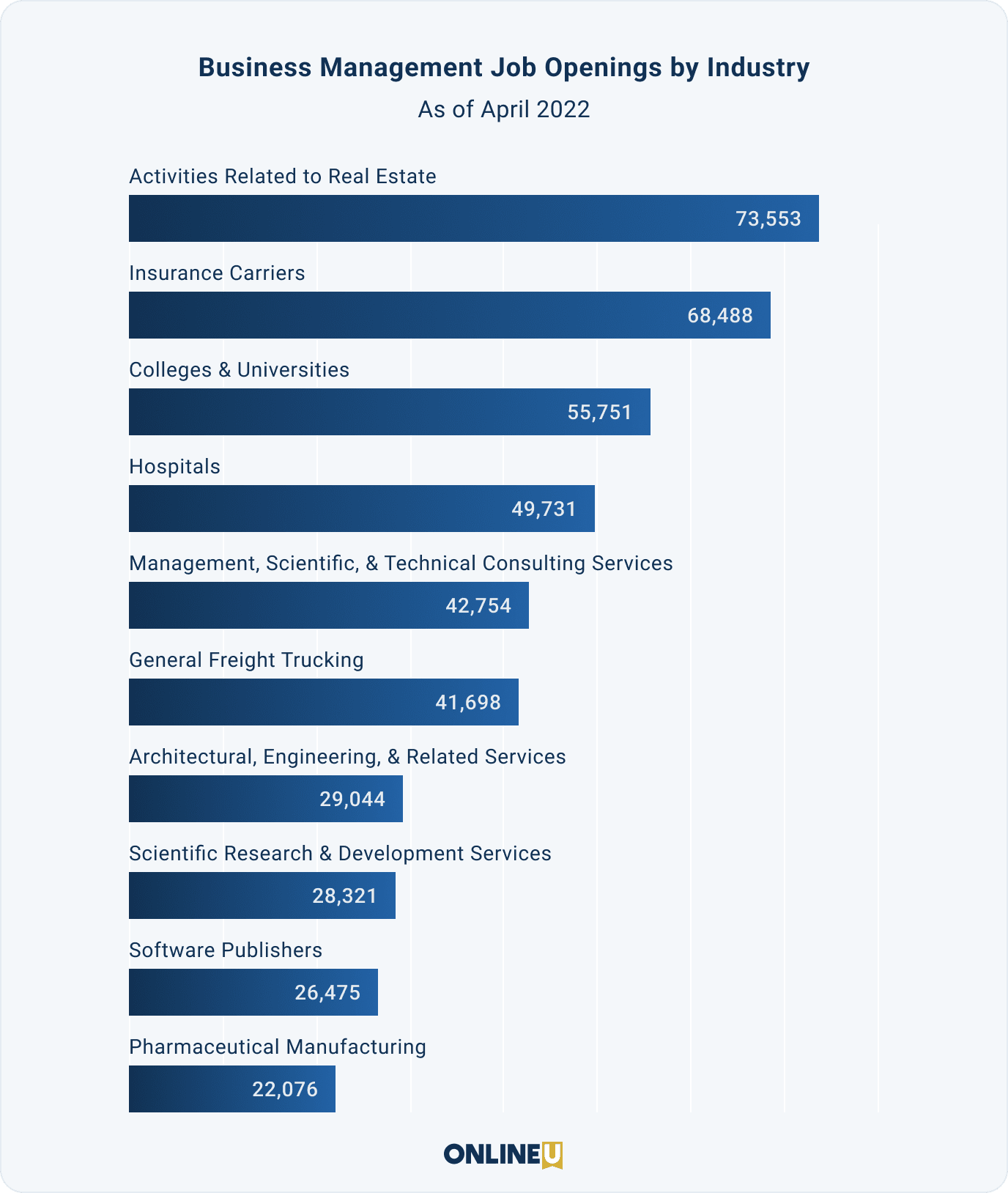 Earning a bachelor's degree also helps business majors develop valuable, transferable skills that can be used in any workplace. Students typically learn technical skills, such as reading financial documents and using several types of business software. Coursework also encourages students to build soft skills, including collaboration, written and spoken communication, and critical thinking. Strong abilities in both of these areas often set employees apart and equip them for greater levels of responsibility and leadership.
A third benefit to pursuing a degree is the networking opportunities you'll find in school. Your classmates and instructors may become your colleagues in the future, so getting a degree is an effective means of building relationships with peers who may be able to assist you in achieving your career goals.
Careers With A Business Degree
With a bachelor's degree, business graduates can follow many different career paths. You may decide you want to work for a global corporation, a small start-up, or perhaps even a government agency or nonprofit organization. You may also want to focus on a particular industry, such as healthcare or information technology. The following are just a few of the many entry-level positions available to recent graduates:
Budget analysts are often employed by government agencies and professional services firms. They oversee an organization's overall budget, which means they evaluate how money is spent and anticipate future needs. Analysts coordinate with other department heads and consolidate department-level budgets into a high-level plan.
Most HR specialists are responsible for identifying and interviewing job applicants, which may include attending job fairs and visiting college campuses to recruit candidates. Some specialists also handle additional functions of an HR department, such as payroll and benefits. HR specialists may work in larger organizations, or they may work for HR services firms that provide human resource management for smaller companies.
Wholesale and Manufacturing Sales Representative
Wholesale and manufacturing sales representatives specialize in selling complex, often expensive products, such as pharmaceuticals or industrial equipment. They identify potential clients' needs, determine whether their products fit those needs, negotiate prices and contracts, and often oversee the installation of the purchased product. Many sales reps earn commissions or bonuses in addition to their base salaries.
Once you've acquired several years of work experience — and possibly a graduate degree, such as an MBA — you may be eligible for a higher level, higher paying management role. These are a small sampling of the many managerial jobs available.
Administrative Services and Facilities Manager
Administrative services and facilities managers often work for larger organizations, such as manufacturing firms or educational facilities. They are responsible for maintaining a productive, healthy, and safe work environment with adequate equipment and supplies. They may also provide administrative support to an organization by managing clerical staff and maintaining the organization's records.
Demand for management analysts is on the rise. Many work for professional service providers, but some are self-employed consultants. Their primary objective is to make an organization more profitable. After reviewing an organization's operations, staff, and financial statements, they typically recommend solutions that will cut costs and increase revenue.
Advertising, Promotions, and Marketing Manager
While some advertising and marketing managers work directly for larger corporations, others work for advertising agencies. Their goal is to build awareness and generate interest in a brand or product through various types of promotional campaigns. Responsibilities include coordinating with other department heads, monitoring budgets, conducting market research, and managing departmental staff.
Business Degree Cost and Return on Investment
Although there are many potential advantages and drawbacks that may influence your decision to earn a business degree, one of the most important criteria to examine is the initial cost of the program versus the income potential over the course of your career. It's not possible to determine an exact return on your investment, but you can develop a reasonable estimate.
In terms of cost, the College Board states that as of 2021, the total cost of earning a bachelor's degree ranges from $27,330 to $55,800. Some of the variables affecting total cost include the type of school (public or private), on-campus tuition or online tuition, room and board, and travel expenses.
Potential income varies dramatically depending on your industry and occupation. However, data from the BLS shows that the median weekly income for bachelor's degree holders is $1,334 as compared to the $1,057 median for all workers. This translates to just over $14,400 more per year. Also, in general, the unemployment rate for college graduates is lower than for non-degreed workers.
Bottom Line: Is A Business Degree Worth It?
Earning a college degree is a significant investment of time, energy, and money. However, a bachelor's degree offers many potential benefits that continue throughout your business career. Regardless of whether you choose a generalist degree or a specialized degree in business, you may gain access to more job opportunities, a better chance of advancement, and a higher lifetime earning potential.
Related Articles
Business Career Guide
Learn about a career in business including potential careers and salaries, typical job requirements, and a business professional's own journey in our guide.
2022 Best Online Business Degree Programs
Explore the best accredited colleges offering online business degrees ranked based on alumni salary.