Guide to Online Business Bachelor's Degrees
An online bachelor's in business aims to provide students with the knowledge and skills to succeed in an evolving global economy. In addition to learning about fundamental concepts, business majors also explore how big data, information technology, and computing are shaping the business environment. Graduates who earn this degree are generally prepared for careers as managers, analysts, and specialists across several industries.
While admission requirements vary by program, individuals typically need a high school diploma (or an equivalent) with a minimum 2.0 GPA, letters of recommendation from teachers or mentors, and a personal essay highlighting their interest in earning a business bachelor's degree.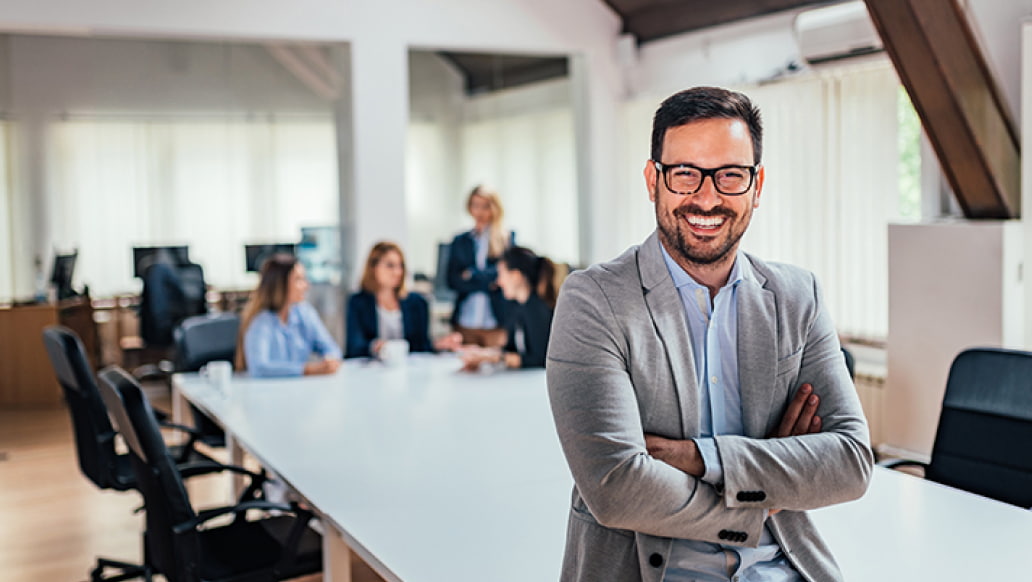 Types of Business Bachelor's Degrees
Students enrolled in an online business bachelor's program complete 120-124 credits in general education, electives, and core coursework. Most business programs cover topics in accounting, finance, and marketing, to name a few areas. However, students also have the option to choose between three different degree types, each of which varies in terms of the core coursework they require. Therefore, the student's choice of program will likely influence the skills they develop and the career paths open to them.
Bachelor of Arts in Business
A Bachelor of Arts (BA) in Business is designed for students to take classes in the humanities and social sciences. With the freedom to complete coursework requirements in multiple subjects, students can complement their understanding of business with a well-rounded education in other areas, such as history, literature, and political science. Given that this degree type can help foster widely applicable communication, writing, and civic skills, it is suited for individuals who hope to explore opportunities in business as well as other sectors — such as government, non-profit, and education — once they graduate. A business BA may also be a useful option for those considering graduate study in the humanities and social science disciplines.
Bachelor's of Science in Business
A Bachelor of Science (BS) in Business has a more focused curriculum than a BA track, as students are required to complete coursework in math, statistics, and science. Overall, a business BS can help develop a strong set of in-demand business skills, including quantitative reasoning, data analysis, and computing. Given the more STEM-focused nature of their education, students with a BS may be better prepared for technical business roles — including financial analysts or IT technicians — than BA holders. They are also more likely to meet some of the admission prerequisites for graduate programs in technical disciplines, such as finance or accounting.
A BS in Business can help develop a strong set of in-demand business skills, including quantitative reasoning, data analysis, and computing.
Bachelor's of Business Administration
Unlike a BA or BS program, a bachelor's of business administration (BBA) is specifically designed to train graduates for a career in the field. Students gain a holistic understanding of management, marketing, human resources, and economics, to name a few areas. Although it may include some general coursework in other subjects, a BBA curriculum primarily focuses on teaching business knowledge and developing expertise in leadership, negotiation, and entrepreneurship. Upon graduating, students may qualify for entry-level management positions or apply for a master of business administration program (MBA).
What Will You Learn in a Business Degree Program?
An online business education can prepare students to evaluate profit opportunities, analyze market trends, manage a team, and use data to solve real-world management problems. Aside from introducing them to topics in various areas of business, many programs also encourage students to complete internships at the end of their junior year so that they may gain practical experience of working in a business environment. Before graduating, online students complete a capstone project where they are expected to draw on their knowledge of core coursework, such as the classes listed below.
In this core class, students study the role of ethics in business management. They focus on understanding how to resolve ethical challenges and conduct business in a way that benefits society.
Individuals enrolled in this class learn how to effectively communicate business ideas in written form. They practice by writing memos, reports, formal letters, and other forms of internal and external communication documents.
Data Analytics for Business Decision-Making
This core course covers how to use data in a business setting. Students gain experience with business analytics, including how to interpret data from different sources, gather insights, and make recommendations based on findings.
Human Resource Management
Sometimes listed as an elective, HR management teaches students how to best manage a company's talent. Topics include recruiting and compensating employees, federal and state labor laws, and conflict mitigation.
Principles of Microeconomics
Students taking this core class learn about the factors that influence household and individual spending. Faculty covers a wide range of topics, including price, demand, and supply. Their goal is to help students understand how producers and consumers interact in the economy.
Business Degree Concentrations
Business programs typically provide students the chance to concentrate coursework in a particular subdiscipline. Specializations may be beneficial for students who want to complement their general business training with specific knowledge and prepare for entry-level positions in a given business area. Those looking to continue their online studies in a certain business discipline may also consider focusing their coursework at the undergraduate level. While degree concentrations vary by program, below is a list of common options for business majors:
With a finance concentration, students explore math, statistics, auditing practices, and other related concepts. They study how to improve a firm or company's profit margins through new investments while reducing costs. A finance concentration is typically designed to lead to a career in banking or financial management.
Healthcare Administration
Like many businesses, hospitals and other healthcare facilities need competent managers in order to run effectively. This concentration infuses business concepts with specialized knowledge of the healthcare industry, preparing graduates to meet the unique managerial challenges of delivering care.
An HR concentration is ideal for individuals who want to help create welcoming working environments for employees. Given that nearly all businesses, governments, and non-profit organizations have an HR department, this concentration provides students with skills and expertise that are relevant across several sectors. Graduates are typically prepared to work as HR analysts in many settings and can even end up in a managerial role after a few years of work experience.
Management is an interdisciplinary concentration that is designed to train future business leaders. Students learn about the importance of organizational theory while gaining experience in negotiation, communication, and international business. Like HR, a management concentration can lead to entry-level positions in a range of industries and occupations, such as supply chain management or the management of information systems.
One of the most common concentrations, marketing helps students better understand consumers. Students in this subdiscipline explore concepts in psychology and communication, learning how to leverage marketing strategies in order to benefit a company. Graduates often take on positions as market researchers.
Is an Online Business Degree Worth It?
Higher education is an investment of time and money, so it's important to determine whether it will pay off in the long run. As with other programs, the value of an online bachelor's in business will ultimately depend on a student's particular situation — including their personal commitments, familial responsibilities, and financial resources. In addition to these considerations, individuals may also want to consider the following potential advantages and drawbacks when deciding whether a bachelor's in business is right for them:
Potential Advantages
Individuals in business and financial occupations are often well compensated. According to the Bureau of Labor Statistics (BLS), these professionals earn a median annual salary of $72,250, which is significantly more than the U.S. median of $41,950 for all occupations.
A business degree is a versatile credential. Individuals typically graduate with a transferable skill set, which prepares them to land an entry-level position in different industries and/or pursue a graduate degree in various disciplines.
Potential Disadvantages
This degree is not always necessary to begin a career in business. For instance, students with degrees in STEM, the humanities, and social sciences may qualify for the same positions as business graduates. STEM graduates may even have an advantage over business majors when it comes to attaining jobs in finance.
Business professionals have higher rates of burnout. Business executives report being overworked, which can lead to fatigue, demotivation, and high turnover.
---
Additionally, individuals should determine whether pursuing a business degree through distance learning is the best option for them. Distance-learning programs can be challenging, as students are expected to take the initiative and complete courses and assignments without the support of a structured timeline. Alternatively, this flexibility may suit nontraditional students, who may work or have other commitments and need to fit classes around their busy schedules.
---
Business Degree Scholarships
Online learners can apply for various forms of financial aid — including federal and state grants, university scholarships, and private funding — to help pay for their business degrees. They may also apply for federal student loans, but it's important to first explore free sources of funding as these don't have to be repaid.
Students who want to apply for assistance should first fill out the Free Application for Federal Student Aid. This form collects an individual's personal and financial information to establish what kind of grants and scholarships they may be eligible for. Distance learners should also check with the finance departments of their prospective schools to determine whether they need to meet specific eligibility criteria in order to apply for institutional aid. Business majors may consider applying for the following scholarships.
What Can You Do With a Business Degree?
This degree can prepare business graduates for business career opportunities in a range of industries. According to Burning Glass Technologies, these often include finance and insurance, healthcare, and professional, scientific, and technical services. Within these sectors, business majors may find jobs with well-known employers — such as Deloitte, Anthem Blue Cross, Amazon, Humana, and Wells Fargo. Given these potential employment outcomes, it's no surprise that graduates with a business degree work in states that have large economies and densely-packed population centers. Below is a list of potential career options for business majors, along with salary and job outlook data from the BLS.
Accreditation
Accreditation is a process in which a third party evaluates whether a college or university meets national standards for educational excellence. Students who enroll in an accredited school can be sure they are receiving a quality education that potential employers recognize as legitimate. This is also a basic requirement to be eligible for most financial aid or transfer previously earned college credits.
There are a few different types of accreditation. Regional accreditation — which is the most common and prestigious type — assesses an institution as a whole, including its program offerings, faculty, campus facilities, and student resources. By contrast, programmatic accreditation is meant to discern whether a degree meets the specific education requirements in a given field of study. While not all online business degrees receive programmatic accreditation at the undergraduate level, students may want to check whether their prospective program has been assessed by either the Association to Advance Collegiate Schools of Business or the Accreditation Council for Business Schools and Programs.
FAQs
How Much Does a Business Degree Cost?
According to Data USA, the median in-state public tuition rate for a business degree is $7,024, while the cost for out-of-state learners at private institutions is $31,210. Compared to on-campus students, distance learners typically spend less per year overall for their programs. This is partly because online students can avoid paying relocation, transport, and other on-campus costs.
How Long Does It Take To Get a Business Degree?
A bachelor's in business requires 120-124 credits and can be completed in four years of full-time study. Part-time or online learners who complete classes at their own pace may take longer, while those enrolled in accelerated programs can finish in as little as two years.
Can I Get a Business Degree Online?
Yes, it is possible to earn a business degree fully online. Given the rising popularity of online degrees, many schools offer BA, BS, and BBA degrees that are either fully remote or offer a mix of on-campus and distance learning options.
Is a Business Degree a Good Fit For Me?
A business degree may suit detail-oriented individuals who are creative, enjoy collaborating with others, and hope to develop their leadership potential — as these are often the proficiencies needed to excel in business professions, according to Burning Glass Technologies. Overall, an undergraduate education in business can introduce students to a diverse and challenging field while also providing entrepreneurially-minded individuals with a chance to hone their professional expertise.
Additional Resources
Prospective business majors can explore the following resources for more information on hiring trends, educational needs, and professional development in the field.
Related Articles
2022 Best Online Bachelor's Degrees in the U.S.
Earning an online bachelor's degree can vastly expand your career options and earning power. We've ranked the best colleges by alumni salaries.
2022 Best Online Business Degree Programs
Explore the best accredited colleges offering online business degrees ranked based on alumni salary.