Is an Accounting Degree Worth It?
Prospective students considering a business career that focuses on money and numbers often wonder if an accounting degree is worth the investment of time and energy. The answer is a definite yes. In fact, a bachelor's degree in accounting is required for most entry-level positions in accounting or finance. Graduates who go on to complete a total of 150 credit hours by enrolling in master's degree-level coursework can sit for the certified public accountant (CPA) exam and take on more responsibilities in higher-paying roles. If you're interested in tracking financial details and interpreting numerical data, an accounting degree may be the right choice for you.
Online Programs You May Be Interested In
Advertisement
Purdue University Global
Annual Tuition: $14,358
236 Programs (view all)

Southern New Hampshire University Online
Annual Tuition: $9,600
154 Programs (view all)


Meet Our Expert
Andy Clouse served in the Army for four years before attending college at Saint Martin's University in Washington, where he earned a bachelor's degree in accounting. He attributes his academic success to the goal-oriented mindset and self-discipline he learned in the Army, especially as a sergeant. Clouse is currently an accounting manager working in the poultry industry in Georgia. He is also earning a master's degree online with the intention of becoming a certified public accountant.
Is Accounting a Good Major?
Wherever there are business transactions taking place, there is a need for accountants to keep track of all of the financial data associated with them. Accounting is therefore a good major that equips graduates with skills and knowledge that are always in demand. According to the U.S. Bureau of Labor Statistics, as of May 2020 there were close to 1.4 million job openings for accountants and auditors. The BLS also predicts that demand for accounting professionals will expand by 7% over the next 10 years, which is about average for all occupations.
How Hard Is It to Get an Accounting Degree?
Many students wonder if accounting is a hard major, but as is true of almost any subject, some learners find the coursework overwhelmingly complex, while others find the curriculum to be intellectually fascinating and rewarding. In addition to communicating standard accounting procedures, courses are designed to help students develop strong analytical and critical thinking skills.
Many graduates note that it's important to master the basics in the early introductory courses because accounting involves so many new terms and concepts that students would not have typically encountered earlier. Other graduates add that finding a supportive program is also critical to success. Accountant Andy Clouse says, "I was lucky to go to a small Catholic school with a very good student-to-teacher ratio, about 15 to 1. You got a lot of help from the professors, but you also couldn't hide. I found the business and accounting curriculum to be appropriately challenging." With the right level of support, students can succeed in completing the requirements for a bachelor's degree and are well prepared to continue their education, whether it be a master's degree or certification.
At the master's level, coursework delves deeper into standard practices and explores specialized situations and functions, so students must be prepared for greater challenges. Clouse says, "I chose to spend 10 years in the field before returning to grad school. I feel that my work experience has not only better prepared me for the coursework, but it has also enhanced it because I have so much more to offer when it comes to projects and papers. I feel I am getting more out of the program than I probably would have had I gone straight in."
Accounting Certifications
Accounting is one occupation where industry practices and regulations are constantly evolving, so professionals should be prepared to continue pursuing new knowledge throughout their careers. One way to achieve this is through certification. Perhaps the most common certification is the certified public accountant (CPA), but some professionals may choose to pursue specialty certifications, such as the certified management accountant (CMA) and the chartered financial accountant (CFA). These advanced credentials can be costly and time consuming to obtain and require some effort to maintain, but they demonstrate your advanced skills and commitment to ongoing professional development to prospective employers.
Accounting Job Prospects
Although it is possible to find a job as a bookkeeping, accounting, or auditing clerk with only an associate degree, the median annual salary for these positions is $45,560. Individuals who would like to obtain higher-paying positions with greater responsibilities need a bachelor's degree.
Based on his experience in the job market, Clouse agrees. "A bachelor's degree in accounting is an absolute must," he says. "I would also suggest it over a degree in business administration with an accounting concentration. I grew up hearing, 'It doesn't matter what you major in, it just matters that you go to college.' I think that may have been true of earlier generations, but it's no longer true today. Pretty much every accounting job now will call out a bachelor's in accounting as a job requirement. Sometimes job postings even list a minimum number of accounting credit hours of upper division accounting classes."
Accounting Careers
With a bachelor's in accounting — and perhaps a master's in accounting, an MBA, or other types of professional certification — accounting professionals can move into a wide range of job openings. Some may choose to become self-employed service providers, while others may opt to work in for-profit or not-for-profit organizations of all sizes.
Are Accounting Degrees in Demand?
One of the advantages of a career in accounting is that professionals are needed in all parts of the country. However, additional data from Burning Glass Technologies reveals where accounting jobs are concentrated. Not surprisingly, the highest volume of job openings are located in the most populous states, with California, Texas, Florida, New York, and Illinois topping the list.
Larger corporations hiring a significant number of accountants in recent months include Nelnet, Lithia Motors, UnitedHealth, Humana, Intuit, and Cushman & Wakefield. The following graph provides a more comprehensive picture of the industries where accountants are most likely to find employment.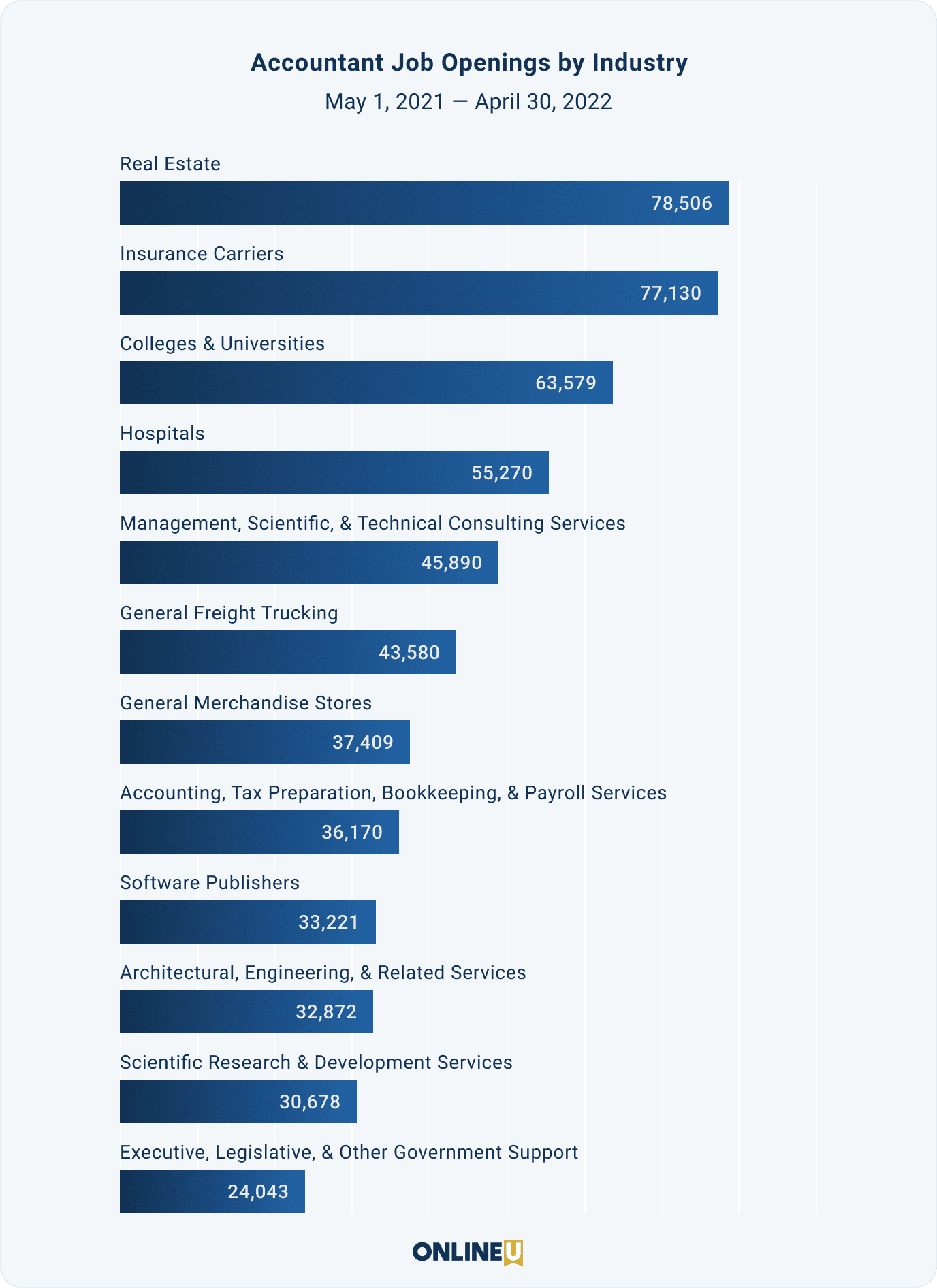 Accounting Earning Potential
According to the BLS, accountants and auditors earn a median annual salary of $77,250. Professionals in the finance and insurance industries tend to earn slightly more, with a median annual salary of $79,310. However, the top 10% of earners in this field had salaries higher than $128,970. Some of these may be CPAs, who typically earn a higher income due to their advanced credentials.
Accounting Job Satisfaction
Despite the strong earnings potential and positive job outlook for accountants, this occupation is not for everyone. Some professionals may find their responsibilities to be fairly stressful, and the stress may increase during certain peak periods of activity, such as quarterly audits or annual tax calculations. An ongoing survey of accountants conducted by Career Explorer finds that respondents rate their career satisfaction at 2.6 out of 5 stars.
Perhaps the key is searching for the accounting role that best suits you. "I am very satisfied with where I'm at now, but I'll admit it took me a good while to find my niche," Clouse reports. "I had the misfortune of graduating during a bad recession. It was hard to get a job, especially for administrative support roles like managerial accountants. I interned in CPA tax, then moved into governmental accounting — first for the parks commission and then the lottery — then came private sector manufacturing and finally agriculture. Agriculture is by far my favorite. There are a lot of different functions, which keeps it interesting."
Should You Get An Accounting Degree?
Reflecting on his own experience and that of other accountants he's worked with, Clouse adds these final words of advice for prospective accounting students: "A trait I swear by but is often missing in many accountants is the heart of a teacher and a customer service attitude. Your job as a managerial accountant is to help managers make informed decisions. It takes communication skills and the heart of a teacher to convey data analytics to an operational manager who doesn't live in the financial world." If these characteristics sound familiar, accounting just may be the right career path for you.
Related Articles
Is a Business Degree Worth It?
Learn about important factors, such as the return on investment and the careers available to graduates, to decide if a business degree is worth it.
Accounting and Finance Certifications
Learn about the certifications needed to become an accountant, as well as the certifications available to further specialize and advance your career.